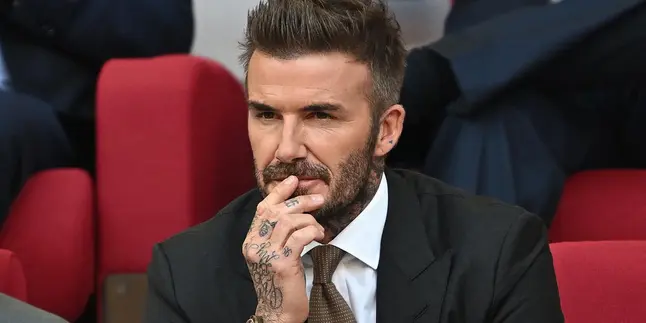 David Beckham has long been renowned for his legendary soccer career, but the name has slowly shifted to a title: an icon of style. Well, there's no denying that Beck is an iconic, fashionable trendsetter worldwide.
The Brit always looks stunning whatever he wears in an advertising campaign or when people simply stumbled upon him on the street. Besides the outfit, he also has stylish hair that inspires other gents worldwide.
From a dashing mullet to a classic quiff, we have compiled some of the best David Beckham hairstyles for your inspiration. Want to know more? Read on!
Top 10 David Beckham Haircut
Check out these David Beckham hairstyles for an amazing look!
1. Mullet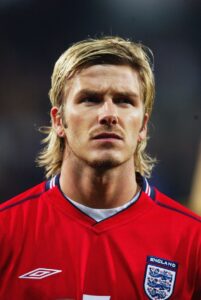 Beckham makes a mullet haircut look amazing by styling it with precision. The sides near the ears and hairline stay tight but also blend in with the rest of the long cut.
Usually, other mullet cuts have a distinct line between the length at the top and bottom. However, this David Beckham hairstyle keeps it all one length while still appearing neat. On top of that, he gives it an extra touch with a casual side sweep for a cool effect.
This David Beckham hairstyle is a steal if you have medium to long hair length.
2. Buzz cut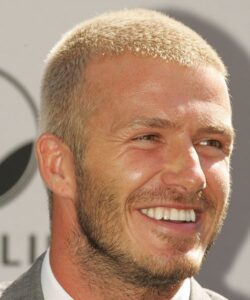 David Beckham has shown off various short hairstyles, like the no-fuss buzz cut, over the years. The David Beckham buzz cut look comes with a hint of roughness and simplicity, which was great for Beckham when he played soccer so that it won't get in the way.
Meanwhile, if David Beckham's in the mood to put a unique twist on it, he'd just shave in different designs or use different lengths, such as high and tight styles. Overall, this David Beckham hairstyle is a low-maintenance style that offers plenty of edge and originality, especially if you prefer having David Beckham short hair.
3. Bangs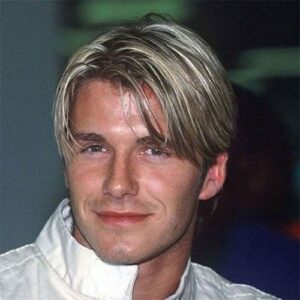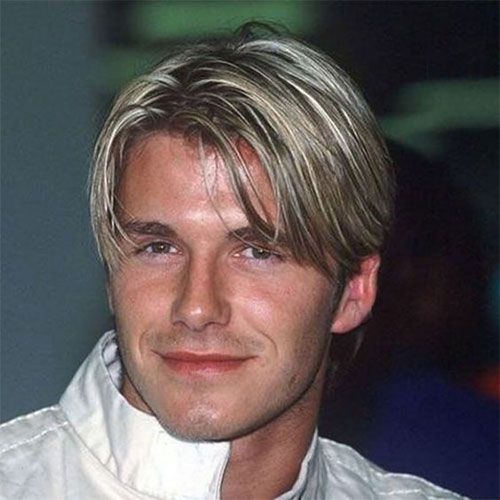 Aim to wear bangs just like David Beckham's iconic bangs? The key is to have the length on top. Request that your stylist uses a razor to thin out the strands and add texture for movement and split.
Using some hair styling products, you'll instantly get an enchanting look. When styled forward, this cut will provide that edgy yet piecey look across the ends — staying stylish and in place. Want to add extra flair? Dye your hair light brown or blonde to achieve the star's look to the max!
4. Cornrows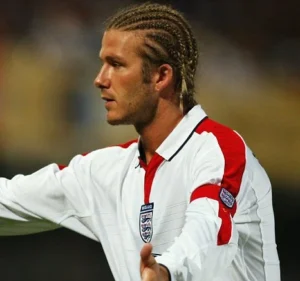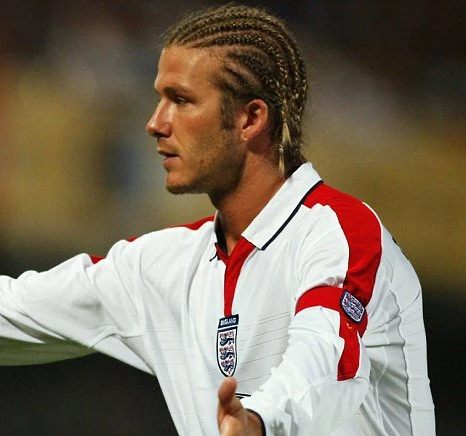 In fact, David Beckham has been seen wearing the cornrows style often throughout his soccer career. The style is often associated with African culture, and Beckham rocked it with a bold attitude that earned him admiration from fans around the globe.
The look also served as an inspiring fashion statement and empowering force within popular culture. While David Beckham's cornrows have since become a classic, he influenced many celebrities who take inspiration from him and other iconic styles he championed during his career.
5. Undercut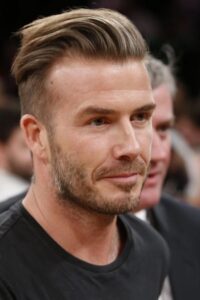 Beckham's undercut is among his most chic cut ever. The sides are shaved off and blend seamlessly into the longer length on top.
Going for the Beckham look means having short hair as your main cut, and he usually pairs it with some facial hair that enhances the sharpness of his appearance and provides harmony to its streamlined design.
Color is also an important factor when styling your hair like him — his naturally chestnut locks often get bleached and blonde highlights are added for a bolder effect.
6. Pompadour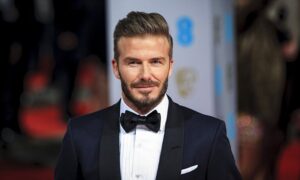 As Beckham is entering his forties, we can assume that he is leaving behind his more experimental hairstyles. His David Beckham pompadour, however, perfectly illustrates why older men should not settle for a boring and uninspired short, back, and sides cut.
The pompadour offers a timeless look that compliments middle age men better than younger fellows — it's the ideal combination of sophisticated and effortless. In fact, this cut is one of his best looks ever. Ultimately, this style is the benchmark of good hair for men in their forties.
If you aim to look stunning and mature, then go for this David Beckham's hairstyle right away.
7. Man bun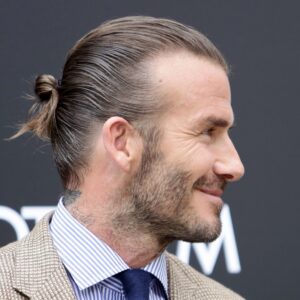 David Beckham's man bun shows that no hairstyle can reduce one's masculinity if they're already manly enough in the first place. The high contrast it creates with stubble and sharp features can even make a person more powerful-looking.
To get his look, you'll need to grow long hair. Then, rake your fingers through your hair, push it back, wrap it around the base, and knot it in a messy bun at the back of the head — you'll be an instant head-turner!
8. Headband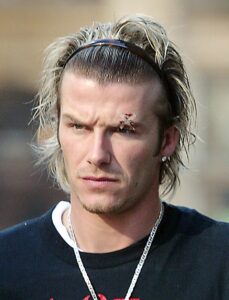 Besides wearing buzzcut hair, David Beckham had no difficulty maintaining his long locks during any match with a headband. With this item, he managed to stay fashionable and keep his David Beckham long hair from getting in the way, keeping sweat away from his eyes.
To get this iconic look, slide a black headband over your head and behind your ears and slightly push it back for some added volume — it's that easy! Remember that medium to long hair is the ideal length for this style.
9. Blowout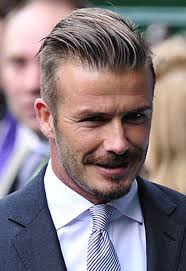 These days, David Beckham has opted for hairstyles with short sides and longer on the top, including this blowout. The blowout look he wears is crafted by drying the hair at the top so that it stands up. Then, styling products are used to give them hold and shape throughout the day.
Though this volumized hairdo is one of his more uncommon styles, it's also one of his best — and you can rock it too!
10. Quiff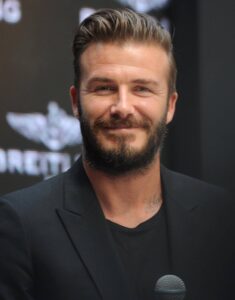 The quiff is another signature look from David Beckham with plenty of height on the top. Unlike the pompadour, it features medium-length hair all around for a sophisticated feel.
A mound of hair over the forehead is set to offset by keeping a consistent length on the sides and back. This way, it helps to balance the overall look and form to create a stylish look.
Most Frequently Asked Questions
What styling products are necessary for David Beckham-style hair?
To get the best of David Beckham hairstyles, invest in a good quality styling gel that offers a strong hold while still providing flexibility to your hair. This will help you create a natural appearance that won't look too stiff or overly styled.
How do I cut my hair like David Beckham?
It's simple; if you're looking to adopt one of David Beckham hairstyles, be sure to bring photos of the style with you when you visit your hair stylist.
You'll most likely ask for short sides that are either tapered or scissor-cut, with two or more inches left on top. However, you could also go with an undercut if you prefer a shorter side look.
Conclusion
David Beckham hairstyles have been some of the most iconic and copied 'dos for years. If you're looking for ideas for your next cut, look no further than Beckham's versatile locks.
Beckham can pull off any style with confidence, from his famous cornrows to his bleached buzzcut. Ready to channel your inner Beckham? Show your barber or stylist this article for guidance on how to get the perfect David Beckham hairstyles.