Best Bikini Razor and Trimmer – Top Smoothest Review for September, 2023
IMAGE
PRODUCT

MSRP:

$29.99

Dimensions:

6 x 2 x 2 inches

Weight:

4 ounces

Wet/Dry:

Yes

Power:

Ni-cad battery, rechargeable

Warranty:

2 Years

VIEW LATEST PRICE →

MSRP:

$12.44

Dimensions:

6 x 2 x 2 inches

Weight:

2 ounces

Wet/Dry:

Yes

Power:

AAA battery included

Warranty:

1 Year

VIEW LATEST PRICE →

MSRP:

$35.77

Dimensions:

2.5 x 1 x 7.5 inches

Weight:

2 ounces

Wet/Dry:

No

Power:

"Nonstandard" battery

Warranty:

1 Year

VIEW LATEST PRICE →

Dimensions:

6 x 2 x 2 inches

Weight:

3 ounces

Attachments:

Trimmer guard

Wet/Dry:

No

Power:

Two AA batteries not included

Warranty:

Two year

VIEW LATEST PRICE →

Dimensions:

7 x 1 x 1 inches

Weight:

2 ounces

Attachments:

Trimmer head, two trimming combs

Wet/Dry:

No

Power:

AAA battery included

Warranty:

Two Years, limited

VIEW LATEST PRICE →

Dimensions:

5 x 3 x 2 inches

Weight:

3 ounces

Attachments:

Epilator (with 3 epilating caps), shaver (with trimmer guard), and styler

Wet/Dry:

Yes

Power:

Lithium-ion battery, rechargeable

Warranty:

Two Years, limited

VIEW LATEST PRICE →

4-directional pivoting head
Integrated, adjustable trimmer
Skin-friendly body shaver
Advanced lithium-ion battery
Showerproof
Ergonomic grip

VIEW LATEST PRICE →

Dimensions:

2 x 1.5 x 7 inches

Weight:

4 ounces

Run Time:

60 minutes

Wet/Dry:

Yes

Power:

Lithium-ion battery, rechargeable

Warranty:

Two Years (also includes a 45-day money back guarantee)

VIEW LATEST PRICE →

Dimensions:

9 x 3.5 x 5 inches

Weight:

4 ounces

Attachments:

Bikini comb, head guard

Wet/Dry:

Yes

Power:

Lithium-ion, rechargeable

Warranty:

Two Years, limited

VIEW LATEST PRICE →

Head Type:

Foil head

Motor type:

Foil

Body Area:

Legs, Underarms, Arms, Bikini

VIEW LATEST PRICE →

Waterproof?

Yes

Department:

Women

Body Area:

Legs, Underarms, Arms, Bikini

VIEW LATEST PRICE →

Special Feature:

Rechargeable

Included Components:

Attachment, Charger

Item Weight:

225 Grams

VIEW LATEST PRICE →
.
This versatile all-in-one shaver is designed for the entire body, but its shape is perfect for getting into the curves of the bikini line and it's built to minimize the nicks and bumps most all-purpose shavers will leave.
Versatile, Water Proof and Hypo-Allergenic
The Panasonic Wet/Dry shaver makes it to the top of the list because of its versatility and its rechargeable nature. A small, discrete charger means you'll always be ready to shave, wherever or whenever you need to.
The device can also be completely submerged, so if you feel like shaving your legs in the bath, you absolutely can. While this is a much wider razor than other bikini trimmers, it has a few key features that puts it leagues above the rest; it comes with four floating blades/foils, which means pivoting into the delicate curves of the bikini line will be no problem.
The actual shaver head of the Pansonic ES 2216C pivots as well, in and out and side to side, which further adds to the flexibility and comfort of this razor.   Panasonic has another model, the ES 2207P (link to Amazon), with only three floating heads and without the pivoting head, that is slightly cheaper. Groom+Style would recommend you spend the few extra dollars, if possible for your budget, on the ES 2216C – you will not be disappointed.
The razor is also hypo-allergenic, meaning you'll deal with fewer reactions, and, finally, it comes complete with a bikini trimmer that will help you trim down those delicate spots, where a close shave would otherwise end in razor bumps.
Agile and Flexible
At first,\ you'll a bit wary of using it near the pubic area, because its head is much wider than most bikini trimmers. Don't be scared, though; the four floating blades allow the ES2216PC to easily swivel and pivot around the curves of your body while the sharp blades will make easy work of the hair that's often left behind by small bikini line trimmers.
When it gets time to get really close to the sensitive spots, though, there's also a pop-up trimmer to take out the stray hairs, and a bikini trimmer attachment which can deal with the actual bikini line when you get to the tight spots where you probably won't feel comfortable using the larger razor.
Because of the wider head, you can also use this model to take care of your underarms, legs or other areas which might need shaving; that way, you won't need two separate razors on hand whenever you hit the shower for your regular clean-up routine – a real benefit if you do a lot of traveling.
It really is a one-stop shop for hair removal. This single, lightweight (about a third-of-a-pound) razor and trimmer will take care of everything, even difficult areas like behind the knees, because of its pivoting blades. And yes, the shaver is a wet/dry model and completely submergible, another nice touch.
The Panasonic Close Curves is completely hypoallergenic, ensuring that there won't be any lasting irritation or rashes when you're finished shaving even if you have sensitive skin. And the design of the shaver, with its pop-up and bikini trimmers, means you won't end up with the razor burn or bumps you'd get when trying to use any other "multi-purpose" shaver in sensitive areas.
When thinking about a bikini razor or trimmer, you might picture a tiny manual shaver that can be tucked away anywhere. However, the Panasonic is (in our opinion) a better choice; it's still small, but also has a rechargeable battery with a tiny charger. You won't have to constantly buy new manual trimmers and you can take the Close Curves with you anywhere you go.
Panasonic has been a leader in the razor market for many years, and they hit the nail on the head with this wet/dry number.
Schick has really made a name for themselves in the art of shaving, and the Schick Hydro remains one of the most popular razors on the market. It should, then, come as no surprise that they are also taking the bikini area by storm, too.
The Schick Hydro Silk For Women Trimstyle Razor and Bikini Trimmer is a simple device that will help you keep your bikini area perfectly smooth without any of the unwanted after effects, and it does it all in style.
This Hydro is double-sided. The pink-and-teal TrimStyle for Women is a disposable razor at one end and an electric razor at the other. It's small, convenient and inexpensive.
The top of this Schick product is a four-blade razor with a fairly-wide pivoting head. Like the other razors on our list, the pivoting action is designed to follow the curves of a woman's body faithfully to get into difficult-to-reach areas while minimizing nicks and shaving bumps, and the Hydro does it well – not perfectly, but well.  Please see below for details on which replacement blades to buy.
The bottom of the TrimStyle for Women is a bikini trimmer which is powered by an AAA battery and flips open for easy use. There are adjustments you can make on the trimmer's comb to choose from three different lengths for your hair, and you also have the choice to remove the comb completely to trim as close to the skin as possible (and then finish with the razor if desired).
The Schick is waterproof with a contoured rubber handle so it can be used anywhere. And with no attachments or cords to worry about, it's the simplest of our top four choices to toss into a purse or backpack so you can do touchup work wherever you go.
When you are looking to complete a simple trim, you turn on the razor, pick your desired length, then smooth the trimmer over the area until you achieve your desired look.  Once you have trimmed, if you so desire, you can then flip the razor over to finish with a close shave.
The Schick Hydro Silk is perfect for the person who just wants a tool for the bikini area and does not expect it to be used anywhere else on the body.
More detail on the Schick for Women Trimstyle Razor & Bikini Trimmer:
Dimensions: 6 x 2 x 2 inches
Weight: 2 ounces
Attachments: Trimmer guard
Wet/Dry: Yes
Power: AAA battery included
Warranty: One year
Check Schick Hydro Silk for Women Price On Amazon
Replacement Blades for the Schick Hydro Silk
You can choose between two types of blades when buying replacement cartridges for the razor end; the Ultra Smooth blades moisturize the skin with Jojoba and Acai Berry conditioning strips, and the Sensitive Skin blades have what the company only says are "hypoallergenic ingredients."
Utilizing 2 double-A batteries (not included), this tiny trimmer is more powerful than it looks. It has been a top-rated bikini shaver since 2015, and there is a good reason for that. You can alter the position of the razor head to five different points, making it easy to manipulate the razor into the curves and crevices of the bikini line.
The angled trimmer head is also rather thin, making it even easier to access the smaller areas of the bikini region. It stands at only one-inch wide but packs a lot of power in its tiny frame.
The adjustable head is a nice touch that many other razors do not have. The ability to position the head of the razor for your unique body makes the entire shaving process hassle-free, and that is something worth getting excited over.
If you are looking to get a complete clean shave, this isn't the razor for you, but if you're looking for a neat trim with easily adjustable lengths, you'll want to try this Panasonic. The razor can be customized to provide 1/8 of an inch thickness to 5/8ths of an inch.
If you are looking for a slightly closer shave, you can also remove the trimmer head, and you'll get a smoother feel, but there will still be a bit of stubble. This razor is really designed to trim the bikini region for a neat, well-groomed look. A completely hairless line should not be expected.
While this may be a niche razor that really is intended for use on the bikini line only it is a great one to have in your arsenal. While Panasonic decided to make this trimmer a "one-trick pony". It does that trick exceedingly well, and it is rare to find a razor that works this well on the bikini line, so it's worth a little splurge.
More detail on the Panasonic ES246C Bikini Trimmer:
Dimensions: 6 x 2 x 2 inches
Weight: 3 ounces
Attachments: Trimmer guard
Wet/Dry: No
Power: Two AA batteries not included
Warranty: Two year
4. Braun Silk-épil FG1100 Bikini Hair Electric Shaver, Styler and Trimmer
Braun is largely considered a behemoth in the shaving market. It is one of the most popular electric razor brands in the market, and now Braun has moved into the bikini market as well. Their Silk-Epil offering does everything it promises to do, and it comes with a ton of customizing attachments that will get the job done.
This is a feminine-looking, precision tool specifically for styling the bikini line.
The shaver has a "precision head" which gives you the ability to delicately shave or style the hair in your private areas; there are also ten included templates for nearly every shape or design you might want to sculpt – your imagination (or that of your partner) is the only limit to what you can do with the Braun styler.
Then there is a slim, T-shaped head for trimming the bikini line so it's absolutely perfect, following the curves of your body to neatly remove hair from that sensitive area without nicks, cuts or irritation. There are also two different combs (5mm and 8mm) you can attach to make sure the hair in specific areas is all trimmed to the exact same length.
The FG1100 can also be used for close detail work on other parts of your body; the high-precision head is particularly well-suited for styling your eyebrows.  The Silk-épil is powered by a single AAA battery, so you will have to keep a supply on hand.
The Groom+Style review team can't find a single argument against this unit as a small, effective way to keep the bikini area styled and neat.
Looking at the Braun Silk-épil FG1100 Bikini Hair Styler and Trimmer:
Dimensions: 7 x 1 x 1 inches
Weight: 2 ounces
Attachments: Trimmer head, two trimming combs
Wet/Dry: No
Power: AAA battery included
Warranty: Two years, limited
If you like the idea of the Braun FG 1100 but want "more", then the Braun Silk-Epil 7 gives you just that! You get the  Braun FG 1100 plus an epilator, shaver and trimmer. It is more expensive than just buying the Braun FG 1100 but is a great investment.
A great epilating, shaving trimming and styling kit.
Looking at the Braun Silk-épil 7 Bikini Hair Electric Shaver, Epilator, Styler and Trimmer:
Dimensions: 5 x 3 x 2 inches
Weight: 3 ounces
Attachments: Epilator (with 3 epilating caps), shaver (with trimmer guard), and styler
Wet/Dry: Yes
Power: Lithium-ion battery, rechargeable
Run Time: 40 minutes
Warranty: Two years, limited
The single biggest complaint made about female bikini trimmers is that they are not as reliable as the equivalent male grooming products.  Groom+Style thinks there is probably a hint of truth in this – although members of our team for art of shaving have been happily using the Panasonic ES2216PC and Braun FG1100 for years.  This might be more related to the fact that the product manufacturers think that men, interestingly enough, are willing to invest more in electronic grooming products (maybe due to men being used to spending substantial amounts for their electric face shavers).
Either way, when our female testers at Groom+Style put the top-rated male body groomer to the test, they found it to be highly effective for shaving and trimming the bikini area, legs, and armpits. The Philips Norelco Series 7100, which functions as a shaver and trimmer, is similar in performance to the Panasonic ES2216PC. However, at roughly double the price, it feels more durable and includes additional features like a back shaver.
The Philips HP6378 is unique (ok, except for the Braun Silk-Epil 7 7-561 at #4a) on our list because it not only does nice work trimming and shaping bikini-line hair, it can also epilate by means of a dedicated attachment. In fact, this Philips unit has six different attachments, several for the eyebrows and the rest for "down there."
The good-looking Bikini Perfect Deluxe starts with a precision trimmer, allowing you to groom the bikini line comfortably and to your exact specifications; to help with that task, there is also a precision comb which lets you select one of five settings to choose the length you'd like the hair to be, anywhere from 2mm to 10mm.
Then, there's a micro-razor attachment to clean up, giving you a close shave along the bikini lines to get rid of any remaining stubble, and avoiding the stubborn problem of irritation or rashes thanks to the micro-razor's hypoallergenic foil.
The game-changer is the epilator attachment which allows you to remove hairs from their roots, giving you weeks before you have to worry about them again.
The two eyebrow attachments for the Philips HP6378 are the eyebrow comb, which can trim each eyebrow to a perfect length, and the micro-trimmer designed to shape your eyebrows to perfection (which can also be used to remove single hairs in your bikini area as well).
The package also comes with an exfoliating glove, illuminating tweezers, and a carrying case.
The trimmer works on a rechargeable battery and is a wet/dry model which can be used in the shower and then just rinses clean.
The Bikini Perfect Deluxe is the most expensive unit on our list, and that's one reason it doesn't rank higher. We also didn't think it was quite as good in dealing with pubic hair as the two products above it, and we were a bit put off by its required 10-hour charging time.
Note: If you like the Philips product range but do not want the epilator (Philips HP6376 has the microshaver and trimmer but no epilator) or don't want a rechargeable option (Philips Bikini Genie BRT383 is a trimmer) then there are some various options for you – see more details below.
8. Remington WDF5030 Wet & Dry Women's Rechargeable Electric Foil Shaver
The Groom+Style review team was intrigued by this four-blade shaver because of its unusual open-blade system. Combined with an angled head that stays flush to the skin however you hold the razor, the open blades deliver a very close, satisfying shave.
As you'd expect from a Remington, this is a foil model with floating heads. The foils are designed with what the company calls "Lift Logic," allowing the shaver to capture and cut hairs that are different lengths and growing at different angles, all in the same pass. The flexing dual-sided trimmer that sits in front of the blades also helps by prepping longer hairs to be gobbled up. Speaking of the design, it was created specifically for the contours of a woman's body so the shave is much more satisfying and effective than the one you'd get from a man's razor.
There are thoughtful extras built into the WDF5030, too. An almond oil strip cools and nourishes the skin as you shave. The blades are treated with an antimicrobial additive that prevents the growth of bacteria. There is a built-in trimmer and an included bikini comb for use in sensitive areas. The handle is non-slip and the razor is hypoallergenic. And of course, since this is a 100% waterproof wet/dry shaver it can be used in the shower or bath with or without gel.
You get about 30 minutes of shaving time with the rechargeable lithium-ion battery.
Remington has designed a terrific wet/dry shaver for every area of a woman's body; it delivers a smooth, close shave at a very reasonable price.
Specifications of the Remington WDF5030 Wet & Dry Women's Rechargeable Electric Foil Shaver:
Dimensions: 9 x 3.5 x 5 inches
Weight: 4 ounces
Attachments: Bikini comb, head guard
Wet/Dry: Yes
Power: Lithium-ion, rechargeable
Run Time: 30 minutes
Warranty: Two years, limited
Check Remington WDF5030 Wet & Dry Women's Rechargeable Electric Foil Shaver Price on Amazon
Note: a model from previous years which has been replaced by the more effective  Braun Silk-épil FG1100 or even Philips Bikini Genie BRT383.
The Cleancut T-Shape Personal Shaver is a simple, but effective trimmer that will get you the shave you are after without all the bells and whistles. If you are the kind of consumer that really prefers the simpler things in life, this razor will fit your bill.
Sure, it doesn't have a ton of floating heads or a hefty handle. It doesn't come with a carrying case or anything like that, but it gets the job done and it gets it done right.
The T-shape shaver is slender. The handle is roughly the width of an electric toothbrush, and it curves up delicately into an extremely thin, easy-to-maneuver head. There aren't several trim levels, but you can adjust your trim based on how hard you press down on the razor.
When a company's own marketing material touts a bikini razor as being perfect for "landing strips" and "Brazilians," you know they're confident in their product's performance and comfort. The Cleancut T-Shape, for the most part, delivers.
The PS335 does leave some stubble which Cleancut recommends cleaning up with one of their other shavers, the ES412 or ES1080. That's because there are no other attachments or options with this unit; it depends solely on its "ultrafine comb-style" cutting head.
The bottom line is that you get a close trim along the bikini line without cuts or nicks; you'll do best to first trim any long hairs and then use some powder or baby oil on the skin as you trim, because the shaver is not intended to clean out forests and there is the possibility of some irritation after using the T-Shape.
The slender, curving design of this model makes it well-suited to match the curves of your body in tender areas, and its slim handle makes it easy to maneuver. It requires a single battery which is described as "nonstandard" and comes included with the unit; we haven't seen any information about being able to replace the battery, so we're assuming that when the battery has run its course, you'll have to purchase a new razor.
There are no extras with the Cleancut, and it's not waterproof so you can't use it in the shower.
Groom+Style don't think it is the very best razor or trimmer on the market, and we think the Schick Hydro is better value. But it is the smallest and lightest of the models we've listed, and it's the fifth best bikini trimmer on the market. With so many competitors out there, that's not a bad place to be.
Facts and figures for the Cleancut PS335 T-Shape Personal Shaver:
Dimensions: 2.5 x 1 x 7.5 inches
Weight: 2 ounces
Attachments: None
Wet/Dry: No
Power: "Nonstandard" battery
Warranty: One year
10. Remington WDF4821US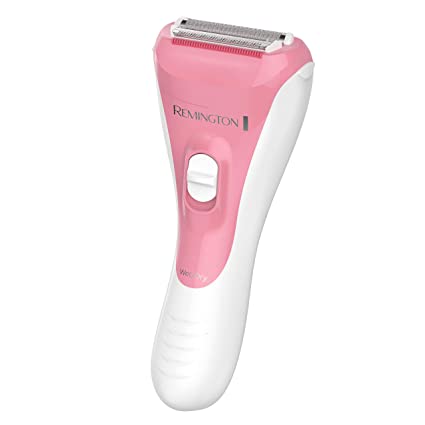 Experience the ultimate close shave with the Remington Smooth & Silky Rechargeable Shaver. Its 3 Blade system, with flexible hypoallergenic foils, provides a close and irritation-free shave. The Flexing Trimmer blade expertly lifts, guides, and cuts flat-lying hairs for silky-smooth results. The comfort tips gently remove unwanted hair for added convenience. This shaver is designed for both wet and dry use, allowing you to enjoy a comfortable shave in or out of the shower.
Specifications of Remington WDF4821US:
– Power Source: Battery
– Department: Women
– Head Type: Foil Head
– Color: Pink
– Motor Type: Foil
– Body Area: Legs, Underarms, Arms, Bikini
– Features: Wet/Dry, Waterproof, Cordless, Bikini Trimmer Headguard, Rechargeable

Check Remington WDF4821US Price on Amazon
11. Krovena Electric Shaver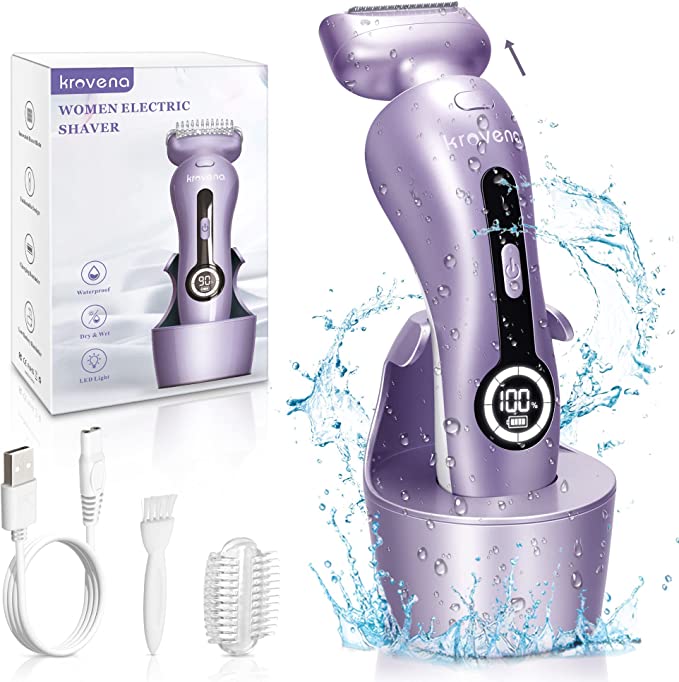 The Krovena Electric Brazilian Shaver is designed for an upgraded shaving experience. Unlike other women's electric razors, the shaving head is detachable, allowing for easy and safe cleaning. Simply press the detachable button and pull out the head for cleaning. Note that blades are not provided as replacements, but the shaving head can be purchased in our store.
The visible digital display screen of this electric shaver shows the exact electricity capacity, which can be fully charged in just 1.5 hours. One full charge allows for 20-30 uses, providing a month's worth of shaving. Please use a 5V1A adapter when charging the shaver, as fast-charging devices may damage the circuit board. The shaver can be charged through a computer, 5V1A adapter, power bank, or car charger.
The Krovena shaver is perfect for achieving flawless legs and bikini lines. It's 3 high-performance.
Specifications of Krovena Electric Shaver:
– Portable design for on-the-go use
– Waterproof for convenient use in the shower
– Designed specifically for women
– Rechargeable for convenient and eco-friendly use
– Detachable head for easy cleaning

Check Krovena Electric Shaver Price on Amazon
12. Philips SatinShave BRL130/00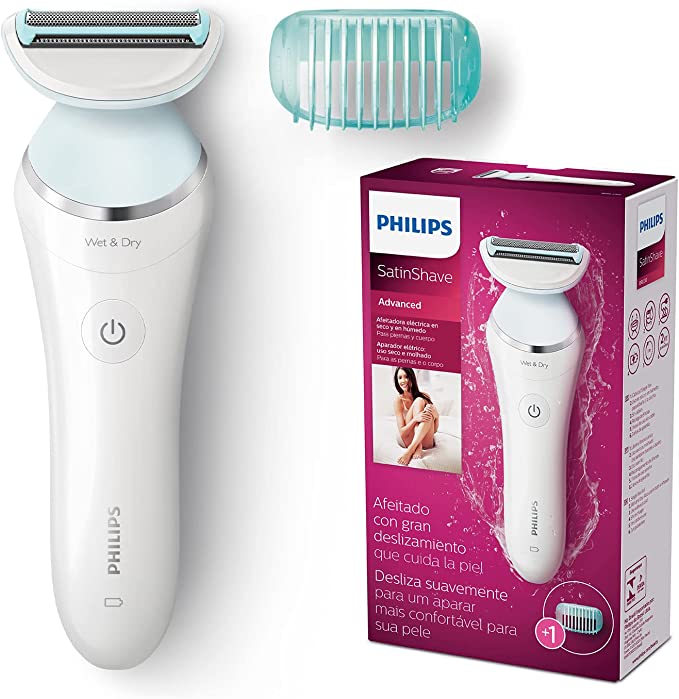 Get silky smooth skin with the SatinShave Advanced LadyShaver. This shaver provides a close and gentle shave for your legs and body, leaving you with hair-free skin without any irritation. Its versatility makes it easy to use in the shower or bath, making hair removal a convenient and effortless process.
Frequently Ask Questions
Is a bikini Trimmer better than shaving?
Bikini trimmers or shavers are functioned to eliminate unwanted hairs. However, if you want to have a smooth shave with a cut that has a particular length, then a bikini trimmer is better. As also has been found to have less irritation compared to regular shaving products. However, if you want a quick removal and close that, a shaver is a good option. It's the easiest way to get the cut area to be clean and bald. Both have their plus and minus, so they fit with your need and priority.
Do bikini trimmers leave stubble?
Yes, the blades will leave a little stubble, as bikini trimmers are not for someone who wants a perfect smoother outcome which completely clean. If you wish to clean shaving, then a razor is the choice. However, it is made like that for a reason. Bikini trimmers are produced like that to avoid hair shedding and razor irritation to the user, so it's safe to use without worrying about getting wound.
Conclusion
Unwanted hairs can be a nuisance for many people, leading them to seek hair removal methods. When choosing a shaving or trimming product, it's important to consider the advantages and disadvantages, as well as what you want to achieve with the hair. Do you want to be completely hair-free or just tidy up the area?
When it comes to shaving or trimming in sensitive areas, like the bikini line, using a specialized tool, such as a bikini razor and trimmer can be more efficient and effective. These products are designed specifically for this purpose and come in a variety of options to fit your budget and needs. It's essential to select the right one to ensure satisfaction with the results.
If you are curious about how to achieve more permanent hair removal, then you might want to read Groom+Style's best home laser hair removal review.