Best Back Shaver You Can Try – Top 10 for December, 2023
There are many kinds of body care. One of them is shaving the hair on the back. The goal is to clean the body. Therefore, Groom+Style recommends the best back shaver with a choice between manual and electric.
Top 10 Back Shaver
1. Sigma Grooming Back Shaver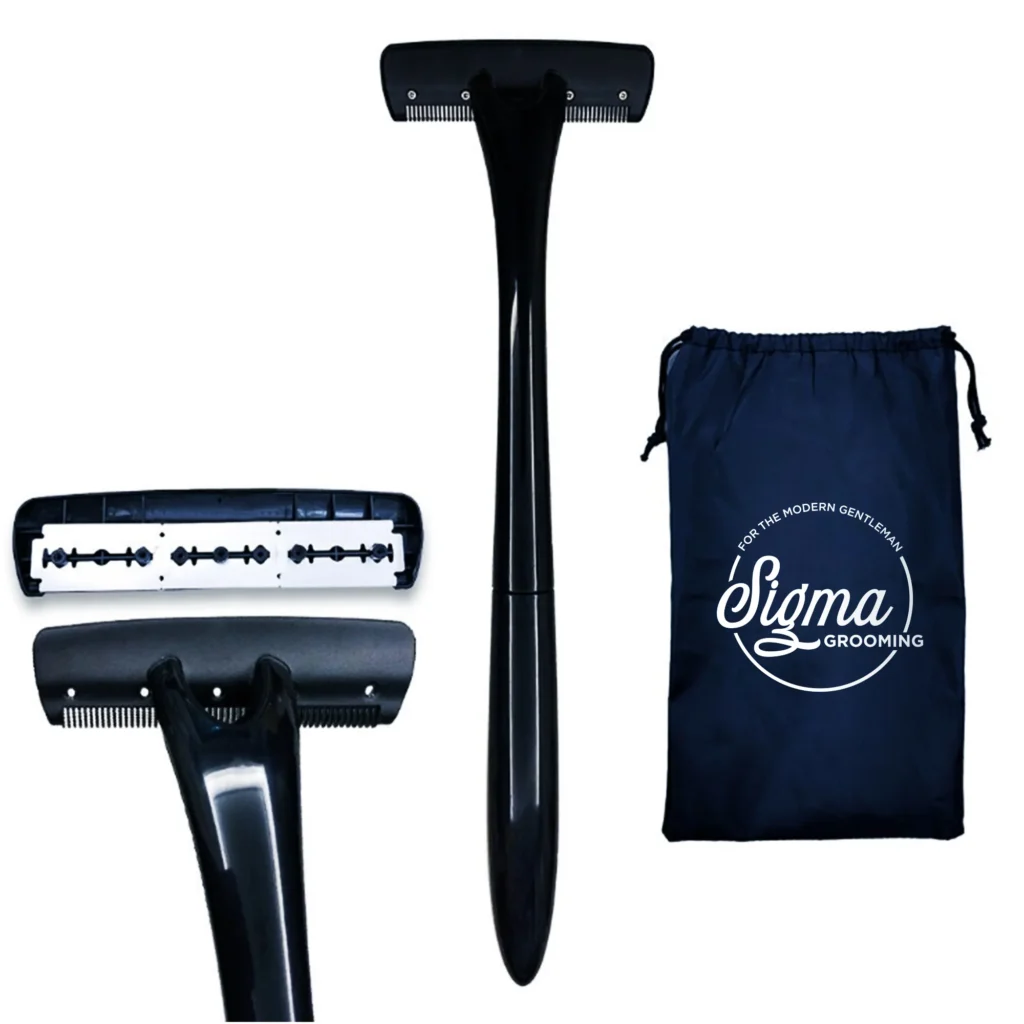 For those who believe manual razors provide the closest shave, Sigma's back shaver is another good option.
Its handle is ergonomic, and the blade head uses standard, double-edge blades the same size as those found in a regular razor, making it easier to find and purchase replacement blades.
2. Philips Norelco Bodygroom Series 3100
Norelco's Bodygroom Series 3100 stands out among electric back shavers, and it's ideal for guys who prefer dry shaving.
The 3100 has a foil head and stainless steel edging blades that shave more smoothly than most electric back shavers and comes with three attachment combs for trimming long hair without uncomfortable tugging.
The long handle enables you to easily reach those difficult-to-reach areas, such as your mid and lower back, which are always the most difficult to get, but the trimmer can also be easily removed from the handle and used as a body shaver.
3. MANGROOMER Ultimate Pro Back Shaver
Mangroomer's new Ultimate Pro Back Shaver is an excellent choice for those who prefer electric shavers.
It has a long, extendable handle that is easy to grip, a flexible head that allows the blades to pivot, a shock absorber for a more comfortable shave, and a light charge indicator that shows how much battery power is left.
Plus, if you have some particularly unruly or longer hairs on your back, you'll probably appreciate the power burst mode, which sends the shaver into overdrive to help you mow through thicker patches of coarse hair.
4.Panasonic ER-GK60-S
The Panasonic ER-GK60-S is an electric clipper designed to trim and shave your hair. It has three attachments that can be adjusted to the desired length: 0.08 inch, 1/8 inch, and 1/4 inch. These are built into the device so it can quickly adapt to any part of your body with hair.
The 0.08 inch is best suited for clipping and tripping in the areas where you're most sensitive: the crotch and underarms. Direct contact is minimized at this length, providing extra protection for your sensitive areas.
1/8-inch and 1/4-inch attachments, on the other hand, work better for the chest, back, shoulders, arms, and legs.
5. Remington Back Shaver BHT6455FF Shortcut Pro Body Groomer
The Remington BHT6455FF is a Trim/Shave Technology Handle ShortCutTM Pro Body Groomer that cuts hair as close as 0.2mm for smoothness. The stainless steel blade is 60% wider, allowing you to trim more body hair in one pass, and it's dual-sided, enabling you to trim in either direction. It is powered by a lithium rechargeable battery that provides 40 minutes of cordless runtime on a single charge. This back shaver allows you to trim up in the shower for maximum comfort. The waterproof performance will enable you to trim dry or in the shower for comfort and convenience.
6. MicroTouch Titanium TRIM
The MicroTouch is one of the shorter trimmers on this list, so it won't reach as far as some of the other models on this list.
Despite this, it is intended for body trimming and has a 90° offset blade angle, making it ideal for guys who only need something to trim their upper back, shoulders, and other easily accessible areas.
7.MANBLADE PRO Back Hair Shaver
The ManBlade, like some of the other manual shavers mentioned above, employs standard double-edge razor blades housed within an extra-long handle.
However, its extra-long handle allows you to stack four standard razor blades next to each other, giving you the benefit of a wide shaving head while using common (and, again, relatively cheap) blades.
8.BAK blades 2.0 Elite Plus
This handy device is the older brother of the BAKblade 2.0 Plus. It almost has the same physical specifications as the BAKblade 2.0 Plus, but with several valuable upgrades. Let's look more closely at what the BAKblade 2.0 Elite Plus has to offer.
This back shaver now has three DryGlide blades instead of two. The three replaceable shaving heads can quickly and efficiently tackle tougher and thicker hair. The 4-inch blades can also trim and cut your back hair in wet and dry conditions.
As with its predecessor, all of the blades are detachable and can be easily removed to shave areas that would be difficult to reach if used with the handle.
With the easy-grip handle, there are no differences. The patented S-shaped handle that comfortably glides on the grooves and curves of your back remains. The handle is easy to grip and ergonomically shaped, so there's no risk of slipping and cutting you.
9. Razorba Back Shaver
The Razorba is shaped like a hammer and has a long arm. There is a hole at the end of the plastic handle where you can hang the Razorba after use. The entire thing is sixteen inches long and has a non-adjustable stem. This thing has a decent grip, thanks to the handle ridges, which provide a somewhat ergonomic and steady grip.
The Razorba comes with a wide, rigid, and comfortable razor right out of the box. Naturally, the blade becomes dull after a few uses, but you can easily replace it with any standard blade.
10.BRO SHAVER Back Hair Shaver
For men who prefer traditional shaving methods such as a straight razor and shaving soap, a manual back shaver like the Bro Shaver is probably the best option for back shaving.
It employs 4-inch blades similar to those found in traditional safety razors to provide a close, clean shave.
Most Frequently Ask Questions
Is shaving your back a good idea?
In hot weather, having hair on your back may increase body heat and be uncomfortable. However, it does not present any other difficulties or health risks. If you have it, there is no medical reason to remove your back hair. It is, however, your choice whether to do so for comfort or aesthetic reasons.
Conclusion
Keeping the back clean from fine hairs is an important thing to do. Therefore, choosing the best back shaver for yourself is very important. Don't make the wrong choice. Make sure that this shaver is safe for your body.