Best Electric Head Shaver for Men – Top 7 Smoothest Review For September, 2023
IMAGE
PRODUCT

MSRP:

$143.50

Dimensions:

9 x 5.5 x 2 inches

Weight:

6 ounces

Wet/Dry:

Yes

Power:

Lithium-ion battery, rechargeable

Warranty:

2 Years

VIEW LATEST PRICE →

MSRP:

Price not available

Dimensions:

6 x 2.5 x 2 inches

Weight:

6 ounces

Wet/Dry:

Yes

Power:

Lithium-ion battery, rechargeable

Warranty:

2 Years

VIEW LATEST PRICE →

MSRP:

$16.50

Dimensions:

3 x 2 x 1.5 inches

Weight:

4 ounces

Wet/Dry:

Yes

Power:

Manual

Warranty:

1 Year

VIEW LATEST PRICE →

Washable:

Yes

Dimensions:

4 x 3 x 3 inches

Weight:

5 ounces

Run Time:

90 minutes

Power:

Lithium-ion battery, rechargeable

Warranty:

One year

VIEW LATEST PRICE →

Washable:

Yes

Dimensions:

6 x 2 x 2 inches

Weight:

9.5 ounces

Run Time:

50 minutes, plus quick-charge three-minute shave

Power:

Lithium-ion battery, rechargeable

Warranty:

Two years

VIEW LATEST PRICE →

Washable:

Yes

Dimensions:

3 x 2 x 1.5 inches

Weight:

4 ounces

Run Time:

Not applicable

Power:

Manual

Warranty:

One year

VIEW LATEST PRICE →

Washable:

No

Length Settings:

Will trim to 1/150″ – 0.1mm

Attachments:

Blade guard, 2 attachment combs (0.5 and 1.5)

Run Time:

Not applicable

Power:

Corded

Warranty:

One year

VIEW LATEST PRICE →
Men who start to lose their hair or see the first signs of grey – or just envy the look of guys with shaved heads – all say the same thing about their hair: "It'd be simpler just to shave it all off."
Shaving Your Head Properly Requires the Right Head Shaver
Shaving your head can be a challenging task, especially if you are new to it. It requires experience and skill to comfortably maneuver an electric head shaver around your scalp, and it can be difficult to see and reach all the areas you need to shave. It can be a frustrating task for most people unless you have the right equipment specifically designed for shaving your head like an electric head shaver.
For those who have difficulty with coordination, using a manual or straight razor can be a difficult task and even cause injury. Additionally, standard electric razors are not designed to handle the longer hair typically found on the top of the head, making it challenging for individuals to find an appropriate electric shaver.
With the advances in technology, modern personal grooming has become an art. There are now more options for shaving equipment and products than ever before. When looking for the best electric head shaver, it's important to carefully consider your individual needs and preferences to select a suitable product.
Are you searching for the best way to shave your head? The right equipment for shaving a bald head can be hard to find. To assist you, we have compiled a list of the top 7 electric head shavers on the market.
Are Foil Shavers Better Than Rotary?
You can choose between foil electric shavers and rotary electric shavers from the market. But the choice is not easy. As you may know, foil electric shavers come with oscillating blades along with a foil on top. On the other hand, a rotary electric shaver consists of three circular heads.
These heads will spin internally, and the force is used to remove hair. However, both these systems have their fair share of advantages.
For instance, foil shavers are better than rotary shavers if you want the smoothest shaving experience. You can also benefit from the increased precision and get straight lines.
In the end, your face will have a completely bald look. It is also the recommended choice if you shave every single day and have not-so-rough facial hair.
On the other hand, rotary shavers are the best for those who have rough skin. Because of the three spinning heads under the hood, rotary shavers can remove a bulk of hair with minimal effort. In addition, you can easily navigate the electric shaver and remove hair from your neck and other difficult-to-reach areas. In short, you can pick a rotary shaver if you have massive facial hair growth.
What is The Most Popular Electric Shaver?
Having an electric shaver in your grooming kit isn't enough; you will undoubtedly need a high-quality shaver that can stay with your grooming journey almost every day.
Philips Norelco QC5580/40
The most popular electric shaver undoubtedly has to be the Philips Norelco QC5580/40. This cordless shaver gives you excellent shave or trims according to your choice. The various combs allow you to cut your hair to any desired length without any mess or fuss.
Panasonic Arc3 ES-RT97-S
If you are looking for another brand that does the job of shaving or trimming your beard and head, then look no further as Panasonic Arc3 ES-RT97-S dominates the market for its versatility and power.
Skull Shaver Pitbull Gold Pro Generation
The most popular electric shaver for rocking the bald look is no other than the Pitbull Skull Shaver Gold Pro Generation. Its innovative design makes shaving your head and beard an effortless job. You are bound to get the closest shave without any nicks or cuts. It is straightforward to grip, clean, use, and charge. This shaver wins people's hearts because of its flawless functionality.
Best Head Shaver for Men – Top 7 Reviews For [insert_php]echo date('Y');[/insert_php]
The Groom+Style Team had a very difficult time deciding which electric head shavers should list at #1 and #2 because our two top choices have very different qualities.
This Philips Norelco model makes it to the top of our rankings for three reasons: its unique head design, its ability to trim longer hair before the balder attachment gets your head nice and shiny and its reasonable price.
The most interesting of the three features is the rotating head of the "Do-It-Yourself", which moves easily through 180 degrees.  It eases the difficulties of shaving yourself with a standard a non-rotating head.
Using the head is simple; all you need to do is to select the angle that works best for you. This will make shaving in the hard to reach areas like the neck, and sides of the head more accessible. In addition, it makes shaving the beard, jawline, and chin easier. You simply rotate the head to select the angle at which you'd like to shave and the head will stay flat to the scalp or skin, making it a snap to reach and shave everything from the sides of your head to your neckline – without having to do contortions to reach everywhere.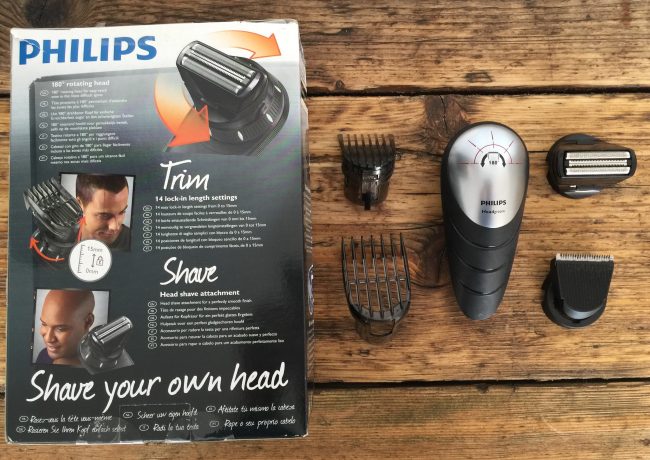 No competitor offers this sort of convenient operation.
There's a dial on the head which allows you to choose more than two dozen different lengths for your trim (from zero to 5/8 inch) before moving on to the balding tool (of course, you can also just stay with a buzz or close cut without a complete shave).
The trimming function on the QC5580 is the best of any electric head shavers we've seen. Use the trimmer first, to shorten the hair before switching to the balder. The balder shaves very close to the skin, giving a smooth finish. This versatility makes this shaver indispensable. The blades have rounded edges, to minimize cuts, and for a smoother, more even shave. There are also two attachment combs, one for longer hair lengths and one for precision work.
The actual shave is where the Norelco falls just a bit short of the mark set by our #2 choice. The balding attachment is a foil shaver rather than a rotary one, and we've found that rotary is a better choice for getting the completely bald look on the head in a lot less time. This shaver requires several passes and some strong pressure to completely remove all short hairs and stubble from an area – which can mean more irritation or razor burn on your scalp than a rotary shaver. Don't get us wrong; the shave isn't bad at all, it's just not as clean as the next razor on our list.
This Phillips comes with a Lithium-Ion battery. It is good for one hour of use, after 60 minutes of charging. You may use it with, or without the power cord, for more portability. The shaver has a battery level indicator; a white light for a full charge, and an orange light for low battery. This is important in case you are shaving far from a power source.
Also, it is compatible with all voltages worldwide. This is very convenient while traveling since you will not require an adapter.  The Phillips QC5580 comes with a small handheld mirror to help you reach those hard to shave spots. The whole package comes in a handy storage pouch.
The QC5580 has a nice feel in the hand thanks to its rubber grip, it's easy to clean under the tap, doesn't require lubrication and has self-sharpening stainless steel blades.
We give it an "A" for convenience, design, and versatility (it works well as a beard trimmer as well as a hair trimmer); if we didn't have to give it a "B" for the actual balding function, this would be the perfect unit.
Note: the QC5560/40 model only has the trimmer and does not come with the shaver attachment – so make sure you buy the QC5580.
Specifications of the Philips Norelco QC5580/40 Do-It-Yourself Hair Clipper Pro:
Dimensions: 9 x 5.5 x 2 inches
Weight: 6 ounces
Length Settings: 14
Attachments: Balder, large comb (3-15 mm), precision comb (1-3 mm)
Washable: Yes
Power: Lithium-ion battery, rechargeable
Run Time: 60 minutes
Warranty: Two years
Production Center: Netherlands and China
Note: If you are interested in buying a Skull Shaver, please focus on the Pitbull range – it is the latest generation of skull shaver with improved production quality and build.  There is a Silver, Gold or Platinum – G+S would recommend the Gold.
You've probably guessed from our description of the Norelco Philips that our #2 choice, the Skull Shaver, does a better job on the actual shave but isn't as versatile overall. We don't mean to imply in any way that you can't compensate for the shortcomings; as you can purchase a hair trimmer attachment that fits this unit which will let you trim your hair down to the point where it's ready for a shave. But if you want to use this shaver out-of-the-box, you'll need to have first trimmed your hair another way.
So if you plan on letting your hair grow out at times you just have to buy the trimmer attachment(link to Amazon). Using the clipper attachment you will find that getting your head almost bald is very simple, and to do the rest you just need to use the Skull electric head shaver.
In addition to the clipper, other attachments available for purchase include a charger/stand, a body shaver and a nose and ear trimmer.
The shave itself is simply terrific. The Skull shaver uses rotary blades (which, as we've mentioned, are better suited for head shaving – unfortunately, most of the good rotary shavers are all made by the same company, Philips Norelco).
But this unit doesn't have the three blades you normally see on shavers; it has four full rotary blades. They move individually and are mounted on a large head that flexes and swirls to follow the contour of the scalp, letting you remove just about every blade of hair and giving you a very close shave without nicks or cuts very quickly (you don't have to go over and over each patch), no matter what direction you move the shaver.
And moving the shaver is extremely easy, because of the way it's built. The Skull Shaver doesn't have the traditional long handle of a foil razor or the bulky "L" shape of a rotary razor; it simply has a very small, patented base which easily fits in the palm of your hand, somewhat like a square bar of soap.
This makes the head shaver feel almost like an extension of your arm, allowing perfect control of the unit even if you're shaving the back of your head. It's a terrific idea and the team were surprised no one else had thought of it earlier. Flexibility, comfort, and ease of use are the most important traits you'll love about the Skull shaver and combined they make the shaving of your head an utterly pleasurable experience.
The latest generation of Skull Shaver is now waterproof can be used in the shower and cleaned under the faucet.
While other bald head razor shavers need to be charged before they can be used, the Skull shaver is different and once you open the box you can start using it right away. This is because it comes partially charged and if you run out of battery, all you need to do is plug it into your wall outlet and in 2h you got a full charge ready to be put to good use (allowing you to shave your head up to 3 times).
As mentioned above this head shaver (which can also be used on the face) won't be right for you if you like to let your hair grow out for a while and then shave it completely, unless you also purchase the trimmer attachment.
If you prefer the bald look for the long term it's the ideal unit for daily or bi-weekly use, even though it's pricier than most competitors.
More details on the Skull Shaver:
Dimensions: 4 x 3 x 3 inches
Weight: 5 ounces
Length Settings: None
Attachments: None
Washable: Yes
Power: Lithium-ion battery, rechargeable
Run Time: 90 minutes
Warranty: One year
We don't usually list two models from the same manufacturer, but we're making an exception for one reason. The Philips Norelco QC5580 at the top of our rankings is a foil shaver, while this unit is a more standard (for Norelco) rotary shaver.
It's a very nice choice if you want a dual-purpose razor that does an equally good job on your face and on your head.
The 4500 (formerly known as the PowerTouch) is a three-blade wet/dry shaver, with heads designed to catch both long hairs and stubble. They're also free-floating in Norelco's proprietary Pivot, Flex, and Float and Lift and Cut systems; this allows the rotary heads to follow the contour of your face and head to catch all of the hairs many razors leave behind and slice them off right at the point where they emerge.
It's not quite as comfortable to do your head shaving with this product as with some of our higher-ranked choices since you do have to do some maneuvering or use your "off-hand" to get the razor around to the far side of your scalp.
We like the 4500 as a primary razor that can give you a close shave on your face and your head.
Checking facts and figures of the Philips Norelco Shaver 4500:
Dimensions: 6 x 2 x 2 inches
Weight: 9.5 ounces
Length Settings: None
Attachments: None; pop-up trimmer for sideburns
Washable: Yes
Power: Lithium-ion battery, rechargeable
Run Time: 50 minutes, plus quick-charge three-minute shave
Warranty: Two years
Production Center: Netherlands and China
Our second last choice is another "all purpose" unit meant for shaving both the face and head. The Panasonic Arc3 is a three-blade wet/dry foil shaver that delivers a close shave thanks to its MicroArc technology. It also has a comb attachment with five settings, which allows you to use the razor as a trimmer for the hair on your head before shaving it.
Since this is a foil shaver, you're going to have to go over most spots on your scalp at least several times before you've got a completely-bald look, but it gets the job done.
The Panasonic Arc3 is well-designed, powerful, comes complete with a charging stand and only requires a rinse under running water to clean.
As with the Norelco 4500, we wouldn't choose this shaver just for head shaving. However, it's a good choice as a versatile razor to use on the face, head, and other areas.
The specs for the Panasonic Arc3 Electric Razor ES-RT97-S:
Dimensions: 6 x 2.5 x 2 inches
Weight: 6 ounces
Length Settings: None
Attachments: Comb (five settings, 1 to 7 mm)
Washable: Yes
Power: Lithium-ion battery, rechargeable
Run Time: 60 minutes
Warranty: Two years
Production Center: Japan
5. HeadBlade ATX All Terrain Head Razor
Note: If you are interested in the HeadBlade, then consider buying the "Kit" – it comes with the razor, shave cream and replacement blades.
Check HeadBlade ATX Kit Price on Amazon
This product comes with a number of "ifs". If you want a shaver that's designed specifically for the head, if you want a shaver you can have a little fun with, and if you want a shaver that won't break the bank – the HeadBlade line is tailor-made for you.
Out of the company's several models, we've chosen the ATX All Terrain Head Razor. Why would you call a head shaver an ATX? Because it looks like a toy ATV. Yes, we're serious. There are two wheels on the front of this tiny razor with the spring-loaded, four-blade cartridge suspended from the back, on a head that looks something like the blade of a snow plow.
You grab the HeadBlade by the handle (shaped something like the seat of an ATV) with your finger in the hole provided to ensure a firm grip and roll the shaver over your scalp. That does two things: it brings you back to the days when you were three and loved playing with toy cars, and it shaves your head closely.
There's no clipper attachment for the ATX, so you'll need to do that manually or with a different unit before using this shaver to remove all remaining hair. The wheels are designed to position the head at the right angle for the portion of the scalp that is being shaved, minimizing nicks and cuts (if used properly) while following the contour of the head.
This product comes with two wheels at the base, a huge improvement from the pad in earlier models. The wheels make shaving faster and smoother, rolling over the scalp with ease. This little innovation from Headblade makes the shaving fun, with this almost toy-like gadget, that will appeal to masculine instincts.
Be ready for a learning curve if you decide to give the HeadBlade a try. You'll definitely feel a little foolish the first time you take this ATX for a spin, and you need to be patient and shave slowly without bearing down too much or you could end up missing spots or cutting yourself. You'll probably also need to use your "off" hand to shave some parts of your head, so that adds to the challenge of getting used to this unit.
You may also have to do some manual trimming of tight areas like behind the ears because the HeadBlade isn't designed to fit into those spaces easily. You'll get the best results when using cream rather than gels. With practice, the duration of the shave should be consistently shorter than with traditional razors.
The Headblade Sport is rather light in weight.  This may be an advantage in some ways, but not when it comes to getting a close shave. The lighter weight encourages you to press down on the shaver, leading to cuts. With practice, you should be able to balance the pressure evenly with ease. Luckily, there are videos to bring you up to speed in no time.
If the ATX All Terrain sounds intriguing, but you're not sure whether you want to lay out money for something which might not be right for you, no worries. But if you decide it's not for you, be sure you take out the blades before giving it to your nephew to play with at Christmas.
A non-electric head shaver, that does not have a trimmer.  With practice, you can shave your head completely bald.
A look in-depth at the HeadBlade ATX All Terrain Head Razor:
Dimensions: 3 x 2 x 1.5 inches
Weight: 4 ounces
Length Settings: None
Attachments: None
Washable: Yes
Power: Manual
Run Time: Not applicable
Warranty: One year
Check New HeadBlade ATX Price On Amazon
Ok, for those guys who do not want to shave completely, but want a closer trim than most hair clippers offer (i.e. closer than 0.5 or 0.4mm) the Wahl 5-Star Balding Clippers are a brilliant solution.  These clippers are corded, very sharp and powerful, and come standard with a #000000 blade which will trim to 1/150″ or 0.1mm [#2105 (6×0) blade].
There is a learning curve with these clippers as the blade is very fine and zero-gapped, so you will need to go slow to start, and clear out excess hair from the blade as you trim.
A look in-depth at the Wahl 5-star balding clippers:
Length Settings: Will trim to 1/150″ – 0.1mm
Attachments: Blade guard, 2 attachment combs (0.5 and 1.5)
Washable: No
Power: Corded
Run Time: Not applicable
Warranty: One year
Production Center: 70% still manufactured in the U.S.A.
Headblade continues to forge a comfortable niche in the shaver market. The S4 Eclipse scalp razor is another top-rated razor for bald head shaving with an award-winning design which certainly impresses. The S4 Eclipse scalp razor is without a doubt another prestigious offering from Headblade.
This razor follows in the footsteps of the Headblade Sport, adding distinct improvements in design and styling.  In the S4 Eclipse razor, Headblade brings to market a top of the range scalp razor that has few equals.  Inspired by the earlier award-winning Headblade Sports razor, the S4 Eclipse is clearly a leader in its class.
Description
The S4 Eclipse is a sleek and well-designed razor that comes with the following features:
A hand polished grade 304 stainless steel body
A non-slip, rubber finger ring
A fully enclosed body
A wheel, for balance and better stability
A zip-up hard case for travel and storage
The Headblade S4 Eclipse will surprise you straight out of the box. The industry-leading, stainless steel finish has a classy and beautiful look. This is in stark contrast to the plastic material other razors use. The S4 Eclipse feels smoother and sturdier than other razors and should impress on the bathroom shelf.
The stainless steel body is longer lasting than plastic, especially when accidentally dropped. Stainless steel additionally keeps the shine better than plastics, which fade and scratch with repeated use. The S4 Eclipse is surprisingly easy to clean.
The trademark Headblade rubber ring on the S4 Eclipse, speaks volumes of the highly ergonomic design this product offers. The ring is pliable, allowing you to adjust for better comfort. The non-slip rubber is essential for wet shaves, especially in the shower.
Another distinguishing feature is the wheel at the base of the razor. This is an intuitive addition, which balances the razor and makes it easy to apply pressure evenly while shaving. The wheel also balances the weight perfectly, so no additional pressure will be required to get a closer shave. This is important in providing an even and faster shave when shaving without a mirror.
The small size of the S4 Eclipse allows it to fit snugly into the palm of the hand. The stainless steel encasing increases weight, so the razor can shave closely without the need to press upon it. Combined with the curved design and wheel, the S4 Eclipse comfortably follows the contours of the head, minimizing the risk of cuts.
The zip-up hard case that comes with the S4 Eclipse is another plus. Well designed and handy, the case makes it easy to pack or simply store away the razor when not required.
The S4 Eclipse gives a fun and handy shave.
Can I use an Electric Face Shaver as a Head Shaver?
Some of the electric head shavers on this page, such as the #1 choice, have specific design features that make them ideal for trimming and then shaving the scalp. Other models such as the Philips 4500 and Panasonic Arc 3 are great shavers that can be used on the head and face – and have the benefit of being reasonably priced.
However, if you are in the market for a premium product that will shave your face and scalp then you could also consider the Braun Series 9, Panasonic Arc5 and Philips Series 9000.  Each of these models come with a cleaning station so the shaver can be thoroughly cleaned and disinfected before switching between the scalp and face.
Note: you will need a separate trimmer/clipper if your hair ever grows longer than about 2mm because these models do not have clippers included.
Conclusion
With so many shavers and razors available, selecting the best electric razor for a bald head is a balance between functionality, ergonomics, and price. While manufacturers keep coming up with improved technology and styling every year, these five are among the best electric razors for shaving your head bald for September, 2023.