Best Luxury Watches on a Budget – Top Picks for May, 2023
Groom+Style discusses the best luxury watches you can find for men and women who do not have an unlimited budget.
You can buy a Swatch for under $50 and it will run non-stop until the battery dies and you put in another one. You don't get a more accurate timepiece (necessarily) by buying a luxury watch; that's not the point.
A luxury watch is really only one of two things:
A status symbol
A very, very special gift – for Christmas, an anniversary present, graduation present, or if someone is really lucky Mother's day or Father's day
We could go on all day, picking watches few of us will ever own, watches that could cost up to $40,000 to $60,000 each. Watches that cost the same as the down payment on a house or a university education. And you can forget all about the Patek Philippe Supercomplication, which was last valued in 2014 at $24 million.
Instead, Groom+Style have put together a more modestly priced collection of luxury watches, which, while still expensive, could be considered as more reasonable expenditures for the average person.
Terms to Know and What to Look for in a Luxury Watch
Let's be real: if you're spending a few grand on a luxury watch, you can look for whatever you like. Want a diamond skull with a gold snake wrapped around the eye sockets? We won't try and talk you out of it. It's your money and your appearance, and we want you to feel your best.
We know that many of you are perfectly at ease with the terms we have used in the article to describe our choices, but here is a handy reference for horology beginners or those in need of a refresher.
Brand — When you are talking about high-end or luxury watches, the brand is what it takes to assert if you are a connoisseur. Some are household names such as Rolex, while other ones are less well-known. That being noted, all of the ones we have selected utilize the highest level of workmanship in the horology field.
Complications — The complications in watches are every feature apart from the hours and minutes hands. The term complication is referred to mechanical movements only (quartzes are excluded). The more functions a mechanical watch has the more gears inside the mechanism it requires, thus earning the name.
Design and Build — Traditionally, the majority of modern high-end and luxury watches are made in Switzerland. Yet there are noteworthy exceptions to that rule, with a few brands made in Germany and in Italy.
Glass — There are three kinds of glass in watches, scaled in durability and cost: plastic glass, mineral glass, and sapphire glass. Sapphire glass, which is standard in high-end watches, is the most costly, but also the most damage resistant and less prone to scratching.
Materials — The standard material of the case is stainless steel, which can be coated with precious metal plating, or in true luxury watches, is made entirely of gold, platinum, or other precious materials, eventually with accents in precious gemstones. The wristbands, also called bracelets when made of metal, are generally made of some type of leather (from cow to alligator), metal, or rubber/silicon/plastic for the more sporty ones.
Movement — The "movement" is what really defines a watch. Traditionally mechanical movements (either automatic or hand-wound) are what are preferred by true horologists, but quartz movements, introduced in the 1970s, are now found on many watches due to their extreme precision, durability, and compact size.
Power Reserve — This number indicates the number of hours a mechanical watch can continue to run when fully wound. Automatic watches will keep charging themselves when worn. Alternatively, quartz watches can run about two years on a single battery.
Water Resistance — You often see this reference stated in descriptions as "X meters water resistant." While this is an industry-standard claim, you have to exert some caution.
Top 8 Affordable High-End Watches for Men and Ladies: Our Choices for [insert_php]echo date('Y');[/insert_php]
While we would love everyone to get the watch of their wildest dreams, we know that not everyone can splurge a cool $25,000 on a new Patek. Yet that doesn't mean you can't get a wonderful timepiece to pamper yourself a little bit.
In this article we're taking a look at a realm where you can actually spend a very reasonable amount of your hard-earned dough and still rise and shine with a great watch in the morning. These timepieces are truly excellent and are carefully selected to get the most pro out of your quid.
The reasons to buy a high-end watch such as one of the ones mentioned in this article are numerous:
You could be searching for an amazing watch to start your collection with.

You could be in need of something which looks cool while your Patek is being serviced.

You might be looking for a very special gift for your significant other.

It's possible you're looking for something you can wear all day, every day without standing in the awkward position of feeling yourself "overwatched" or "underwatched."
Therefore, we have included a selection of different models of every kind and type, bearing the most recognizable brand names as well as some more obscure, but very intriguing, selections. We also aimed to make it easy for you to find these watches.
We've split our selections into men's and women's watches, and furthermore into watches that the the most affordable and those that are a little more expensive (but still won't break the bank). We want to demonstrate to you that the phrase "affordable luxury" can be more than a joke.
Prepare yourself to be enamored with the following selections:
Men's Watches: Most Affordable
The deeper we go into the field of watches, the more we hear about types and distinctions between them. You'll hear about the diver, the tool watch, the aviator watch, the dress watch, and the military-style one, among others.
As such, we have tried to select and show you a very broad range of timepieces, from the classics to the bold and risqué. All share the common trait of being carefully selected by the Groom+Style specialists to be noteworthy, well-made, and affordable.
Behind this long and unassuming model number lies a classic of the Longines line: a very good modern rendition of one of the cornerstones of the brand, the Flagship.
Looking at it today, it is crystal clear that we are not examining the latest fad in timepiece fashion. Its elegant, simple lines reveal the tradition of one of the most respected Swiss Maisons, and you are going to get mesmerized by its almondy white, slightly iridescent dial, adorned with golden hands and accents. You'll find the same class, elegance, and understated chic that was present in the first Flagship launched more than sixty years ago in 1957.
Even if the company today seems a little bit out of focus, you cannot deny the fact that this edition of one of its most recognizable models looks sharp.
This beautiful timepiece hosts an L615 caliber, based on the extremely precise ETA 2895/2, a self-winding mechanical movement beating at 28,800 BPH and holding a 42-hour power reserve.
While not big by today's standards at a 38.5 mm diameter, its imposing aura of distinction makes it a perfect companion for every formal occasion as well as many less than formal ones.
All in all, this is a very balanced and impressive watch which you'll find yourself wearing most of the time. It simply feels excellent to have on your wrist.
Distinguishing features include:
Hours, minutes, small seconds at six

30 meters water resistant

Sapphire crystal glass front

Brown crocodile wristband

Date, automatic
So you want a real diver watch, not one to just go snorkeling with. Well, my friend, your best bet would be to turn East and dive in the waters of Japan, taking this beautiful Seiko as your trusted companion.
This Seiko is everything a real dive watch should be – black, chunky, big, sturdy, reliable and water resistant up to 300 meters. It certainly deserves its nickname "Tuna" (as in "tuna can").
Seiko is one of the most important companies operating in the sector of diver watches. The Marinemaster collection debuted over 50 years ago, in 1965, with its first specimen, the legendary 6217 150m, which the Japanese team used in the 8th Antarctic Research Expedition.
The layered case of the Tuna, protected by the signature stainless steel shroud and its specially-made o-rings still provide one of the best solutions in the market for resisting high levels of pressure.
Here's a surprise: the Tuna contains a quartz movement – precisely, the high-range 7-jewels Seiko 7C46 (high-torque quartz) movement, created specifically for this watch.
Would you pay all that money to strap a quartz watch on your wrist? Absolutely, if it is built like the Tuna.
Every part of it oozes quality. There's the brushed steel case, the ceramic covered bezel, the extremely comfortable wristband, and even the small details on the dial and the clear LumiBrite.
Should you try it out, it would be difficult to put down. At a price of far less than our cutoff point, it is also a very affordable temptation.
Distinguishing features include:
Double-domed Hardlex glass

300 meters water resistant

Easy-to-read LumiBrite-covered markers

A five-year battery life
The Eberhard maison is one of the best-kept secrets of the horology field. It is one of the most understated ones, and they have quietly influenced the market by publishing their first-class designs since its founding in 1887 by Georges Eberhard.
The Aiglon Grande Taille is everything you can dream of and then some at a price which will be hard to beat. It sports a magnificent, sultry dark dial, subtly enhanced by a two-toned radial guilloched motif which enhances the simple purity of the steel applied bar markers and hands.
At a 41 mm diameter, it is not that big by modern standards, but this only serves to give it a classic air that will stand the test of time, immune to passing fashion trends.
Powered by a sturdy and reliable Sellita SW200-1 self-winding movement, it will give you a 38-hour power reserve in a compact (only 11 mm) thickness, making it perfect for nearly every occasion.
The wristband is available in Chablis steel or in the optional black ostrich leather wristband with deployment clasp (our preference), giving it a more refined look.
Distinguishing features include:
A sapphire crystal glass front

Date and automatic

50 meters water resistant
"One for the money. two for the show" is apt to describe this timepiece coming from the Hamilton company, which combines the best features of a military and pilot watch serves them in an attractive package at a low price.
It is well-made and sturdy, yet comfortable on the wrist, and it has been worked on by the company to obtain some impressive results.
Its "heart" is an ETA movement, dubbed the H-10 Automatic but fine-tuned by the company to obtain a full 80-hour power reserve, a truly outstanding feat.
The black dial, printed with white Roman numerals, is perfectly done, and really "jumps" to your eyes through the slightly domed sapphire glass of the watch.
In addition to the front, you will find a sapphire glass back that will allow you to admire the working of the movement which, while not adorned or decorated apart from a very simple brand inscription, is always a nice sight. Additionally, it mounts a stylish bracelet of fine steel, smartly designed to comfortably envelope your wrist.
With a price that is frankly very difficult to beat, it is a temptation that every serious watch freak will find almost impossible to resist.
Distinguishing features include:
Stainless steel case and bracelet

80-hour power reserve

Automatic movement

100 meters water resistant
A true skeleton watch from a reputable Swiss company at an afforable price, is in fact, possible. This gorgeous specimen of a timepiece proves it.
The Chemin des Tourelles Squelette, which receives its name from the street where Tissot has maintained a watchmaking factory for its 162 years of history, is a beautiful watch, issued by the famed Swiss Maison to celebrate its rich and important past. By all accounts, it achieves its aim.
It is well designed to show the most important parts of the movement, a manually wound ETA 6497-1 with a 46-hour power reserve, through it's 42 mm case and domed sapphire glass front and back. A sexy decoration adorns its bridges while the designers have carefully studied how to maintain a surprising readability (one of the main issues affecting the typical skeleton watch), which in this case has been resolved quite well.
You are bound to notice and appreciate the blued Roman numerals, with their gracious three-dimensional play, as well as the hands. The blued screws instead offer a very nice visual effect together with the golden gears and rubies through the glass back.
One of the most intriguing features of this watch is how it subtly changes its looks in different light conditions: its surfaces and their different finishes offer some unexpected effects, especially in the steel version.
There are three different wristbands available. We prefer the black leather version with the butterfly clasp.
Distinguishing features include:
Sapphire crystal glass front and back

46-hour power reserve

See-through skeleton movement

50 meters water resistant
Men's Watches: Slightly More Expensive
If your budget is a bit higher than the prices you saw in the previous section, this section is for you. We have tried to find the best deals on the market, but we still won't go too high. Nonetheless, we are not cutting back on the features here: the watches we have selected offer a lot for your money.
3. Nomos Glashutte Orion 1989 38 mm
This is almost perfection in watch form.
A stylish, gorgeous all-rounder that can cope with the most exclusive social event and be worn stylishly at your garden BBQ in one awe-inspiring Bauhaus-inspired shape.
And this one, between all of the company's production, is special, as it is a limited edition introduced to commemorate the 25th anniversary of the fall of the Berlin Wall.
This Orion 1989 comes from Nomos, a German watchmaking company from the town of Glashutte, which is offering rock-solid, beautiful timepieces sporting their own movements at an almost unheard-of price in the horology field.
What powers this beauty is the Alpha Nomos caliber, an in-house six-position adjusted movement (the Swiss COSC certification implies adjustment in only five) which packs an amazing array of features in a very compact thickness (2.3 mm) and a perfectly balanced 38 mm size.
The austere dial, in an amazing November Grey color, is striking in its purity. And the sapphire glass dial on the back reveals the beauty of a perfectly finished and decorated movement. It is completed by a stylish, comfortable suede leather wristband which simply feels amazing at the wrist.
It's not particularly sporty, mind you, but it is the perfect fit for the understated gentleman with more than refined tastes.
Distinguishing features include:
Stainless steel case

8.86 mm thick

30 meters water resistant

Sapphire glass, front and back
2. Breitling Superocean II 44 mod 910-158S A17392D8/C
Whenever we think of a quintessential diving watch, this kind of shape springs to mind. Yet how can we cope with the need to get such a watch which will not bust our bank account?
Here comes Breitling to the rescue.
The Superocean 44mm is everything a divers' watch should be and more. It has a legacy of excellence stemming from one of the most famed companies manufacturing sports and activity-driven watches all around the globe.
The Superocean line debuted in 1957, with its first timepiece offering water resistance of up to 200 meters: but in this edition, the number has risen to an astounding 1,000 meters, making it perfect for deep diving – and complete with a helium-escape valve.
Its legibility – despite the crowded dial – is top-notch in every condition, thanks to a generous amount of smartly distributed luminous material applied over very readable Arabic numbers.
On the movement category, this watch houses the COSC-certified Breitling 17 caliber, based on the ETA 2824-2, a robust self-winding movement beating at 28,800 BPH and offering a power reserve of around 42 hours.
The bracelet and case, in first-grade stainless steel, feel comfortably solid and chunky along with the smoothly-rotating ratcheting unidirectional bezel which has been redesigned for legibility.
Available at this size in black or blue, this watch is bound to become a faithful companion for every kind of occasion, from the tamer to the bolder, without skipping a beat.
Distinguishing features include:
Combo case of sarin and shiny stainless steel

1,000 meters water resistant

Date

Sapphire glass front
Aqua Terra means "on sea and on land". And this is truly a fitting description for this amazing timepiece from the iconic watch legend Omega, suggesting an equal performance of the same watch in every kind of environment, from the most spartan to the most upscale and refined.
The dial offers a striking "Teak Concept" design, with a signature vertical pattern inspired by the wooden decks on luxury boats, labeling it as distinctive and classy.
Side note – you can also follow this link to our list of the best wooden watches if you are drawn to the wooden "look".
Its perfectly executed stainless steel case, made in a stylishly-balanced combination of satin and glossy finishes, is complemented by an equally well-done and wearable bracelet. That being noted, you may find other kinds of bands available that you might use to change the "mood" of the watch to fit the occasion.
The stainless steel case houses the exclusive Omega Co-axial Caliber 8500/8501, recently introduced to equip the Seamaster line of watches and offering a co-axial escapement and two barrels that provide a power reserve of up to 60 hours. It is a "heart" which is also COSC-certified, just to say.
This beautiful movement is fully visible in all its glory from the sapphire glass back. Oh, and you can actually wear this beauty even when (lightly) diving: it is certified as 150 meters water resistant.
Distinguishing features include:
Double finishing – polished and satin – on the steel case and wristband

Automatic, 60 hours power reserve

150 meters water resistant

Sapphire glass front and back
Ladies' Watches: Most Affordable
Historically, ladies have always had many other choices to perfect their looks with jewelry. It should come as no surprise to some, then, to know that the first recorded wristwatch was made for a woman.
In 1810, the famous Abraham Louis Breguet was commissioned to create the first wristwatch by Caroline Murat, Napoleon's sister and the Queen of Naples. As records go (unfortunately, it seems that this particular piece no longer exists), this watch, with reference number 2639, was delivered to the Queen in 1812.
While the following models might not be as well-known as the aforementioned Breguet's, these are Groom+Style's choices to honor the wrist of ladies worldwide.
We begin our chart with a lovely example of an "all-rounder." The Couturier Automatic Lady from Tissot is a perfect example of this kind of watch: stylish and not too blingy, it can accompany you on every kind of occasion.
Its fairly simple and rigorous iridescent dial, adorned with a subtle guilloche motif, reveals its feminine mood in the back case, which is covered by sapphire glass and shows the movement, an industry standard ETA 2824-2 with a 38 hours power reserve, through a lovely rose design.  
The Couturier, which means "dressmaker" as in "haute-couture," is available in a fair 32mm size – not that small, just right to ensure a perfect legibility. Readers should know this could represent a problem for the smaller wrists, especially when worn with the (excellent) stainless steel bracelet.
We suggest you also consider the black leather wristband with butterfly clasp option, which is a tad less sporty and imposing.
Distinguishing features include:
Stainless steel case steel case and wristband

Automatic, 25 rubies, 38 hours power reserve

100 meters water resistant

Sapphire glass front and back
Just a black dial (black goes well with everything, especially your LBD), a couple golden hands, and a simple golden dot – the Movado's brand – at twelve.
It is purity in perfect form.
This is the Movado Museum, a critically acclaimed watch which gets its name from being on show in the permanent collection of the MoMA in New York, the first watch to be awarded such an honor.
As good-looking and modern as it seems, it is almost incredible that its iconic shape originates from an artist, Nathan George Horwitt, who designed it in 1947.
And you can have it on your wrist at a (very) sensible price.
The watch is yellow gold plated on a stainless steel case with a stylish, understated black leather strap. Albeit quite small, at 28 mm size of the case, it speaks volumes and holds its own in every occasion.
Distinguishing features include:
Swiss Quartz movement

30 meters water resistant

Sapphire glass front
Where fashion and horology combine, you can usually find a little bit of a mixup, in both good and bad aspects. But in the case of this Gucci, we see it was for the good.
This watch is of a 38 mm unisex size, so we are pretty sure that it will be shared (or perhaps stolen) by both members of the couple. Be prepared to fight your significant other to keep it during the day.
A very understated, guilloched dial in a stylish black color is graciously divided by a few, neat index markers, creating a very visible face. The only number on the dial is the date, at six.
Under the hood, it features a robust Sellita SW 200 automatic caliber with a 38-hour power reserve, which is visible in all its glory through the sapphire glass on the back.
A stylish black leather wristband (or stainless steel band depending upon the exact variation) with a stainless steel clasp completes the charm of this extremely wearable model which is bound to charm you for being so completely untrendy as to attain the status of a classic which won't ever go out of style.
Exactly as its name states, this piece is timeless.
Distinguishing features include:
Stainless steel case

Automatic Sellita movement with a 38-hour power reserve

50 meters water resistant

Sapphire glass front and back
Pamper yourself with a watch that knows it gives a very good impression of being a true luxury watch and does nothing to hide it.
This beautiful Mido exemplifies bling and femininity in the best way. It does so with the mother-of-pearl, iridescent dial to the rose-gold toned PVD coating on the 33 mm case. It has a suave, comfy wristband with a deployment clasp in a powdery rose color and small diamond accents on the case and the hour markers.
Yet under this coquette appearance, it tucks a very competent movement: a sharp ETA C07.611 with a central seconds hand and offering a sizable 80-hour power reserve, which you can observe at work from the sapphire glass back.
Distinguishing features include:
Rose-gold PVD coated stainless steel case, with diamond accents

ETA C07.611 movement, 80-hour power reserve

50 meters water resistant

Sapphire glass front and back
Imagine a black, glossy bracelet around your wrist. Something like a futuristic jewel or a communication device. The only distinguishing mark would a pair of light hands, isolated in darkness, and the faint outline of the brand on the dial.
This is the Ceramic line of Rado watches, and it is available in the present. Sleek and sexy in a post-industrialist manner, and made with an unscratchable ceramic wristband that melds seamlessly into the case and its sapphire glass, the Ceramica watches have had a well-defined character since their 1990s launch.
They were and still are futuristic, and look more like a jewel than a real watch. Also, not everyone will appreciate their quartz movements, but for a striking design such as this we forgive them and concede to them a reserved place at our wrist.
Distinguishing features include:
Patented High-Tech Ceramics bracelet and case

Quartz movement

50 meters water resistant

Sapphire glass front
Ladies' Watches: Slightly More Expensive
Adding a little bit more to your budget lets you attain the lofty heights of true luxury at a compact price.
As Ladies' watches tend to be less costly than their male equivalents, especially because they often mount quartz movements even in the highest ranges, you are definitely in for some great options.
The Tank, which gets its name from the shape of the bracelet, reminiscent of a tank's treads, is one of the most iconic watches worldwide. It is instantly recognizable by anyone who has a minimal interest in watches and will certainly spark the interest of the casual onlooker.
It is a timeless classic that will always remain in style with its retro but nevertheless charming dial adorned with those unpractical but signature Roman numerals, the Cartier brand, a pair of bluish hands, and the small crown with the cabochon of a synthetic spinet, of a rosy color to match the iridescent hue of the dial.
Mounting a Swiss-made Calibre 057 quartz movement, you will not have to worry about recharging it for years.
Distinguishing features include:
Stainless steel case and bracelet

Swiss Made quartz Cartier 057 movement

30 meters water resistant

Sapphire glass front
No products found.
Everybody holds Montblanc in high regard for its line of beautiful pens, but fewer people have given the proper attention to their line of amazing watches, for both men and ladies, which keeps growing and gets more interesting year by year.
We picked up this lovely timepiece, which is just an example of the attention the company keeps infusing in this field. And the results are there, as over 35 percent of purchasers are indeed ladies. This amazing Boheme line is charming, but we find it much more classy than simply bohemian!
In fact, its noble, refined design exudes distinction in its purest sense. Its silvery white, subtly guilloched dial is dotted with diamonds as hour markers and presents a date through a unique elliptical opening at six o'clock, the hands clearly visible in their gorgeous blued color.
This beauty houses an ETA-based automatic movement, fully visible from the sapphire glass back, and sits comfortably on your wrist thanks to an exquisitely made stainless steel bracelet.
Some of its distinguishing features are:
Stainless steel case and bracelet

Diamond-studded dial

ETA based automatic movement

30 meters water resistant

Sapphire glass front and back
If you name a watch "La Grande Classique" you got to be sure it really is a classic. Fortunately, Longines knows exactly how to manufacture a classic. This watch is perfect, in all of its declinations (it is available both in men's and ladies' formats).
We fell for this 24 mm model, which exudes luxury in every detail. You cannot help but let yourself get bewitched by the mesmerizing beauty of its deep blue dial, adorned with diamonds.
It is truly an impressive display of dazzling delight: the dial is studded by 12 Wesselton VS diamonds for a total of 0.034 carats while the ultra-slim stainless steel case instead houses 144 Wesselton VVS diamonds, for a total of 0.648 carats.
The design is complemented by a smooth Jubilee-like bracelet in nine rows, with a triple safety folding clasp and push-piece opening mechanism.
Some of its distinguishing features are:
Stainless steel case and bracelet

Diamond-studded dial and case

Swiss 420 quartz movement

30 meters water resistant

Sapphire glass front
Choices From Previous Years
That is it for our updated list of the most affordable luxury watches for May, 2023 – if you are curious about our choices from previous years then continue reading.
Luxury Watches for Men:
Most Affordable
A staple of the Formula 1 circuit, it's near impossible to find an affordable TAG Heuer watch, but Amazon has this one on offer. Beefy, bold and ultra-stylish, it features a clear readout with numbers around the dial, leaving more space inside for the two additional sub-dials.
Those sub-dials, by the way, are like little stopwatches, used by the guys and girls on trackside to keep up with their drivers. Swiss quartz movement, this watch might very well be the most accurate on our list.
Swiss made by the lakes of Geneva, the Frederique Constant Smartwatch looks every bit like a traditional luxury watch, but it's not. Special dials inside the watch track your movement and sleep patterns, in much the same way as a Jawbone or FitBit tracker does, allowing you to download via Bluetooth to your smartphone and analyze the results later on.
This is about as close to Bond as it gets for under a grand. We absolutely love the open and ice-cool dial on this one.
Maurice Lacroix is a relatively new player in the luxury watch market who started marketing watches in 1975.  They are based out of Biel in Switzerland. The Groom+Style team loves the slight steampunk vibe of the Eliros, especially when it's all blacked out. There's plenty of room on the sleek black face for those gorgeous gold hands to move around on, and those slim Roman numerals? Heaven.
The watch is easy to wear with a comfortable black leather strap.  It features three separate complications, a marvel for a watch in this price range.
Luxury Watches for Women:
Most Affordable
Featuring a classically elegant white mother of pearl dial with Roman numerals – each hour point is studded with a beautiful brilliant cut .04 ct diamond (10 in all).  The bracelet is two-tone stainless with yellow gold PVD plating, which matches the crown and soft gold hands.  The Noemia is very feminine and one of Raymond Weil's signature ladies watches which is never going out of style.
For ladies who prefer more classically masculine watches, but who find the dials a little too big, Maurice Lacroix makes a ladies version of the Eliros. An understated leather strap focuses the eye on the lovely open face protected by sapphire glass.  There is a more expensive version which features eight diamonds.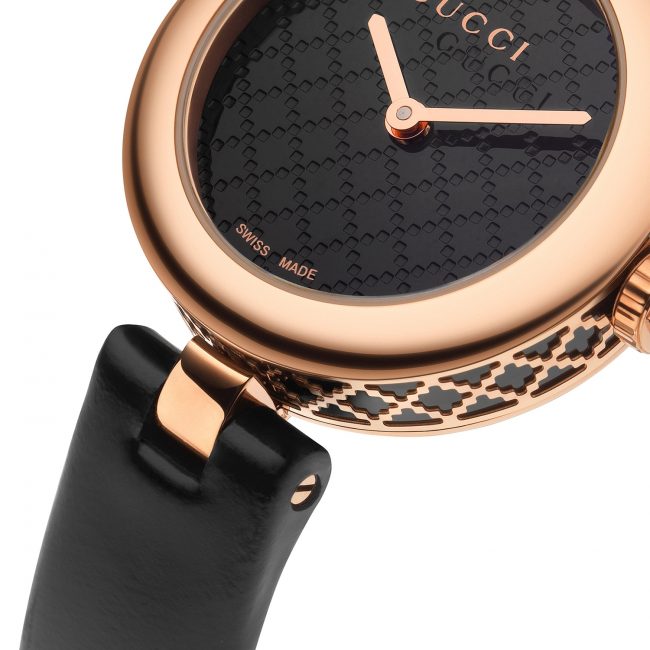 No numbers, no date, no complications, just pure Gucci styling. Features a rose gold crown, quality leather strap and a tasteful, yet boldly patterned dial. Absolutely no doubt that you know what you're talking about when you rock out wearing this stunning piece.
Groom+Style Picks: Best Watches for Men,
Slightly More Expensive
1. Frederique Constant Heart Beat
Would you look at that skeleton window, isn't it beautiful? Catch a glimpse of perfection every single time you look down with the Heart Beat by Frederique Constant. This awesome Swiss Made watch features elegant Roman numerals and a couple of super slender hands to match. The magnificent leather strap is so silky smooth, the thing might melt off your wrist if you're not careful (it won't.) We even love the crown, which sticks out to decadently, it'll make you feel like more than a boss, you'll be a king.
Who says luxury watches have to be all leather and gold? The luxury man with his luxury watch is an adventurer, he has places to be, tundras to wade through and what have you…The Freelancer features a rugged rubber strap with breathable holes, and it's water resistant up to 300m. You won't get that anywhere else in a luxury watch unless you cough up another couple of grand for an Omega Seamaster.
Groom+Style Picks: Best Watches for Women, 
Slightly More Expensive
To find an Omega at this price is a miracle in itself. To find one as handsome as the Constellation, which features matt black hands set on top of silver on silver, is something else. We love the tiny star at the bottom of the face and the way the Roman numerals are engraved on the outside edge of the dial. Don't forget to marvel every time you look down and see that Omega logo, the one you got for under two grand.
Ageless, but never timeless, the Longines Master keeps time with a precision Swiss automatic movement. The beautiful silver on silver design stands out when you get up close, and the mother of pearl face is stunning, too. Features one of the best clasps we've seen on a watch, real craftsmanship at work.
Sorry to those of you who were hoping for some crystal skulls and ruby-encrusted butterflies, maybe we'll cover those next time. Now, what are you going to do with all that change?
About the Author: Franz Rivoira is a Chartered Journalist and Marcomm Professional operating internationally in the world of high-end and luxury products, mainly watches and design objects.
He lives in Italy, but frequently travels the world, especially to Asia. He is a regular contributor to www.ddnblog.it, a reference for everything design-oriented. He is also very active on Quora, the most read Q&A portal in the world, where he has been nominated as one of the Top Writers for 2018.