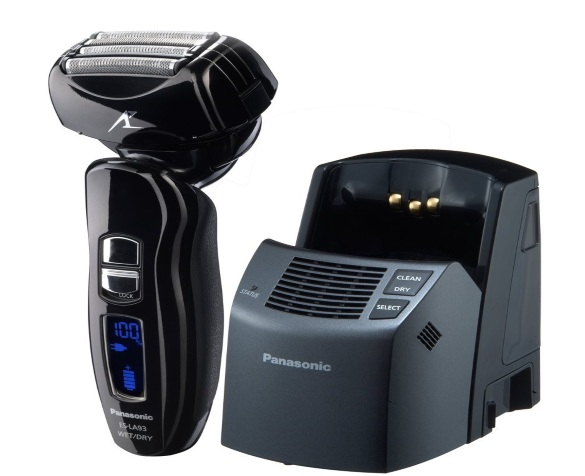 Panasonic, a respectable Japanese company, has never put a bad shaver up for sale. They are rather known for making some of the priciest shavers available on the market.
Should you describe yourself as a man of discriminating taste, desire the most from your shaver and do not feel that money is an important issue, then Panasonic's range of top-tier shavers represent an excellent series of options.
Panasonic is responsible for many of the features we now have come to expect from luxury modern electric shavers. The company largely defines what the present shavers are capable of doing through the technology they develop and use in their products. If you do not find yourself satisfied with one of Panasonic's shavers, it will be very hard to find one that does better.
Top Three Panasonic Electric Shavers From Groom+Style For Art of Shaving
Panasonic Arc 5 ESLV81-K (Review Here) – This is currently the top electric razor that money can possibly buy. It is extremely impressive and unabashedly referred to as the King of Electric Shavers, with its full feature set and 5-bladed cutting head.
Panasonic Arc 4 ES-LA63-S And ES-LA-93-K (Review Here)– This 4-bladed system offers the same high-output 14,000 CPM motor, exactly like the one in the Arc 5, with the important difference of being significantly less expensive. This is a highly efficient and very popular Panasonic shaver.
Panasonic Arc 3 ES-LT71-S (Review Here) – This mid-level shaver delivers more than you would expect when talking about quality and performance. This could be the best electric shaver available on the market for that price.
Panasonic shavers tend to be as powerful as they are comfortable. The top-rated electric shavers released by Panasonic are universally expected to offer close shaves, just like an original handheld safety razor does. Their top-tier shavers carry the same quality while offering many-bladed action for a luxurious shaving experience. The Panasonic brand is the only company that offers 4-bladed and 5-bladed heads for foil shavers. If you think yourself an uncompromising individual who wants the best men's hygiene products on the market, this is the shaver for you.
It is important to note that Panasonic's electric shavers are not only powerful but also comfortable. Comfort is a critical element of an excellent shave. In fact, many customers opt for electric shavers over razor blades only because of the increased comfort offered by high-end luxury products like these. For excellent shaving products and high-end to mid-end shavers, the best brands to start with are Panasonic or Braun electric razors. These trusted brands will not disappoint you, and their shavers are worth the higher prices they are available at.