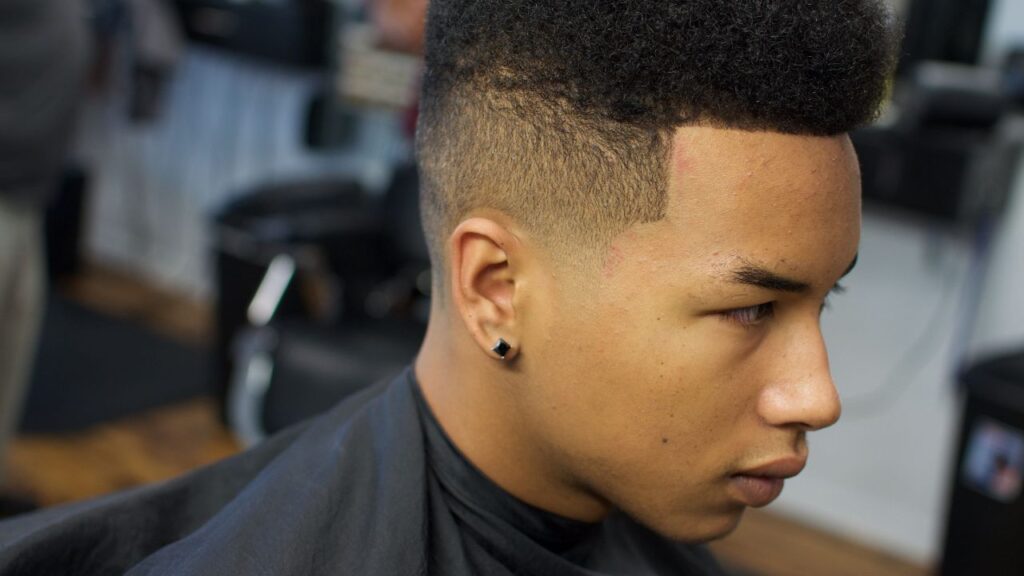 The Perfect Symmetry: Achieving a Flawless Line Up Haircut
Nothing beats the feeling of a fresh, symmetrical haircut! If you're considering getting a haircut, try the line up haircut. It is a style that requires precision and attention to detail, ultimately resulting in a flawless look.
With the right technique and a little bit of patience, anyone can achieve a flawless line up haircut. In this post, we'll explore the secrets to achieving symmetry in your haircuts and the types of line up haircuts to sport for your next barber visit. Get ready to rock a perfectly lined up look every time!
What is a Line Up Haircut?
A line up haircut, or edge-up or shape-up haircut, involves cleaning up and defining the hairline with a straight razor or clippers. This creates a sharp, clean look that adds an extra style touch to any haircut.
This haircut was first introduced in the mid- or late 1980s. Influential hip-hop artists like Eric B, Rakim, and Big Daddy Kane popularized the high-top fade with the line-up.
Line Up Haircuts
The line up haircut is a haircut with many variations. You can always combine the look with any other haircut, resulting in a non-monotonous overall look. Here are our top selections:
Side-Swept Line Up Style
The side-swept line up haircut style is typically achieved by cutting the hair short on the back and sides while keeping it longer on top. The hair is then brushed upwards and swept slightly to one side, creating a sleek and stylish look.
The hairline is then cleaned up and defined using clippers or a straight razor, creating a sharp and clean appearance that enhances the overall look of the hairstyle. This style is often paired with a well-groomed beard or facial hair to complete the look.
Line Up Haircut Designs
Ditch the plain straight line; go out of the box by sporting creative hair designs for your line up haircut. You can ask your barber to incorporate various designs, such as geometric shapes, zig-zags, or even intricate patterns like stars and lightning, into the hairline and facial hair, creating a unique and personalized look.
These designs can be subtle or bold, depending on your preference. The rest of the hair is often kept short and neat, with some men opting for a fade or undercut to enhance the design further. Or you can tone down the attention to the design by wearing a beard.
High Top with a Line Up
A high-top haircut is characterized by longer hair on top and shorter, faded sides and back. The hair on top is styled upright, creating a flat or rounded shape that tapers towards the sides and back.
While the traditional style leaves the tapers as they are, you can add a twist by shaping it into a neat line up to add flair. This way, your facial features will be accentuated in no time.
Buzz Cut Hair Line Up
A buzz cut is a short, low-maintenance hairstyle that is trimmed evenly across the head using clippers. The hair is usually cut to the same length all over the head and can be further customized with various fades, lengths, and textures.
Celebrities like Dwayne "The Rock" Johnson, Jason Statham, Chris Evans, and Zayn Malik have sported this haircut in recent years.
However, if you're interested in sporting this classic haircut, you can try combining it with a line up cut to elevate your overall look. This way, you'll look fabulous in no time!
Pompadour with a Line Up
Add volume to your line up haircut by sporting it along with a fabulous, vintage pompadour. This classic style is achieved by combing the hair on top up and back to create a rounded or slightly flattened shape, while the shorter sides and back can be faded or tapered.
And the fades or tapers? You can style it with a line up style to add sharp angles and make your overall look neater.
Mohawk Haircuts Line Up
Show off your edgy side by rocking the classic mohawk haircut! This daring hairdo features a strip of hair in the middle of the head, typically longer and styled upright than the hair on the sides. This is where the line up combination strikes in.
To accentuate the sharp edges of your hairline, a line up is a good combination for the modern mohawk. This way, you'll stand out in the crowd while still looking neat on the sides.
Hard Part with a Line Up
If you think a hard part is already the ultimate form of a neat haircut, you may be wrong. In fact, the combination of hard part with a line up is even more amazing; it will make your overall style looks stunning and sharp.
You can connect the hard part with a line up to accentuate your natural hairline. Apply some hair styling products to keep it in place. The result? A sharp hairstyle that can cut through the glass!
Frequently Asked Questions
How do I ask my barber for a line up?
When asking your barber for a line up, it's important to be clear and specific about what you want. Specify the details of where you want the hairline to be and how thick or thin you want the line to be. Or, you can simply show a picture of your desired haircut as an example.
What's the difference between a haircut and a line up? 
A haircut involves shaping the entire head of hair, while a line up is a type of edge-up haircut that creates a sharp and precise hairline and edges of the hair.
How do I make a crispy line up?
To make a crispy line up, use a razor or trimmer with a guard to carefully trim along the hairline and edges of the hair. Remember to take your time and apply styling products afterward to hold the style in place.
Conclusion
In conclusion, achieving a flawless line up haircut is all about precision and practice. With the right tools and techniques, you can create a sharp, defined look that will turn heads and boost your confidence.
Remember, taking care of your hair is an important part of your overall grooming routine, and investing in a quality line-up can make all the difference.
So go ahead, experiment with different styles and techniques, and find the line-up that works best for you. Whether with a buzz cut or a mohawk, you'll rock the line ups in no time!