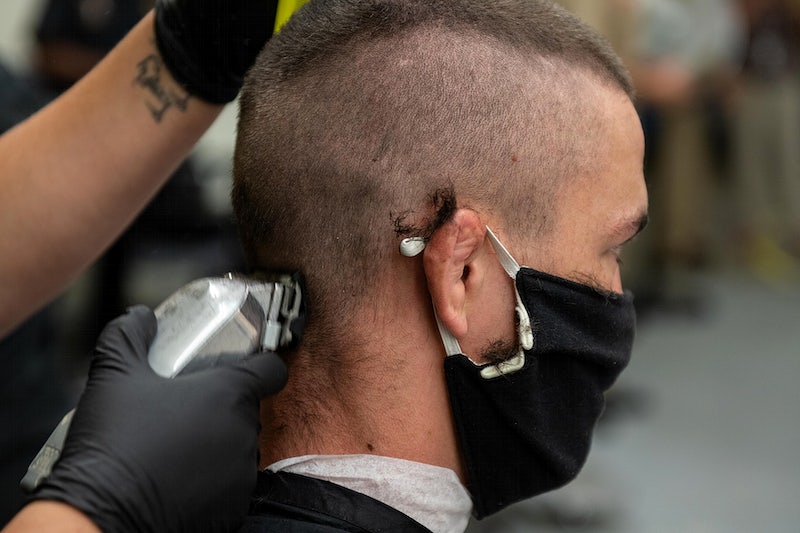 All About the Buzz Cut for Thin Hair
Hair problems in men are pretty varied. One of the most complained about is thin hair. This thinning of hair can occur due to many things, for example, combing after shampooing, pulling out gray hair, and improper haircuts. Those who already have thin hair don't need to worry about hairstyle mistakes. This is because there is one hairstyle that suits you, namely the buzz cut. You can refer to the following reviews if you are interested and want to know more about buzz cut for thinning hair .
What Is Buzz Cut Style?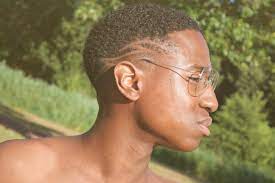 Before we discuss this further, it would be better to understand what a buzz cut style is. This particular hairstyle is a haircut that uses electric clippers without combs. So, the hair will be shaved close to the scalp and has the same length throughout the head.
This hairstyle is usually suitable for those of you who have short hair. In addition, this hairstyle is also ideal for those experiencing hair loss problems or thin hair.
Reasons Buzz Cut is Good for Thin Hair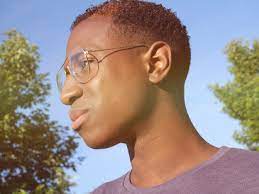 There are several reasons why this buzz cut hairstyle is suitable for those of you who have thin hair. Here are some reasons.
Receding hairlines are less noticeable
When the hair and the forehead have a strong contrast, a receding hairline is more noticeable.
This is especially true if the receding hairline is mild to moderate. However, even more, advanced receding hairlines can be disguised with a buzz cut.
A crew cut may be a good option if you want to cover up your receding temples. The top hair is long enough to conceal some, if not all, of the receding temples.
So, a buzz cut can work for you whether you want to camouflage or cover up your temples.
It's difficult not to look fashionable
Buzz cuts will always be fashionable, regardless of thinning hair or receding hairlines.
In some ways, it's best not to consider a buzz cut as a solution to the problem of concealing thinning hair, even though this is a valid reason to do so.
Buzz cuts are popular, whether they are the induction cut or the Ivy League cut. They're becoming more popular because men all over the world want to look good.
Any path to simplicity will be pursued in a world where being busy is the norm. That's precisely what a buzz cut would provide: simplicity in an otherwise complex world.
Short, even cuts appear thicker
It goes without saying that your hair grows at different rates. Even if you shave your hair, you'll notice that some hair shafts grow longer than others.
This is entirely natural, and styles that accept and embrace it tend to appear more natural.
The problem with uneven hair length is that having long hair patches next to short hair patches makes the short hair appear thinner than it is. It all comes down to perspective.
Hair strands of varying lengths cannot support each other as well as an even cut. Longer strands will flop to the side because shorter strands next to them will not provide as much support. This can appear lifeless and thin.
The charm of buzz cuts is that they are distinguished by short, even-length hair. Regardless of how thin the hair appears at first, once trimmed to a short, even length, it will begin to look thicker.
A previously patchy and sparse scalp will look completely different, and you may wonder why you didn't try this sooner.
It's extremely convenient
Men with fine, thinning hair are prone to be preoccupied with it. Many spend a long time in front of the mirror, analyzing from various angles and in multiple types of light.
They look for the ideal hairstyle to conceal their thinning hair. Maybe it's a combover or at least a subtle variation on one.
This seemingly never-ending quest usually ends in frustration. It's challenging to style long, thinning hair because it doesn't stay put.
The main reason is that there aren't enough hair strands to support each other, and the ones there are too thin and weak.
Buzz Cut for Thin Hair: Before After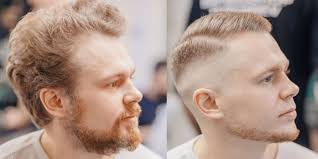 Buzz cut for thin hair is described as a "crew cut with a high fade." Remember that the term "buzz cut" refers to a variety of styles, including the induction cut (which is the same length all over), the burr cut (which is slightly longer on top than on the sides), and the crew cut (top significantly longer than the sides).
The image above depicts a man with thin hair and receding temples. Changing the style alone transforms it into something far more impressive.
As you can see, the high fade almost conceals or "absorbs" the receding temples, making them less noticeable.
It also looks much more stylish and demonstrates that you can style thin hair in exciting and fashionable ways.
Style of Buzz Cut for Thin Hair
Buzz cut turns out to have a variety of models. You who want to cut this hairstyle can choose one of them.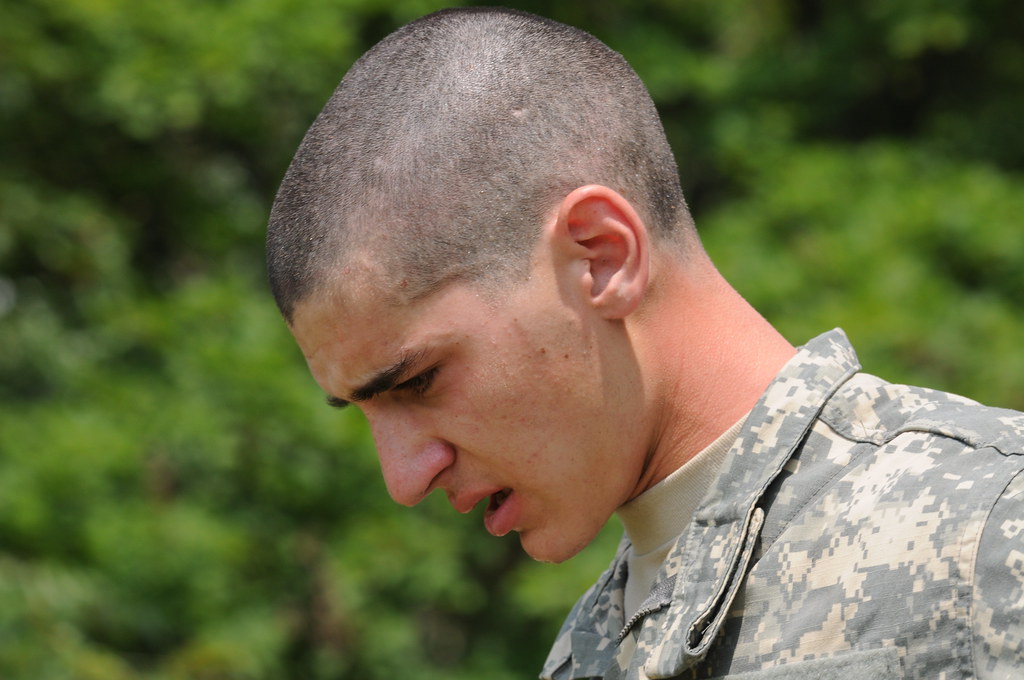 The induction cut is accomplished in a very straightforward manner. It comprises short, clipped hair of the same length in all directions and dimensions. The top, sides, and back are all the same length.
A zero grade is frequently called an "induction cut" (achieved without guards attached to the clipper). In recent years, however, it has become more of an umbrella term for a very short haircut in which all of the hair is trimmed down evenly.
The main appeal of this style is how extremely convenient it is. It's quick and easy to accomplish, but getting it entirely even isn't as simple as it appears.
The tapered induction cut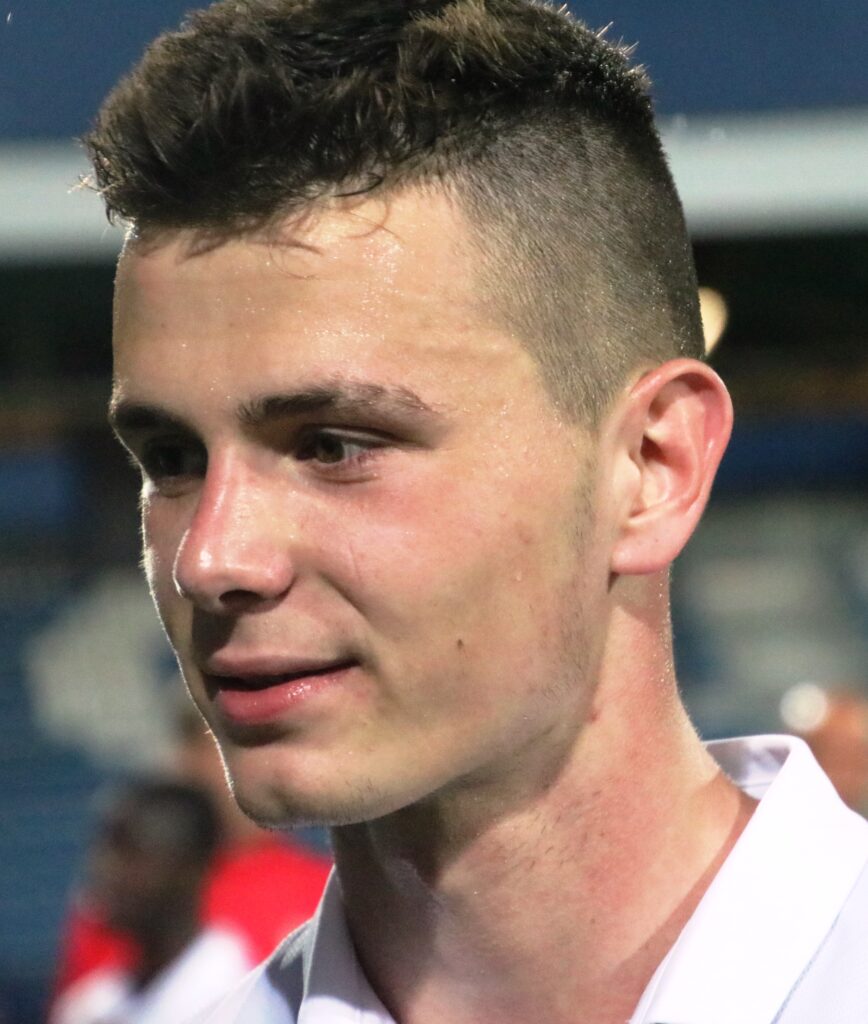 The distinction between a fade and a taper is fraught with ambiguity, if not outright controversy.
A taper is a very low fade in a nutshell. It usually stops before the top of the ear. It is generally accompanied by a lightly tapered neckline, with the hairline around the ear left intact.
For the same reasons that a regular induction cut would, this works well for thinning hair.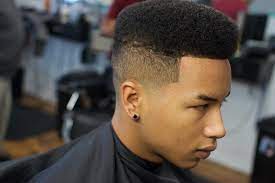 Whatever buzz cut variation you select, a high fade is an excellent way to conceal a receding hairline. A fade on the sides is the effect of the hair gradually increasing in length as it progresses to the top.  The fade can end low, high (around the temples), or in the middle (between those two).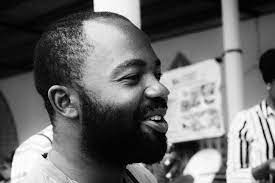 The thinner the hair, the fewer options there are for styling it. More specifically, the less it can be styled and used to change the shape of the face. Hairstyles, for example, can make a look appear less round and more oval-shaped.
However, men with thinning hair may not benefit from this. Beards, on the other hand, can be used for this purpose. Its influence on face shape is well known and can be used to a man's advantage.
Beards can also be nicely faded and blended upward into a buzz cut, though this is a more refined style. This effect is highly modern and can look fantastic on many men.
Most Frequently Ask Questions
Does getting a buzz cut makes your hair thicker?
No, it does not. A common misconception is that buzz cuts make your hair appear thicker because the shorter length gives the illusion of more density. However, this is not the case.
Buzz cuts may give the appearance of fuller hair due to the shorter length, but they do not increase the thickness of each strand of hair.
Is it better to cut hair short if thinning?
There is no right or wrong answer to this question. It depends on your personal preference and the severity of your hair loss.
If you're in the early stages of hair loss, you may not want to cut your hair too short. This is because shorter hair tends to emphasize the thinning areas more.
On the other hand, if your hair loss is more advanced, you may want to consider a shorter style to avoid the appearance of balding patches.
Conclusion
 If you're experiencing hair thinning, a buzz-cut may be your solution. Buzzing your hair can help to stimulate new growth and make your hair appear thicker. Talk to your barber about giving you a buzz cut for thin hair.