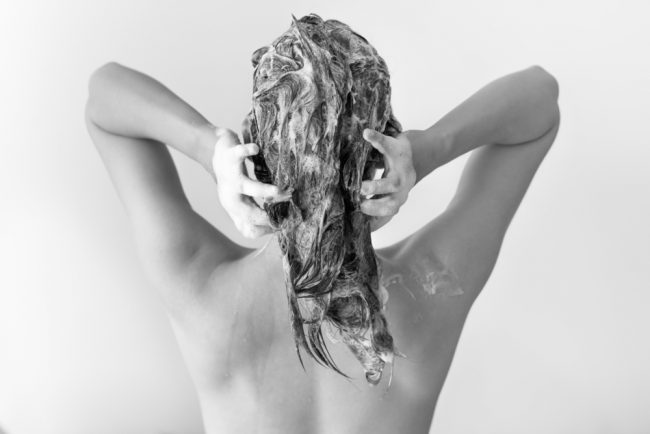 You can't ignore it – it feels sad when you first notice that your hair is starting to disappear. Other signs of getting older can be kept secret or understood, but losing hair is unique.
Your hair is always visible when you're around people, and it's one of the things that makes you who you are throughout your life. For a lot of people, hair loss is a really tough experience that can feel really hard to handle, let alone get over. Using hair loss shampoo might help.
Some immediately see a doctor for Rogaine or Propecia, seek out over-the-counter miracle baldness cures, or even look into hair transplants. Others, though, take a more measured approach and begin using shampoos which can help slow hair loss in a safe and natural way. Groom+Style has written about the reasons for hair loss in men previously.  The causes of hair loss in women and children are slightly different. You might also be interested in how to keep your hair healthy in other, natural ways.
With the important caveat that it's never been proven that any shampoo can actually regrow hair, here's a look at the top 5 best hair loss shampoo and conditioner reviews on the market from team art of hair that can work to fight hair loss on a daily basis.
Revivogen is one of the latest natural, topical treatments routine shampoo for hair loss, which is an anti-androgenic DHT-inhibitor somewhat like Propecia. Revivogen Bio-Cleansing Shampoo is a sister product and contains the same active ingredients.
The company markets the shampoo as a companion product to be used in conjunction with the topical cream, but it's also sold as a standalone shampoo.
Revivogen's shampoo is formulated by dermatologists to do three different things: cleanse and revitalize the scalp while fighting dandruff with aloe vera and menthol, moisturize hair and make it look thicker and fuller with proteins and nutrients – and most importantly, prevent hair follicles and the scalp from being saturated with the DHT blamed for causing most cases of pattern baldness.
Natural ingredients like saw palmetto and a specially-chosen number of fatty acids are the active ingredients in Revivogen Bio-Cleansing Shampoo responsible for the anti-DHT action.
Regular users of the shampoo, even if they aren't using the topical treatment, have experienced a noticeable decline in the amount of hair they lose in the shower or when brushing their hair, as well as a cleaner and healthier scalp.
It's difficult to quantify the effects of any hair loss shampoo, but Revivogen appears to be the most effective choice.
A look at the facts and figures of Revivogen Bio-Cleansing Shampoo:
  Product size: 12 ounces
  Key ingredients:

Aloe Vera, Jojoba Oil, Panthenol, Hydrolyzed Soy Protein
Linoleic Acid, Vitamin B6, Niacin, Saw Palmetto, Menthol
Methylchloroisothiazolinone, Methylisothiazolinone
Nioxin is one of the well-known brand names in the field of natural hair loss treatments, and the company has a dizzying array of products intended for use with different types of hair, including fine, normal, treated and noticeably thinning. They also sell their shampoo, scalp revitalizing conditioner and scalp treatments packaged together, for what they say are better results – and at a higher price.
The cleanser shampoo is designed to restore the moisture balance in thinning hair, while also improving fullness and texture through a list of "systems" trademarked by Nioxin which include "BioAmp," "Glyco-Shield" and "Transactive Delivery System."
Putting the marketing speak aside, the formulation includes antioxidants, vitamins and botanicals to clean the scalp, amino acids to strengthen hair and increase its fullness, and protective and moisturizing ingredients like oils and white tea extract.
Users are pretty much in agreement that the Nioxin System 3 Cleanser gives them cleaner and thicker hair, with many finding that their hair loss has been slowed with regular use, particularly in combination with the Nioxin conditioner and scalp treatment products.
The key facts about Nioxin Cleanser, System 3:
 Product size: 16.9 ounces
 Key ingredients:

Citric Acid, PPG-2 Hydroxyethyl Coco/Isostearamide
Peppermint Oil, Menthol, Mentha Arvensis Leaf Oil
Methylparaben, Camellia Sinensis Leaf Extract
Cystine Bis-PG-Propyl Silanetriol, Fennel Extract, Saccharomyces / Magnesium Ferment
Biotin /Folic Acid / Cyanocobalamin / Niacinamide / Pantothenic Acid / Pyridoxine/ Riboflavin /Thiamine / Yeast Polypeptides, Saccharomyces / Iron Ferment
Saccharomyces / Copper Ferment Saccharomyces / Silicon Ferment, Saccharomyces / Zinc Ferment, Phenoxyethanol
This shampoo is best shampoo for womens hair loss and created by a famous Parisian hairstylist (who used to care for famous hair like that of Jackie Onassis and Catherine Deneuve). PhytoCayne feels very different when you use it; it's thin, almost as thin as water. The key isn't what the shampoo feels like, though, it's how it works. And regular female users are almost unanimous in their praise for this product.
As with the Nioxin shampoo, the PhytoCayne shampoo is meant to be used in conjunction with another product, the company's revitalizing treatment serum. The shampoo is designed to "prepare" the scalp to absorb the serum. For that reason, you'll find that this shampoo doesn't really moisturize your scalp in the way the first two entries on our hair loss shampoo list do. What it does, though, is thicken hair for a fuller appearance, and many users say that it also significantly slows additional hair loss and breakage.
One important note: as previously mentioned, PhytoCayne is made for women; the company's Phytolium products are created for men.
Since PhytoCayne Revitalizing shampoo is so watery, it's easy to overpour and waste a good amount of this expensive product. That's one reason we rank it below Revivogen and Nioxin. The more important reason for the #3 ranking is that this shampoo doesn't do everything that the other two products do. It's still effective for most users, however, and worth a try.
Specifics for Phyto PhytoCayne Revitalizing Shampoo:
 Product size: 6.7 ounces
 Key ingredients:

Grapeseed Procyanidins, Ginkgo Biloba, Cinchona Bark
Pyrodoxine HCL, Cinchona Succirubra Bark, Coconut Oil
Palm Oil, Provitamin B5, Methylchloroisothiazolinone
Methylisothiazolinone, Citric Acid, Tetrasodium EDTA
4. HairGenesis Revitalizing, Cleansing, and Thickening Shampoo
Another shampoo which is part of a "system" that includes conditioner and serum. And it's yet another shampoo that has worked well on its own for many people. The HairGenesis shampoo (and the other products) contains a proprietary formula that is patent-pending, and the company says that the goal of the shampoo is to prepare hair for "maximum growth potential." It also uses a lot of impressive-sounding phrases to describe what the HairGenesis shampoo does.
We're not exactly sure about that "growth potential" stuff; for our purposes, the question is whether the product works to stop hair loss. Several of the confusing phrases the company uses actually address that question. The shampoo works to protect mitochondrial DNA, an important component in protecting and growing hair follicles, with fatty acids. It also contains ingredients that prevent further damage to the follicles. In other words, it protects and strengthens the hair you already have.
Of all the products in our rankings, the best results have been reported by users of the HairGenesis shampoo, with a few people even claiming to see new hair growth.
Groom+Style put it in the fourth spot simply because of its price, which is the highest you'll find on this list. If you have the money to spare, it would definitely be worth taking a shot on this one.
Looking at the details of HairGenesis Revitalizing, Cleansing, and Thickening Shampoo:
 Product size: 7 ounces
 Key ingredients: Chamomile Extract, Horsetail Extract, Bioflavinoids Extracts, Pine Cone Extract, Rosemary Extract, Quaternium-15, Hydrolized Keratin, Wheat Germ Oil, Lecithin, Citric Acid
This is an organic shampoo that contains the key ingredient Biotin, often said to topically strengthen existing hair strands. Pura d'Or shampoo also contains argan oil, a vitamin-rich substance that promotes scalp and skin cell production. Herbal ingredients in this product like nettle extract, saw palmetto, and other herbs are believed to block DHT– the key culprit in pattern baldness. Some users say it hasn't just protected their existing hair but has promoted the growth of healthy new hair as well.
This all-natural and organic product's vitamins and oils work to increase circulation to the hair follicles, without using DEA, parabens, or some of the other chemicals often found in hair loss shampoos. Two often asked questions: Pura d'Or's "Gold Label" is for users whose hair loss is more pronounced, while "Blue Label" is for those who are starting to lose hair; and this product was originally called "anti-hair loss" shampoo but the name has been changed to "anti thinning," apparently to comply with government regulations about claims which can be made regarding shampoos.
The Gold Label product has a lot to recommend it; we didn't rank it more highly simply because even though it works well for some users, a number of others have found it isn't strong enough. As with many topical treatments, your mileage may vary.
Facts to know about Pura d'Or Hair Loss Prevention Premium Organic Shampoo:
 Product size: 16 ounces
 Key ingredients:

Biotin, Argan Oil
Nettles Extract, Saw Palmetto, Pumpkin Seed Oil, Black Cumin Seed Oil
Frequently Asked Questions
Do hair loss shampoos really work?
Yes, hair loss shampoos might help some people. They're designed to reduce hair loss and promote healthier hair. These shampoos usually contain special ingredients that aim to strengthen hair and possibly slow down hair loss.
Should I shampoo everyday for hair loss?
If you're dealing with hair loss, you might wonder how often you should shampoo your hair. It's generally okay to shampoo your hair every day, but it's important to use a gentle shampoo and not be too rough on your hair. Washing your hair too often with harsh shampoos can actually make hair loss worse.
Why am I losing so much hair?
Losing a lot of hair can happen due to various reasons:
– Natural Cycle: Hair naturally falls out as part of its growth process, sometimes more at certain times.
– Genetics: Hair loss can be inherited from family members who experienced it.
– Aging: Hair often becomes thinner as you get older.
– Health Issues: Conditions like thyroid problems or stress can lead to hair loss.
– Habits: Using harsh products, tight hairstyles, and heat tools can damage hair.
– Medications: Some drugs have hair loss as a side effect.
For proper advice, consult a doctor or dermatologist.
Conclusion
Hair is the crown you wear every day. It's a unique and personal expression of your identity. This is why hair loss might be hard for some people.
In our exploration of the best shampoos for hair loss, it's clear that these products offer more than just a way to cleanse your hair. They provide hope and confidence to those who are grappling with hair loss.
Remember, the journey to finding the right shampoo for hair loss might require some trial and error. What works well for one person might not yield the same results for another. Be patient and consistent in your approach!