Behind the cool tricks of skateboarding and stuff, skaters have long been known to have eye-catching styles, from skater fashion to skater haircuts.
From straight to wavy to curly hair, skater haircuts play a significant role in elevating the overall look of the skater. These modern and stylish hairdos are perfect for every hair type and length. It's a great way to add movement and texture to your locks, whether short or long hair. Once you style it right, victory will come to you real soon.
If you're a skater boy looking for some inspo to switch up your look, you've come to the right place. Ahead, we have compiled the ten best skater haircut options to help you look dashing in no time. Read on!
What is Skater Haircut?
When a "skater haircut" is mentioned, most people immediately think of a flowy long bang swept on the side, with loose strands framing the face. However, the skater haircut doesn't necessarily have to be like that; they have many variations.
Essentially, skater hairstyles draw inspiration from emo hairstyles or punk hairstyles. But they have particular twists that make them stand out as their own thing.
However, the skater haircut is indeed a modern and stylish hairstyle that works for all hair types and lengths. Depending on your preference, you can wear your skater hairstyle with bangs, goatees, and more. With the skater haircut, you can achieve both timeless and trendy looks that will become an instant head-turner.
Things to Consider Before Getting a Skater Haircut
If you're thinking about getting a skater haircut, there are some things you should consider beforehand. Here are some of the essential things to consider:
Think about Your Face Shape and Hair Type
Skater haircuts can look great on various face shapes, but some may be more flattering than others. If you have curly or thick hair, you may need to invest in some styling products to help you achieve the desired skater-boy haircut. On the other hand, your skater hairstyle requires less effort to maintain if you have thin hair.
Consider Your Lifestyle and Personal Style 
Skater hairstyles can be a high-maintenance look, so if you don't have a lot of time to style your hair every morning, the skater haircut may not be the best choice for you.
On the other hand, if you enjoy experimenting with different skater hairstyles and have a laid-back, skate-inspired personal style, a skater haircut could be a perfect fit.
Will You Commit to The Skater Hairstyle? 
These skater hairstyles often require regular visits to the barber to keep them looking fresh and neat, so be prepared to invest some time and money into maintaining your new look.
Overall, getting a skater hairstyle is a big decision, but with a little bit of thought and preparation, you can find a look that's perfect for you.
10 Skater Haircuts for Guys
Thinking about going for a skater haircut? Choose the skater hairstyle options from the list below and rock it. Read on!
Quiff Haircut
The quiff has become a popular skater hairstyle in the skateboarding community, particularly with those with longer hair. It's an easy-to-style and convenient look that you can pair with an undercut or fade for a more laid-back style.
To achieve this skater hairstyle, you have to use hair styling products to hold your quiff in place. This way, even the strong wind won't tousle it away.
French Crop
There's no doubt that the French crop is a highly fashionable choice for white boy haircuts, as well as for skater haircuts for men. The cut features tapered sides, short to medium-length hair at the top, and front bangs.
It's similar to a Caesar hairstyle but with longer bangs. Both styles are great options for a stylish skater haircut, though.
Long Dreadlocks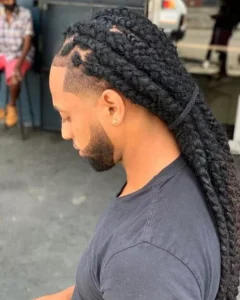 Interested in embracing the culture? Long dreadlocks are the best hairstyle to think about. This style will totally give a statement to your look. If you're still not ready with long dreadlocks, you can always opt for shorter ones as a starter.
To top it off, you can style it with accessories like headbands or jewelry, and you're good to go!
Angular Fringe
Short hair is the new rising trend in skater haircuts, and angular fringe is one of the options. In fact, the short, angular fringe hairstyle is getting more recognition than the classic bowl haircuts since this is a style that anyone may wear.
Depending on your preference, you can sweep your angular fringe to the left or right. Then you can also wear tapered or faded sides to emphasize the look of your fringe.
Crew Cut
Another short haircut that has captured the attention of skaters worldwide is this one. It features a very short military cut of your natural hair, making it low maintenance.
If you don't have the time to style your hair daily, this cut is very much recommended, as it is one of the quintessential skater haircut options.
Disconnected Cut
We cannot deny the fact that disconnected cuts are popular right now among men around the world, including skater boys. You totally have to do it to get a trendy look! This disconnected skater boy haircut requires wearing extended bangs and shorter, imperfectly cut sides.
Keep in mind that if you want to wear extended bangs, you should be prepared for some care to keep them looking sharp each time.
You should think about a comb-over hairstyle if you prefer short hair over long hair. The comb-over hairstyle has been popular among trendy guys, including skaters, for as long as we can recall.
Instead of combing your manes directly, tousle them to the side to give your comb over a skater vibe. Top it off with hair styling products to add more shine and definition.
Straight and Sleek
Although a little unconventional, the straight and sleek style is one that you should give a go. People with thinner hair particularly benefit the most from it.
It needs a great deal of care and upkeep, though. Your straight hair must grow and be kept silky and straight as it cascades to the sides.
It requires daily touch-ups for your straight hair to function, which is absolutely not an option for those with naturally curly hair — except if you want to straighten your hair every single day.
Punky Skater Hairstyle
The punky skater boy hairstyle is the ideal method to express yourself and stand out from the crowd. Keep your hair at a reasonable length and dye it black — or other colors.
To finish the appearance, cut your bangs and sides asymmetrically. You can also style the top part to be a little bit spiky to add spice. Remember that hair gel will be required to maintain this skater hairstyle.
Messy Peaks
Peaky hairdos for men are quite a popular skater hairstyle option. Your peaks don't have to be clean; they may be messy. Using your hands, lift sections of your hair up, then use style spray to hold the peaks in place.
You can also combine this skater hairstyle with sun-kissed highlights to make your natural hair stand out more in the crowds.
Conclusion
Great skater haircuts for skateboarding don't have to be limited to one style. If you're a skater and want to try out a new look with skater haircuts, consider getting a skater haircut that will suit your hair type and length.
With the right products, styling, and technique, anyone can achieve a fantastic skater haircut. Be sure to see a professional stylist to get the perfect skater hairstyle for your hair type and length. With constant practice, you'll be able to style your hair at home just like the pros.
So what are you waiting for? Go out and rock that skater haircut now!