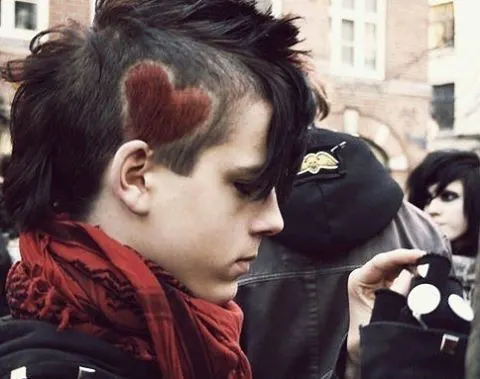 Since its initial popularity during the '80s, emo hairstyles have been making a huge comeback every now and then. This hairstyle has long been known as the ultimate of subculture and self-expression, especially from the history of the post-punk era.
The emo lifestyle, including the hairstyle, is strongly associated with music and anti-establishment ideas. But these days, people with any music preferences can wear this hairstyle without any limitation, and no one will be mad.
Emo haircuts for men are all about evoking mystery. The emo look is dark and edgy instead of the neat pompadour updos you see on the magazines' covers. Usually, people who want to go full emo complete their look with accessories and colored hair.
You're completely wrong if you think the options for emo hairstyles for guys are limited. In fact, the emo hairstyle doesn't always stop at the long, spiky fringe — it's much more than that!
Thinking of switching up your look with an emo hairstyle? Find out more on our curated info about the best emo hairstyles for guys here!
What Is An Emo Hairstyle?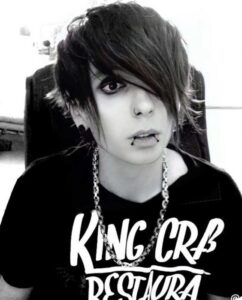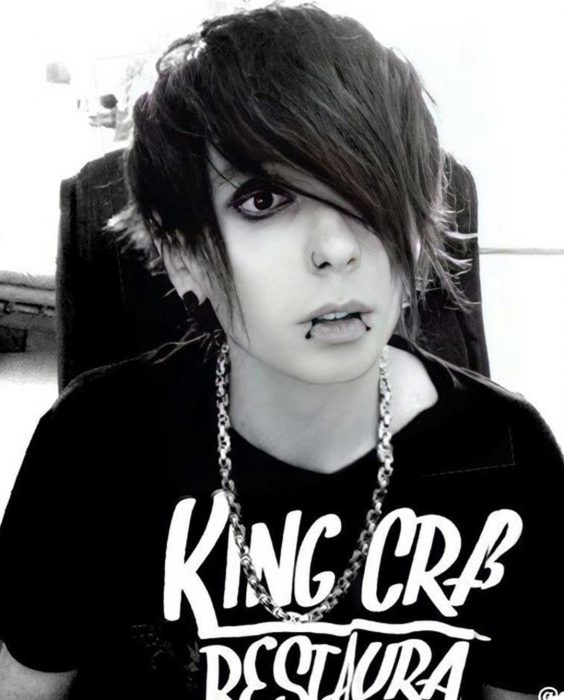 We're sure you have heard about the term "emo" everywhere. What is emo, actually?
Basically, emo is a subgenre of rock music distinguished by emotional, often personal lyrics. People in the emo music scene are known to have their own distinct fashion, including their hairstyle.
The typical description of an emo hairstyle is one with bangs that hide the eye and sharply trimmed ends. Usually, this haircut is also included in punk hairstyles.
However, there are various ways to wear these white boy haircuts, as there's no right or wrong in channeling your inner emo enjoyer. You're good to go as long as it exudes your personality in spades! The versatility makes it easier for everyone to try out this style at least once in their lives.
How To Get An Emo Hairstyle?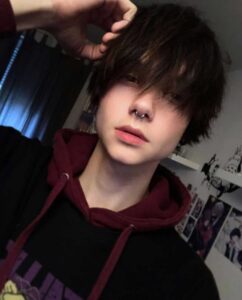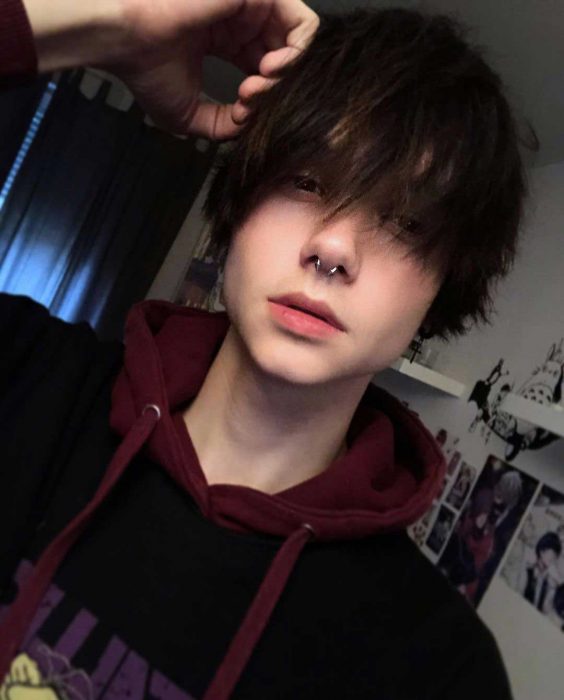 Getting an emo hairstyle is quite easy, especially if your hair length is medium to long. This way, you can easily achieve the most important part of the hairstyle, the signature emo bang.
Classic emo hairstyles involve long, choppy layers and a fringe that covers one eye.
For this look, ask your stylist to layer your hair, starting from the nape of the neck. In addition, you can also request that they leave out some sections at the sides for an edgier look.
If you have very straight hair, then it may be necessary to get the ends slightly curled or waved with a curling iron for added texture.
To achieve your desired result, use styling mousse and gels on damp hair before blow drying with a diffuser or round brush. This will help set your style in place and add volume.
Goth vs. Emo: What's The Difference?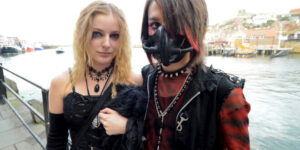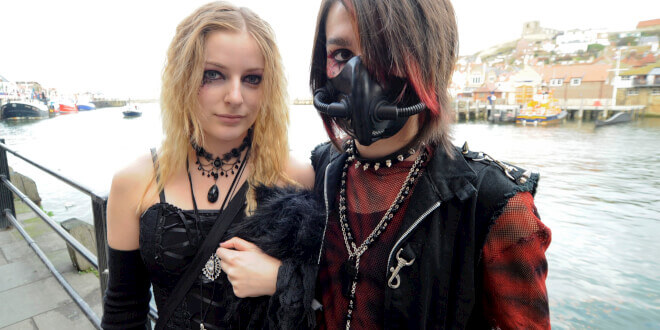 "Goth" and "Emo" are terms that are frequently used interchangeably to describe any dark counterculture. While these two movements are quite similar, they are vastly different!
Goth culture has been around for a long time. It began with Gothic rock and gradually absorbed Victorian-era artistic influences. Then, today's goths are all about horror images with exquisite twists.
Goth hair may also be rather wild. Most styles, however, are simpler than their emo counterparts. Goth hair is sleek, dark, and secretive, as opposed to outrageous colors and excessive texture commonly found in emo hairstyles.
Sometime in the 1990s, emo culture first emerged. The movement, which is hot off the heels of well-known musical performers, is centered on feelings, internal conflict, and individualism. Emo haircuts emphasize standing out. It is, therefore, more modern than goth. Extreme styles, such as unusual forms, asymmetries, and bright colors, are also more prevalent in emo hairstyles.
7 Emo Hairstyles for Guys
From the classic style short hair for an emo look to the experimental layered crop emo hairstyle, the choices are limitless for you to pick from. Check out our seven picks of the best emo hairstyles for guys below!
Short emo hair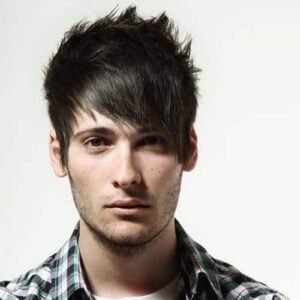 Aim for a more modern yet low-key look of an emo hairstyle? A short emo haircut is a great option, especially if you're just jumping into the emo hairstyle scene.
It is characterized by choppy, short layers that are often dyed in unique colors like brown or red. Also, don't forget the bangs! The bangs are the most important part of this hairstyle. Most importantly, wear the bangs until it covers your forehead completely for a maximum emo look.
The short length of the hair enables easy styling and maintenance for people with any face shape since it gives them the option to try out different looks without having to commit to something long-term.
Long emo hair
People with long hair have it easy to transition to an emo haircut without compromising its length.
If you have long hair, all you need to do is just trimming your front hair to create a signature emo fringe, and you're good to go. You can leave the rest of your hair as it is — it's totally acceptable!
If you want to step up the game a bit, try dying your hair using bright colors, such as purple or orange, to put more statement to your overall look.
Medium hairstyles emo guys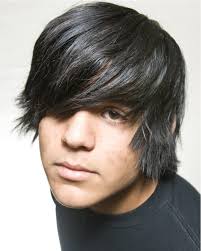 Though you may be used to seeing emo boys with long hair, this haircut comes in various lengths. If you are not quite ready to commit to long locks and short hair is also not helping, a mid-length cut is a way to go to join the emo hairstyle club.
In fact, some famous celebs once opted for medium length to wear the hairstyle, such as Jared Leto and Taylor Momsen. since it can elevate their looks without too much maintenance as it would with a longer length.
Dyed and parted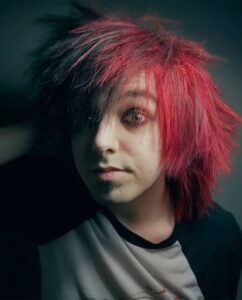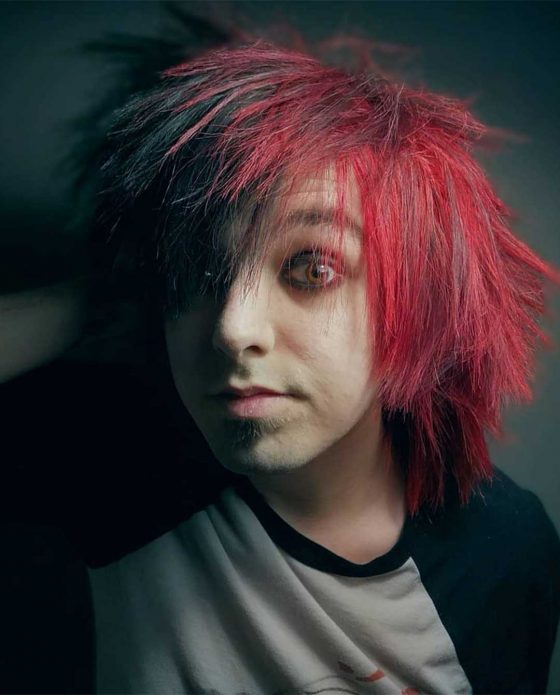 Do you belong to the type of guy who isn't scared to stand out? If so, this hairstyle is definitely for you — it is not for the timid!
The styling in this style involves highly textured and hairspray-infused hair, defying gravity. The hue is the most distinguishing characteristic of this look since people usually wear bright neon dye colors, such as red or green.
For a style that seems like it belongs in an emo music video, dye one-half black, and the other crimson. You'll definitely steal the show!
Flow emo hairstyle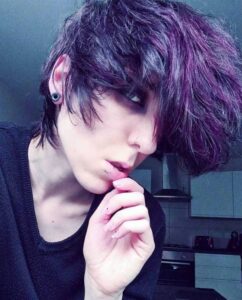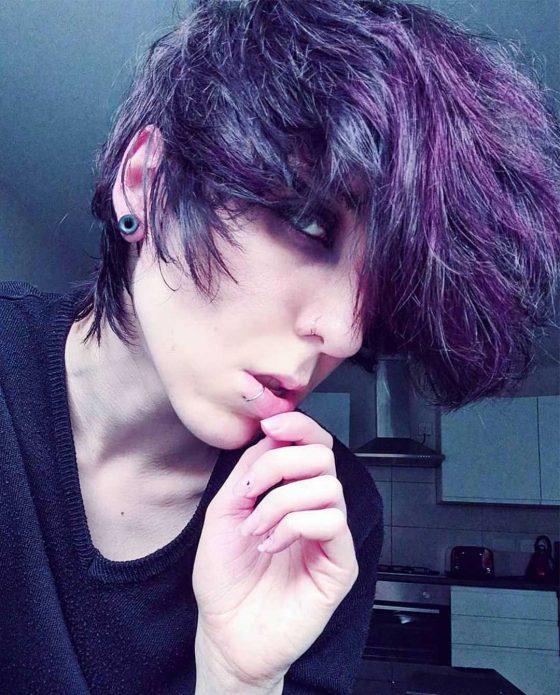 Want to benefit from your hair's natural texture? You may achieve the desired results with this style without constantly running to the straightener. Instead, it embraces natural waviness, creating a free-flowing appearance that enhances your facial characteristics.
On top of that, this hairstyle doesn't require a specific length for it to be called a flow emo style. As long as you have the texture, you'll rock this style. However, medium length is recommended to create a flow that is not over the top.
Also, you can combine this hairstyle with highlights of any hair color, from dark colors to vibrant ones. This way, you'll bring more life to your hair, bringing out the best in its texture!
Layered crop emo hairstyle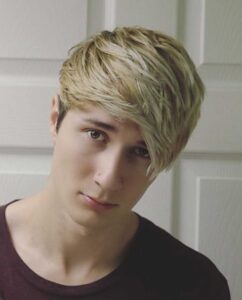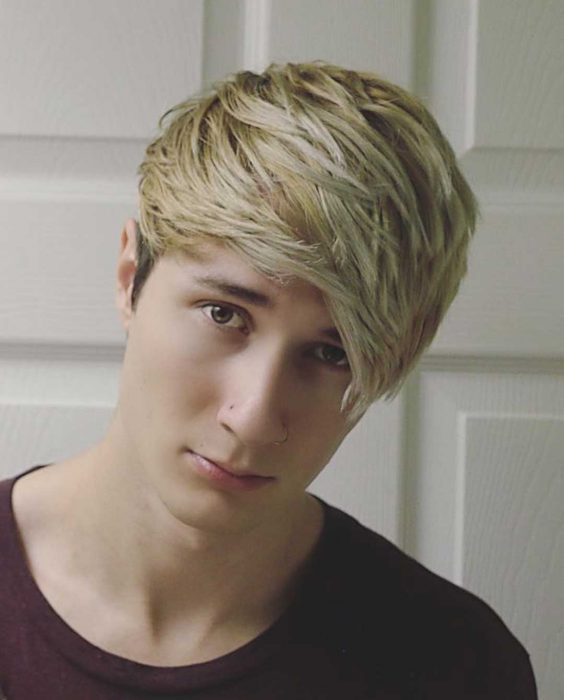 Do you prefer a more subtle style that still gives off a statement? A layered crop emo hairstyle is a fantastic choice. In fact, this hairstyle offers an opportunity for short-haired guys to rock an emo style.
To live the emo lifestyle, you don't need to color everything black. Any hair color will look great in this layered crop cut. You can try blonde, brunette, or even other vibrant hairstyles as you like — it will never go wrong!
Then, layering with a lot of contrast offers a ton of texture. You can also opt for a mixed hair color for each layer if you want to go the extra in spicing up your look — you just have to be confident!
Side-sweeping bangs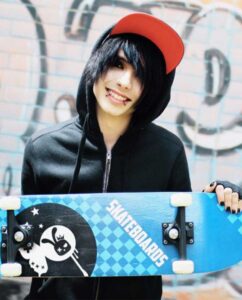 One of the most common options for an emo haircut is side-sweeping bangs. If you look up "emo hairstyle" on the internet, this hairstyle is most likely to appear in the top search — proving how popular it is!
Brush your medium-length hair towards the front, or have your bangs separated by the temple by a barber. The more your bangs cascade over your face, the longer they are.
Usually, people with side swept bangs wear plain black color with no touch of other dye colors. However, you can style it up as you want. If you prefer other colors, then go for it!
Most Frequently Asked Questions
How do I style my hair like an emo boy?
There's one key to getting an emo hairstyle: the signature bangs. Emo hair can be straight, wavy, or curly, but it should always have bangs.
No matter what kind of hair type or style you opt for, the bangs must be there to give a bold statement. If you have no bangs and don't plan on getting one, you can replicate it by pinning hair extensions on your forehead. However, this option might not perform as well as the real hair.
What hairstyle do Emos have?
People in the emo scenes have a particular, distinct hairstyle that features iconic bangs. It features various slitting bangs and layers shifting across the eyes.
Usually, people with emo hairstyles dye their hair in vibrant colors. Instead of just regular black hair dyes, some also add red accents or streaks along the face and backcombing looks to stand out more. Its lengths range from medium to long, particularly from side to back.
But there are also options for short hair, too. Some of the most popular emo hairstyles for guys are side-sweeping hair and flow emo hairstyles
Conclusion
So, there you have it! Our picks for the best emo hairstyles for guys.
From short to layered crops and everything in between, these styles will help you look your best whether you're going out on a date or just dropping by the nearest music gig in your city.
Whether you're looking to go all out with a crazy dyed and parted look or keep things more low-key with short emo hair, we've got you covered.
So, which of these styles is your favorite, and how do you plan on rocking them this year?