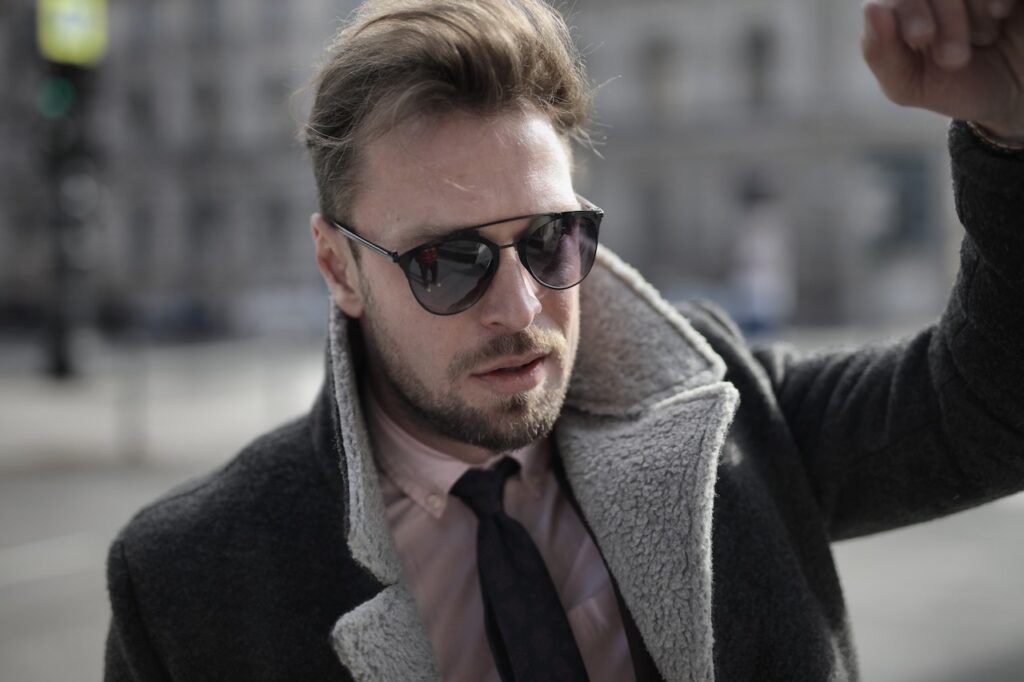 Looking for a new look without having too dramatic changes? Layered haircuts for men are a great way to spice up your style by adding texture and dimension.
You can achieve various looks with layers — from sleek and sophisticated to edgy and modern. Whether you want to add volume, create movement, or simply show off your unique style, layered haircuts can help you become a head-turner.
Also, layered haircuts are incredibly versatile: they can be worn short or long, with or without bangs, and even in a caesar style. So layered haircuts are worth considering if you're looking for a fresh look to make a great impression. Learn more about layered haircuts for men here!
What is Layered Hair For Men?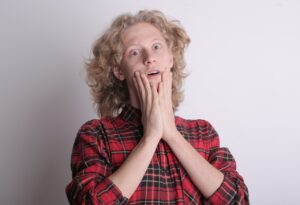 Layered haircut for men is a styling technique that involves cutting the top and back layers into different lengths. This creates a variety of looks, from soft and textured to choppy and bold.
Layering the hair adds volume, shape, and texture while keeping the overall length, making this haircut among the most versatile styles for men who want to flatter with extra flair.
How to Choose the Best Type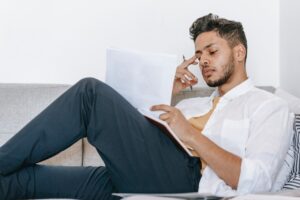 There are several things to consider in choosing the style for layered haircuts, including:
Consider your hair type and face shape: shorter layers for thick or wavy hair, longer layers for fine or straight hair
Think about your lifestyle: do you want an easy-to-maintain style or something bolder?
Figure out what kind of look you're trying to achieve: casual, formal, etc.
Explore different types of layered haircuts until you find one that suits your needs. This way, you'll get the best out of this haircut.
How to Get Layered Haircuts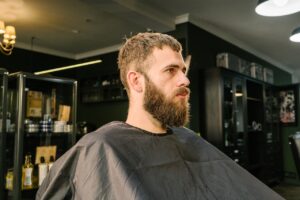 Getting a layered haircut is a piece of cake. As long as you have your barber with you, you can achieve the haircut just fine. Here is the step-by-step for getting this haircut:
Book an appointment with your hairstylist.
Be sure to explain the look you want and any other special instructions you have. Some choices include face-framing, choppy, or longer layers that start around your chin or shoulders.
Before starting, make sure your hair is thoroughly washed, dried, and detangled. This will help your stylist get an accurate idea of your hair.
Let your stylist do the job.
Finally, ask your stylist to show you how to style a layered cut yourself at home. This could involve blow drying it straight, using a curling iron or flat iron, adding some mousse or styling cream, and more. This way, you can do the future maintaining yourself.
How to Maintain Layered Hairstyles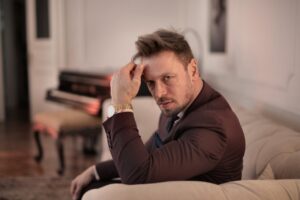 Maintaining your layered hair the right way to look dashing every day is essential. Don't worry; the maintenance for a layered cut is quite simple, including:
Use a good quality shampoo and conditioner specifically designed for your hair type.
Try sleeping on a silk or satin pillowcase to prevent breakage and keep split ends at bay.
After washing, towel dry your hair until it's just damp. Then, apply a leave-in conditioner or styling cream to protect your hair from heat damage.
Use the correct heat setting when blow-drying your hair. Lower temperatures are better for finer hair. Meanwhile, higher temperatures work best for thicker locks.
Avoid using products with alcohol or sulphates, as these can strip the moisture out of your hair and cause frizziness.
Deep condition your hair 1-2 times per week to keep it looking healthy and nourished.
Layered Haircuts for Men: 7 Most Popular Styles
Are you ready to look fabulous with the best layered haircuts for men? Check out our list of layered hairstyles below!
Medium Length Layered Haircuts for Men with Side-swept Bangs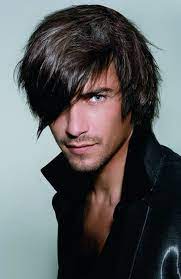 Want to rock medium-length hair? The medium length layered haircut with side-swept bangs is a perfect choice, especially if you have straight hair. Moreover, it would add spice if your hair has some natural wave to it.
The key to getting this look is to cut a longer length in the back and shorter layers of hair around the ears. Then, start creating layers at the top of your head while ensuring add texture to each layer. The result will be an effortless, messy look without too much bulk around your forehead area.
You can also wear some facial hair to top it off and add manliness to your overall look.
Tight Fade With Mullet Haircut For Men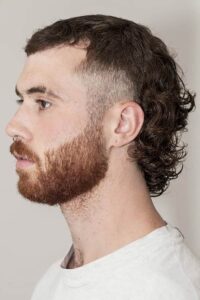 Did you know that a mullet is essentially a layered haircut with a quirky vibe? Hence, show off your free-spirited personality by combining a tight fade with a mullet haircut. Moreover, if you have naturally curly hair, it will be much more fabulous!
The medium-length hairstyle features a mullet with curls at the back and tightly faded sides. The tight fades, achieved using Remington hair clippers, complement the look without being too over-the-top. In addition, you can also add some stubble or full facial hair for extra flair.
Messy Bowl Cut With Flowy Strands Layered Hairstyles for Men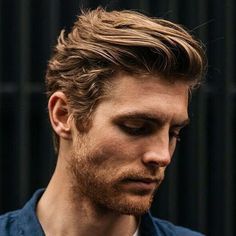 Want a style that is suitable for business casual and parties? This messy, flowy layered hairstyle is the right answer. This style will give you an instant boost of flair in no time.
To achieve the exact look, cut the back and top of your hair to a precise length, forming a two-tier look with soft layers. Then use a texturizing hairspray to hold the strands in place. Tousle it a bit to get a messy look.
Finally, combine it with some stubble to be more impressive.
Burst Fade with Faux Hawk and Layered Top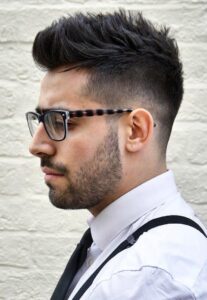 Embrace your voluminous appearance by styling your top hair in a faux hawk with a layered top. Then, add a fade on the sides using Panasonic hair clippers so that it will balance the look.
It's easy to get this unique look. Just ask your barber for a fantastic burst fade, and then gradually increase the blade guard to a longer length. Keep the central part of your hair longer and create a layered look above it. Finally, add hair gel or pomade to make a faux hawk and hold it in place, and you're ready to go!
Short Spiky Layered Hair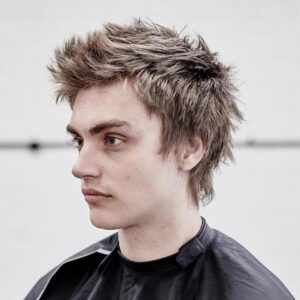 Channel your inner Billie Joe Armstrong in his prime era by rocking short spiky layered hair. In fact, this 80s hairstyle is among the trending ones nowadays. However, you can add a twist by cutting it shorter so that the spikes won't be over the top.
You can change this versatile cut with different styling options at any time. You can also add semi-faded sides as attractive contrast that emphasizes the spiky top.
Layered Caesar Cut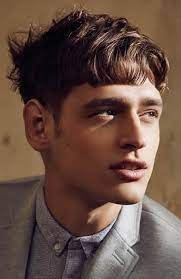 Aiming to look edgy? A Caesar cut is among the ideal choices. However, this particular style adds a twist with the additional layers. As a result, you can give your haircut a shape, create depth, and add definition.
A Caesar cut usually involves having the same length of hair all around the head with a short fringe across the forehead. This works great for drawing attention to your facial features. If you already have a natural hair texture, this cut will look the best since you don't need to use too many styling products to look amazing.
Curly Mens Long Layered Hairstyles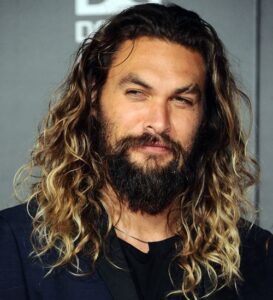 You can style curly thick hair with long lengths into various looks, including the curly mend long layered hairstyles. In fact, layering the hair helps to add shape and definition while also drawing attention to your face and natural curls.
What's good about this style is that there is no specific length requirement; you can experiment with different layer lengths and shapes to create a unique look that suits your personality.
Frequently Asked Questions
Are layered haircuts suitable for men with thick hair?
Layers are a great way to create structure and definition if your hair is thick. However, you should consider your hair length and type when deciding on the best layered hairstyle for you so that it looks incredible.
Can layered haircuts for men be adjusted for hair loss or thinning hair?
Yes, men with thin hair can still rock layered haircuts. Before choosing the haircut, please remember that the wrong choice of layered style can remove hair weight instead. Therefore, ask your barber for the most suitable haircut for you that can help you achieve a more voluminous appearance.
Conclusion
All in all, a layered haircut is an excellent choice for any man looking for a new hairstyle. Not only are layered hairstyles trendy, but they are also easy to style and maintain.
From the oldies Medium Long Layered Haircuts for Men with Side-swept Bangs to the standout Burst Fade with Faux Hawk and Layered Top, your choices are limitless.
With so many different options available, there are sure to be layered haircuts for men that are perfect for you. So what are you waiting for? Give one of these haircuts a try today!