The Best Epilator for Facial Hair Review – Top 7 List for September, 2023
For most women, facial hair growth is a common and natural condition that is best kept secret. Therefore, to address excessive facial hair growth, it is advisable to find the best epilator for facial hair immediately.
However, when the hair is left unattended, it can mar a lady's facial structure, complexion, and general beauty. Excessive facial hair can demoralize a women's spirit, self-esteem, and confidence.  Fortunately, by selecting the best epilator for facial hair that meets your needs, it is possible to get rid of facial hair very effectively and relatively painlessly.
There are methods other than epilating that can be used to get rid of facial hair (such as laser hair removal, electrolysis, depilatory creams, and, of course, shaving), however, utilizing one of the epilators below will ensure certain benefits, such as:
• Effectiveness – These facial epilators are designed to facilitate maximum removal of facial hair. The tweezers utilized in these devices are very effective at trapping and pulling out even the tiniest and softest hairs. Hair removal via an epilator will last longer than when shaving, as the hair is pulled out via the root.
• Speed – Rather than using conventional tweezers, where you have to remove the hairs one at a time, epilators glide over the skin surface, grabbing all the hairs in their path.  This means you save yourself a significant amount of time.
• Comfort – Pulling out hair is generally painful, and it does take some getting used to. However, the duration of the pain is reduced significantly as the hairs can be removed very quickly.  Over time the hairs become finer, and the process becomes less painful.
Keep reading to find out about Groom+Style's Top 7 Best Epilators for facial hair removal reviews in September, 2023.
This Emjoi facial epilator is very well designed – it is small and comfortable to hold, making it easy to maneuver over the contours of the face.  It is particularly great for facial hair growing in and around; the chin, the upper lip, and the sideburns. It can be used reasonably well for precision hair removal, although if you are specifically after an eyebrow epilator, this is probably not the device for you.
It's lightweight and portal, making it ideal for the person who travels frequently – it takes 2 AA batteries which are not included.
The head comes packed with 9 tweezers for maximum hair removal. To root out the hair, simply glide the epilator for facial hair smoothly over the affected surface. However, to avoid pinching, you may have to pull the skin taut in the affected area. This best epilator for facial hair works especially well with soft facial hair, but it also gets rid of coarse hair, albeit not as fast.
This device can also be used on the bikini line and underarms.
2. Bellabe Facial Hair Remover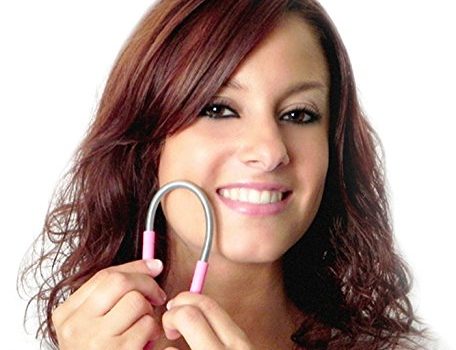 The Bellabe facial hair remover comes with a unique design and functionality, making it very effective.
It is ideal for ladies dealing with soft facial hair growth. This device comes with two handles enclosing a spring between them. The handles are used to control the epilator's movement while the spring captures and pulls out the hair by the root. To use it, position it over the affected area of the face and bend it slightly. While in this position, turn the handles in either direction, which will enable you to spring to capture the facial hair as you move along.
Bending and twisting this epilator for facial hair does not take much strength, and as such, it is easy and fast to operate. As there are no electronics, the Bellabe is very affordable, cheap to maintain, and very portable. For effectiveness, use this best epilator for facial hair on the cheeks, upper lip, and chin. This device is more effective at rooting out soft hair and will struggle with tough and coarse hair.
3. The Remington EP7030
The Groom+Style review team likes this Remington a lot because it comes with a comprehensive set of features and because it's 100% waterproof so that it will work without an issue in the shower or bath. It's also much more than a facial epilator; it works perfectly anywhere on the body, including legs, arms, and sensitive spots.
The EP7030 is designed well. It uses 40 sets of tweezers and a flexible, pivoting head to flow with the body's natural contour and effectively deal with pesky hair many competitors miss. The two speeds on this best epilator for facial hair let you remove both fine and coarse hair at the roots, with the slow setting used for fine hair and the fast speed quickly removing coarse hair. There's also a narrower precision cap to be used on the face and those touchy "detail" areas, as well as a massaging cap that contains aloe vera that is great for easily-irritated skin.
As we mentioned, the review team for the art of shaving loves the fact that this Remington model is a rechargeable wet/dry model and completely waterproof, so you can use it while showering or wherever is most convenient. It's also ergonomically designed, so it's very comfortable to use without hand fatigue. There's even a detail light on the epilator, so you don't miss those really fine hairs that often "escape."
Here's another Remington model, and it's a great choice for a budget epilator. It doesn't have all of the bells and whistles of the EP7030 we've already reviewed, but it still provides excellent personalized hair removal anywhere you want to take it – even in the shower since it's a 100% waterproof wet/dry skin epilator.
The biggest difference between the models is that the EP1050CDN is designed specifically for the face, so it has just six sets of tweezers instead of the much greater number typically used for effective hair removal on the rest of the body. There are other differences as well; this best epilator for facial hair runs on a single AA battery instead of being powered by a rechargeable battery, and it's substantially less expensive than the EP7030.
When it comes to performance, however, you won't be disappointed. This Remington's slow and fast speeds let you remove both fine and coarse hair from the roots, the ergonomic design makes the epilator a pleasure to use, its slim shape lets you tuck it into your purse and take it anywhere, and the head is easily removable for quick cleaning.
5. Braun Mini Hair Remover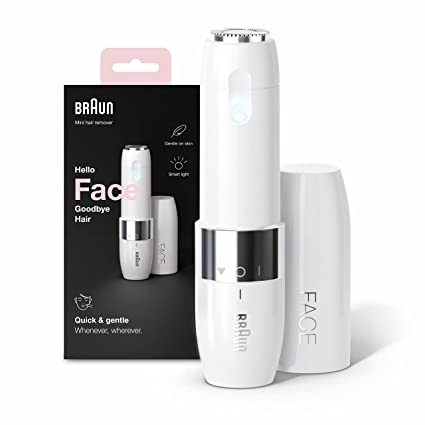 The Braun Mini Hair Remover is an electric facial hair remover for women designed for quick and gentle hair removal. It is ideal for use on the upper lip, chin, and cheeks and makes it easier to apply makeup. Its compact size makes it convenient to use on the go, and its Smartlight feature adds to its elegance. The hair remover cuts hair close to the skin, leaving your face smooth and free of peach fuzz. The package includes the mini hair remover, a white cap, a cleaning brush, and an AA battery.
6. Philips Beauty Epilator Series 8000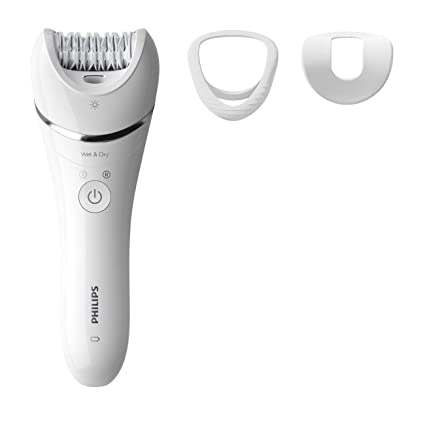 Philips Epilator Series 8000 is an innovative hair removal device designed to offer a hassle-free and comfortable experience to its users. This epilator comes with several features that make it stand out from the crowd.
One of the most notable features of the Philips Epilator Series 8000 is its built-in light. This feature enables users to spot even the tiniest of hairs on their skin, ensuring that no hair is left behind during hair removal. Another unique feature of this epilator is its ceramic material. Unlike traditional epilators that use metal plates, this device is made of ceramic, which is gentler on the skin and less likely to cause irritation.
The device has a cordless usage time of up to 40 minutes with quick charge capabilities. This means that users can use it on the go without having to worry about being tethered to an electrical outlet. Additionally, the quick charge feature allows for fast charging times, making it convenient for those with busy schedules.
Lastly, the Philips Epilator Series 8000 is designed to be used in both wet and dry conditions. This means that users can use it in the shower or bath for added convenience and comfort.
7. Epilady Esthetic Delicate Facial Epilator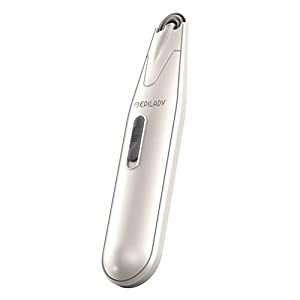 The Epilady Esthetic Delicate Facial Epilator is a highly effective hair removal device specifically designed for delicate areas like the face. Its user-friendly features make this epilator easy to operate, making it an excellent choice for anyone looking to achieve smooth, hair-free skin.
One of the most significant features of the Epilady Esthetic Delicate Facial Epilator is its coil-epilation system. This system uses rotating coil technology to remove hair from the root, providing long-lasting results of up to 4-6 weeks. This means that users can enjoy smooth and hair-free skin for an extended period, reducing the need for frequent hair removal sessions.
The rotating coil technology used in the Epilady Esthetic Delicate Facial Epilator ensures that the device is effective on all hair types and colors. Whether the hair is thick or thin, blonde or black, this epilator can effectively remove it from the root, leaving skin smooth and hair-free.
First Time Users of Facial Epilators
There are some things to keep in mind if you are using the best epilator for facial hair for the first time – the process will hurt.  No matter what you do, there is going to be some pain. Lubrication can make it hurt less, and you can use aloe or witch hazel to soothe the area once you are done.
If you are particularly concerned about the discomfort, you could consider a number spray such as the one below.
Your hair will grow finer as you continue to use the best epilator for facial hair. Over time, this should make epilating less painful. You might also be able to use a hair growth inhibiting cream which will reduce the frequency at which you will need to epilate.