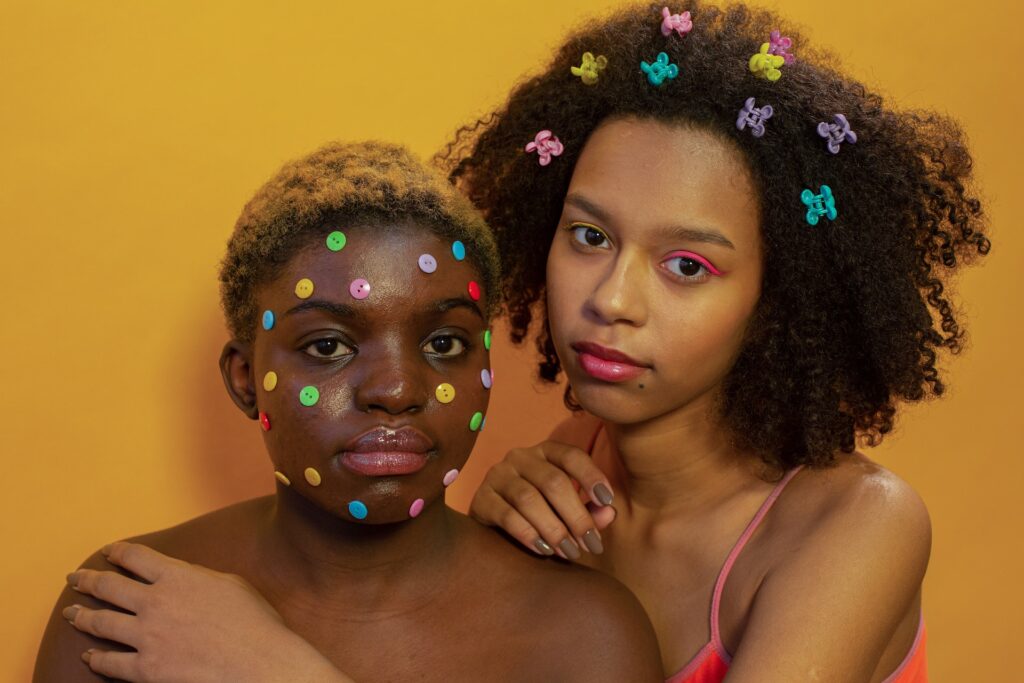 Make a Statement: Stunning Butterfly Clip Hairstyles to Try
Who knew that you could actually use something as commonplace as a butterfly clip to create some stunning hairstyles? Without a doubt, this Y2K fashion item has been making a major comeback these days, as seen in famous celebs such as Olivia Rodrigo, Billie Eilish, and Doja Cat.
From the classic half-up and half-down look to more intricate braided styles, a butterfly clip can bring your look up a notch.
Not sure where to start? We've compiled some of the best butterfly clip hairstyles out there so you can flaunt this unique accessory!
7 Trendy Butterfly Clip Hairstyles to Wear
Jump on the butterfly clip trend and get creative with these seven hairstyles!
Twisted Space Buns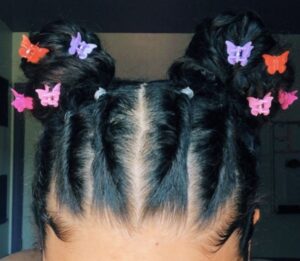 Feeling cute today? Twist two space buns, then accessorize them with butterfly clips for a fresh and fun look. You can use clips in a contrasting colors to enhance your buns even more. Or, you can color-coordinate so that your clips match your OOTD.
The butterfly clips won't just add an eye-catching element of style; they will also keep your buns securely in place while you dance the night away!
Twisted Rows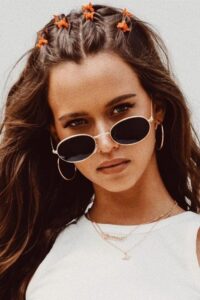 To get this look, start by parting your hair into several one-inch sections along your hairline, depending on how much hair you have. Take one section and twist it straight back away from your hairline.
Keep twisting the section until you reach the halfway point of your head, then secure it with a butterfly hair clip — and you're done! Twisted rows are the perfect style to keep your hair out of the way — while also looking adorable with the butterfly clips.
Chic Butterfly Clip Half-Up Style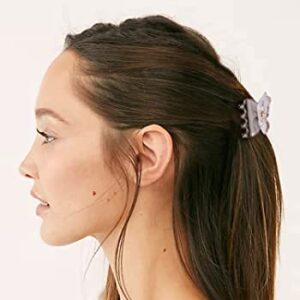 Add a chic, elegant edge to your half-up style with a butterfly clip as an alternative to a claw clip. For a polished, grown-up style, opt for a dark, neutral color, twist a small section of your hair, and secure it with the clip.
On the flip hand, choose colorful or larger clips for something more playful — the choice is yours! This simple yet effortlessly cool look is suitable for various occasions.
Bubble Braids With Butterfly Clips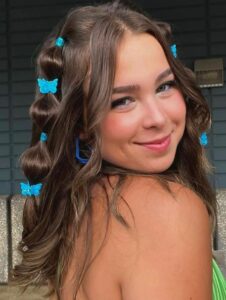 Want a playful look? Why not try bubble braids with mini butterfly clips? It adds texture to long curls and volume to short hairstyles. You'll need some bobby pins, butterfly clips, and a handful of elastics to get this look.
Start by gathering small sections of hair in two-strand twists, then secure them with elastics. You can create different sizes of loops for the bubble effect by adding or taking away sections of hair as you go. When you're done, add a few butterfly clips to hold the shape and give your look an extra flair.
Messy Bun With Butterfly Clips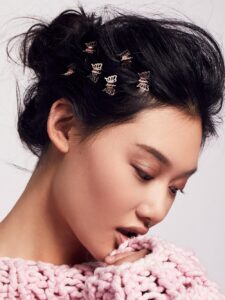 There's nothing quite like the classic messy bun with butterfly clips to add some fun and flair to your everyday look. Whether you're going out for a night on the town or running errands, this style will turn heads!
It's so simple yet versatile, making it an excellent option for all occasions. Plus, it only takes a quick time to achieve. All you need are some butterfly clips, and you can easily create an effortless, bohemian-inspired look in no time!
Space Buns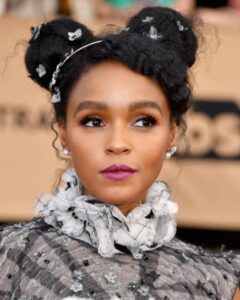 Space buns are the perfect way to add some fun and flirty style to your look. Whether you're going for a sweet and romantic vibe or an edgy and daring one, adding butterfly clips will frame your look in no time.
Plus, they only take a few minutes to create, so you can transform your look quickly. With just a few butterfly hair clips and simple styling techniques, you can have Zepeto-lookalike space buns that will make a statement!
Curly Strands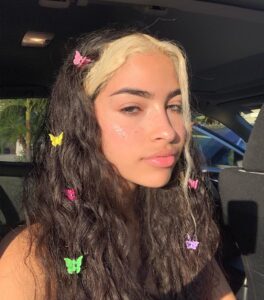 Running out of ideas to style your curly hair textures? Simply add butterfly clips to elevate your look! Opt for different colors and sizes for a more fun style.
This lovely combination is sure to turn heads and draw compliments. Not only will you feel beautiful, but you'll also make a bold statement about your hair texture that shows your cheerful personality.
Frequently Asked Questions
What are butterfly clip hairstyles?
Butterfly clip hairstyles are the kinds of hairstyles that are achieved by clipping butterfly clips on hair, whether as a mere hair accessory or to keep hair out of the way. This versatile style can be worn up, down, in a half-up/half-down fashion, or any other style.
Can butterfly clips be used on all hair types?
Yes, you can use butterfly clips on all hair types! The clips' sizes and designs make them so versatile for all lengths and textures of hair.
For those with thin, wavy hair, or even curly hair, smaller clips may be best to avoid weighing the hair down. For those with thick, straight hair, larger clips should be selected for a better grip. Butterfly clips come in various colors, designs, and sizes to accommodate any hairstyle.
How do I care for my butterfly clips?
To take care of your butterfly clips, store your clips in a clean, dry place away from extreme temperatures when not in use.
Also, every couple of months, give your clips a good cleaning. You can do this by gently scrubbing them with soapy water and drying them thoroughly before replacing or storing them. If you notice any tears on the clip, it is best to replace them as they may no longer securely hold the hair in place.
Conclusion
All in all, you can do so many fun hairstyles with butterfly clips! From cute twisted space buns to a chic half-up look, the butterfly clips will elevate your style in no time.
We hope you enjoyed trying out some of these looks. Let us know your favorite ones or other recommendations in the comments!