The Most Iconic Colognes and Perfumes for Men and Women of All Time
Choosing the right perfume or cologne for you can take years of trial and error, and the journey can be expensive, too.
What's more frustrating, is when you find a scent that you absolutely love, and then it gets discontinued.
Some colognes and perfumes, however, have been around for decades, with no signs of going away anytime soon.
These iconic colognes and perfumes are timeless, loved by generations and often popular for reasons beyond their gorgeous scents.
Here are Groom+Style's picks of the most iconic colognes and perfumes for both men and women. But first, let's take a look at how colognes and perfumes work, how they're structured.
Understanding How Colognes and Perfumes Smells are Structured

All perfumes and colognes are structured as a kind of pyramid, with top notes on the top, heart notes in the middle, and base notes on the bottom.
The Top Notes
Top notes are the characteristics you notice immediately upon application. They're bright and sharp, usually very light. Top notes usually last just a few minutes before dissipating.
The Heart Notes
Next come the heart notes, which form the rounded body of your perfume. Heart notes stick around for longer than top notes, and are typically what you're thinking of when you think of your favorite cologne or perfume.
The Base Notes
Base notes are mellow and long-lasting. They're the notes which stick around for hours, once everything else has dried away. Musky or woody are terms you'll hear associated with base notes. If you can imagine how your mom or dad used to smell when you were a child, you're likely remembering the base notes of their favorite cologne or perfume.
How to Choose a Perfume or Cologne
Even with these iconic fragrances, there's some trial and error involved. Different perfumes and colognes react and dry down differently on different people, so it's important to test them out before committing to buy.
Our best advice, is to go to a perfume store, pick two fragrances that you like, and spray one on each wrist. Don't spray them on a cardboard strip — they'll smell different on your skin.
Take in the top notes, then keep going back to each one over the course of the day. After a few hours, you'll have a good idea of how each one dries down on your skin, and which is the right one for you. Always ask your partner which they prefer, too.
The Most Iconic Colognes for Men of All Time
Launched in 1996 by Giorgio Armani, Acqua di Gio has been imitated in some way by almost every wannabe perfumer since. Its light and airy aroma of zesty mandarin and limes, gives way to a soft, woody base note, making the perfect summer scent.
This wonderful Italian cologne was born during World War I, and is now celebrating over 100 years of success, as one of the most well-respected and deliciously classical scents in the world. Beloved by movie stars of the 1950s, Acqua di Parma — born in the heart of Parma — is made under the strict supervision of the Agnelli family, and comes loaded with citrusy top notes and a dreamy lavender and sandalwood base.
Crisp, clean, elegant, this quintessential French classic has been delighting men and women around the world since 1966. Look out for light top notes and a swoon-worthy woody base that'll make its mark for years to come. What's more, Eau Sauvage by Dior is totally affordable for non-millionaires.
Launched in 1977, this classic fragrance is still a favorite of older and younger men. Patchouli and cinnamon are at the top and heart of Gentleman, while bergamot and sandalwood take care of the base notes.
Bold, simple and totally masculine, Dior Homme is an absolutely timeless fragrance, which does not fool around. Dior Homme is kind of like the blueprint for a solid cologne, but if you think that makes it boring, think again. Grapefruit and coriander combine in this one for a spicy, lively aroma that'll stick in your memory for years.
The Most Iconic Perfumes for Women of All Time
Marilyn Monroe said that she never went bed wearing anything else. Chanel No. 5 is without a doubt the most iconic fragrance in the world, and it's not only thanks to its celebrity status. A classic scent which will never, ever go out of style.
For almost two decades, J'adore has been a favorite of women who enjoy a lighter, floral scent. It's not the most complex out there, but J'adore is a wonderful mix of light notes that make it truly unforgettable.
Now enjoying a newly-designed bottle, L'Interdit is the same iconic fragrance that's been delighting women since its release in 1957. L'Interdit is, in fact, Givenchy's first ever ladies perfume.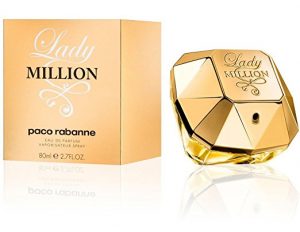 A modern classic, Lady Million is the counterpart to the Million by Paco Rabanne, and its floral bouquet is one beloved by younger women all over the world.
We're rounding off our selection with one of the most beautiful scents in the world. Shalimar is a love story-inspired fragrance dripping with floral notes and a heart of vanilla and iris. If you're looking for something truly memorable, we highly recommend Shalimar, by Guerlain.
What do you think? Was your favorite on the list? Let us know.
An Alternative Option
Vented in Brooklyn: The Aromatherapy Necklaces And Bracelets That Gives Back

Many people are allergic or sensitive to strong perfumes and colognes, while others are simply more comfortable wearing a subtle scent. That makes Vented in Brooklyn aromatherapy jewelry the ideal alternative to one of the iconic products we've discussed.
These beautiful bracelets and necklaces are inscribed with inspiring power words of your choice like "love," "breathe" or "hope," and contain absorbent paper inside. A few drops of your favorite essential oil like peppermint, lavender or lemon applied to the paper will provide a day's worth of lovely, natural scent, in addition to aromatherapy benefits such as relaxation, focus or rejuvenation.
The "giving back" part will make you feel good, too. For each purchase, Vented in Brooklyn donates an aromatherapy bracelet and bottle of essential oil to a cancer patient, to help alleviate the effects of chemotherapy.