Feathered Hair Men: Embrace Your Inner Maverick
If you thought feathered hair was just for the women of the 70s, think again. Gentlemen, it's time to embrace your inner maverick and confidently rock those feathered locks.
From Hollywood heartthrobs to everyday guys, feathered hair perfectly blends retro charm and modern style. Interested in rocking this stunning style? Grab your comb and hairspray, and let's dive into the world of feathered hair men!
What is the Feathered Haircut?
The feathered haircut is a timeless hairstyle that has been around since the 1970s continues to be a popular choice among men and women of all ages. It's a classic technique where the hair is layered and trimmed in such a way that it creates soft and flowing feather-like strands.
The result? A haircut that looks effortless yet sophisticated, with each strand gently feathered towards the ends to create texture and movement.
This style is often associated with a bohemian or rock-and-roll style and has been seen in iconic celebrities like Farrah Fawcett, David Cassidy, and, more recently, Harry Styles.
Most Popular Feathered Hair Men
Just like any other haircut, there are myriad variations for feathered hair men. Here are some of our best picks for feathered hairstyles for men:
Short Feathered Hair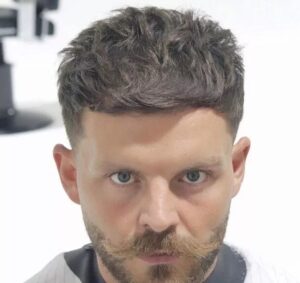 If you think that short hair is too plain and boring, adding a feathered texture can elevate the look. Short feathered haircuts are perfect for those who want a low-maintenance yet trendy look with volume and movement.
While this look suits both thin or thick straight hair, men with thin hair benefit more since it adds more volume. Men with short feathered hair can also experiment with different styles, such as messy spiked or slicked-back styles.
Long Feathered Hair
Likewise, men with long hair can also benefit from feathered hair. You can still add volume and texture to your style without sacrificing the length.
While the haircut might be similar to the layered haircut, the difference lies in the ends of the hair. The dense, feathery ends of the hair create a dramatic wispy effect on the overall look.
Wavy Sweep
The wavy sweep feathered hairstyle is a modern take on the classic feathered haircut. This style features loose, effortless waves gently swept to one side, with layers feathered towards the ends to create a soft, flowing look.
The result is a natural and tousled hairstyle that looks chic and laid-back at the same time. It works best on medium to long hair, with layers added to add volume and movement.
Curly Feather
Feathered hair is not only for straight-haired men; naturally curly hair teams can also rock this fabulous hairstyle. If you're a man with medium-curly hair, you'll benefit from this hairstyle.
To get this style, apply a curl cream or a leave-in conditioner to tame your hair, and brush your hair using a wide-tooth comb. Or, you can simply tousle your hair and let the strands get feathery.
For men with straight hair, you can also achieve this look by sectioning your hair and using a curling iron to curl each section. The result? A stunning curly feather! To keep it in place, you can apply hair spray.
Feathered Bob
Classic bob hairstyle is a jaw-grazing, one-length cut that hugs the chin. It typically does not have many layers or extreme texturizing, giving it a sleek and polished appearance. However, combined with a feathered style allows a more volumized and airy finish.
The layers are cut at an angle, giving a soft and feathered appearance to the ends of the hair. This feathered look works well with various hair types and face shapes, making it versatile.
Tapered Fohawk
A more subtle version of the mohawk hairstyle, the tapered fohawk, pairs great with a feathered hair look. This modern mohawk cut features shorter sides that gradually get longer towards the top, leading to a strip of longer hair in the center of the head.
Next, the strip of hair is styled upwards to create the signature mohawk-like shape of a fohawk. The hair on the sides is usually tapered or faded, creating a gradient effect. The feathered layers are cut into the longer hair on top, creating texture and movement within the style.
Feathered Quiff Haircut
The classic quiff haircut is a classic style that combines short, faded sides with longer, layered hair on top. The hair on top is styled upwards and back, creating a voluminous "quiff" at the front of the head.
When combined with feathered layers, it adds volume and texture to the hairstyle. The hair on the sides is usually faded or tapered, creating a contrast with the longer hair on top.
Frequently Asked Questions
How can I make my hair more feathery?
To achieve a feathery look for your hair, try these tips: get a layered haircut, opt for feathered bangs, use a round brush while blow-drying for volume, apply texturizing products, create loose waves with a curling iron, consider feathered hairstyles, tease the roots for added texture, or try feather extensions.
Is feathered hairstyle high maintenance?
Generally, the feathered hairstyle is considered low to moderate maintenance. Regular trims, styling techniques, and product usage may be involved, but the level of maintenance depends on factors like hair length and personal styling preferences.
What is the difference between layered and feathered hair?
Feathered hair involves cutting the hair at an angle to create soft, wispy ends, while layered haircuts refer to cutting the hair into different lengths or layers for added texture and movement. Feathered hair focuses on a light, airy appearance, while layered hair offers more versatility in styling options.
Conclusion
To summarize, feathered hair men is a stylish and classic men's hairstyle that can help you channel your inner maverick. It's a versatile, customizable haircut that suits your face shape and personal style. The feathered layers add texture and volume to the hair, creating a dynamic and unique look.
If you're ready to embrace your inner maverick and try something new with your hair, the feathered quiff is definitely worth considering. Whether you're about to attend a special event or just want to switch up your usual look, this hairstyle will make a statement. So why not take the plunge and give it a try?