The undercut hairstyle has long been known as a bold and edgy choice for those looking to make a statement. The cut is often associated with alternative fashion, but you can also wear this cut more subtly. With so many styling possibilities, it's easy to create your look.
No matter your style, an undercut is sure to turn heads and make a statement. This edgy cut has become increasingly popular among men, women, and even children due to its versatility and modern aesthetic appeal.
Whether you rock an undercut style as part of your everyday wardrobe or opt for something more daring for special occasions, you can feel confident knowing that this bold hairstyle will make an impact. Get to know more about these hairstyles for men here!
What is the Undercut Haircut?
It's a short-to-medium hair length with a visible contrast. This hairstyle is characterized by shorter hair on the sides, and longer hair on top, with the long hair, styled any way you like. The contrast between the two sections creates an interesting effect that many love for its unique look.
When styling an undercut, keeping some of the longer pieces of hair on top while creating shorter sections on the sides and back is essential. This will help create texture and dimension while giving you plenty of options when it comes to styling.
A few popular techniques include slicking back the front section or adding waves or curls to the ends for added interest. It's also possible to get creative by adding braids, cornrows, or even highlights.
What Face Shapes Works Well with Undercut Haircut?
An undercut can be adapted to suit a range of face shapes, making it an ideal option for any face and hair type. Generally speaking, square, oval, and triangular faces are best suited to this style as the haircut helps balance out their features and create a more harmonious look.
Round faces can also rock men's undercut hairstyles, but you should opt for longer cuts on top with shorter sides in order to help slim down facial features. Those with heart-shaped faces may want to avoid full undercuts altogether as it can emphasize their narrow chin area.
However, if men's undercut hairstyles are your desired look, you can always try styling with some lengthier pieces or adding texture through curls or waves.
Experimentation is key when it comes to finding a cut that suits your individual needs and face shape. Ultimately, the goal should be finding what works best for you while still staying true to your personality.
10 Undercut Hairstyles
Many undercut hairstyles are available for any man who aspire to look charming. Get inspired by these amazing-looking undercut hairstyles for men for your next look!
Braided Ponytail
Many barbers consider the man ponytail to be a stylish and eye-catching trend of undercut hairstyles for men in today's men's fashion. Moreover, this style is suitable for any hair type, from straight hair, and wavy hair, to naturally curly hair. When the braids are combined with an undercut haircut, it creates a natural look that shows you take care of your hair.
However, this style is quite experimental, so you have to wear your confidence to the fullest to wear it. But it is indeed an excellent choice for anyone looking to make a statement without making them appear less manly.
Pompadour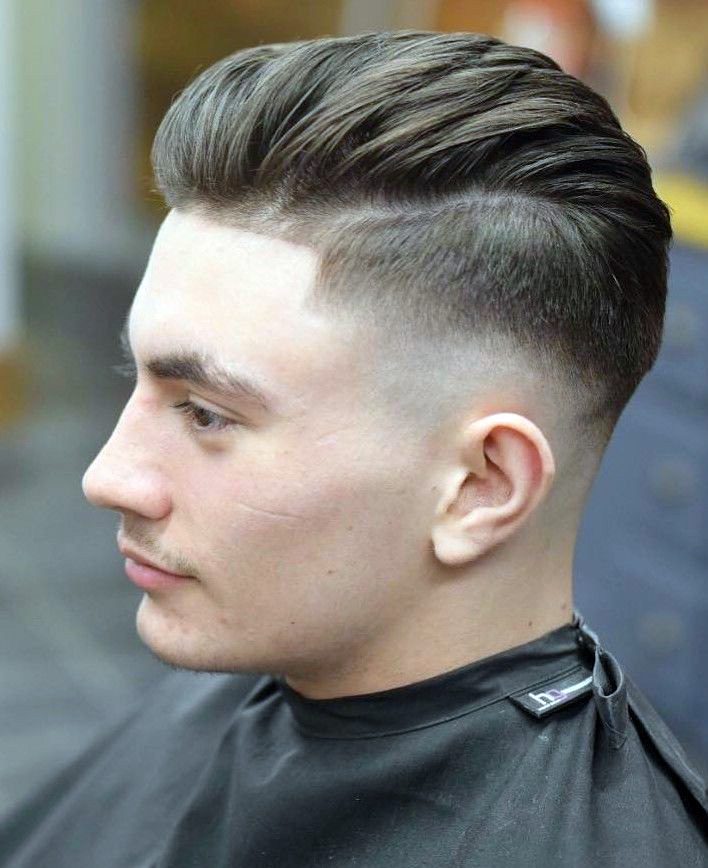 The undercut pompadour hairstyle has made a grand return from the '50s fashion scene. Its main characteristics are still present in its modern versions, allowing you to sweep your hair back and create a lift at the front with the help of wax or pomade.
Even though you need a few styling products, this hairstyle is still categorized as a low-maintenance cut. Whether you want your style to be bold or subtle is up to you.
Comb Over Fade
A comb-over haircut is always a good choice for gentlemen who follow a dress code or want to fit in with a formal setting. However, it may appear too preppy at times, which is where fade comes into play.
The fade complements the comb-over style, adding a more relaxed touch to the overall look. You can also combine it with a full beard or stubble to create a fuller look on your face.
French Crop
Although a French crop haircut is already quite sharp, an undercut will give it a completely new edge. To go the extra mile, define your French crop with a carved-in line that wraps all the way around your head.
This hairstyle is perfectly suitable for those looking to switch up their look for edgy and loud variations. It will define your face and frame it in a standing-out way. Combine it with a goatee or soul patch to add flair.
Undercut Fade
Undercut fade is a fantastic combination of trendy haircuts; it combines the neatness of the classic fade haircut with the striking edginess of the undercut.
The embodiment of practicality and fashionability, the fade undercut is an excellent foundation for both maintaining your hair and making it fit your style. Plus, you can style it however you want. It can be a slicked back, side, or back faded undercut with various texture options.
Disconnected Undercut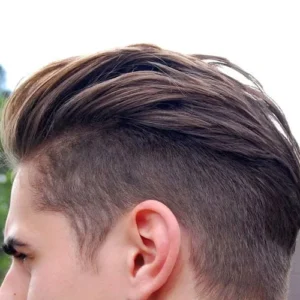 The disconnected undercut is all about being daring and having rough, sharp transitions between the two parts of your hair. Typically, the hair on top is longer, but the transition to short sides is abrupt because it begins to shorten at a certain point, forming a disconnected body.
Such haircuts are intended for those who dislike smoothness and tidiness in haircuts, allowing you to sport a disconnected undercut with a beard.
You can also combine the disconnected undercut with basically anything! From long fringe stylish haircuts, pompadour, quiff, or even a slicked back; the combinations of a disconnected undercut are limitless for you.
Long Hair Undercut
Men with long hair and an undercut achieve a two-fold goal. By cutting away the sides and back of their locks, they relieve themselves of the burden of excess weight.
At the same time, their long top part turns out remarkably striking, ensuring they are sure to draw attention. Since the top part is quite long, you can use the help of styling products to keep your long hair in place.
However, you can also opt for no styling product if you aim to let your long hair undercut freely flow and frame your face is such a flair.
Man Bun Undercut
The man bun undercut is such a versatile and stunning combo for any man. Its long bun at the top and short sides and back create a chic, sleek look. With this hairstyle, you can opt for any hair length for the bun. Whether it's medium-length hair or very long, it will look stunning either way.
You can wear this hairstyle with a full, connected beard to appear more manly. This way, you'll charm the ones whose eyes are set on you every time.
Curly Undercut
The undercut is proven to be versatile. Not only men with straight hair can get this look, but also those with wavy and curly hair. In fact, having textured hair shouldn't stop you from wearing the undercut hairstyle. Instead, opt for this haircut since it could accentuate your look with a dashing flair.
Keeping your curly hair undercut in the spotlight helps you stand out and makes it much easier to maintain. With this curly hair undercut style, there is no need for excessive grooming and styling, allowing you to easily keep your locks in place without having to worry about them falling out of line each time.
Want to add a statement? Wear a long stubble or full beard, and you're good to go!
Quiff Hairstyle
The quiff hairstyle was made popular by the groovy musicians of the 1950s and continues to be quite fashionable today. In fact, many men still choose to sport this hairstyle as a daily look since the undercut emphasizes hair volume, making it appear more volumized.
To add a twist to this oldies style, you can combine it with a short undercut hairstyle, leaving the sides and back close and short. Then, you only need a few strokes of wax when brushing your top hair back for the quiff effect.
For those who prefer a longer version, simply use some heat with a hairdryer to shape the quiff — in no time, you'll look like one of the stylish men around the world sporting this timeless undercut hairstyle look.
Conclusion
If you're looking for a new, bold hairstyle, you can't go wrong with an undercut hairstyle. It's a trendy style that will make you stand out from the crowd. Plus, the undercut hairstyle is easy to style and maintain.
Whether you choose a classic undercut hairstyle or a more edgy variation like a French crop or braided ponytail, you'll be sure to turn heads with this daring hairstyle choice.
If you're thinking about getting an undercut hairstyle, consult your stylist to discuss the best option for you. You can rock an undercut hairstyle with the right cut and style that will turn heads and get people talking. So, which undercut hairstyle that you'll try out next?