Unlock Your Inner Gentleman: Embrace Men's Long Slicked Back Hair
In a world where grooming trends come and go, there's one timeless style that continues to capture the essence of sophistication and charm: men's long slicked back hair.
With its suave and polished appearance, this iconic hairstyle can transform any man into a true gentleman.
Whether you're attending a formal event or simply want to elevate your everyday look, embracing the allure of men's long slicked back hair is a surefire way to make a lasting impression.
Join us as we delve into the art of mastering this classic hairstyle and unlock your inner gentleman like never before!
Men's Long Slicked Back Hair For Your Style
Few can rival the charm and elegance of a long slicked-back hairdo when it comes to timeless and sophisticated hairstyles for men.
If you're looking to elevate your style and exude an air of suavity, the men's long slicked-back hair is the perfect choice for you.
Slicked Back Undercut
The slicked back undercut is a trendy version of the men's long slicked back hairstyle. This contemporary variation blends the smoothness of the slick back hairstyle with the daringness of an undercut.
The undercut gives a cool and edgy touch to the overall appearance, creating a noticeable difference between the long, swept-back top and the shorter sides and back.
It's a classic style with the hair slicked back, but with a modern twist that adds an extra flair to your look.
Fury Slicked Back with Temple Fade
If you're craving a bold and adventurous look, the untamed fury of a slicked back hairstyle with a temple fade is an absolute game-changer.
This unique style injects texture and volume into your slick back hair, creating a wild and captivating allure. The temple fade adds a touch of intricacy and precision.
It's a perfect choice for those who love experimenting with slick-back hairstyles and want to explore edgy-back hairstyles for men.
The Curly Quiff
Contrary to what many believe, men with curly hair can also rock a slicked-back look.
The curly quiff presents a fresh twist on the classic slicked-back haircut by blending the natural texture of curls with the sleekness of a quiff.
This style celebrates the volume and movement of thick hair while embracing the refined and sophisticated vibe of a slicked-back hairstyle.
Messy Slick Back
For those seeking a relaxed and effortless vibe, the messy slicked back hairstyle is an ideal option. This style effortlessly blends casual elegance with refined flair.
With its tousled and textured appearance, the messy slicked back captures a sense of nonchalant sophistication.
It's particularly well-suited for medium-length hair, allowing you to strike the perfect balance between a carefree attitude and a polished look.
High Volume Puffed Slicked Back
If you aim to create a striking impact, the high volume-puffed slicked-back hairstyle will grab attention. This particular style takes the volume and height of the classic slick to new heights.
The high volume puffed slicked back is a bold and confident statement hairstyle, showcasing individuality and self-assurance.
It's an ideal choice, especially for those with long hair length who want to make a memorable impression with their unique and classic slicked-back look.
Slick Back Hair Products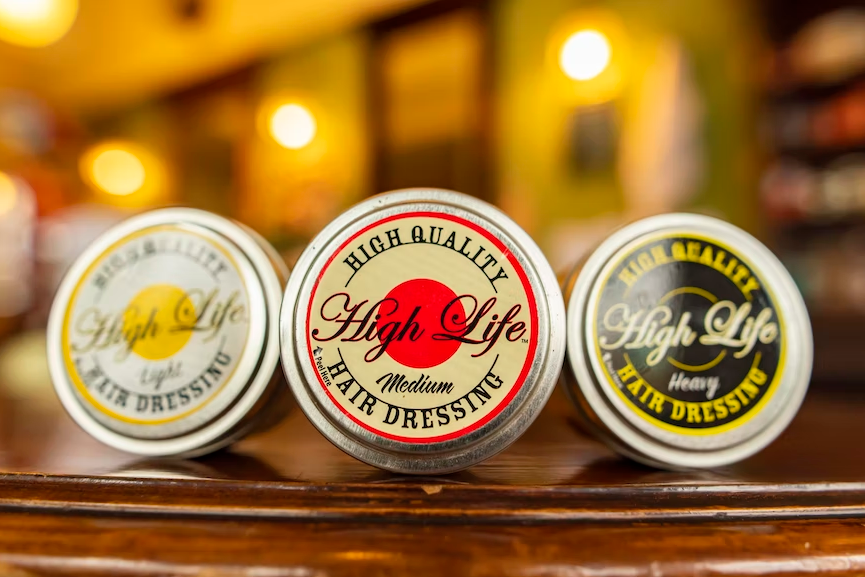 To achieve the best results with your slick back haircut, using the right hair products is essential. The right products can help you achieve the desired sleekness, hold, and shine, ensuring your hairstyle remains intact throughout the day.
Some popular products for styling slicked back hair include:
Pomade: A product that provides excellent hold and a shiny finish. It allows you to mold and shape your hair while maintaining a polished appearance.
Wax: Ideal for creating a textured and natural-looking slicked-back style. Wax provides a flexible hold and a matte finish.
Gel: A classic choice for achieving a sleek and polished slicked back hairstyle. Gel offers a stronghold and a wet look.
Hairspray: A finishing product that adds an extra layer of hold and control. Hairspray helps to maintain the sleekness and integrity of your slicked back hair throughout the day.
Tools & Equipment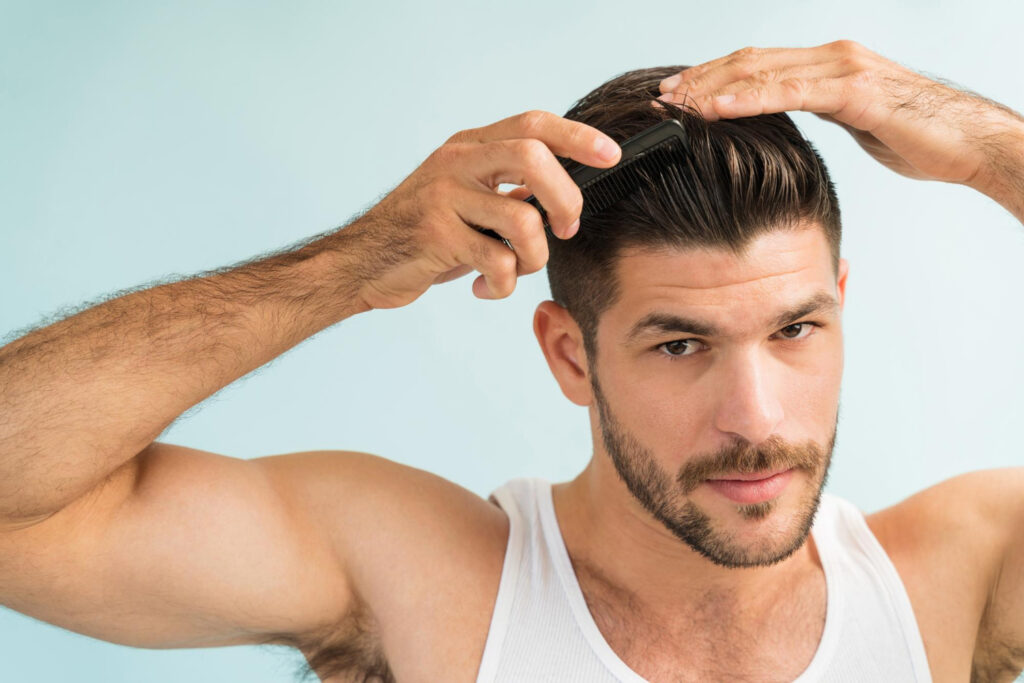 You'll need the right tools and equipment to perfect your slicked back hairstyles. Here are some essential items to have in your grooming arsenal:
Comb: A fine-toothed comb helps to distribute product evenly and comb the hair back smoothly.
Hair Dryer: Using a hair dryer can help you achieve optimal volume and shape for your slicked-back hair.
Round Brush: If you're aiming for a more voluminous and structured slicked-back style, a round brush can be a valuable tool.
Flat Iron: For men with curly or wavy hair, a flat iron can help straighten the hair before slicking it back.
Frequently Asked Questions
What is the recommended hair length for achieving a men's long slicked-back hairstyle?
To achieve a men's long slicked-back hairstyle, it's generally recommended to have hair that is at least 4 to 6 inches long on top. This length provides enough hair to create a sleek and swept-back effect.
Can men with curly or wavy hair achieve a slicked-back look?
Yes, men with curly or wavy hair can achieve a slicked-back look with the proper techniques and products. The curly quiff style mentioned earlier is an excellent option for embracing the natural texture of curly or wavy hair while maintaining the slicked-back aesthetic.
How do I maintain the sleekness and hold of a men's long slicked back hairstyle throughout the day?
To maintain a men's long slicked-back hairstyle, follow these tips:
Choose quality products: Opt for pomade or wax with a solid hold to control frizz.
Apply product evenly: Distribute it throughout your hair, starting from the roots to the ends.
Use a fine-toothed comb: Style your hair by combing it back in the desired direction using a fine-toothed comb for a polished look.
Consider touch-ups: Keep a small comb or travel-sized product handy for quick fixes throughout the day.
Conclusion
Embracing a men's long slicked back hairstyle is a surefire way to unlock your inner gentleman. With its timeless appeal and sophisticated charm, this classic hairstyle is bound to make a statement.
With adherence to styling suggestions, utilization of suitable products, and diligent upkeep, you can confidently sport the slicked-back hairstyle and make a memorable impact.
So, embrace your inner gentleman, and let your hair reflect your refined sense of style with the men's long slicked back hair!