For gents, looking manly is not only about short, military hair or styled quiff; a man bun is also a great alternative.
In fact, man buns are a great way to add some flair and personality to any look, and now you can find creative man bun hairstyles that give you the cool, chic look you want.
Whether you're looking for something sleek and modern or full of texture and volume, man buns have become popular as everyone can style them in numerous ways.
From half styles to low knots to dreads man buns, there are plenty of ways to make your man bun stand out. With so many options available, you're sure to find a style that works best for your hair type and face shape. Learn more about man bun hairstyles on our curated info below!
What Is a Man Bun?
A man bun is a style that involves pulling the hair back into a low or high ponytail that is then wrapped into a bun shape.
This hairstyle has become increasingly popular in recent years, as it offers men an easy way to keep their hair looking neat and stylish without spending too much time and effort on styling. You can also peep this hairstyle sported by Hollywood celebs, such as Leonardo DiCaprio, Bradley Cooper, and even Jason Momoa.
You can wear it neatly or with more volume and texture for added visual interest. Man buns can easily be accessorized with hats, bandanas, headbands, and more to create a more personalized look.
No matter how you wear your man bun, it's sure to make you look cool and chic in an instant.
What Do I Need To Create a Man Bun?
Creating a man bun hairstyle is surprisingly easy and requires minimal tools. All you need is a few hair ties, some bobby pins, and some styling products if desired.
For best results, ensure your hair is washed and dried before attempting to create your style.
How To Get the Man Bun
The steps to get a man bun are as simple as the tools needed. The most important part of getting the man bun is to have medium to long hair beforehand. Here are the step-by-step to get this hairstyle:
First, start by gathering the top layers of your hair into a high or low ponytail at the back of your head, depending on which type of man bun you're trying to create.
Then, secure tightly with a firm elastic before separating the tail into two equal parts.
Next, wrap one part around the base of the ponytail and the other part around it in a figure-eight pattern.
Use bobby pins to secure it and add styling products if desired. Voila! — you now have a stylish man bun.
How To Style & Maintain the Man Bun
Since most man buns feature medium to long hair, it needs quite an extra effort in styling and maintenance. However, it's not as hard as you thought it might be. In fact, styling and maintaining a man bun is a piece of cake if you have the right tools and know-how.
To keep your man bun styles looking their best, always brush your hair before putting it up to ensure no tangles or knots.
Then, when wrapping your hair into a man bun, make sure not to pull too tightly – you want it to be secure but comfortable simultaneously.
Depending on your desired look, you can accessorize your man bun with bands, clips, or jewelry for extra flair.
Finally, make sure to give your hair a break from the bun every once in a while by letting it down. This will ensure that your locks stay healthy and luscious!
9 Man Bun Hairstyles
The man bun hairstyle is not monotonous; it has various styles to choose from! Here are our favorite ones:
Man Bun for Long Hair
Tired of feeling stiflingly hot with your long hair? Now is the best time to style it up with a man bun.
Grab the nearest hair tie and start making a hair bun. You can always opt for a sleek or messy look with your long hair. Also, you can tie all of your hair or create a bun with half of it — either way are great!
Dreads Bun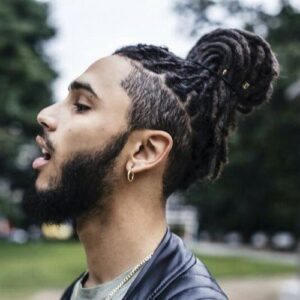 Man buns are versatile hairstyles; even dreads can rock it, too! You can create a bun from all your hair or half of it to get this look.
The rest of your hair? You can either taper or fade it to frame your bun perfectly. To add more statement, you can also opt for dying your dreadlocks in different colors to look funkier!
Low Man Bun
With a low man bun, you need to wear it low at the back of the neck to exude a laid-back and effortless attitude, making it great for off-duty and recreational activities.
Although it may not be suitable for professional settings, you can consider rocking this look on weekends or days when dressing more casually.
Man Bun Undercut Fade
Like its name, this hairstyle features A half-up man bun style styled with an undercut and faded sides, creating a sleek and stylish look.
To complete the look, you can keep your facial hair stubble or even a full beard style, so it looks as if it's connected to the fades.
High Man Bun
This man bun features a half-up bun that is sported high up at the top of the head. To add more flair, you can leave more hair at the sides so that you'll look more relaxed and laid-back.
Man Bun Shaved Sides
Consider shaving off the lower half if you want to give your tight bun a more daring spin. This will lead to a daring bun with an edgy undercut.
Such a style may not be for everyone, but it can be a great look if you have boldness and self-assurance. To take it up a notch, try growing a beard too.
Man Bun Beard
A beard is a need if you want to bring the man bun back to its hipster origins. You may create a fashionable hipster style by wearing a man bun and a beard.
Although the appearance isn't difficult to achieve, if your head and facial hair aren't already long, it will require a lot of patience. Fortunately, there are a few techniques you may do to promote the quicker growth of your hair and beard.
Short Man Bun
However, if you have short hair, the best you can hope for is a short man bun. But don't let that make you unhappy.
A small man bun is a great way to flaunt this hairstyle and look really elegant. Just keep in mind to place the bun low on your head to avoid letting the bottom strands of your hair fall out.
Half Bun
Another great way to style the man bun is the half-bun. It's where you tie up the top half of your hair while leaving the rest down.
This can look good on those with either long or medium-length hair and is a great option for anyone starting to grow their hair since it's easier to manage than full man buns with shorter strands. If you're struggling with loose ends, try using products to help keep them in place.
Most Frequently Asked Questions
What is the man bun haircut called?
It is called a man bun or top knot, sometimes. Depending on which man bun style you wear, many names refer to each one. For instance, low man bun, high man bun, man bun undercut fades, and more.
Why are man buns attractive?
Man bun hair is attractive since men with full heads of hair are perceived to be healthier than their balding peers — some people used to associate sparse hair with starvation and even death.
Also, the man bun hairstyle adds a certain relaxed flair yet is still manly to men's overall look.
Who does a man bun look good on?
Mostly, Men with heart-shaped faces or those that resemble an upside-down triangle with larger cheekbones and narrower mouth regions look well in man buns.
However, the key is in your confidence. If you're confident in sporting this hairstyle, you'll rock it no matter your face shape.
Conclusion
If you're in search of a cool and chic hairstyle, look no further than the man bun. This trendy style can be achieved with a little bit of effort and some hair styling products.
Whether you're rocking a top knot or a low bun, there are many ways to style your man bun to suit any occasion. So if you're looking for a hairstyle that will turn heads and make you feel confident, give the man bun a try.