Are you looking for a stylish cut that can turn heads? The disconnected undercut is the perfect hairstyle for anyone who wants to add extra swag to their look. Not only is it edgy, but it also has an incredibly excellent result when done right. So if you want to be on trend and show off your unique style, read on to find out just how easy this haircut is to achieve!
What Is A Disconnected Undercut?
This is the type of men's undercut hairstyle in which the sides of the head appear "disconnected" from the top hair. The problem is that the longer top hair needs to transition smoothly to the shorter side hair, creating this abrupt effect. More often than not, a visible line separates the top hair from the side hair. It's no surprise that it's become the undercut hairstyle that men adore and return to time and again.
How To Get A Disconnected Undercut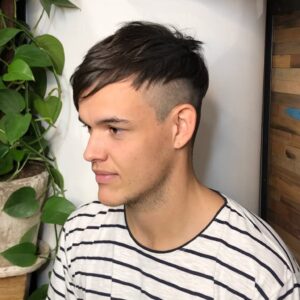 Your hair should be long enough for the men's disconnected undercut effect. Make sure you have at least 2 inches of hair on top of your head to create a striking contrast between the top and side hair. Cut the hair on your sides into a classic undercut with hair clippers. You don't need to cut the hair on top; brush it back, and you're done. The contrast is created by the pompadour combined with the quiff.
How To Style A Disconnected Undercut
Whichever long hair undercut men choose, it will only look good if properly styled. You must know how to style the disconnected undercut at home if you do not live in a barbershop or hair salon. The main focus will, of course, be on the top hair because there are numerous ways to do it.
First, decide whether to part your pompadour or comb it over to the side. Consider whether it will be voluminous or sleek, curly or straight. Would you prefer something more refined and will opt for a man bun or a ponytail? Whatever you decide, here are some tips on how to pull off the look:
After you've washed your hair, pat it dry with a towel.
The blow dryer should be used from the back to the front.
Apply wax or pomade to the top of your hair.
To create volume, run a brush against the grain of your hair. You can skip this step if you don't want a bulky top.
Sweep your hair back with your fingers if you want a messier look, or with a brush, if you want a sleeker look.
7 Options for Disconnected Undercut
The disconnected undercut is versatile, and finding the right hairstyle for you can take time and effort. However, with our help, we're confident you'll be able to choose the cut that best suits you.
Hard Part Disconnected Undercut
You only sometimes want to do something sophisticated with your head. Is the best you can do today a simple short haircut for men? Don't get too worked up. You can still look fashionable by adding a low surgical part on either side. A side-cut hairstyle is unusual and elegant and will undoubtedly lift your spirits.
Short Disconnected Undercut Hairstyle
The short disconnected, undercut hairstyle is a bold look that many celebrities have popularized in recent years. This daring style features shorter sides and a longer top, which provides a modern twist to the traditional look. It is an ideal style for those who want to mix up their face and establish their sense of confidence.
The short disconnected undercut is also easy to maintain and can give your hair definition and texture. An experienced hairstylist can help you best achieve this iconic cut, making it an excellent choice for those looking for an ultra-modern yet timeless style.
Slick Back Undercut
The slick-back undercut is the most popular and fashionable undercut hairstyle right now. Slick back hair offers the best of both worlds, with its high-contrast style "short on sides, long on top" haircut that works for businessmen and looks hot and sexy at a party or in any casual setting. To achieve a unique hairstyle, bleach your slicked back undercut.
Disconnected Comb Over Style
The sides are buzzed, and the top is styled similarly to an undercut comb over. However, the top hair is flipped up at the brow instead of slicked. This haircut has a very defined undercut with a line of quite long hair on one side and a beard on the other.
Disconnected with a Beard Fade
Disconnected with a Beard Fade is quickly becoming a popular trend for men. A disconnected beard fade is achieved when the hair on one's beard is faded or tapered on the sides and kept longer on top using scissors and electric clippers.
This look gives off a cool and stylish energy while still keeping facial features in focus. It's easy to maintain, simply needing regular trimming, so it's perfect for guys on the go who don't always have time to be styling their beards. With this appealing look, more and more men are seeing the beauty of disconnecting with a beard fade.
Modern Curly Disconnected Undercut
Undercuts have been popular for many years, with modern variations such as this modern curly disconnected undercut. The curls will require some styling to achieve this finished look, and numerous options exist. One of the best methods I recommend is to dampen your hair and apply curling cream or mousse. You can gently dry it, but I would leave it to dry naturally for the best results. The back and sides can then be cut to the desired length, and this cut's design completes it nicely.
Sharp Disconnected Cut with Platinum Tips
The sharp disconnected cut with platinum tips has become a must-have look to complete any modern outfit. This hairstyle technique produces incredibly sharp and defined edges, perfect for creating sleek lines throughout the hair. The use of real platinum in the tips of each strand gives off a unique sparkle and shine that cannot be replicated with any other material.
This technique promises a head full of healthy and nourished locks and helps protect strands from damage, so you can rock your 'do for longer. Plus, its versatility means something to be enjoyed by everyone – from soft beachy waves to bold, edgy bobs.
Conclusion
When considering a disconnected undercut, you must find a style that works for you and your hair type. This will ensure that you love how you look and feel confident in your new hairstyle. With so many different ways to style a disconnected undercut, there is sure to be an option for everyone. Give this trendy hairstyle a try today!