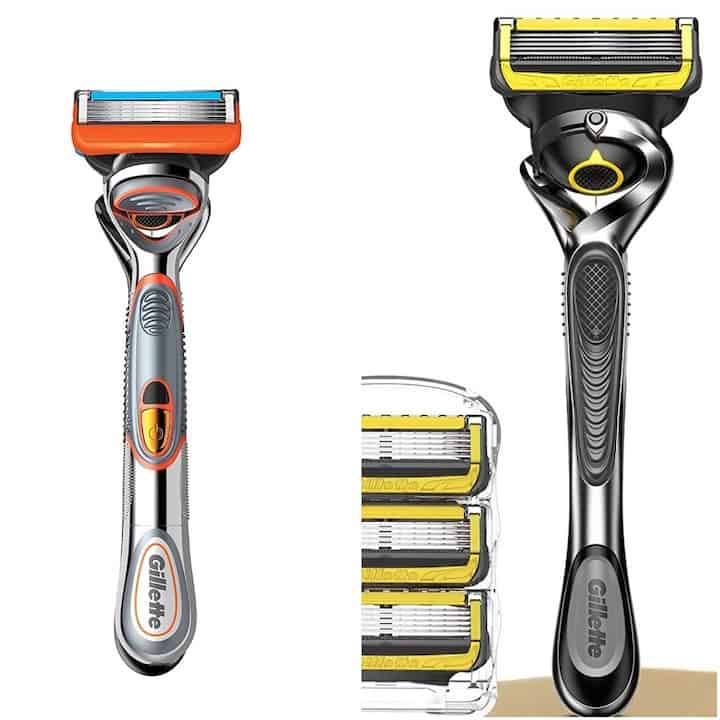 Gillette is an American brand that has been tested and trusted by men and women for many years. They are the most popular, if not one of the best, brands offering many shaving products with various benefits, including shaving cream, shaving gel, razors, and many more.
They keep innovating and putting in their best new ideas to maintain the quality of their products. However, among all the razor series that Gillette has released, the Fusion series is one of the most famous ones. Especially Gillette Fusion and Gillette ProGlide razors, which experts and reviewers often compare.
While both of them offer a great shaving experience, some slight differences set them apart. Both have their advantages and disadvantages. But which razor fits best with what you need?
In this article, we'll go over those differences. Let's do head to head comparison for Gillette Fusion vs Proglide so that you can choose the best razor for you more easily.
What is Gillette Fusion?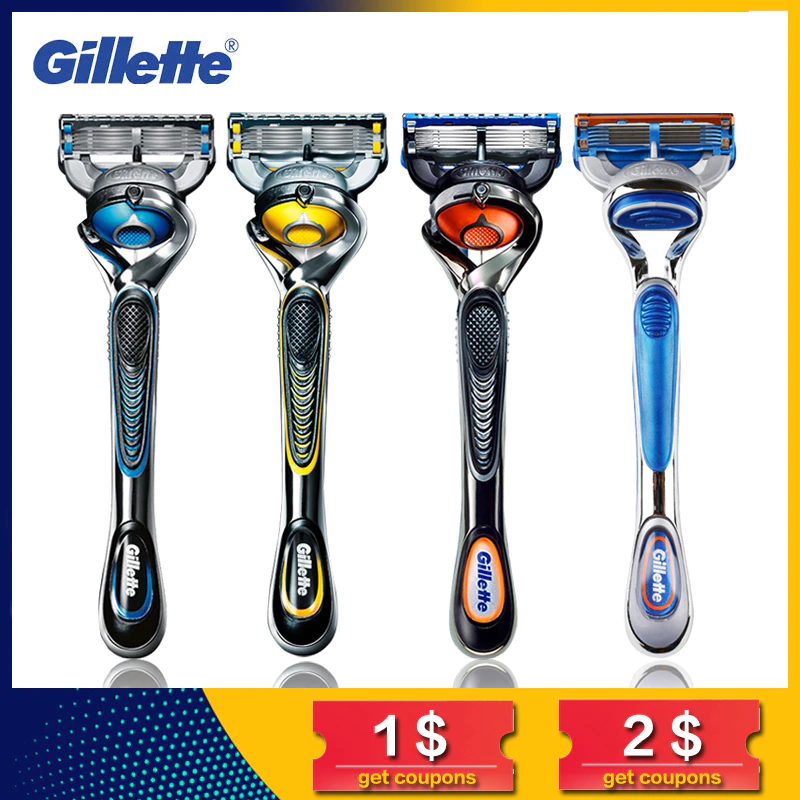 Fusion is one of the popular series of razors released by Gillette. Its lubrication system is a unique point that many people love as it provides them with a comfortable shave. Users also do not need to worry about getting razor burns or razor bumps because of the extra protection feature on it. It's a good choice for anyone who wants safe shaving.
This razor features micro combs that feed hair towards the blades for a maximum cut with each pass. Moreover, the blades are treated with an advanced low-resistance coating to make shaving easier. They also have a precision trimmer on the back for those tricky spots like under the nose.
The two lubrication strips keep the blades in shape, giving you a comfortable shave. They also have a fresh scent to keep you feeling refreshed after your shave. The mineral oils contained help to moisturize the skin so it will avoid skin irritation.
The other stand-out thing about this product is the razor blades and their flexibility. Gillette Fusion comes with a five-blade razor with a precision trimmer on the rear of the razor handle. The thin blades also help users with more sharpness and durability. As for flexibility, you can see how this razor fits with any shaving cream, foam, and gel.
What is Gillette Proglide?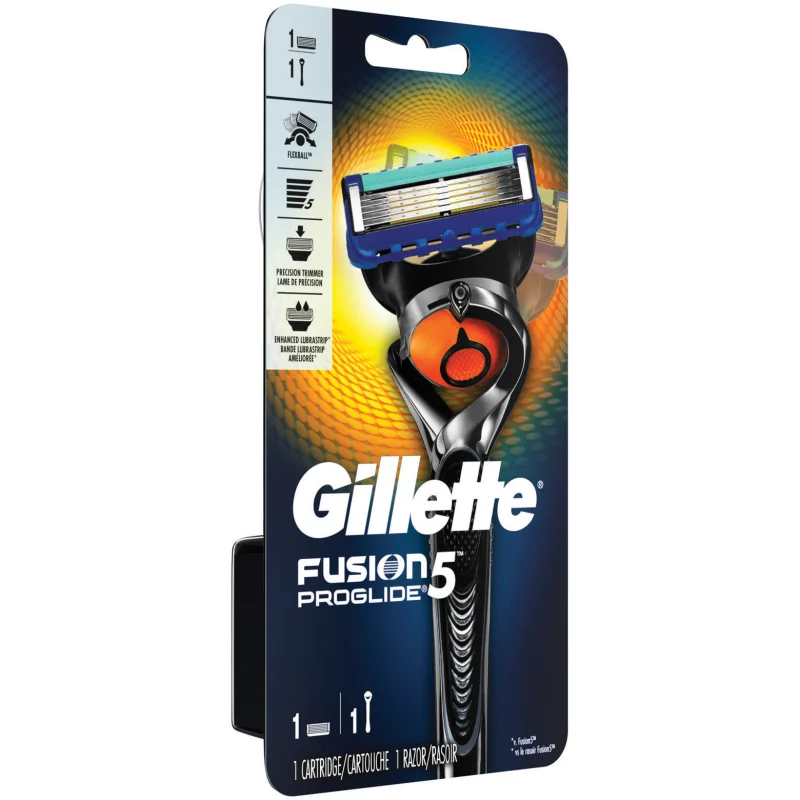 Gillette ProGlide razor is one the best shaving tool in its group. Although it's a manual razor, the ProGlide razor has Flexball technology, making shaving more effortless than ever and providing a comfortable shave. It also has five blades, which gives you a closer shave in fewer strokes than other manual razors.
We can say that ProGlide is popular with people who want manual razors with refill blades. It has a lubricating strip on the razor cartridges and a green moisturizing strip (LubraStrip) on the razor handle.
The LubraStrip has a vitamin E and aloe lubricant designed to minimize friction and irritation during shaving. It will ensure your skin is protected. Meanwhile, the lubricating strip consists of glycerin and mineral oils to make your razor glide smoothly over your skin.
The comfort guard, which features at the bottom of the razor blades, consists of soft and flexible strips which fit perfectly to the jaw line and follow the contours and curves of your face. Its strip is also 25% larger than the Fusion, making it comfortable to use.
The razor's cardboard packaging is good news for people who care about the environment. The Gillette Proglide razor is made from cardboard which is easier to be recycled. The box design is also pretty attractive as a gift to your friends or family.
Main Difference Between Gillette Fusion and Proglide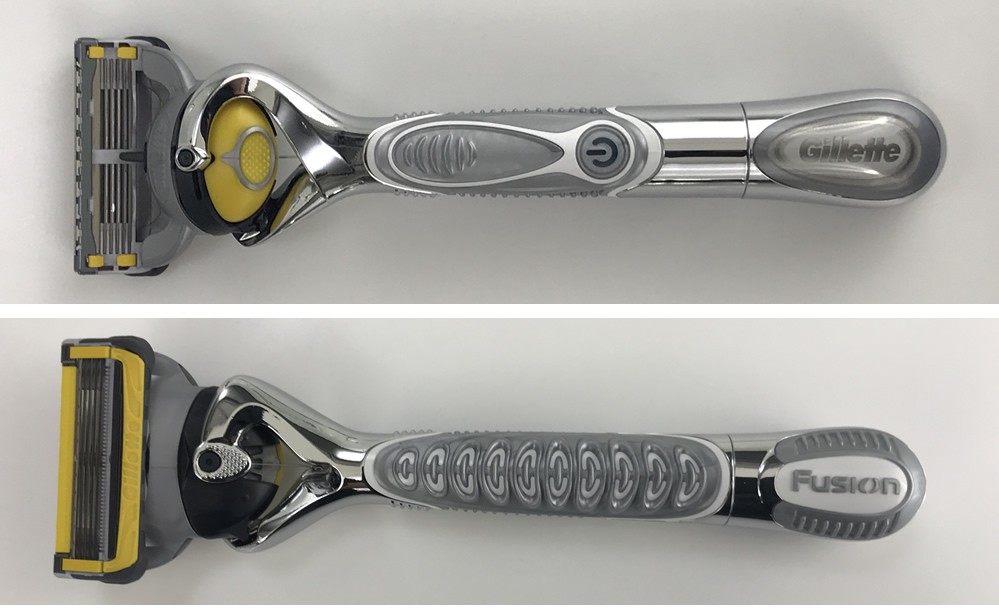 Both are products under the Fusion series, but they have several differences. They were also released not in the same year. Fusion was released in 2006, while ProGlide was released in 2010, which makes them have different features.
The Fusion ProGlide is the newer of the two, so it has some upgrades that the Fusion doesn't. However, Fusion also has an advantage that ProGlide doesn't have.
If we compare their blade cartridges, ProGlide wins at a thinner and more refined shape. So, ProGlide is better at doing a close shave on your facial hair than Fusion. That is also another reason why ProGlide is more famous besides the fact that it's cheaper.
Although ProGlide seems more advanced than Fusion, it's hard to use for beginners. It can make you have razor bumps or a razor burn if you're not skilled enough and have sensitive skin. So, using the Fusion razor in your first shave experience is recommended.
Most Frequently Asked Question
Is Gillette ProGlide compatible with Fusion?
Fusion series are generally good products, whether it's a Fusion, ProGlide, or Styler type. The benefit you get as a Gillette Fusion user is the automatic cartridge that can fit in any kind of Fusion razor. You can use the Fusion cartridge in ProGlide handle fits, and it's also applied reversely.
That's why most Fusion users always stay at the series, even though it's a different type. The price is affordable, and it's easy to find in many stores. Its cartridge is also flexible and compatible with one another's razor handles.
Conclusion
As we see now that electric razors are getting popular. However, the manual razor is also a good choice if you have a limited budget and still want the best shave.
If you're looking for a great manual razor to help you get that close, comfortable shave, the Gillette Fusion series is worth considering. We've highlighted the ProGlide and Fusion as two of our top choices, but there are plenty of other razors with significant benefits in the market.
Whichever one you choose, we know you'll have a good shaving experience with it – just be sure to take your time and pay attention to what works best for your own skin type. Thanks for reading! Let me know your thoughts!