Are you looking for a fresh new look? A Two Block Haircut might be the perfect option for you! These Korean hairstyles are gaining popularity nowadays, especially among young men and women who want to give their mane an extra edge. Not only does it provide eye-catching beauty with its blocked asymmetry, but it also requires minimal styling and maintenance, so there's no need to be concerned about daily upkeep.
Plus, the versatility of this cut means that anyone can pull off the trend regardless of face shape or age group. Whether you want something casual or edgy, we've put together some inspiring looks to get your creative juices flowing and help you find the best style for your unique look.
What is a Two Block Haircut?
It is a men's haircut with very short, thin, or shaved sides and lower back hair, accompanied by a longer top. It's an improved version of the undercut.
You might be wondering how two blocks differ from an undercut. The truth is that there is a subtle but significant difference between an undercut and a block haircut that can put an end to the debate. In contrast, to undercut variations, where contrasts and length transitions can differ, the two block cut always has a visible, distinct difference between the sides and top.
Two blocks is a modernized version of a disconnected undercut. It has also evolved into its own set of styling and wearing options. Furthermore, because it frequently features bangs the same length as the top, the cut can be described as a cross between an undercut and a bowl.
How Should I Define a Two Block Haircut?
Taking exact pictures of the 2 block haircut you want for your hairstylist is the best description form. If you want a 2 block hairstyles cut but don't have a picture, you can mention the "fade" from the 1980s, so the barber knows what you're looking for.
How Long Should Two Blocks' Hair Be?
It is determined by two factors: your hair texture and desired style. The top of your hair should usually be long enough to reach the top of your ears. Simultaneously, the hair on the crown of your neck should reach all the way to the back of your skull. If you want a two-block haircut, you can go for a short one.
Who Should Get a Two Block Haircut?
Here are some of the benefits of a two-block cut.
When done correctly, a two block haircut is very appealing to the eyes: It can be worn with formal and casual outfits.
It's ideal for any length: It's simple to try on different lengths to find your perfect fit.
Simple to style: You can style it with your fingers, brushes, or regular combs.
It is simple to maintain: The two blocks haircut, like an undercut, is simple to keep in terms of trimming and shaving the sides.
How Do You Style Two Blocks?
The hair products you'll need are determined by the texture of your hair. Typically, you'll need a trimmer to regularly trim the sides and back of your hair. To style the top, use texturing taffy, wax, a flat iron, and a hair dryer.
7 Coolest Two Block Haircut
Here are some block haircut ideas you can choose from.
Two Block Undercut
KPop hairstyles are not, for the most part, conventional. They're one-of-a-kind and intricate, and not everyone can pull them off. However, you will receive compliments left and right if you dare to channel them. Consider this edgy and contrasty separated two block haircut.
Two Block Haircut With Straight Bangs
Another advantage of a two block cut is that the straight bangs it features can help to frame your face and conceal a prominent forehead if you have one. Because the hair on top is relatively low-key, you can go with any style for your sides and back, from a bald taper to a drop fade.
Two Block Haircut with Long Fringe
Fringes are an excellent addition to the two-block haircut, drawing attention to your face and emphasizing your features. The size of the fringes depends on how noticeable you want them to be, with a long fringe ideal for those who want to stand out. A long fringe can make a statement and is very sexy.
It will draw attention to your eyes and can be highly flattering, softening your features and providing you with a youthful glow. This is the way to go for men who want to make a statement. The disadvantage of a long fringe is that it requires more maintenance and effort to style. However, the end result is well worth the effort.
Messy Two Block Hair
Hairstyles that are intentionally messy and undone can be highly flattering, giving you a more textured appearance. It's excellent for creating a relaxed look while also giving your hair movement and bounce.
The way the hair is split into two blocks distinguishes the two block hairstyle, with the top appearing longer and the bottom and sides appearing shorter; the length difference can be dramatic or subtle, depending on your preference. Because the hair on top is longer, this look benefits from the messy hairstyle approach.
Choppy Layered Two Block Haircut
Cutting your two block haircut with choppy layers is an excellent way to move your hair and add volume. The style can also assist you in achieving a deliberately undone look that appears effortlessly relaxed and carefree.
The two-block haircut is highly versatile. This allows you to experiment with the contrast between the length of the hair on the bottom and top. For a low-maintenance yet stylish look, cut the hair on the back and sides slightly shorter than the hair on top.
Medium Length Spiky Two Block Hairstyle
The top of the hair is longer, and the bottom is shorter in two block haircuts; This means that the hair on top is frequently kept at a medium length, while the hair on the back and sides is kept shorter. The longer the length on top, the more styling options you'll have, and spiky hair is a great way to add texture. Today's spike approach is less rigid and defined than it was in the 1990s. This results in a lightly textured appearance that exudes a carefree, laid-back vibe.
Middle Parted Two Block Haircut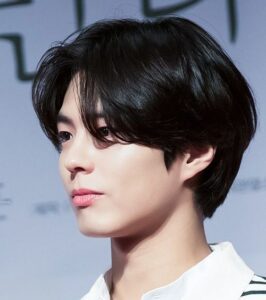 The two block hairstyle is one of the hottest styles to try because it is both fashionable and expressive. There are also numerous ways to wear the cut, allowing you to personalize it to your liking. This could include doing a middle part in your hair.
The middle parting can be tricky, but it's an excellent way to frame your face and highlight your features. It complements the two-block haircut and works with all hair textures and lengths. The disadvantage is that the parting does not flatter all face shapes and is harsh on those with asymmetrical features, drawing attention to their flaws.
Most Frequently Ask Questions
Is two block and undercut the same?
Although variation in the undercuts can vary in contrast and length of the cut, the two blocks cut always shows a distinct difference.
Two blocks are often seen as being compared to a disconnected undercut in the same manner as another – Besides the different designs, the collection offers several different styles.
Conclusion
If you want to try something new, the two-block haircut could be ideal. This versatile style can be styled in many ways to suit your preferences. Consult your stylist to find out if this cut is proper for you.