Besides its worldwide popularity in the music industry, Korea has also long been popular for its fashion style. In fact, it's quite often for Korean celebrities to become trendsetters in terms of fashion, including their hairstyles.
The Korean style of cutting hair is unique, with the emphasis being on the volume and texture of the hair. If you're looking for something edgy, there are lots of K-pop-inspired styles that will give you an effortlessly cool vibe.
Discover the latest trends in white boy haircuts with this versatile and stylish hair styling solution. Whether you're looking for a classic, short cut or something more modern and edgy, these white boy haircuts are sure to make a statement. Perfect for any occasion, these haircuts are easy to maintain and perfect for the fashion-conscious guy.
How Do Korean Men Style Their Hair?
Korean guys strive to make the most of simplicity, functionality, and style when styling their haircuts. They keep their hair at a reasonable length and typically add layers because they have quite thick, unruly hair. They can experiment with partings, spikes, and textured looks, thanks to this combination.
How Do Koreans Get Shiny Hair?
It's not a secret that most Koreans possess healthy, shiny hair, which people can't help but stare at amazedly. Dream of having shiny hair like them? Check out these experts' tips:
Utilize multiple brushes for styling routines. So, each brush is aimed at specific purposes
Use different hair products for hair and scalp treatment
Apply hair oil or hair serum every single day to nourish and add shine
Add some egg white to a DIY hair treatment to clean the follicles and get rid of oil
Adjust the diet and include menus that are rich in protein and anti-oxidant
7 Korean Hairstyles
Here's a list of Korean hairstyles for stunning looks. Check them out!
Disconnected Undercut And Brushed Back Top
One of the most fashionable Korean hairstyles is the disconnected undercut, which features a dramatic difference in length between the hair on top and the sides. This style allows for a sharp and contrasty appearance.
However, it is important to note that fading the sides is a different option for a Korean haircut, so make sure not to get your sides faded.
The Medium And Layered Korean Hairstyle
For a good reason, a lot of Korean haircuts are medium length hair. This way, men don't need to exert much effort to style, which will save time. It falls forward and stays in place pretty readily because it is straight and thick by nature.
This medium and layered Korean hairstyle is one of the sexiest asian hairstyles for men, where the top is left with much longer hair, and the sides and lower back are very short or almost shaved.
Korean Fade
The Korean fade is a tapered haircut that gradually combines the hair on the sides and backs shorter for a smooth finish. The fade haircut has become the most popular haircut for men since it works with various hair kinds, lengths, and styles.
To get this haircut, there are many various sorts of fades to consider; you can select between a low, mid, and high fade haircut. You may add flair by having your barber cut a skin, drop, or burst fade.
Korean Comb Over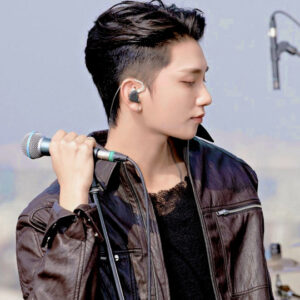 The Korean comb-over is one of the most popular hairstyles for Korean men who desire a professional business appearance that suits all circumstances. The comb-over fade has become a trendy hairstyle and may be modified to meet your appearance as the most popular variety.
To get a cut that meets your expectation, ask your hairstylist for a high, mid, or low taper fade on the back and sides. They give different vibes, though, since the low comb-over fade is a sophisticated and adaptable style, while the mid and high skin fade may be more daring. To add more statement, apply glossy styling products like pomade or hair gel.
Korean Messy Hair
Want to appear younger and free-spirited? The messy Korean hair can help exude bad-boy vibes that elevate your appeal in no time. This style has especially been popular among K-pop stars, but you can also wear this style and get a similar dashing result.
This style ranges from fringe hairstyles to curtains, permed cuts, and even shaggy tops. To get the most out of this messy style, you need a light-hold product with definition, volume, and a matte finish.
Korean Middle Part
Another popular hairstyle among Koreans is the Korean middle part. This style offers flow and versatility. Usually, Koreans add tapered or undercut sides to style for a more defined look.
Additionally, you might wear curtains for a textured style or just let it be straight for a sleeker finish. If you want to wear this hairstyle, don't forget to use lightweight styling products, such as hair gel or hair cream, so that your strands won't weigh down — your main purpose of getting this hairstyle is to maximize volume, flow, and movement.
You might notice this hairstyle being worn by famous idols and celebrities. In fact, this hairstyle has massive popularity in Korea. The style features short hair for the sides and back with long, flowy bangs to define the middle part and frame the face just right.
You can get this style with either a messy texture or a clean look. The most important part of maximizing this style is by using lightweight styling products and then blowing dry your hair. This way, your hair will be flowy in an instant.
Most Frequently Asked Questions
What is the KPop haircut?
There are various kinds of K-pop haircuts. One of the most well-known ones is the cut that features a trimmed or shaved back and sides of the head in a two-block haircut while the top is kept long and shaped as desired.
This Korean hairstyle is similar to an undercut, where the back and sides of the head are chopped short. It was created in Korea and has since become a popular signature of a K-pop haircut.
Conclusion
Korean men have always been trendsetters when it comes to hairstyles. From the classic Korean fade to the more modern Korean middle part, there are endless possibilities for stylish Korean hairstyles for men.
If you're looking for a new hairdo, why not take inspiration from some of Korea's most famous faces? With these trendy and chic styles, you're sure to turn heads wherever you go!