The classic mohawk hairstyle is long-known to be edgy and rebellious. However, it is slowly coming back with a fresh twist: a modern mohawk. Thanks to the current trendsetters, the mohawk is getting the necessary variation.
Contrary to popular belief, the modern mohawk creates a versatile look for all occasions. Currently, the cut is suitable for anyone: from a reckless teen to an attractive businessman.
No matter what your hair type is — straight, thick, wavy, or curly — the modern mohawk may elevate your appearance in no time. However, choosing the ideal modern mohawk might be difficult because there are many distinct styles.
Here is a collection of the top modern mohawk hairstyles for men to give you some inspiration for a new style. Explore these unique mohawk designs to get stylish haircuts for both short and long hair. Read on!
What is Mohawk Haircut?
Mohawks were first popularized by rebellious guys with restless personalities, which is why this style is often referred to as a punk hairstyle. The mohawk haircut is popular due to its striking appearance, contrasting the shaved sides and a striking, long hairline extending to the rear of the head. Although the top is typically spiked for a more striking appearance, the style may be more varied, contemporary, and useful.
Mohawk vs. Faux Hawk: What is the Difference?
If you're new to this kind of style, you might find it difficult to tell mohawk and faux mohawk apart.
Similar to its name, the faux mohawk is basically a faux, less intense version of a mohawk. It has a short top yet a contrasted definition between the top and the sides — which is usually tapered or faded.
Meanwhile, the real mohawk features a longer, more intense top part with the sides almost completely shaved.
Usually, the faux mohawk is chosen by men who want the mohawk vibes but aren't bold enough to appear with such a bold hairstyle.
7 Popular Modern Mohawk
The modern mohawk is the best option if you're looking for the right hairstyle to appear cooler and stand out in the crowds; it is bold but not over the top. This way, you'll instantly catch people's attention while still keeping it lowkey. Here's the list of the seven most popular modern mohawks for your inspiration!
The Windswept Mohawk
This stylish, toned-down version of the mohawk is perfect for those who want to embrace the trend without worrying about polishing it up. It is an edgy and daring look, sure to turn heads wherever you go, including the office.
Simply ask your barber to cut it short on the sides and back while leaving enough hair on top to shape it into a side-swept quiff. On weekdays, the top may be brushed back for a neater look, but on weekends, go wild with the textures.
The Braided Mohawk
Braid was once the hottest hairstyle among men, and it turns out to look great combined with a mohawk. If your hair is long and you're interested in creating a unique twist to your mohawk, the braid is a great choice.
To get this style, simply request a long mohawk with shaved sides and a long top part. Once the mohawk is there, start braiding a small section of your hair along your parting. For extra volume, comb the rest back. This hairstyle is surely a head-turner!
Long Mohawk
Similar to the classic one, the long mohawk requires shaved sides and a super long top. However, you can style it as you like.
Leave long hair at the back for a stunning look. You can also spike the hair to channel your inner rockstar. In addition, you can also combine it with a beard for a statement. As long as you keep the sides tapered or faded and the top sleek, you're good to go.
Short Mohawk
The short mohawk is the best choice if you prefer a hairstyle with low maintenance. It's edgy and lowkey yet never ceases to make a statement.
Pair this cut with a beard for a more masculine look, or dye your hair in different colors to appear more daring. Any kind of style with a short mohawk will never look over the top.
Mohawk Fade
The mohawk fade haircut has been one of the hottest hairstyles in recent years. No wonder; the medium mohawk combined with a tapered fade creates a beautiful silhouette of a more stylish look.
Dab up a bit of hair styling products to add more texture to the top part or your medium length hair. You can ask your barber for a little slit to make a statement to add more variation.
The Top Knot Mohawk
This style is ideal for smart, modern gentlemen with a forward-thinking sense of style. This topknot mohawk is a striking modern twist on the classic style that will instantly grab people's attention.
To get this style, ask your barber to cut your sides extremely short so that they end in a little, V-shaped portion on top of your head. With many lengths left on the mohawk, you can put your hair up in a chic top knot.
Buzzed Mohawk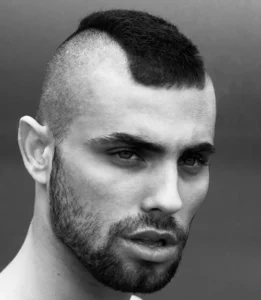 The buzzed mohawk is not for the weak since it features a bold, very short mohawk with fully shaved sides. This hairstyle can be a hit or miss, but if you're bold enough to try it out, go for it!
For this hairstyle, ask your barber to leave a bit of hair on top for the mohawk and buzz it. You can also add variation by wearing a beard or stubble.
Most Frequently Asked Questions
Are mohawks still in style in 2022?
Yes, mohawks are hardly out-of-style haircuts for the gents. Although it has existed since a long time ago, it never ceases to deliver manliness. In fact, this daring style can be a go-to look for men who want to appear edgy, fierce, and unique.
Is a mohawk disrespectful?
No, a mohawk is not disrespectful. Although this hairstyle is known to be used by Native American warrior men who protect their tribes, as long as you're not wearing the hairstyle in a deliberately mocking way, it is safe to wear.
Do people still have mohawks?
Yes, many people still use this hairstyle these days. This happens since the mohawk hairstyle is a classic cut that will always be fashionable and has a wide range of variety.
Is the mohawk coming back?
Yes, the mohawk is totally coming back as one of the hottest hairstyles for men right now. If you want to switch up your look with a classic touch, go get a mohawk!
Conclusion
So, there you have it — a few modern Mohawk haircut ideas to help inspire your new style. Whether you're looking for something sleek and manly or eye-catching and bold, we hope these ideas have given you some inspiration. So, which one is your favorite?