Copy Tom Hardy Haircut and Look Like a Hollywood Star
Copying Tom Hardy haircut is the perfect way to channel your inner Hollywood star. The Dark Knight Rises actor is known for his rugged good looks and well-maintained hairstyle, which make Tom Hardy so effortlessly cool.
Whether you're looking for an edgy cut or a classic style, Tom Hardy's hair always looks on point. From short buzz cuts to messy undercuts, Tom Hardy knows how to pull off any look confidently and easily.
Get inspired by Tom Hardy hairstyles by finding the right one for you in our recommendation below. Check out these ten best Tom Hardy haircut ideas!
10 Tom Hardy's Haircuts
Tom Hardy haircut is indeed enchanting to adopt. Here are the ten best options for Tom Hardy's haircuts for your inspiration to be the next fashion icon!
Buzz cut
Tom Hardy is known for his iconic chameleon-like ability to transform his appearance, and Tom Hardy buzz cut is no exception.
Tom Hardy fresh buzz cuts are always perfectly seamless and provide a sharp, edgy, stylish, and classic look. You'll need an electric trimmer with a number one guard to achieve his trademark buzz cut.
Tom Hardy often pairs his buzz with a longer beard as well, in which case you should use a slightly higher guard to create a gradual fade. With the right tools and tricks, you can achieve Tom Hardy's signature hairstyle at home.
High and tight haircut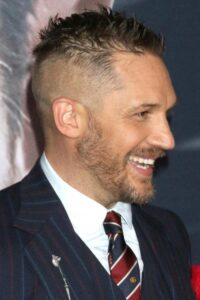 The high and tight haircut is a staple look that never goes out of style, especially for Tom Hardy haircut. To replicate Tom Hardy's signature high and tight cut, start with a buzz cut to the desired length. Then, use an electric trimmer with a higher guard to create a gradual fade around the ears.
This Tom Hardy look gives off an effortlessly polished vibe and adds an extra dimension of style that will make your hair look thicker and more voluminous on the top part. Finish your Tom Hardy hairstyle with a light product for hold and texture, and you're good to go!
Side part
Tom Hardy looks chill yet effortlessly stylish with this sultry, tousled hairstyle. His hair is asymmetrically parted on the left, lightly combed for some lift in front, and creates a textured, wispy finish.
This Tom Hardy look is best if you want to achieve an effortless, laid-back style. However, you may still need to apply some hair styling products to ensure your side part is divided right.
Undercut fade
This disconnected undercut with fade is one of Tom Hardy hairstyles that people with fine hair will rock easily. To attain this look, Tom Hardy almost completely shaved his sides to create close fades and left only the top part of the hair. Then, he styled it with hairstyling products to create a slicked-back look, making it appear sharp and fresh.
On top of that, he also completed the look with beard styles to leave a more manly impression.
Short sides long top
Tom Hardy's signature short sides long top style involves an edgy, messy look. The sides are cut short and slightly faded, while the top is left with ample length to create texture and definition. This style is bold yet stylish and looks great on any occasion. Combine it with a beard and mustache, and you're good to go!
Messy undercut
Similar to his previous undercut fade, his Mad Max hairstyle is more or less the same. The only difference is that the top part is shorter with a messy, tousled look. Thus, if you aspire to adopt this style, you must apply some pomade or hair gel to obtain the perfect messy look.
Plus, you can also combine it with stubble to add the "purposeful" messy look. However, you're free to opt for no beard at all.
Rugged look
Tom Hardy's sexy, rugged look has captivated countless admirers of both genders. In fact, this one is one of the most iconic Tom Hardy hairstyles of all time — only he can pull off a rugged look this gorgeous!
His rugged and masculine appeal is further punctuated by a full, coarse beard and chunky mustache, creating an unmistakable look. His charming blue-green eye colors complete all his rugged looks, captivating at their best.
Piecey haircut
A piecey haircut is one of Tom Hardy's haircuts that involves cutting the hair in short, uneven layers to create a natural-looking, unique, stylish texture. He also wears his full beard to look more dashing.
This hairstyle can be dressed up or down and works with any hair type. It can also be varied with more extreme cuts, such as asymmetrical looks or tousled updos, for a truly eye-catching style.
Bad boy haircut
This modified Mohawk hairstyle is just as bold and edgy as Tom Hardy's acting roles. To achieve this style, you should cut your edges and back part close to the head while leaving some length on top.
Get an instant bad boy look once you adopt this hairstyle. Don't forget to wear it with confidence and a smile to let the world know that you're the type of person who knows your worth!
Taboo haircut
Tom Hardy has returned to our screens, following his role in Peaky Blinders, in the new BBC series Taboo. He plays the wild and crazy James Keziah Delaney. Tom Hardy Taboo haircut is a hit among viewers of the show.
This hairstyle features a short cut on the sides with some length at the top, creating an almost cropped/combover style. The key to getting this look is to apply hair styling products, as Tom Hardy Taboo haircut has a wet look. You can either use hair gel or matte clay with a different finish to achieve the look, but make sure the shine is visible!
Conclusion
Don't underestimate the power of a great haircut. When you feel nice about your appearance, it shows in your confidence level and how you carry yourself.
If you copy Tom Hardy's hairstyles, not only will you look sharp and handsome, but people will start seeing you as a Hollywood star. With the right products and a little bit of practice, anyone can have these classic Tom Hardy's haircuts.
So go ahead and try Tom Hardy hairstyle – we think you'll be glad you did!