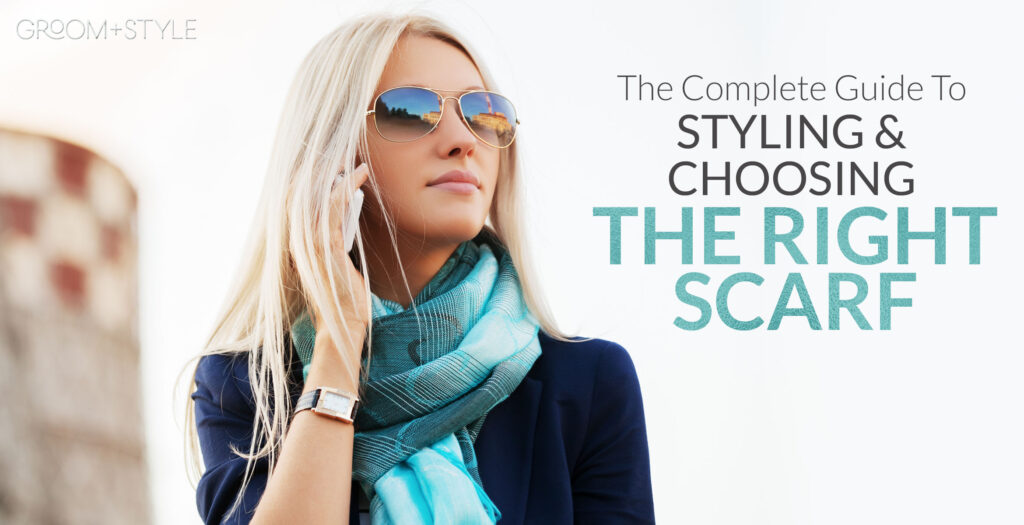 Scarves, like watches and sunglasses, bridge the divide between functional accessories and statement-level fashion pieces. In other words, scarves can add a lot of interest to a person's look whether or not the goal is to keep warm. They can provide at a distance that same flair a fragrance might have up close.
As far as warmth goes, a lightweight silk scarf can give you sun coverage on a summer day, and as it becomes chillier in the evening, can be used for warmth. A classic rectangular scarf is useful throughout the fall and winter seasons as it takes you from sunny autumn weather to brisk, cold days, and then provides you with an extra layer of armor on those really cold days.
Stylistically speaking, though, scarves can provide two main duties to bind together a wardrobe. They either add a pop of color and flexibility to your pared-down capsule wardrobe or they add a trademark  and grounded touch to tie together an otherwise varied wardrobe.
A Scarf for Every Occasion
The minimalist method of a capsule wardrobe will set you free from an overly cluttered space and a tyrannical number of outfit choices. Scarves are one of the ways that someone can really express themselves. A scarf can make all the statement your outfit needs, whether you choose bold patterns, a bright pop of color, silky smooth prints, or chunky yarn textures. Having a variety of scarves can help you dress a simple of minimalist wardrobe for any occasion and season.
Your Trademark Scarf
You trademark scarf tends to be a fairly simple and flexible design that you can throw into a wide range of outfits to ground them and add a level of continuity to your style. When you're a fashion chameleon, a scarf can be the perfect accessory to mark each style as your own. The best part about it is, if it doesn't feel right on a certain day, you can always store it with you coat at the door.
Types of Scarves
Rectangular Scarves
The rectangular scarf is a classic, versatile design and one of the few shapes considered unisex. Since rectangular scarves are so versatile, they're a good choice for someone interested in trying out different knots.
When it comes to styling a rectangular scarf, it's important to consider face shape to find your ideal knot. For example, someone with a round face would most benefit from looping the scarf lower on the neck or even across the chest to elongate the face and neck, whereas someone with an oval or longer face might knot the scarf higher on the neck to soften the face. Body type can also play into this, since a bulky scarf can accentuate and add volume to the chest, while a thinner scarf adds lightness.
Materials: Rectangular scarves come in a wide range of materials from lightweight silky threads, to chunky wool knits, cashmere, and linen.
Square Scarves
Square scarves tend to be silkier and smaller. They're often more suited for fashion than function, so they tend toward the more decorative or patterned side of things.
An easy way to begin experimenting with wearing a square scarf is to fold it in half on the diagonal and then tie it around the neck with a small knot. You can then adjust how it lays and by folding it, turning it, and deciding the placement of the knot, as well as the length of the tails. Tying it higher up on the neck will allow it to work as an ascot or choker. Tying it lower on the neck will allow it to drape across your shoulders or front.
Materials: Square scarves most commonly come in patterned or printed silky materials, including natural silk, silk blends, or synthetics meant to mimic this texture.
Infinity Scarves
Infinity scarves are often a simple design that can be elaborated a number of ways. These are designed as a loop. If you're wondering how to wear an infinity scarf, just give it a try, since the most common style is also the most intuitive. Loop it twice around your neck and then style how you like it. Equal loops will add volume to your top, and you can lengthen your appearance by making one loop longer than the other.
Materials: The majority of infinity scarves are chunky wool and cable-knitted pieces, often worn with coats and jackets and winter gear, but lighter-weight and thinner cotton infinity scarves are seasonably available for adding color and dimension.
Shawls, Wraps, and Pashminas
Shawls and wraps tend to be heavier-weighted scarves used as outerwear in lieu of a jacket. These can be great for formal, since they can be worn under a coat, so when the coat is discarded the wrap still offers a layer of style and warmth.
To wear a pashmina as a wrap, drape one end over the shoulder to trail down your front. Then, wrap the other end across your back and around your front until its end can be thrown backward over the original shoulder. From there, you can style it in a variety of ways by tucking in the ends, leaving them loose, as well as giving the wrap some twists to tuck it in, or leave it flat to be a little more form-fitting.
Materials: Traditional pashminas are made of fine cashmere wool. However, these larger-sized scarves can now come in a variety of materials including lightweight wool and cotton blends.
Scarves for Men
Scarves have been an essential in the masculine wardrobe and used by the military for much of history. The average men's scarf is rectangular and made from a warm solid or patterned cloth, such as a colored cashmere, tartan, or simple striped piece. These run the gamut from light-weight linens to thick, warm wools.
This is not to say that men's scarves aren't there for style  as well. They add color, a pattern, or an interesting knot to what might otherwise be a monochrome wardrobe. The scarf becomes integrated into a man's intentional style. In this case it's a functional tool for warmth and one of expression, meaning that styling the scarf is no less important for men than for women.
Men's Scarf Materials: Men's scarves tend to be made of high-quality materials, such as wool, cashmere, angora, cotton, linen, or silk. Finer weaves make it easier to tie scarf knots, so a lot of men will choose a cut of cloth over a knit piece. When it comes to cabled knits, it's best to stick to a basic loop knot.
How to Wear a Men's Scarf: Scarf Knots
The Overhand or Ascot Knot – This is a simple style that remains loose and therefore is more for show than function. To knot it, pull your scarf around your neck and loop end through the other. Then, take the end in front and flatten and shape it. It's best to ignore the impulse to tie it tight like a necktie. Instead, keep this style loose but neat.
The Fake Knot – This knot looks more complex than it is, adding a layer of simple polish to your look and warmth to the back of your neck. Try it with a thick or patterned scarf for best effect. Drape the scarf around the back of your neck. Have one end hang down double the length of the other. Tie this long side in a loose knot with itself. Thread the other side of the scarf strait through the center of this knot. Then adjust and pull to the correct position.
The French Knot – This is a slip knot that offers easy adjustment for keeping the scarf loose or tight and warm. Since it's quick and easy, this knot help you look polished on the go. To make it, fold the scarf in half, drape it around your neck, and slip the ends through the loop made by the fold.
Scarves are a low-risk style choice that offer you a wide array of options for warmth, comfort, and expression. Whether you're trying something a little different every day (much like you might try beard styles) or you've found a classic style to make your trademark habit, they're an accessory that's hard to go without once you get started.