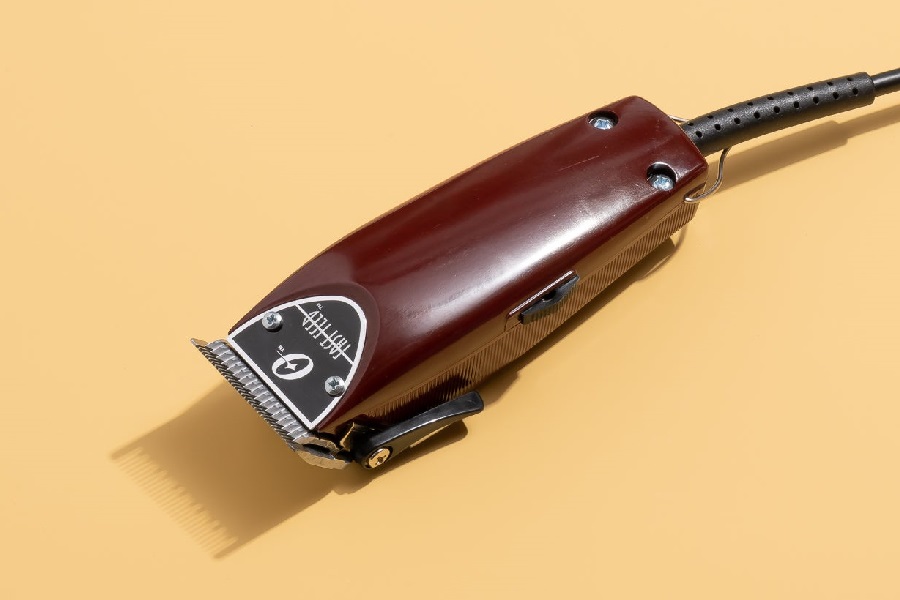 Oster is a famous home appliance company, which has been in the market since the 1920s. During World War II, John Oster decided to patent electric motors.
This opportunity helped him raise funds for his new venture. Once he had the capital, Oster bought a company named Steven's Electric. They then changed the name of the company to Osterizer. This brand became the new face of hair clippers.
If you are buying clippers for your business, make sure to buy the best ones. Do not compromise on quality. Oster clippers have clippers in all price ranges. You will need high-quality motors that allow you to cut hair for a long time.
Oster offers both clippers with a cord and cordless clippers. Both have their pros and cons. Cordless clippers are more convenient and will allow you to move around with ease. But the battery might go off quickly. It might become a problem. You might have to ask your customer to wait till the battery charges. 
In that case, the clipper with a 9ft cord will be better. You can plug it into the socket and keep cutting. Of course, the cable might come in the way. But if you have a socket close to the chair, it won't be an issue.
Oster history and reputation
In 1920 Wahl was the most popular brand for hair clippers. They had patented the electric hair clipper.
When it came to hair clippers, Wahl had the monopoly. Oster wanted a piece of the pie. He decided to venture into the electric hair clipper market. John made some improvements to the electric hair clipper and began selling it under his new brand.
The market was soon flooded with Oster's electric hair clippers. These clippers were lighter and easy to use. They did not make too much noise.
Barbers and ordinary people could use electric hair clippers. If you wanted to trim your beard, then you could buy these hair clippers. They were affordable and easy to maintain.
With stainless steel blades and a well-rounded grip, the Oster hair clippers became famous. Oster was now competing with Wahl. And that's not all! Once John Oster realized the value of electric appliances, he began adding more products to his line. Today, Oster sells blenders, humidifiers, electric hair clippers, and so on.
The company has been making durable electric hair clippers for 100 years. Their century-long experience gives them an edge, and Oster does not compromise on quality. Instead, they provide value for money.
Even though their home appliances are well-liked, Oster is known chiefly for its electric hair clippers. With a century worth of experience, this brand is unbeatable. Their hair clippers are well-liked by professionals as well as individuals. Both Barbers and pet groomers rely heavily on Oster's hair clippers. The high-quality products have sharp and durable blades. Its body is light and easy to grip. 
Today, Oster is a household name. It has become synonymous with electric hair clippers. They make unique products for pet groomers.
Professional pet groomers mostly use the A5, A6 Slim, and A6 Cool. These trimmers do not make a lot of noise. It helps groom animals. They often become scared of the noise made by the hair trimmer.
Oster Pros and Cons
The Oster hair trimmer is specially designed for individuals. It gives you a clean shave. You can also style your beard using Oster clippers. Either way, these clippers are an absolute must-have! 
Let's take an in-depth look at the pros and cons of OsterPro.
Pros
Oster clippers are durable. They last longer than most hair clippers in the market. Once you purchase an OsterPro hair clipper, you don't have to worry about buying one for a long time.
It has excellent motor power. The strength of the motor determines the quality of the shave. OsterPro's motor runs at three different speeds.
You can purchase one with a cord or without. The cordless clipper runs on battery. Its battery life is impressive. You can also buy the clipper with a cable. The cable is long and convenient.
All their products are made in the USA. The quality is top-notch.
You can use the Oster clippers on both wet and dry hair.
Some Oster clippers are noiseless. They are not loud and can be handled with ease.
You will get a one-year warranty for your Oster electric hair clipper.
Oster also sells other grooming products. If you are a professional, you can purchase all your grooming products from one brand.
They make hair clippers for pets. Professional pet groomers swear by their products.
The blades of the clippers are easy to maintain. You can keep them clean and tidy. Oiling the blades is simple.
Oster hair clippers are made out of metal, steel, and drop-resistant polymer.
Cons
Some users feel that the clippers become too hot. If you use them for a long time, they tend to overheat.
Not all Oster hair clippers are noiseless. Some are extremely loud.
Individuals cannot remove the blades. They have to be taken to a professional to be cleaned.
If you don't oil your blades regularly, they will become dull.
The clipper only comes with one blade. Other blades have to be purchased separately.
Featured products
Oster offers 14 different types of electric hair clippers. But, first, let's take a look at a few of their most famous hair clippers.
These clippers also come with an array of accessories.
Oster Turbo 111
The Oster Turbo 111 is a universal clipper with a detachable blade. This single-speed clipper gives you a chiseled look. It cuts through the beard with utmost ease.
The Turbo 111 has an excellent grip. It is durable and drop-resistant. It comes with a 9ft power cord. The hair clipper comes with a blade guard, lubricating oil, cleaning brush, and clipper grease.
Oster Octane
The Oster Octane is a heavy-duty electric hair clipper. This clipper is cordless. It comes with a battery that needs to be charged. In addition, it comes with a dual battery charging base.
The Oster Octane boasts of Swiss engineering. The trimmer has a clear coat finish that protects it against fingerprints and smudges.
Along with the trimmer, you will get a rechargeable battery, cleaning equipment, the 000 blade, 1 blade, and a blade guard.
Oster Classic 76
The Oster Classic 76 is a universal motor clipper. This trimmer has a powerful motor. Professionals and individuals use it. It has a durable one-speed cutter.
The Oster Classic 76 is one of the most popular models. It comes with a 9ft cord. The clipper cuts through all hair types. You can use it on both wet and dry hair.
The Oster Classic comes with additional accessories. Lubricating oil, cleaning brush, blade guard, and clipper grease are all included with the clipper.
Oster Aspire
Oster's Aspire hair trimmer is epic. It comes with an adjustable magnetic motor clipper. You get four different types of guide combs with the trimmer.
The clipper has a stylish, contoured body. Its magnetic motor allows you to get a wide variety of styles and lengths. In addition, Oster's Aspire comes with a blade guard and a variety of cleaning accessories.
Oster WoodGrain Fast Feed 
Oster WoodGrain Fast feed is a limited-edition hair clipper. It has an adjustable pivot motor. The motor is whisper-quiet. It is soft and makes very little noise.
It comes with a blade lever that helps you change the settings with ease. This clipper has an 8ft long cord. It improves your productivity. The trimmer lets you cut for a long time. You will also get a one-year warranty with this product.
Blades
Oster produces high-end blades. The blades are sleek and durable. These high-quality blades are made out of special steel. It is handcrafted with high-carbon steel.
Oster takes pride in its optimum quality products. They are optimized for performance and precision. You can use these blades on all types of hair. You can also use them for grooming animals. The blade cuts through the thickest furs. 
Oster's blades are sharp and long-lasting. They need to be maintained well. After each cut, you need to clean the blades. You can detach the blades and wash them with water. Once it is clean and dry, you can oil the blades. Wipe off the extra oil and put them back in the case. Oster provides lubricating oil with all its clippers. Make sure to use them well. If you don't maintain the blades, they will become dull.
The blades that are made in the U.S are hardened to Rockwell Scale C. After which they receive a cryogenic treatment. This treatment hardens the blade further.
You can purchase all types of blades from Oster. You can use one clipper with multiple blades. Check the one that goes well with your trimmer. You can buy different blades depending on your needs. For example, if you are a barber, you might need a separate set of blades. The blades might wear out often. In that case, you can buy a set of blades from Oster.
Pet groomers require sturdy blades. Weak blades might not cut through the thick fur. Oster's solid blades will cut through fur like butter. As long as they are well maintained, they will work like magic. Make sure your blade doesn't rust. After using your clipper, dust off the extra hair and wash your blades.
Well-kept blades last for a long time. Professional groomers can choose from an array of blades. There are special blades from tiny animals and big animals. When you go through their website, you will find all types of blades.
You also have the option to buy special equine blades. You will also find special equine grooming kits on Oster's website. Each animal has a different fur. Some have thick furs, while others have soft fur. It would be best if you had separate blades for all kinds of fur.
You can buy blades that suit your needs. You can buy both adjustable and detachable blades from their e-commerce store.
Motor
Oster clippers are famous for endurance. Whether you are a pet groomer or a barber, you will fall in love with Oster's motors.
Some clippers come in three speeds while others come in one speed. You can keep using the trimmer for hours. The motor does not wear off quickly. The stroke per minute differs from clipper to clipper.
Some Oster Trimmers have 4400 SPM, while others have more. You can check the specs and SPM of each clipper in the description—the higher the speed per minute, the better the cut.
Ease of maintenance
Maintaining an Oster Clipper is easy. And the best part is clippers come with a maintenance kit.
Along with the clipper, you will also get a cleaning brush, lubricating oil, clipper grease, and a blade guard.
You can maintain your clipper with these simple steps.
Step 1: Clean the Blades
Once you are done using the clipper, brush off the hair from the blades. Now detach the blade and wash it with soap and water. Dry the blades properly.
Then brush off the rest of the hair from the clipper. Make sure you also brush inside. Do not wash the entire trimmer with water.
Step 2: Lubricate the Blade 
After the blades are dried, add some oil to the blade. Make sure you oil it thoroughly.
The blades need to be washed and oiled after you finish using them. This step will keep the blades sharp. These blades will also last longer.
Step 3: Oil the Insides
Once you are done oiling the blade, make sure to grease the insides of the trimmer. Doing so will protect it from corrosion.
Rust can damage your trimmer. To make it last, you need to maintain it well. Good maintenance goes a long way.
Support and warranty
All Oster clippers come with a one-year warranty. If your trimmer becomes defective in a year, you can get it replaced.
Oster's customer support is impeccable. They respond via emails and phone. You can email them anytime. They are also available on call from Mon-Fri 9 am-5 pm EST.
Conclusion
Professional pet groomers need to use their trimmers for hours. The consistent usage does not wear out an Oster Trimmer. 
Hairstylists and barbers love Oster's electric hair trimmers. If you are planning to become a hairdresser, you can start training with Oster hair trimmers. Many professional stylists have been using it for decades.
Oster keeps upgrading all their products. So no matter when you purchase a trimmer, you will always find a high-tech one. They are one of the leading brands when it comes to hair trimmers. Their strong blades and highly advanced motors make it a reliable buy!