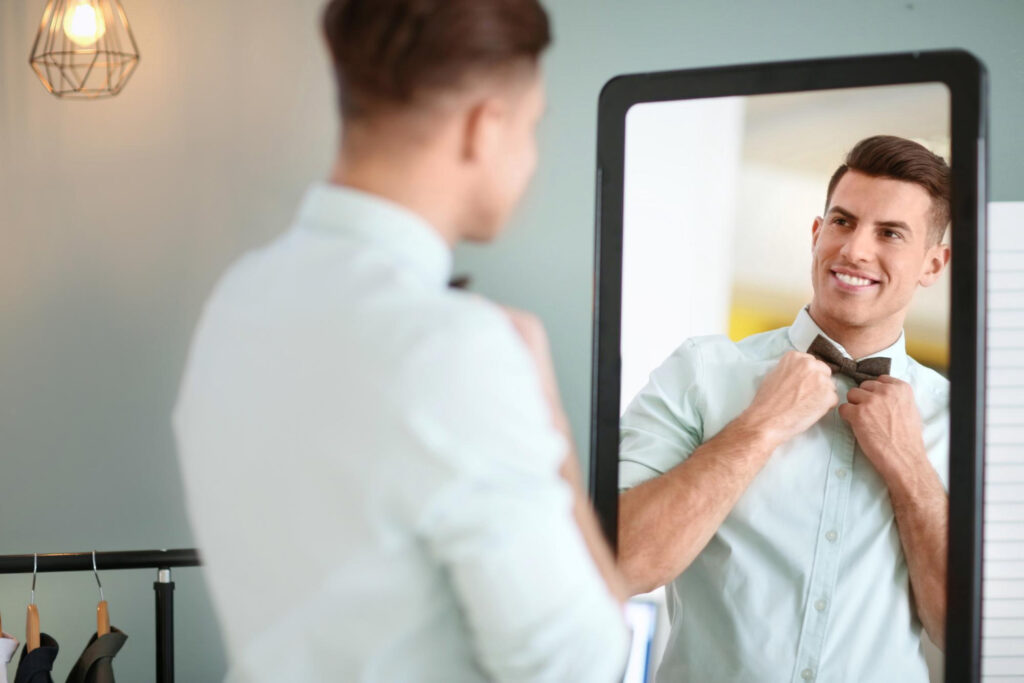 Invest in Yourself: Grooming Products Every Man Needs
Gents, it is essential to take care of our appearance to look dashing every time, which includes having the right grooming products.
From the basics like sunscreen and body lotion to other more specific items like beard shampoo and beard conditioner, there is a whole range of products that every man should have in his grooming kit.
Whether you've got an upcoming job interview or want to show off your style, these essential products can help you look dashing and stay sharp. Here's a look at the essential grooming products every man needs!
Skincare Products for Men
Your skin is your most significant investment for a charming look. Thus, taking care of it using the right skincare products is vital. You can start slow by using the basics, such as face wash, sunscreen, toner, moisturizer, eye cream, and lip balm.
Face Wash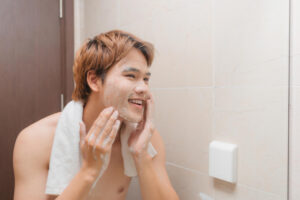 Men's skincare is a top priority, and face wash is essential to any good grooming routine.
Face wash helps to remove dirt and other impurities from the skin, keeping it clean and healthy. It also helps unclog pores, reducing the appearance of blemishes and blackheads.
Regular face wash use will improve the texture, tone, and overall health of your skin.
Men's face washes contain ingredients like salicylic acid, glycolic acid, or charcoal that help exfoliate the skin, keeping it looking clear and fresh. However, you should choose a product suitable for your skin type.
Sunscreen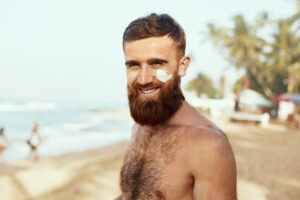 Whether or not you plan to go out in the sun, you should apply sunscreen regularly.
A broad spectrum SPF 30 sunscreen is recommended for everyday use, but you should use sunscreens with an even higher SPF if you spend a long time outdoors.
In addition, sunscreen is a must in hot and humid climates or if participating in outdoor activities like water sports or beach days.
Remember, even on cloudy days, the sun's UV rays can still cause damage to the skin, so it's essential to always apply — and reapply — sunscreen!
Toner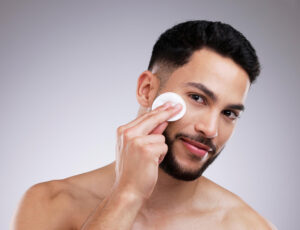 A toner is a water-based liquid that helps remove excess dirt, oil, and other impurities from your face after cleansing.
Usually, toners contain ingredients like glycolic acid, witch hazel, and other natural astringents that help minimize pores, balance pH levels, and reduce inflammation on the skin.
When using a toner, apply it to a freshly washed face with a cotton swab. Start by dabbing the cotton swab gently on your forehead, then work down towards your nose and chin.
Remember not to press too hard or rub too harshly — you don't want to irritate your skin! After applying toner all over your face, wait for a few minutes before rinsing off with lukewarm water.
Moisturizer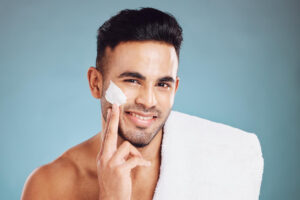 Moisturizers help to protect skin from dryness, irritation, and premature aging by locking moisture into the skin and maintaining a healthy balance of oil production.
To get the best results, you should look for moisturizers specifically formulated for your unique skin type.
In addition, you should also look for products that include hydrating ingredients like hyaluronic acid, shea butter, jojoba oil, and other natural oils that can help provide additional hydration and nourishment.
A daily moisturizer will help keep your skin youthful, healthy, and radiant.
Eye Cream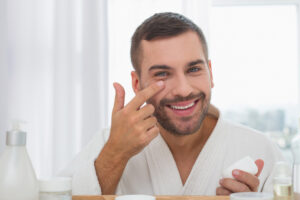 Eye creams can help reduce puffiness, dark circles, and wrinkles around the eyes brought on by aging or environmental factors such as sun exposure.
Looking for an eye cream that offers both moisture and protection from harmful UV rays is essential. An eye cream with ingredients such as caffeine, hyaluronic acid, peptides, vitamin C, and retinol will help to hydrate the delicate skin around the eyes while providing essential antioxidant protection.
With regular use of an eye cream formulated specifically for men, your skin will stay nourished and protected from premature aging.
Lip Balm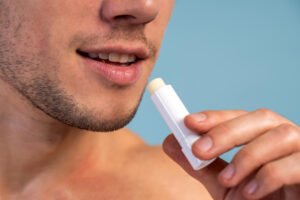 Dry, chapped lips are annoying and can be offputting to look at. Thus, it is crucial to keep your lips moisturized using lip balm.
Lip balms usually contain moisturizing ingredients such as shea butter or beeswax that help to hydrate and protect your lips from damage.
Some brands also contain SPF protection to guard against sun damage. Meanwhile, some help with irritation due to cold weather and other environmental factors, while others provide a glossy finish.
No matter what lip balm you choose, applying it daily as part of your regular skincare routine is essential.
Hair Care Products for Men
Invest in your hair — it's your one and only crown! Having healthy hair is indeed important for a dashing look. You can use shampoo, conditioner, and hair styling products to take care of your hair.
Shampoo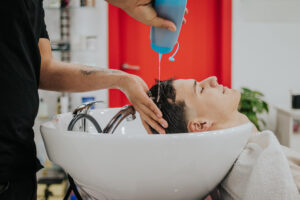 Regular use of quality shampoo can help keep a man's hair looking healthy and give them the confidence they need to make a great impression.
The right shampoo can help clean your scalp, promote hair growth, and tackle many hair problems. For instance, if you have a dandruff problem, it is best to invest in dandruff shampoo to combat dandruff — it also applies to other hair issues.
Ultimately, using shampoo regularly is an important part of any man's grooming routine if they want to maintain strong and healthy hair.
Conditioner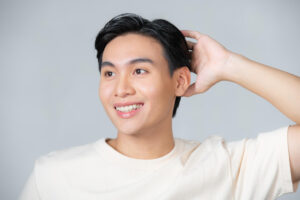 You're wrong if you think using shampoo is enough to maintain your hair condition. While shampoo plays a role in cleaning your hair and scalp, a conditioner is also helpful to smoothen your strands.
Moreover, you can easily detangle and make combing easier after using conditioner, reducing the risk of combing damage.
Using a conditioner with the same brand as your shampoo is not necessary. Instead, you can pick the products suitable for your hair type.
Hair Styling Product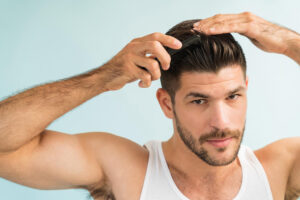 Whether you have long or short hair, strong and healthy hair is achievable with the right styling products. Contrary to popular beliefs, hair styling product is not only beneficial for styling but also for maintaining hair condition.
Using hair styling products helps protect your scalp from the sun and other harsh elements while also protecting it from heat damage.
Styling products also help to lock in moisture to keep your scalp and strands hydrated.
Finding the best styling product for your needs depends on your texture and type of hair — what works for someone else might not work for you.
Body Care Products for Men
Do you want to have healthy, glowing body skin? Then it is vital to use body care products for your daily grooming regimen. These products include body wash, body scrub, and body lotion.
Body Wash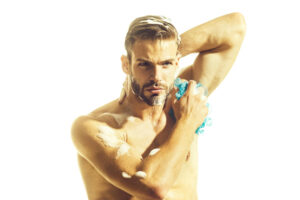 Using body wash helps remove dirt, bacteria, and pollutants from the skin while also nourishing it with hydrating ingredients.
In addition, the body wash can work as a mild exfoliant, removing dead skin cells that can make skin look dull and dry.
Regular use of smelling body washes can help soothe irritation, reduce breakouts caused by clogged pores, and even improve overall appearance for softer, smoother body skin. Remember to pick the ones suitable for your skin type!
Body Scrub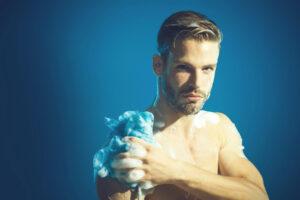 Body scrub helps to physically remove dead skin cells and unclogs pores, keeping skin looking vibrant and youthful. Also, it can reduce ingrown hairs by removing built-up debris in areas like the underarms and legs.
However, using this body care product daily is not recommended, as it will trigger over-exfoliation, resulting in damaged skin. Instead, scrub your body two times per week at most so that it can bring benefits without harming your skin.
With properly scheduled exfoliating sessions with body scrub, you will remove dirt and grime buildup, leaving your skin feeling refreshed and looking its best.
Body Lotion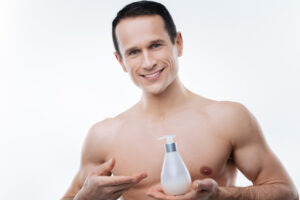 When it comes to skincare, many skips body care as it's considered less important compared to face moisturizer. Well, body lotion is also an essential part of any man's body care routine.
It provides numerous benefits, including moisturized skin, reduced dry skin, improved skin tone, and better skin health.
Regular use of body lotions will help keep your skin nourished and looking its best while providing long-term health benefits such as reducing dark spots or other aging spots caused by age or environmental elements.
Beard Care Products for Men
Men's beards are fashionable and important for their overall look, but they require special care. Thus, you need to use beard care products to maintain your facial hair, including beard shampoo, conditioner, and trimmer.
Beard Shampoo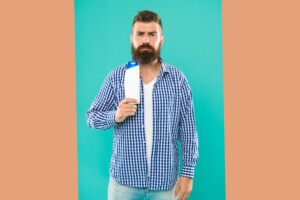 Beard shampoo is specifically designed to clean, condition, and protect facial hair with gentler formula than regular shampoos.
It typically contains natural extracts like aloe vera and jojoba oil that nourish the skin underneath the beard, promoting healthier growth.
In addition, some beard shampoos also offer extra benefits, such as preventing flaky skin and acne, maintaining a healthy pH balance, promoting faster growth, and reducing irritation.
Beard Conditioner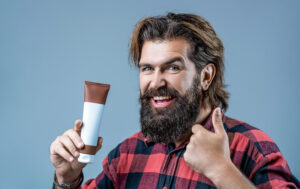 Just as important as a scalp hair conditioner, a beard conditioner is also an essential grooming product for men with beards.
Beard conditioners work by restoring moisture balance in the hair, making it easier to style and control tangles. They also leave the skin underneath the beard feeling soft and moisturized.
Moreover, they also offer other benefits, such as hydrating and nourishing the beard, enhancing shine, improving manageability, reducing itchiness, strengthening hair follicles, and keeping bacteria away.
Beard Trimmer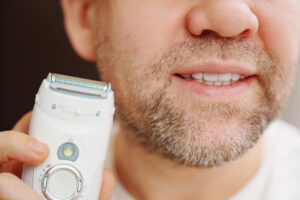 A beard trimmer is useful for those looking to keep their facial hair in check without shaving.
It's an excellent way to maintain stubble or more full-grown beards, as it can help manage the length of your hair with precision — giving you control over how manicured you look.
Frequently Asked Questions
What are the basic grooming products that every man should have?
The top basic grooming products that every man should have are face wash, sunscreen, moisturizer, toner, lip balm, shampoo, conditioner, body scrub, body wash, body lotion, beard shampoo, beard conditioner, and beard trimmer.
What type of face wash should I use for my skin type?
Find face wash products that are suitable for your skin type. Here are several tips to help you find the perfect facial cleanser:
Look for oil-free or non-comedogenic products that won't clog your pores.
Choose a gentle, soap-free cleanser that won't strip your skin of its natural oils.
If you have acne-prone or oily skin, look for an exfoliating cleanser with salicylic acid or benzoyl peroxide.
If you have sensitive or dry skin, look for a creamy face wash with moisturizing ingredients like aloe vera and glycerin.
Try a mild gel formula with hydrating and anti-inflammatory ingredients for combination skin.
Whatever face wash you choose, make sure to keep it simple and effective.
How often should I replace my grooming products?
Regularly replacing your grooming products is essential to maintaining a healthy beauty routine. For the best results, here are some tips on when to replace your grooming products:
Shampoos, conditioners, and other hair care products should be replaced every 3-6 months.
Razors or trimmers should be replaced after five uses or when they become dull, whichever comes first.
Facial cleansers, moisturizers, and serums should be replaced at least once every six months to avoid bacteria buildup.
Conclusion
All in all, every man should make an effort to invest in his appearance. The right grooming products can make a big difference in how you look and feel.
With so many great options available, there's no excuse not to take care of yourself. From skin care, body care, hair care, and beard care, everything should be taken care of properly.
You'll feel great about yourself when you look good, and your day-to-day life will be more enjoyable. So don't wait any longer; start investing in yourself today!