The popular Canadian singer The Weeknd has been known to be quite experimental with his hairstyle. From dreadlocks to box braids, Abel Tesfaye — The Weeknd's real name — proves his versatility in his personal style.
Just as diverse as his discography is, The Weeknd's varying hairstyle is undoubtedly fascinating to follow. If you're interested in stealing his look, check out our complete guide to The Weeknd hair evolution throughout the years. Check them out!
Evolution of The Weeknd Hair
The Weeknd has gone through frequent style changes since his early breakthrough in the music industry during the 2010s. There was even a phase where The Weekend cut no hair at all for years, leaving his locks to grow longer and volumized. However, he eventually chopped it all off due to convenience reasons.
So, how was The Weekend's hair evolution throughout his whole career? Here's the complete list:
April 2012 – Short Square-trimmed with Beard
July 2012 – Medium Locs
March 2013 – Tied-up Locs
August 2013 – Locs and a Goatee
January 2014 – Long Tied-up Locs
September 2014 – Half-up Locs and Ponytail
October 2014 – Choppy Tied-up with Hanging Locs
November 2014 – Longer Choppy Tied-up with Hanging Locs
June-September 2015 – Choppy Tied-up with Hanging Locs and Trimmed Sides
May 2016 – The Weeknd Dreadlocks
May 2017 – The Weeknd Beard
June 2017 – Box Fade
July 2017 – High Top
August 2017 – Brown Dreads
August 2017 – Medium Afro
September 2017 – Dramatic Bang
March 2018 – Mini Afro
November 2018 – Afro Hair
November 2019 – Big Texture
July 2020 – Thin Mustache
October 2020 – Box Braids
February 2021 – Big Afro & Goatee Beard
11 The Weeknd Hairstyles for Your Inspiration
Let's review some of the hairstyles above!
Big Afro & Goatee Beard
In February 2021, the singer sported an elongated Afro with a little hazy but recognizable square lineup. He keeps his signature beard style during this time, adding a statement to his overall look.
Box Braids
Weekends' hair transitioned from an ample Afro to thin, neat locs in preparation for winter. They appear casually smart and fashionable despite their low maintenance and lack of styling.
Big Texture
Even though it is far less eccentric than his previous hairstyles, the singer still manages to look cool and trendy. His kinks are similarly relaxed and effortless, but their fashion is dapper and neat.
Afro Hair
The Weekend has undoubtedly tried on a traditional black man's hairstyle, the Afro hair. While cut sides give the entire style a tidy appearance, a large canopy of hair on top accentuates texture.
Mini Afro
The Weeknd discovered a whole new universe of the hippest men's haircuts as he bid his bizarre dreadlocks farewell. This Mini Afro style is a more low-key version of his upcoming Afro hair. It gives off a neat, tidy look with a touch of a full, manly beard to top it off.
Dramatic Bang
The Weeknd's longer hair may occasionally look sassy, though. Consider his striking bangs, which precisely keep their shape due to the coil-textured hair and give the appearance of a spiked-up style. This particular style complements his overall look, indeed.
Medium Afro
Medium black natural hairstyles connect dreads and the traditional Afro hairstyle. So here is your time to try on dreadlocks if you've debated growing them out but have been hesitant. If The Weeknd can rock it, so can you!
Brown Dreads
Men may be extremely, if not excessively, inventive regarding dreadlocks. This Weeknd haircut exemplifies what occurs when you let your imagination run free. His naturally black roots and "palm tree" shaped dreads were both tinted brown, creating an ombre look.
Box Fade
The Weeknd's short hair is unquestionably more appealing than his iconic dreads. With the box fade cut, the rectangular shape gives the silhouette more clarity, and the length of the top makes it possible to highlight the angular structure of the hair.
The Weeknd Dreadlocks
The Weeknd hairstyle perfectly demonstrates how to control kinky hair with a high-top fade. The hairdo is stylish and smart yet requires little upkeep or grooming. This hairstyle was so iconic it owns a name: The Weeknd Dreadlocks.
High Top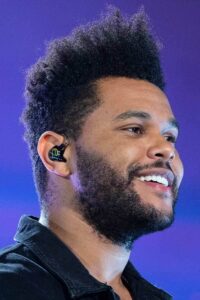 Leaving his dreadlocks era, The Weeknd appeared in public with his high top. It's giving off a fresh new look with the same old manly vibes. This style framed his face perfectly. On top of that, the full beard and mustache complement the high top greatly.
Conclusion
The Weeknd's hairstyle evolution is surely inspirational to try out. He managed to rock diverse styles throughout his career. His hairstyle is a terrific way to style your hair if you want an amazing look.
You can use this compilation of styles for any event, whether it's a casual get-together or a formal occasion. You can achieve the perfect look with the right products and styling techniques. Give it a try today!