Beards are a popular trend amongst men in the modern era, and it's no surprise why. Not only do they give any man an air of masculinity and confidence, but owning one can also be incredibly practical. With this popularity growing more and more rapidly every day, it's essential to know the basics for taking care of your beard correctly – such as using a high-quality shampoo specially designed for facial hair!
After all, you want to feel great about your look now, just like later on when rocking that stubble or full-set beard. That's why here at Groom+Style, we present our top picks for the best beard shampoo around so that you're sure to have healthy-looking facial hair every day. Read on for all the details on choosing what's best for you!
Why Is It Important to Wash Your Beard
Before delving into the nitty gritty, the fundamentals must be addressed. For example, when looking for a beard wash or shampoo, what should you look for? A happy, healthy beard is a clean beard. Not only will washing your beard help to combat common issues like itching and dirt buildup, but it will also help to reduce skin irritation.
Every day, your face comes into contact with the outside world. As a result, your beard attracts bacteria. If left unclean, your skin may develop beard dandruff and chronic itching. In the long run, using a good beard wash will help purify the skin and promote healthy beard growth.
Factors That Make Beard Shampoo Stand Out
Consider the top factors listed below when looking for the best beard wash.
The ingredients
The ingredients in beard washes and conditioners will determine their efficacy. Some general formulas are effective for all types of facial hair. Others are more targeted at relieving itching, removing dandruff, or treating skin irritation. Always read the label to ensure there are no allergens or harsh chemicals. Ingredients with hydrating properties are advantageous because they will keep your beard lustrous and healthy.
It is best to use natural products whenever possible because they promise healthy and enriching results. Avoid ingredients like sodium chloride, sodium lauryl sulfate, and formaldehyde, commonly found in lower-cost products. These harmful elements can harm the growth of your facial hair and even cause skin damage.
Intoxicating fragrances
Beard wash comes in both scent-free and fragrant varieties. You can select appropriate products based on your personal preferences. Some washes may contain essential oils for fragrance and soothing properties. They're also better for your facial hair and skin.
What's the difference between beard shampoo and hair shampoo?
Any good barber will tell you not to shampoo your hair every time you shower because these head hair shampoos can be extremely drying. A dry scalp is an issue, but a dry chin is far more so. Hair shampoos contain chemicals that strip your beard of natural oils, leaving the hair and the skin beneath dry and brittle. Beard washes are formulated with hydrating and anti-inflammatory ingredients to work with, rather than against, the natural oils produced by your skin and hair.
Will beard shampoo get rid of beard dandruff?
It will undoubtedly help to alleviate the problem. The ingredients in beard shampoo are combined without harsh detergents, and you can extend the benefits to the skin beneath your beard by massaging deeply into it. However, dandruff is a dermatological problem; the best way to treat it is with a good moisturizer.
How often should I wash my beard?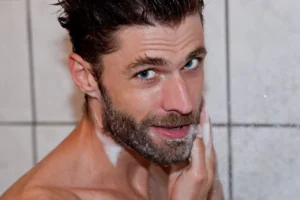 It varies from beard to beard. Consider shampooing your beard up to five times per week for an oilier beard and much less for drier beards. Work also plays a role; if you have a more physically demanding outdoor job, your beard will naturally accumulate dirt and require more frequent maintenance. On the other hand, those who work at a desk all day will find that once or twice a week suffices.
7 Options for Best Beard Shampoos
These products are reviewed below, along with all relevant information to assist you in making an informed decision. Continue reading.
Billy Jealousy Beard Wash Hydrating Men's Beard Shampoo
This beard shampoo is suitable for all skin and hair types, making it ideal for men with sensitive or extra-oily skin. It's fantastic for cleansing and hydrating your beard, softening your hair, and making grooming a breeze.
The sulfate- and paraben-free formula soothes itching, dandruff, and flaking skin, and it contains only gentle ingredients (such as aloe and green tea extract) that nourish and enrich your skin and hair. It also has soy proteins, which are easily absorbed by your beard hairs and help to strengthen the fibers and increase collagen production.
Key features:
It stops itching and flaking.
Without sulfates
Aloe and other gentle ingredients
Acqua di Parma Barbiere Beard Wash
This wash is intended to leave your facial hair soft, silky, and shiny. The Barbiere Beard wash is a creamy foam substance that is easy to rinse off, unlike other beard washes on the market.
It comprises ingredients known to moisturize the skin, such as rosemary extract and pumpkin seed oil. This 200 ml beard wash is small but mighty, with a powerful punch.
Key features:
Cleansing the skin and beards gently
Leaving the beard soft and silky
Proraso Beard Wash
This is the beard wash for men with fine facial hair! It won't create a thick lather, but it will thoroughly cleanse and condition your hair. The Italian-made beard wash smells fantastic and is gentle enough to use on sensitive skin.
The cleanser contains 83% plant-based ingredients and only uses plant-based surfactants, making it one of the most natural products on our list. Combining natural ingredients creates a highly effective cleanser that removes odors, food particles, bacteria, and dead skin cells, leaving your beard beautifully clean.
Key features:
Excellent for sensitive skin.
Ideal for use during the winter months
Simple to clean
Kalamazoo by LUSH
With this creamy wash for furry faces, you can keep things bright and bushy. Fresh pineapple juice contains enzymes that cleanse and remove dirt and oil from the skin, while almond oil, jojoba oil, and cupuaçu butter soften and tame even the wildest beard. With the light citrusy scent of Brazilian orange oil and a super soft feel, your beard will have more admirers than ever before.
Key features:
Cupuaçu butter is used to soften facial hair.
Fresh pineapple juice revitalizes dullness.
Citrus essential oils lift your spirits.
Polished Gentleman Beard Shampoo
Try this fantastic beard wash if you're having trouble growing your beard. It is made with organic and natural ingredients that nourish and stimulate the growth of your beard. This kit contains beneficial ingredients such as biotin, cocoa butter, rosemary, and coconut oil, giving your beard a healthy shine. This beard wash will work wonders for any beard you have.
It not only smells fantastic, but the formula also promotes hair growth. The best thing about this beard set is that it is free of parabens and other harsh chemicals.
Key features:
These products have not been subjected to animal testing.
It can help to relieve itching and remove beard dandruff.
Suitable for all types of beards
Duke Cannon Big Bourbon Beard Wash
A well-kept beard represents power and prestige, whereas an unruly and disheveled beard has the potential to destabilize society.
Use Duke Cannon's Big Bourbon Beard Wash to do your duty and civilize your beard. It's made with plant-based ingredients to tame your mane and moisturize the skin beneath it without removing the natural oils and power of your beard.
Key features: 
Hops extract moisturizes the skin
Citrus peel oils to revitalize
Protein from barley and wheat to fortify
Softening and conditioning soybean oil
It is SLS-free, so it will not dry out your beard.
Paraben-free
Zeus Men's Everyday Grooming Kit
This Zeus shampoo is part of a grooming kit that includes a beard conditioner, oil, and balm—an all-in-one kit that you'll use daily to keep your beard looking great.
Green tea extract, soothing chamomile, and anti-microbial, anti-bacterial Dragon's blood (yes, that's the actual name!) are among the natural ingredients in the shampoo. These ingredients work together to cleanse your hair and skin without causing irritation or increasing dryness. It will not strip your hair's natural oils; instead, it will remove excess skin oil, dirt, and grime while protecting your beard.
Key features: 
Gentle natural ingredients
Beard oil does not leave a greasy aftertaste.
Beard balm for skin and beard protection
Most Frequently Ask Questions
Does beard shampoo work?
Absolutely! You're in trouble if you use regular shampoo on your beard. This is why: Regular shampoo dries out your face's skin, which often leads to gnarly beard itch. In contrast, a specially formulated beard wash does the exact opposite.
Conclusion
All in all, if you are looking for a shampoo to help keep your beard clean and smelling great, we recommend any of the three shampoos we've listed. They all work well to remove dirt and oil from your facial hair while leaving it soft and manageable. So, what are you waiting for? Go ahead and try one out today! Have you tried any of these beard shampoos before? If so, what do you think? Let us know in the comments below.