Applying eye cream has long been a standard beauty practice for women, but many men may not consider it. Now is when you still need to start caring for the delicate skin around your eyes. Ingredients in eye creams can increase moisture and plump the skin, making the eyes appear more rested. Whether you have stress, fine lines, or sun damage, eye cream can help improve your skin to prevent early aging and add a calming self-care ritual to your day.
Continue reading to learn about the best eye cream for men.
7 Best Eye Cream for Men
KIEHL'S – Powerful-Strength Line-Reducing & Dark-Circle Diminishing Vitamin C Eye Serum
This was excellent at removing dryness, puffiness, and rough texture while increasing hydration. Any dark shadows appeared brighter, and the skin around the area felt firmer, according to the testers.
If you need more clarification on how much product you need, our panel found that the packaging dispensed just enough (waste not, want not, and all). One person said it felt "plumped," while another said it was relaxing.
CERAVE Eye Repair Cream
Effective eye creams can be inexpensive. This multi-purpose eye cream contains all the ingredients you want in an eye cream, such as niacinamide, hyaluronic acid, and ceramides. Which helps reduce puffiness and dark circles while keeping the skin around your eyes hydrated and happy.
MEDIK8 Advanced Day Eye Protect
SPF, like retinol, is surprisingly scarce in eye cream formulas owing to the difficulty of achieving a pleasing texture. But everyone knows prevention is better than cure, so apply this impressively light SPF eye cream every morning like a good skincare student.
NEUTROGENA Hydro Boost Hydrating Gel Eye Cream
All-night rages, workplace stress, and relationship drama can all be seen on your face. Tired skin is usually dehydrated, resulting in bags and dark circles. Keeping the skin around your eyes hydrated in your twenties is critical. You may appear to have gotten nine hours of sleep when you only got three.
LUMIN Ultra-Hydrating Moisturizing Balm
Lumin, a member of the new school of men's skincare brands that combine performance with reasonable pricing, creates no-fuss formulas that work. With a blend of niacinamide (suitable for skin support), antioxidant fruit extracts (good for pollution protection), and caffeine, this cream reduces the appearance of dark circles.
BURT'S BEES Eye Cream for Sensitive Skin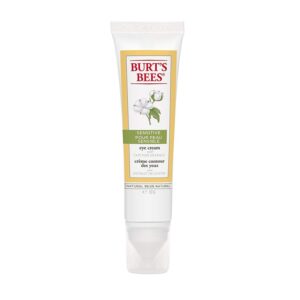 Because the thin skin around your eyes may be susceptible, choose a formula with minimal additives that may irritate your eyes if you have sensitive skin on the rest of your face. This cream contains rice extracts and aloe, which have been shown to reduce redness and irritation while still moisturizing.
CLARINS Total Eye Lift
If you want to refresh your eyes without going full Sylvester Stallone, this 94% plant-powered formula is packed with fatty acids to lift and firm them.
Mostly, it handled dark circles, puffiness, and wrinkles expertly, leaving behind a pleasant tightening effect. Our panel of experts noticed that skin felt instantly more hydrated and that eyes appeared brighter and smoother by the end of the month.
Most Frequently Asked Questions
Do men's eye creams work?
Men should use eye cream. The first place men notice signs of aging, such as fine lines and wrinkles, is around their eyes, but eye creams can help with much more
How often should men use eye cream?
An eye cream can be applied at any time of day. You will, however, require a different eye cream at other times.
You can use eye cream to:
Early in the morning – Use a lightweight formula to feel more at ease under your mens makeup. To reduce the risk of wrinkles, look for a product that contains SPF.
Later in the evening – When you apply eye cream, the ingredients have time to absorb into your skin. Select a cream with hydrating ingredients but no SPF.
Every morning and evening – Use an eye cream to reap all the above benefits. Remember that you'll need two different formulas when shopping for products.
Your preferences and goals determine the best time. However, it would help if you only used eye cream every 12 hours regardless of the time—no need to reapply the same product all day or all night.
Conclusion
So, if you are still not taking care of the eye area, you should immediately use an eye cream for men. Apart from treating this sensitive area, this eye cream can also make the eyes fresher and delay signs of premature aging. How are you interested in choosing which one?