Exploring the Different Types of Bangs: A Comprehensive Guide
Bangs have been a popular hairstyle for centuries, and they continue to be one of the most sought-after looks in the fashion industry. From blunt to side-swept, curly to choppy, there are countless types of bangs to choose from.
In this guide, we'll explore the different types of bangs that suit you best and how to style them to achieve the perfect look. Are you ready to get inspired? Read on!
How do I Know What Type of Bangs to Get?
Choosing the right type of bangs can be tricky, but there are a few things to consider. Firstly, consider your face shape—some bangs suit certain face shapes better than others. Here is a quick guide:
Round face: long, side-swept bangs, layered bangs, and wispy, textured bangs.
Oval face: side swept bangs, soft, wispy bangs, and curtain bangs.
Square face: blunt bangs, side-swept bangs, and curved bangs.
Heart-shaped face: side-swept bangs, wispy, layered bangs, and long, face-framing bangs.
Diamond face: soft, wispy bangs, long, side-swept bangs, and textures, layered bangs.
While these are the general choices, you're free to sport any bang style despite your face shape. Other things to note in choosing a bangs type are:
Consider the texture of your hair.
Think about your lifestyle and how much time and effort you will put into styling your bangs.
If you're still unsure, you can always consult a trusted hairstylist who can help you select the perfect type of bangs for you.
Different Types of Bangs
Just like hairstyles, bangs come in a myriad of types. From curtain to curly bangs, here are the variation of bangs that you should know before deciding to have one!
Curtain Bangs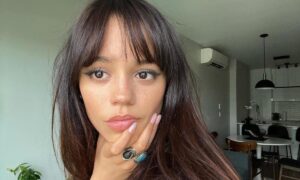 Curtain bangs feature long, face-framing bangs parted down the middle and swept to the sides, resembling a curtain. This style was popularized during the '60s and '70s by actresses such as Goldie Hawn and Brigette Bardot. Moreover, this style has been trending on TikTok for some time now.
One of the reasons why curtain bangs are so in demand is because of their versatility. Blow-dry them with a round brush for a smooth and polished look, or tousle them with your fingers for a more relaxed and effortless vibe. Plus, you can achieve this style at home! No wonder; people are raving about this hairstyle.
Wispy Bangs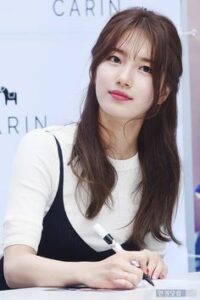 Wispy bangs are fringe types that feature thin, feathered strands of hair that blend seamlessly into the rest of your hair. These bangs are cut to create a soft and delicate appearance, giving you a subtle and romantic look.
What we love about this type of bang is that it looks great on almost any face shape. You can look at how Olivia Rodrigo and Emma Chamberlain rock this style—they look gorgeous!
Side Bangs
Unlike full bangs, side bangs are swept to one side—just like its name. This style reigned supreme throughout the mid to late 2000s, as seen sported by famous celebs such as Selena Gomez and Vanessa Hudgens. Slowly but surely, this trend has been making a comeback as a Y2K trend these days.
If you want to adopt this look, it's not too late! You can add a modern touch to the style by tousling it or highlighting the front part. This way, you'll appear more flirty and sexy in no time!
Bottleneck Bangs
Bottleneck bangs are quite similar to curtain bangs, characterized by long, wispy bangs that are parted down the center. It is called a "bottleneck" because the bangs taper and narrow towards the ends, resembling the shape of a bottleneck.
This style helps accentuate your facial features, especially your cheekbones. No wonder; people are opting for this bang to elevate their overall look. Take a look at how fabulous this style is by watching Lily Collins sporting it in the Emily in Paris series!
Curly Bangs
Good news for people with curly hair, you can sport this style effortlessly! Unlike straight or wavy bangs, curly bangs feature ringlets or coils that frame your face and add texture to your hair. However, this style is not limited to those with naturally curly hair—everyone can also try it.
You can wear it with any hairstyle, from short to long hair or shaggy to updos. Make sure to add some styling products, such as hairspray, if you want to make it last longer throughout the day.
Long Bangs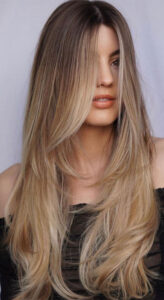 Long bangs are a versatile and eye-catching way to change up your hairstyle. It extends past your eyebrows and blends seamlessly into the rest of your hair.
If you don't really ace in regular grooming routine, this style is the perfect choice since it's pretty low-maintenance compared to other types of bangs. The styling is also easy peasy; wear them straight and sleek, add some texture and volume, or simply tuck them behind your ears.
Clip-in Bangs
Get playful with your hairstyle by putting on clip-in bangs! Using faux bangs is a game-changing way to add a new element to your hairstyle without the commitment of real bangs.
They allow you to switch up your style without cutting your hair or waiting for it to grow out. Plus, clip-in bangs come in various styles and lengths, so you can freely choose the one that best suits your face shape and hair type. Just clip it in, and voila! You're good to go!
How To Style and Maintain Your Bangs
Styling and maintaining your bangs can be a fun way to change up your hairstyle or enhance your current look. Here are some tips to help you style and maintain your bangs:
Trim your bangs regularly: If you have traditional bangs, it's important to trim them regularly to maintain their shape and prevent them from getting too long. You can do this at home with hair-cutting scissors or simply visit a salon for a professional trim.
Blow-dry your bangs: To achieve a smooth and polished look, blow-dry your bangs with a round brush. Start at the roots and work your way down to the ends, using the brush to guide the hair in the direction you want it to fall.
Add texture with products: If you have choppy or textured bangs, use a texturizing spray or pomade to enhance the definition and add volume. Apply the product to your fingertips and work it into your bangs, scrunching or twisting as needed.
Pin back your bangs: If you're growing out your bangs or want to switch up your style, pinning back your bangs is an easy way to change your look. Use bobby pins or clips to pull your bangs away from your face, creating a sleek and sophisticated look.
Avoid touching your bangs: To keep them looking fresh and polished, avoid touching them throughout the day. Dirt and oils from your hands can transfer to your bangs, making them look greasy and flat.
Use dry shampoo: To extend the life of your bangs between washes, use dry shampoo to absorb oil and refresh your roots. Spray it at the roots of your bangs and use your fingers to massage it in.
Following these tips, you can style and maintain your bangs to achieve the perfect look for your face shape and personal style.
Frequently Asked Questions
What are Korean bangs called?
Korean bangs are often called "See-through bangs" or "Kkamulbangs" (까물뱅). They are long, wispy bangs typically parted in the center, creating a soft and transparent look.
Should bangs be above your eyebrows?
Not necessarily—it's up to you! However, as a general guideline, it's recommended that bangs fall just above or below the eyebrows. This length can help to frame the face and highlight your features without obstructing your vision or becoming too heavy.
What are waterfall bangs?
Waterfall bangs are longer, tapered bangs that flow down cascadingly, framing the face with a soft and romantic look.
Conclusion
In conclusion, choosing the perfect type of bang can be a fun way to change your hairstyle or enhance your current look. From side bangs to trendy curtain bangs, plenty of options suit any face shape or personal style.
By considering factors such as your hair type, face shape, and maintenance preferences, you can find the perfect type of bangs to make you look and feel your best. No matter which type of bangs you choose, always remember to communicate with your stylist and use the proper styling and maintenance techniques. With these tips and tricks in mind, you'll be rocking your new bangs in no time!