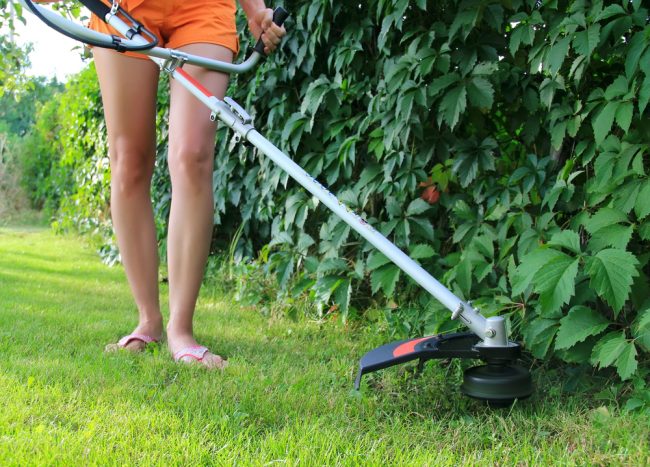 There are many names used around the country and around the world for weed whackers (or weed wackers even): weed eaters, string trimmers (or strimmers), cordless string trimmers, line trimmers, weed whips, and even whipper-snippers.
Whatever you call them and whether you choose one that's powered by gas, electricity or battery powered weed eaters, weed whackers are invaluable in keeping the edges of a lawn neat and clean (particularly near raised areas, fences or trees), cutting annoying weeds that grow in areas you can't reach with a lawnmower, or even replacing a scythe to tackle overgrown spots.
The earliest powered trimming tools relied on heavy metal blades to do their cutting work, but modern versions use a stiff monofilament string (thus the name "string trimmer") spun by a motor or engine at speeds high enough to make quick work of grass or weeds. When an area of string has worn down, a fresh length is moved to the "business" part of the tool. It's an efficient and effective way to control unwanted growth.
Pros and Cons of Weed Whacker Models
These tools can be powered by fuel, electric weed eaters or battery, and the type of weed whacker which will work best for you depends on the work you plan to do with it.
Gas-powered models (which sometimes operate on a gas-oil mixture) are usually the most powerful units, letting you blast through overgrown areas, get your work done quickly, and trim a large property without needing to stop for a battery recharge. They are also the most expensive to operate because of the cost of fuel, and their mechanical parts may need more maintenance or repair than other types of string trimmers. Gas trimmers models are also, in most cases, the heaviest to use and more difficult to start. Finally, changing the length of string when it's worn down usually requires you to "bump" the bottom of the machine on the ground in order to advance to a new section of the reel.
The latter issues pretty much sum up the arguments for a battery-powered or corded weed whacker – they're lighter, they have lower operating costs and you don't have to worry about chokes, pull cords or priming bulbs in order to start them. They're also quiet compared to the roar of a gas machine, and some have automatic string advancement so you don't have to "bump" them. However, for either battery or corded operation you'll be giving something up; batteries run out of juice after a relatively-short period of time, an electric cord limits you to trimming areas within reach of an outlet, and both types of unit will normally deliver less power than a gas-driven machine, limiting the height or thickness of the grass and weeds you can cut.
Sorting Through the Possibilities
Once you've decided which type of weed whacker suits your property, it's time to look at the other key considerations in choosing the right model. The Groom+Style team feels that above all, the comfort level of a string trimmer is crucial. For gas-powered models, that includes the length of the shaft and the measures taken to minimize the engine's vibrations. For battery and electric, it includes whether the length of the shaft is adjustable, how long the former can run on a charge and how long the cord is for the latter.
In all cases, you can choose between a straight or curved shaft; straight shaft models are heavier but easier for most people to use and can get under bushes or other obstacles, while curved shaft weed whackers have a shorter reach and tough to use for precision trimming, but lighter and easier to store. At Groom+Style we prefer trimming with a straight shaft.
When it comes to finding the best weed wacker for your yard work, there are several factors to consider. A swiveling head can be a helpful feature for edging, allowing you to adjust the angle of the trimmer easily. You'll also want to pay attention to the spool of string, as it will need to be replaced periodically. Look for a model that offers easy spool replacement and a long-lasting spool. Additionally, consider the width of the cutting path – gas-powered models often have wider cutting paths. Of course, price is also a consideration, so be sure to compare models and choose the one that best fits your needs and budget.
Here are our reviews of the best weed-eater brands that you can use in your garden.
Our Groom+Style review team tried very hard to find something bad to say about this gas-powered straight shaft weed whacker, but we just couldn't do it. This is an exceptional machine, and the only negative we could come up with is that it comes at a pretty high price. It's worth paying extra for the SRM-225, though.
Naturally, the "drawbacks" of any gas-powered unit apply to this Echo model; it's fairly heavy at 12 pounds, you have to fill it with gas/oil, and you might have to fiddle with a choke (although it usually starts easily on the first pull thanks to a proprietary starter system),. But boy, this is one powerful weed whacker. The 21.2cc two-stroke engine starts easily and roars through just about any height or thickness of weeds and grass with its 17-inch wide dual cutting lines. This baby outdistances all of the other string trimmers on our list.
The SRM-225 is built well, but also built for comfort; it's easy to work with the 59-inch shaft and dual strings, and the anti-vibration handle on this Echo does its job well. The bump feed system works perfectly, and we love the fact that putting in a new spool of string couldn't be simpler. There's also a strong five-year warranty.
Oh, we did think of one slight negative: this Echo is so powerful that even with a deflector shield it still throws debris around, so it would be a good idea to wear goggles and tough boots. But you do that for safety anyway, right?
The Echo SRM-225 is an outstanding best gas weed eaters and no competitor even comes close. As long as you don't mind spending more than you would for a lesser machine, it's the one to look at first.
Facts and figures on the Echo SRM-225 String Trimmer:
Type: Straight shaft, gas-powered; requires gas/oil mixture
Engine: Two-stroke, 21.2 cc
Fuel capacity: 14.9 ounces
Shaft length: 59 inches
Cutting width: 17 inches
Weight: 12 pounds
Warranty: Five years
It's a given that cordless weed eaters aren't as powerful as gas-powered ones. But the Ego Power+ comes very close to being the one exception to that rule, thanks to its groundbreaking 56-volt lithium-ion battery and high-efficiency brushless motor. In the same way that the Echo is far-and-away the best weed whacker on the market, this Ego blows away the cordless competition. It's truly a powerhouse.
Even though you may be convinced that you need a gas machine for your lawn or overgrown property, you owe it to yourself to think long and hard about this alternative; the convenience of push-button start, almost-silent operation and comfortable design with little vibration are extremely attractive. The battery will last anywhere from 20 minutes to an hour per charge depending on how hard you push it, and there's a variable speed trigger right on the handle, to let you slow things down for easy-to-trim areas and go full blast to tackle that forest of weeds out back. The dual cutting lines are also a plus.
[youtube id="cuPcTuE8c1M" width="750″ height="340″ position="left"]
The 15-inch cutting swatch on the Power+ isn't quite as wide as on the Echo, but wider than on most battery models; similarly, the extendable, hinged 49" shaft isn't as long but is more than enough for most users. The bump system to advance the string works very well.
If you prefer a battery-powered weed whacker and aren't on a tight budget, the Ego Power+ is the one you want. You should also consider it even if you prefer a gas-powered model, because it's packed with power and a pleasure to use without the hassles of fuel changes or noise.
More details for the Ego Power+ Cordless Brushless String Trimmer:
Type: Straight shaft, battery-powered
Battery: 56-volt lithium-ion, available in 2.0 or 2.5Ah
Fuel capacity: 14.9 ounces
Shaft length: 40 inches
Cutting width: 15 inches
Weight: 9 pounds
Warranty: Five years tool, three years battery
Check Ego Power+ Cordless Brushless String Trimmer Price on Amazon
While we prefer straight shaft trimmers, you may be in the market for a curved shaft model and in that case, Groom+Style recommends the Weed Eater W25CFK. To be completely honest, you'll find that people have positive and negative opinions on all curved shaft units because they're usually lightweight and lower-priced, and they don't have the impressive builds or durability of higher-end units. But this is the best of the bunch, and better than Weed Eater's newer W25CBK.
There's a good 25cc two-cycle engine on the gas-powered W25CFK, comparable to the engine on many higher-priced competitors and capable of delivering a lot of power, with a 15" cutting width. We still don't recommend it for heavy-duty use, though, because it's simply not sturdy enough to work its way through heavy weeds. This Weed Eater uses an oil/gas mixture for fuel, and it's not difficult to start although you might to play with the choke.
There's one big downside to this weed whacker: it doesn't advance the string for you. You need to put in a new (included) pre-cut string when the old one gets worn down, which isn't difficult but does add some inconvenience to the process. At less than half the price of the Echo gas-powered model, though, you may not mind the extra work.
The Weed Eater W25CFK is meant for lawn maintenance, not deforestation of overgrown areas. As long as you use it for its designed purpose, and as long as you really want a curved shaft model, this one has plenty of power at a very attractive price.
Looking deeper at the Weed Eater W25CFK 25cc Curved Shaft String Trimmer:
Type: Curved shaft, gas-powered; requires gas/oil mixture
Engine: Two-stroke, 25 cc
Fuel capacity: 10 ounces
Shaft length: 57 inches
Cutting width: 15 inches
Weight: 8.5 pounds
Warranty: Two years
Check Weed Eater W25CFK 25cc Curved Shaft String Trimmer Price on Amazon
We're also not huge fans of corded weed whackers, primarily because we always end up trying to avoid running over the cord. But if you're more coordinated than the weekend mowers/gardeners on the Groom+Style team, and have a small area to keep neat and trim with a nearby outlet, the Toro 51480 will keep your lawn the envy of the neighbors for a budget price.
There's a five-amp motor on this straight shaft, dual-line string trimmer, which can double as an edger with just the push of a button. It's got plenty of power for either chore and won't shudder if you try using it on heavy grass. It's well-built, well-balanced, has a good-sized cutting width, a telescoping shaft (from 40 to 49 inches) and an assist handle that lets you use two hands for added control.
The string feed is a "good news, bad news" story. This Toro has auto-feed for the cutting string, so you don't even have to bump it on the ground. That's the good news; the bad news is that the string advances every time you turn the 51480 off and then on again, so you go through a roll of string pretty quickly.
The Toro 51480 is a lot of weed whacker for a corded model, with great power for a budget price. Just be sure you won't mind being tethered to your power source before buying one.
Specifications for the Toro 51480 Corded 14-Inch Electric Trimmer/Edger:
Type: Straight telescoping shaft, corded
Motor: 5 amps
Shaft length: 40-49 inches
Cutting width: 14 inches
Weight: 7.5 pounds
Warranty: Two years
Check Toro 51480 Corded 14-Inch Electric Trimmer/Edger Price on Amazon
No products found.
This isn't exactly what we'd call a budget choice but the CG23ECPSL is definitely excellent value, with a price tag substantially lower than the other weed eaters on our list. It has good length (nearly 70 inches), good power (produced by a 22.5cc Hitachi two-stroke gas engine), and its light weight and impressive anti-vibration system mean that you can use this string trimmer for long periods of time without getting tired. The review team also liked the "S-Start" recoil starting system, which doesn't require Popeye's muscles to pull.
Hitachi includes a pretty good amount of string with the trimmer, good for about ten hours of use before it needs to be replaced (and winding new string onto the spool is an easy task). And this bump-style weed eater is designed with a smaller-than-usual head, which means greater torque for quicker spinning and quicker cutting. We do wish there was a feature that let you turn the head sideways for edging, but at this price, you can't expect everything.
For about a hundred bucks less than our top-ranked models, you'll get almost all of the same performance in this lightweight Hitachi model. It's definitely worth considering.
Specifications for the Hitachi CG23ECPSL Gas-Powered String Trimmer:
Type: Straight shaft, gas-powered; requires gas-oil mixture
Engine: Two-stroke, 22.5cc
Fuel capacity: 16.2 ounces
Shaft length: 69.6 inches
Cutting width: 15 inches
Weight: 10 pounds
Warranty: Seven years, limited
Check Hitachi CG23ECPSL Gas-Powered String Trimmer/Edger Price on Amazon
* Unfortunately it looks like this Ryobi model might not be available right now, so please consider another string trimmer for now.
This is one of the lower-priced, good-quality battery-powered models you'll find, and it has a lot of versatility despite some drawbacks.
On the plus side, it can be powered by any type of One+ battery, lithium-ion or NiCad. It has an adjustable-length shaft that can also be rotated for either trimming or edging, and an adjustable head for different cutting widths. It has automatic string feed. It's extremely light, at less than seven pounds.
However, the Ryobi P2060's 18-volt battery is well below the capacity of most comparable models so it's not suitable for thick patches of grass or weeds (although there's more than enough power for medium-duty jobs), and the rotating shaft isn't as effective as the rotating head on other models. There's just a single line for trimming, and you'll only get 20-40 minutes worth of trimming time on a charge.
For the price, this is a great battery-powered weed whacker for homeowners who want to neaten up, but don't need to clear lots of problem areas throughout their property.
The lowdown on the Ryobi P2060 One+ String Trimmer/Edger:
Type: Straight telescoping shaft, corded
Battery: 18-volt lithium-ion or NiCad
Shaft length: 40 inches
Cutting width: 10-12 inches
Weight: 6.7 pounds
Warranty: Three years
The Groom+Style review team hopes you enjoyed this best weed eater review! If you are after more summer lawn care fun, why not have a trip down memory lane and check out our best reel mower review?