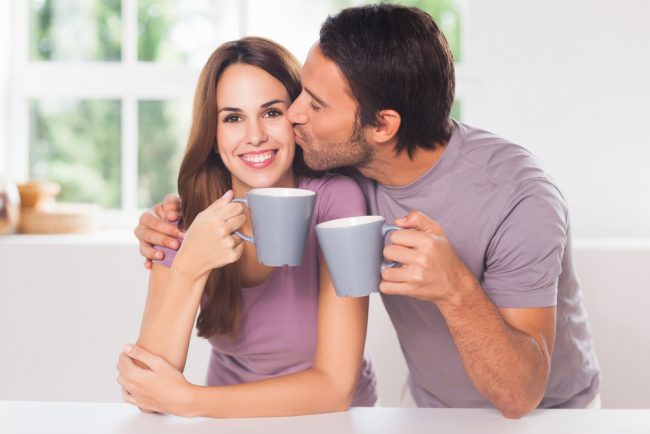 Not too long ago, an electric kettle seemed like nothing more than a novelty – or perhaps something you'd buy as a gift when every item on a couple's wedding registry list had already been taken.
Today, these appliances have gained greatly in popularity as people realize that electric kettles are actually the most convenient way to boil water for coffee, tea, cocoa or hot chocolate.  They work much faster than a traditional kettle or saucepan and pot heated on a stove. Additionally, they will actually shut off on their own without causing damage, as opposed to a stove-top kettle left to boil for too long. Many just plain look beautiful on a countertop, as well.
The number of electric kettles on the market has soared in recent years; here's Groom+Style's review of the top 5 best electric kettles currently available.
Follow this link to the bottom of this article to read our electric kettle buying guide information.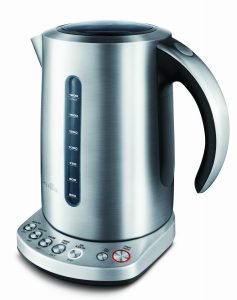 Breville makes exceptional appliances, including top-of-the-line home espresso machines, so it's not surprising that they also make a terrific electric kettle.
The BKE820XL isn't just a pot with a heating element; it is specifically designed to heat water to the proper temperature for five different types of tea or coffee, with five temperature pre-sets available on its user control panel.
You can select 212 degrees for black tea (or simply for boiling water), 200 degrees for French press coffee, 195 degrees for Oolong tea, 185 degrees for white tea, or 175 degrees for green tea. The design is perfect for "tea nerds."
The BKE820XL has several other cool bells and whistles: a button which will keep the water at your chosen temperature for 20 minutes, an easy-open lid which opens with the push of another button, and of course an auto-shutoff feature.
This electric kettle has a very large capacity, a full two quarts, which will easily provide enough water for seven to eight cups of tea. The downside to the large pot is that the Breville does take longer to heat water than smaller models, five minutes or even more. Of course, a comparable amount of water would take even longer to boil on the stove.
There are easy-to-read see-through water levels windows on either side of the kettle; unfortunately, they're marked in millimeters and not in cups, but that's a fairly simple learning curve to master. As for appearance, the Breville BKE820XL is all stainless steel (except for the windows, lid and handle insulation) and has a stunning, modern look.
[youtube id="oyZWBD83xeE" width="750″ height="340″ position="left"]
This variable temperature kettle may be overkill for many people who just want to boil some water. For those who are looking for more than that, it's the best electric kettle on the market.
Specifications of the Breville BKE820XL Variable-Temperature Kettle:
1500 watts
2-quart kettle (roughly 1.9 liters)
5 pre-set brewing temperatures
360-degree stainless-steel directional base
Push button control panel
Hold temp button
Boil-dry protection and auto-shutoff
Water level indicators on both sides
Removable scale filter
7-1/2 by 9-1/2 by 11 inches
Warranty – 1-year limited product warranty
2. Cuisinart CPK-17 PerfecTemp Stainless Steel Cordless Electric Kettle
The Team had a hard time choosing between the Breville model reviewed above and this Cuisinart offering – for the most part, they provide almost the same functions and user experience and we'd be completely satisfied with either on our countertop.
The Cuisinart PerfecTemp does have several advantages over the Breville: it has one additional heating pre-set (160 degrees for "delicate"), the keep warm button works for 30 minutes instead of 20, it can operate in cordless mode, and it has a nice memory feature which maintains all settings if the pot is removed from the base for a minute or two.
The reasons the review team chose the Breville as slightly preferable are minor ones, and certainly, don't detract from the performance of this machine. The CPK-17 gets a bit hotter to the touch, the kettle's capacity is slightly smaller, and the single water-level indicator is harder to read because it is located behind the kettle's handle (which also contains all of the push buttons for operation). Finally, we preferred the slightly more "futuristic" look of the Breville to that of the Cuisinart, which looks like – well – a kettle.
This PerfecTemp electric kettle is priced a little lower than the Breville, which may also factor into your decision; overall, this machine is full-featured, performs well and a great choice for those who want to heat a lot of water to a lot of different temperatures for a lot of tea.
Key specs for the Cuisinart CPK-17 PerfecTemp Stainless Steel Cordless Electric Kettle:
1500 watts
1.7-liter capacity
6 preset temperatures
One-touch controls with blue LED indicators
30-minute keep warm option
Memory feature for the brewing process
Blue backlit water window
360 degree swivel cordless connector
Concealed heating element to prevent mineral buildup
Removable scale filter
Auto shutoff and boil dry protection
2 by 9.8 by 12 inches
Warranty – 3-year limited warranty
DeLonghi is another company with a long and distinguished pedigree when it comes to coffee and espresso makers. Their Kmix electric kettle isn't quite as complicated or innovative as their coffee machines, but it doesn't have to be. It's simply a well-crafted and durable kettle meant to boil water quickly and it does that job extremely well.
* Note – the 54 ounce (1.6 liter DeLonghi) is not available on Amazon at the moment so G+S have linked to the 25 ounce (.75 liter)model.
There are no fancy controls or multiple settings for the DeLonghi. You put the water into its good-sized 54 ounce (about six cups) kettle, turn it on, and it lets you know when your water has boiled – usually in just a few minutes.
This machine has the usual useful functions you'd expect: automatic shut-off, a concealed heating element, and cord-free operation. One smart addition to the Kmix is its removable limescale filter, which will remove deposits and impurities from the water as it boils.
A major selling point of this electric kettle is its appearance. The inside of the kettle is stainless steel, but the outside is die-cast aluminum and can be purchased in any of eight designer colors: green, red, yellow, orange, magenta, blue, black or white.
The DeLonghi will not only boil water efficiently and safely but add a real splash of color to any kitchen.
Here are the specs of the DeLonghi Kmix 54 Ounce Kettle:
1.6-liter capacity
Stainless steel interior
Illuminated on-off switch
Die-cast aluminum exterior
Available in 8 colors
Cord-free operation
Detachable base
Removable limescale filter
Concealed heating element
7 by 9 by 9.8 inches
Warranty – 1 year warranty
This smaller electric kettle is another model which lets you select the optimal water temperature for your tea but without fancy programmable functions or push-buttons. It's simply a stainless steel kettle with a plastic handle, a plastic lid, and one plastic knob which controls the temperature.
Unlike the Breville and Cuisinart models, the Adagio requires some trial and error to find the perfect setting for heating your water because the knob indicators are colored lines and not numbers, so they are just general guidelines for "hotter" and "cooler" instead of actual temperatures.
Once you've used the machine a few times, though, you should be ready to go – and, after all, since there are no premium electronics in the utiliTEA, you're not paying a premium price.
There are pros and cons to the size of this machine. It only holds about three cups' worth of water so it's more of a "personal" kettle than one for large families or gatherings, but it also means your water will heat up much more quickly than with a huge tank. Other pros are that it's convenient, has a small footprint, and is relatively inexpensive; negatives are that it does get pretty warm on the outside, doesn't have an on/off switch, and doesn't signal when the water has reached proper temperature.
The Adagio is not a perfect electric kettle. But it's sturdy and works well, particularly if you just want to make a couple of cups of tea. And it's the least-expensive, quality variable-temperature electric kettle you'll find.
Highlights of the Adagio Teas 30 Ounce utiliTEA Variable Temperature Electric Kettle:
30-ounce capacity (roughly 0.9 liters)
Stainless steel
Knob controls temperature up to 212 degrees
Cord-free operation
Flip-top lid button
Concealed heating element
2 by 6.75 by 9.2 inches
Warranty – 90 day warranty
When you'd rather see how much water is in your kettle instead of trying to squint through a small window, the Chef's Choice 680 is your machine. It has a cool look to it, with its brushed stainless steel housing and black handle/lid/accents, in addition to the large (1.5 liters) glass tank.
There's also no chance the water will be touching any metal or plastic which would add unwanted taste since it only touches the glass.
This model does not have any temperature adjustments controls; you just fill it with water and flip the "on" switch, and wait until the water boils. No mess, no fuss, and a price tag that matches. Unfortunately, there's no signal to let you know the water has hit maximum temperature, but since you can clearly see when it's boiling that's not a major disadvantage. There is an automatic shut-off feature, too.
The Chef's Choice is a powerful unit and brings water to temperature quickly. It doesn't have some of the advanced features you can find in more expensive units, but most people are just looking for an electric kettle that works and works well. This one does.
Specifications for the Chef's Choice 680 Cordless Electric Glass Kettle:
1.7 liter (1 ¾ quart) capacity
1500 watts
Stainless steel housing, plastic handle/lid
Boil-dry protection and automatic shut-off
Locking Lid
Cord-free operation
Concealed heating element
9 by 7.5 by 10 inches
Warranty – 1 year warranty
The team at Groom+Style hope this list helped you find the kettle of your dreams.  Just in case you are still in the mood to read about more kitchen appliances, why not read the teams other top rated kitchen appliance reviews:
Electric Kettle Advantages and Buying Guide
Electric Kettles Boil Water Faster
It can take eight to ten minutes for a nearly-full stovetop kettle to bring water to a boil, while a good electric model will do it in four minutes, three minutes or even less. Most of the best electric kettles will also keep your water at the right temperature for when you're ready for a refill; as we all know, you'll have to turn a stovetop kettle back on if you want a second cup after 15-20 minutes.
There Is an Optimal Temperature for the Hot Water in Your Tea and Coffee
And even though some people aren't particular about the temperature of the hot water they use to make coffee or tea, they should be. Water that's been heated to the sweet spot around 200° will provide optimal results for most types of coffee, while you'll get the best cup at lower temperatures for some roasts.
White, green, oolong and even delicate black teas are meant to be brewed at specific temperatures. That's why being able to choose the right water temperature with an electric kettle is such a pleasure – all a stovetop kettle will do is whistle at you when the water boils. (Oh, and most electric units will sound a pleasant beep when your water's ready – a lot less nerve-wracking than a shrill, ear-piercing whistle.)
Convenience and Comfort
Add other advantages like automatic shutoff, grips that are usually more comfortable, materials that won't rust (try to avoid plastic which can make the water taste funky), and the fact that you'd really have to try hard to burn yourself on an electric kettle, and you can easily see the arguments in favor of ditching grandma's old tea kettle and going electric.
How to Shop for an Electric Kettle
Check the Amount of Water the Kettle Can Hold
First and foremost, you'll want to make sure the electric kettle is the right size for your intended use. The most common sizes are in the one-to-two quart range, but a one-quart kettle isn't going to be big enough to supply an office that isn't located near a Starbucks.
Construction and Power Available
Sturdy construction, either one-piece or with solid welds, is important unless you don't mind owning a leaky kettle after you've used it for a little while. Look at the kettle's power specs as well, since a model under 1500 watts will take a while to heat your water.
Target Temperature Functions and Auto Shutoff Features
As we mentioned earlier, the best electric kettles will allow you to select the target temperature for your water; the more settings there are, the more flexibility you'll have. They'll also either have a timer or automatic shutoff feature plus an option to keep your water warm, and their handles will be wide enough to grab yet cool to the touch.
Non-Spill Spout and Removable Power Cord
There are a few more features that are less obvious but should be considered. A non-spill spout will keep you from pouring near-boiling water over the counter or your hands, and a kettle that has a removable power cord or sits in a heated base will let you pour without having to worry about the cord getting in the way. Some bases now swivel 360° so you can turn the kettle to the angle that works best for you; that's extremely handy for lefties.
Exposed or Concealed Heating Element?
Finally, the location of the heating element can make a huge difference in how easy it is to clean an electric kettle. An immersed element will cause limescale to quickly build up inside the unit and require to clean the unit often. A hidden or concealed heating element avoids that problem.
Groom+Style's Best Electric Kettle Comparison Table
Use the comparison table to help you identify if there is a specific electric kettle that interests you, and identify the key differences.  You can then choose to:
use the "Quick Navigation" button at the bottom of the table to navigate straight to the product you are interested in reading more about
use the "Check Price on Amazon" button if you know exactly what you want to buy
Take your time and read more about the different types of kettles and buying considerations
[go_pricing id="kettle_595cbaed3fa60″]