The DIY, homemade and all-natural cleaning worlds are sounding the alarm bells on commercial chemical cleaners found in stores.
It's no secret that commercial cleaning agents can be harmful to your health. All you have to do is smell them and read the warnings on their labels to know that they're full of toxic chemicals.
These cleaning agents contain chemicals which can cause cancer, asthma, allergic reactions, and are often poisonous when ingested. They are dangerous to have around children and animals.
On top of that, many household cleaners contribute to water and ozone pollution. And the contemporary obsession with disinfecting everything is leading to the threat of super-viruses and antibiotic-resistant bacteria.
Green cleaning is the home cleaning DIY trend geared toward caring for the health, well-being, and sustainable practices of your family by using all-natural cleaners.
For most makers of homemade cleaners, this isn't just a budget solution, it's a lifestyle. The aims of green cleaning are to keep your home and family safe and clean while also lowering their impact on the environment.
For more information, take a look at the infographic below – but continue reading after the graphic for 19 easy recipes on how to make your own cleaning products.
The Dangers of Household Cleaning Products
Most commercial cleaning agents are comprised of dangerous, and often undisclosed, chemicals. These chemicals can cause minor to serious and life-threatening health problems from inhalation, ingestion, and skin contact.
Chemicals to be Aware of
As with any substance, the level of a product's toxicity depends on dose and length of exposure.
The worst toxic chemicals fall into three categories:
Carcinogens which cause or promote cancer. These types of toxins can be found in chemical air fresheners and bleach.
Endocrine disruptors which cause problems relating to hormones. These can be found in anti-bacterial soaps.
Neurotoxins which affect brain activity. Negative effects can include of headaches, lethargy, and memory loss.
Many cleaning agents can also cause skin irritation and eye irritation, and be poisonous if swallowed.
Air fresheners and other chemicals that linger in the air can cause asthma from long-term exposure, and many fragrances can trigger allergies. A few household cleaners will even create poisonous gases when mixed with other cleaning agents (chlorine bleach, ammonia, and toilet cleaners).
Antibacterial Soap
Antibacterial soaps are dangerous for global health as well as individual health.
The truth is that regular soaps have been proven to be just as effective as antibacterial soaps when it comes to killing germs that may cause diseases. However, antibacterial soaps help bacteria build a resistance to antibiotics, creating bacteria that are difficult to near-impossible to kill with known methods.
Triclosan, an active ingredient in antibacterial soaps and other goods meant to promote healthy homes, has also been known in animals to interfere with the body's regulation of thyroid hormones.
This is known as an endocrine disruptor, and it could lead to hormone-related problems such as infertility, early puberty, obesity, and cancer. Frequent use of anti-bacterial soaps and triclosan may also be a cause of allergies in children.
Greenwashing
When buying natural cleaners in store, be aware of "greenwashing."
Greenwashing refers to marketing campaigns by companies that promote their brand as environmentally responsible without a specific reason. This is a good way for companies to grab consumers who want to buy green but do not have the time to investigate this image.
Many cleaning brands take advantage of green marketing while still using harmful toxins and chemicals in their cleaning products.
Brands will often use misleading claims on their bottles and packaging to make their products seem more environmentally and health-friendly than they actually are.
This includes products labeled as "green," "natural," or "biodegradable."
Many of these products still contain harmful toxins. When checking natural cleaning products in stores, look for specific claims and information rather than buzzwords.
Benefits of All-Natural Cleaning
Green cleaning will allow you to feel comfortable breathing the air in your home and cooking on freshly cleaned counters.
Switching to all-natural cleaning and homemade cleaners promotes a healthier and more wholesome quality of life. For one thing, natural cleaners are safe around children, meaning that you can clean with your children around and get them involved in their own healthy cleaning routines.
A Healthier Household
In spite of the decreased rate of disinfecting (which is mostly unnecessary), natural cleaning promotes a healthier house through improved air quality and safer surfaces.
When you clean with chemicals, those chemicals can enter the air and remain on the surfaces that you and your family touch every day.
All-natural cleaners allow you to be confident when you're doing your household chores, knowing that you're breathing healthy air in your house. Natural cleaners are also less likely to leave skin-irritating residue on countertops, windows, and other surfaces.
They are safer, non-corrosive cleaning agents that limit the risk of chemical burns to your eyes and skin when cleaning.
Many who use all-natural cleaning products, whether homemade or purchased, comment on the better air quality that these products promote. Some even consider the green cleaning process to be a form of aromatherapy because homemade cleaning agents often replace toxic chemical smells with calming and relaxing essential oils.
They're Better for the Earth
All-natural cleaning products are less likely to release harmful chemicals into our wastewater. All-natural cleaning supplies can help to lower the carbon footprint that leads to ozone depletion and climate change.
These natural cleaning goods often come in recyclable packaging. And it's very simple for anyone making their own cleaning goods at home to reuse their bottles and containers. Just rinse and refill!
Knowing the Ingredients
Government regulations do not require companies to list all the ingredients on the packaging of commercial cleaning products. Even those that provide partial lists can be purposefully misleading, giving you a false sense of security about what you know about a product. The only way that you can be sure about the contents of a bottle of household cleaner is to make it yourself.
In stores, the market for all-natural home cleaners has been booming to fill the need for non-toxic and less irritating cleaning agents.
The high demand for clean and healthy households has allowed companies that produce all-natural cleaners to demand high prices. That means you could be paying more for products that won't jeopardize your health.
However, making your own homemade cleaners is much less expensive than relying on chemical cleaning. Homemade cleaners are most often a mixture of a few basic and inexpensive pantry ingredients such as vinegar, olive oil, and lemon juice for healthy home cleaning, so you don't need a chemistry degree to spruce up your home.
Home Cleaning Substitutes
In this section of the article, Groom+Style will list 10 natural ingredients and describe how to mix them into 19 simple recipes to create powerful and effective cleaning solutions for the kitchen, bathroom laundry and the rest of the house.
Common Homemade Cleaner Ingredients
– Baking Soda: Use baking soda to clean, scrub and scour tough cooked on messes, neutralize household odor and soften water.
– Soap: You can use unscented liquid soap, flake, powder, or bars. Many people choose their soap based on what they're used to and what's easiest to handle while cleaning. Most natural cleaning enthusiasts recommend using castile soap, such as Dr. Bronner's, vegetable soap, or olive oil soap. Always avoid soaps that contain petroleum distillates!
Picking the right soap is a great way to have your home spaces smelling and feeling the way you want them to, so try out different soaps and make adjustments if you're not happy with what you have.
It's best to also avoid soap containing unnatural fragrances, but, if you are unhappy with unscented liquid soap, add an essential oil of your choice to your soap to give it some character.
– Lemon: Lemon juice is a very strong food-acid that is effective against household bacteria.
– Borax: Borax is sodium borate. This is a non-carcinogenic substance that is not absorbed through the skin and is not harmful to the environment. Borax is about as safe for you as salt, but you still shouldn't ingest it! Use borax to clean your painted walls and wallpaper, as well as your floors. It can deodorize, disinfect, and soften water.
– White Vinegar: White vinegar will be your go-to for most of your homemade cleaner needs. It can cut grease, remove mildew, absorb odors, and dissolve some staining and wax build-up.
– Washing Soda: Washing soda is also known as SAL soda or sodium decahydrate. It's a mineral that you can use to cut grease, remove stains, soften water, and clean your bathroom, including your walls, tiles, sink, and tub. Washing soda can be irritating to mucous membranes, so it's best to keep it away from your nose or wear a mask while cleaning, and it can be harmful to aluminum.
– Isopropyl Alcohol: Isopropyl alcohol is used as a disinfectant. You can also substitute ethanol for its disinfectant qualities, and some even use inexpensive vodka, depending on whether or not the smell will be washed away in the cleaning process.
– Cornstarch: Cornstarch is a powerful absorbent, making it a good cleaner to soak up oil spills in and around the kitchen. You can also use it to clean windows, polish furniture, and shampoo and clean carpets and rugs.
– Citrus Solvent: Citrus solvent is made from orange peel oil, an organic substance that you can use in lieu of mineral spirits. Citrus solvent is often used as a natural paint thinner and comes recommended for bicycle chain cleanup. Around the house you can use it clean oil, grease, and some stains.
– Tea Tree Oil: Tea tree oil has antiseptic properties, making it a natural choice for treating wounds and killing many strains of bacteria, viruses, and fungi. Tea tree oil can be used in most homemade cleaning products to add a disinfectant to the cleaning process.
1. Homemade Cleaners for the Kitchen
1.1 All-Purpose Cleaner
Putting together a bottle of all-purpose cleaner is an easy must for anyone who wants to begin green cleaning. The essential oils in this recipe give your cleaning agent a fresh scent while it's disinfecting.
Store this cleaner in a spray bottle for easy access (glass is your best bet) and give it a gentle shake each time to mix or remix the ingredients. You can then spray it on countertops, windowsills, and other surfaces. This cleaner is great for light stains on showers, kitchen faucets and fixtures, windows, and mirrors.
½ cup Vinegar
¼ cup Baking Soda
½ gallon Water
10 drops of an Essential Oil (optional)
1.2 Surface Cleaners
These surface cleaners use common ingredients for scent and added disinfecting ability. While the vinegar and water combination will be immediately effective for cleaning, it should be noted that these cleaning solutions won't reach their full effect until they've steeped for about a week. Combine these cleaners in spray bottles or in jars on your countertop for easy surface cleaning in between cooking and preparing meals.
1.2.1 Rosemary and Lemon:
2 cups Vinegar
2 cups Water
Lemon Rind
Rosemary Sprigs
1.2.2 Orange and Peppermint:

2 cups Vinegar
2 cups Water
Orange Rind
2-3 drops Peppermint Oil
1.2.3 Eucalyptus and Tea Tree Oil:

2 cups Vinegar
2 cups Water
Eucalyptus Sprigs
3-4 drops Tea Tree Oil
1.3 Floor Polishes
1.3.1 For Vinyl and Linoleum
1 cup Vinegar, a few drops baby oil, 1 gallon Warm Water. For difficult cleaning, use ¼ cup borax, but be sparing with it on the linoleum.
1.3.2 For Wood
Polish your wood with a 1:1 ratio of vegetable oil (some people use olive oil for a distinctive shine) and vinegar. Using a rag, rub this solution into your floors until it soaks in.
1.3.3 For Painted Wood
Use 1 Tsp. Washing Soda in 1 gallon Hot Water, and clean with a mop.
1.3.4 For Brick and Stone Tiles
Add 1 cup Vinegar to 1 gallon Water when mopping. Rinse with clear water when done. You can add 10-15 drops of peppermint oil to the mix for fragrance.
1.4 Dishwasher Soap
When you run a load of dishes, add this to your dishwasher where you would normally use powdered soap.
In a jar or plastic container, mix the following ingredients:
1 cup Borax
1 cup Washing Soda
1.5 Disinfectant
A disinfectant will destroy bacteria in the area where it's sprayed. Disinfecting does not need to happen every time that you clean and wipe down the counters. Disinfecting kills good bacteria as well as bad bacteria, and disinfecting too frequently over a long period of time can rob your immune system of the chance to inoculate itself against common bacteria, making you more susceptible to infections.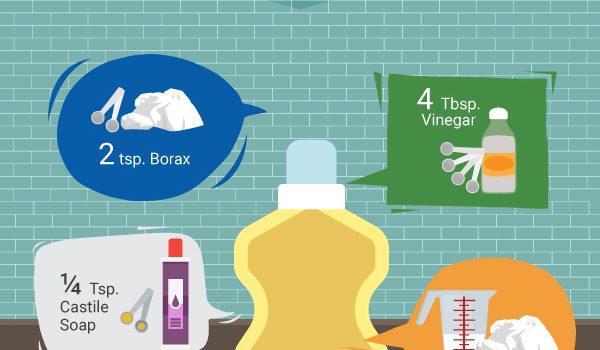 However, infrequent disinfecting can be helpful to household health. For instance, it's recommended to disinfect after a member of the household has been sick, so that future guests will not be caught by lingering germs.
2 tsp. Borax
4 Tbsp. Vinegar
¼ Tsp. Castile Soap
3 c. Hot Water
1.6 Oven and Microwave Cleaner
Chemical oven cleaners can be among the most dangerous and corrosive of the chemical cleaning agents. To naturally clean your oven or microwave, remove surface messes with your normal all-purpose cleaner.
Make this solution, spread it on the interior of the oven, and let sit for 20 minutes. Wipe it off with a clean cloth and scrub using steel wool for tough spots.
2 c. Hot Water
1 Tbsp. Natural Dish Liquid
1 tsp. Borax
2. Bathroom Cleaners
2.1 Mold Remover
Bathroom mold can grow in tile grout, in the drain, and on the walls of poorly ventilated bathrooms. Mold is a common problem, but it can also be a health concern. As a preventative measure, make sure that you've done everything you can to keep your bathroom as ventilated as possible, including turning on the fan or opening a window during and after showering.
The mold remover mixture can be mixed and kept in a spray bottle for use. Spray on areas that have mold and leave on for at least an hour before rinsing.
½ cup Hydrogen Peroxide
1 cup Water
2.2 Shower Spray
Daily preventative maintenance is the key to having a painless periodic shower cleaning. To keep your shower tidy while cutting down on how much scum you'll have to deal with on cleaning days, keep this mixture in a spray bottle in your shower.
1 cup Vodka
3 cups Water
A few drops Lavender or Peppermint Essential Oil
2.3 Toilet Bowl Cleaner
Rather than mixing these ingredients together beforehand, throw the baking soda into the toilet and then the vinegar. Then scrub with a toilet brush and flush. Add borax if you want to disinfect as you clean.
¼ cup Baking Soda
1 cup Vinegar
Optional: 2:1 borax to lemon juice will also work for difficult stains.
2.4 Drain Cleaner
The chemical reaction of baking soda and vinegar can break fatty acids down into soap and glycerin so that the clog washes down the drain.
1. Pour ½ cup of baking soda down the drain.
2. Pour ½ cup of vinegar down the drain.
3. Wait for 15 minutes, then pour in boiling water to clear the residue.
3. Homemade Soaps in The Laundry Room
3.1 Liquid Laundry Detergent
There are a few good, natural and allergen-free laundry detergents on the market. But, for those who want to make their own, try this simple recipe.
Pour the first three ingredients into a recycled jug or large jar, then pour the hot water over top to dissolve it all together. Shake container to mix before each use. A quarter cup of this mixture should do it for a standard load size, but you can use a bit more for a heavily stained load.
½ cups Borax
½ cups Washing Soda
½ cups Dawn Dish Soap
4 cups Hot Water
3.2 Fabric Softener and Dryer Sheets
Hair conditioner is amazing at loosening the fibers of your clothes as well as your hair. The use of conditioner puts this recipe on the pricier side, but it is a great way of softening your clothes while protecting you from the chemical fragrances normally found in fabric softener.
Combine all ingredients in a bowl and mix, then transfer to an empty storage container. Use about ¼ c. for a normal load of laundry.
5 ½ cups Water
15 oz bottle of Hair Conditioner
2 ½ cups Vinegar
3.2.1 Dryer Sheets:
You can make this recipe into dryer sheets by soaking squares cut from an old t-shirt or kitchen rags in the solution. Keep a jar of them in your laundry station and squeeze out the excess solution before use. Then just toss the rag in with your drying clothes. These don't need to be washed in between uses and can be recycled right back into the jar to soak.
4. The Rest of the House
4.1 Reusable Disinfectant Wipes
For this recipe, you'll need to cut an old t-shirt or kitchen rags and towels into easy-to-grab squares. You'll also need a container to house them. Fold your towels and place them in the container, then mix together the cleaning ingredients and pour over the towels to let them soak.
These towels are reusable and can be safely washed alongside other kitchen towels. After washing them, just submerge the fresh towels in the cleaning solution again, adding more as you need it.
4.1.1 Version 1, with Vinegar and Essential Oils:
1 cup Water
¼ cup Vinegar
8 drops Tea Tree Oil
8 drops Eucalyptus Essential Oil
8 drops Lemon Essential Oil
4.1.2 Version 2, with Soap and Alcohol to disinfect:
Note that this version uses dish soap to cut grease and make cleanups easy. While commercial dish soap can contain ammonia and other chemical ingredients, it is among the safer cleaning products on the market, containing only mild skin irritants.
1 cup Water
¼ cup Rubbing Alcohol
2 Tbsp. Dish Soap
4.2 Carpet Stain Remover
For simple spot cleaning, spray this solution onto the carpet and let sit for 10-12 minutes. Proceed by using a sponge and warm, soapy water to clean.
½ cup Vinegar
½ cup Water
4.3 Heavy Duty Carpet Cleaner
Mix the following ingredients in a bowl until they form a paste, then rub the paste into the carpet and let sit for a few hours. When dry, go back and vacuum the area. Use warm, soapy water to clean anything that remains.
¼ cup Salt
¼ cup Borax
¼ cup Vinegar
4.4 Window Cleaner
This recipe will work to wash your windows and bathroom mirrors. If you're in a pinch, you can also achieve similar results by diluting your everyday surface cleaner, but make sure not to use a very high concentration of vinegar so that the glass doesn't cloud.
2 cups Water
½ cups Vinegar
¼ cup Rubbing Alcohol
1 to 2 drops Orange Essential Oil
4.5 Lemon Oil Duster and Furniture Polish
Varnished Wood. Add a few drops of Lemon Oil into ½ c. Warm Water. Apply to a soft cloth until it is only slightly damp. Wipe furniture with the cloth, and finish with a dry soft cloth.
Unvarnished Wood. Mix 2 tsp. Olive Oil and 2 tsp. Lemon Juice and apply a small amount to a soft cloth. Apply to furniture using wide strokes to evenly distribute the oils.
4.6 Metal Cleaners
Aluminum: Mix together cream of tartar and water, and apply the solution to the aluminum using a soft cloth.
Brass, Copper, or Bronze: Mix together ketchup and salt and rub over the tarnished spot with a soft cloth. Alternately, try a lemon and baking soda paste.
Chrome: polish chrome using baby oil, vinegar, or the shiny side of a piece of aluminum foil.
Gold: Clean with toothpaste or mix together a paste of salt, vinegar, and flour.
Silver: Line a pot with aluminum foil and fill it with water. Add 1 tsp. baking soda and 1 tsp. salt. Bring the water to a boil and submerge the silver. Polish the silver afterward with a soft cloth.
Stainless Steel: Clean with undiluted vinegar or olive oil.
4.7 Rust Remover
Method 1: Sprinkle salt over the rust, then squeeze lime juice over the salt until it is soaked. Leave it on for 2-3 hours, then use the lime rind to scrub the rust off.
Method 2: Cut a lemon in half and dip it in borax. Use the lemon to scrub the rust, then rinse it away.
All Natural Cleaning Tips
How to Get into Natural Cleaning
That's a lot of recipes, but you've probably noticed that most of them come from different ratios of similar ingredients.
When it comes to natural cleaning, you won't need nearly as many different cleaners as the commercial cleaning industry would lead you to believe.
Most people make three or four types of cleaners depending on the needs of their home and use individual ingredients for tough spots. Decide on what you use and need the most, and start there.
For those of us that have fully stocked cleaning cabinets, the change to all-natural cleaners can be gradual. As you use up one of your commercial cleaners, replace it with a homemade recipe. Paring down your home cleaners and going natural doesn't necessarily mean losing your chic. Just like with any DIY, the luxury feel comes in taking care of yourself.
Green cleaning is all about promoting and using good cleaning and hygiene habits to help keep your household safe. You can make it easier to form those habits among your family with a cleaning checklist for each room and preventative measures such as not wearing shoes indoors.
9 Green Cleaning Tips
1. Clean from the top down, starting with windows and blinds and ending with floors. Allow time for dust to settle before your final vacuuming.
2. Use natural sponges and cleaning cloths, such as cellulose sponges, which take less time to break down in landfills and are less likely to be treated with triclosan.
3. You can use empty vinegar bottles to make glass spray bottles.
4. Microfiber cloths and magic erasers are both made of dense fibers that help to remove stains and dirt without a cleaning agent.
5. If you want to clean and disinfect your kitchen sponges, add them to your dishwasher when you turn it on.
6. To deodorize carpets, which is especially important if you have pets at home, sprinkle baking soda and let sit it for a few hours, grab a powerful vacuum.
Another alternative to cleaning carpets, wooden floors, curtains and upholstery is to use a steam cleaner – they steam can disinfect and clean without harsh chemicals
or grease spots on the carpet, sprinkle down cornstarch, wait 15-30 minutes, and then vacuum.
8. To clean shower heads, fill a plastic bag with vinegar and tie it to the showerhead to soak. Leave it there for a few hours and then remove it. Pour the contents down the drain and your shower head should be clean and free from build-up and hard-water residue.
9. Club soda works as a sink cleaner on stainless steel sinks. Wet a cloth with club soda and then go back over it with a dry, soft cloth to polish.
Natural Air Fresheners:
You can place sachets of baking soda and dried herbs around the house to absorb odors.
Use a small dish of vinegar and lemon juice in the kitchen to absorb food smells.
Simmer vinegar on the stove to prevent cooking odors.
Houseplants help to purify the air and reduce odors.
Keep fresh coffee grounds on the counter.
Grind lemon peels in the garbage disposal.
Simmer water and spices on the stove. Try this combination: an orange peel, 2 cinnamon sticks, and a handful of cloves.
Arrange a vase of fragrant flowers.
It may seem like a trial to get started with an all-natural cleaning routine, but treating your body well and being aware of the toxins that you're around is a form of self-care that will reward you with more energy and a greater enjoyment of your home.