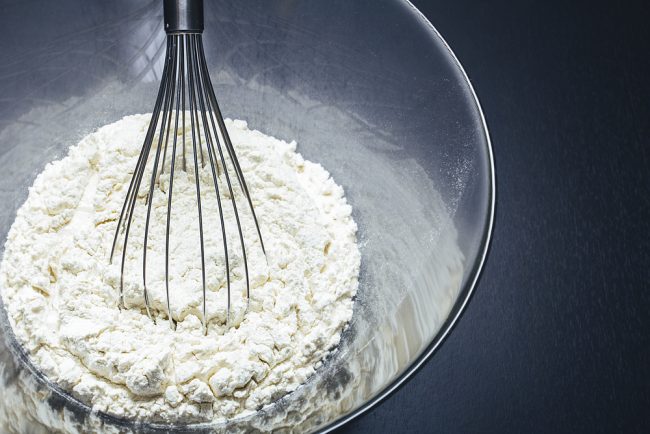 There's something about a hand mixer, or even an electric handheld one, that can transport you back in time. Look: there's mom in her apron with her hair in curlers, carefully mixing cake batter while smiling at her adorable brood as the luscious smells of chocolate and vanilla fill the air.
We now return you to the present, where time is at a premium and hand mixers are a royal pain. It would be hard to find many 21st century home bakers or cooks who don't rely on a stand mixer, and the attachments which come standard with the best models let the household Chef do a whole lot more with a mixer than just make a cake.
Shopping for a modern mixer can be confusing, so the Groom+Style review team is here to "sift" through the possibilities and "whip" up a list of the top 5 best standard mixers on the market.
It's been the same for decades: most serious cooks want a KitchenAid. And there are very good reasons to want the company's Artisan stand mixer. It features the same impeccable design and construction as earlier Classic models but has a larger five-quart bowl and a more powerful 325-watt motor.
Those specifications aren't quite as robust as some of the other stand mixers on our list. But to our mind, five quarts is plenty and more power is overkill since this machine can power through the toughest dough without breaking a sweat. What puts the Artisan head-and-shoulders above the others, though, is the KitchenAid power hub. You can use more than a dozen optional attachments to turn your stand mixer into a pasta maker, a cheese shredder, a juicer – in fact, it can replace most of the other appliances in your kitchen including the food processor.
[youtube id="_6qswnSqbl4″ width="750″ height="340″ position="left"]
There's a lot more to like about the KitchenAid KSM150PSER including more complete mixing action inside the bowl than seen with competitive machines; the company's description is "59-point planetary mixing action" which sounds impressive, but we're much more impressed by seeing what the mixer actually does – and it does a fantastic job. The twenty available colors to match every possible décor are impressive, too. Oh – and we should mention that we love KitchenAid's pouring shield.
If all you're interested in is power and bowl capacity, upgrade your sights to the KitchenAid Professional series which costs a little more, or check out the Breville or Cuisinart later in this list. If you're searching for an attractive, durable, versatile and time-tested stand mixer with plenty of power to do the job, however, the Artisan is our choice.
A look at the specifications of the KitchenAid KSM150PSER Artisan Stand Mixer:
Capacity: 5 quarts
Bowl: Polished stainless steel
Power: 325 watts
Included accessories: Flat beater, dough hook, whisk, pouring shield, power hub
Warranty: 1 year
Breville is a legendary name in kitchen appliances, but primarily because of its sandwich toasters which have been ubiquitous throughout Britain, Australia and New Zealand for nearly a century. Over time, the company began producing and selling other appliances, including this terrific stand mixer.
The BEM800XL is the most powerful machine on our list of top 5 best stand mixers, and if we were really pushed we might say that as "only" a mixer, it's at least as good as the KitchenAid Artisan.
Groom+Style rank it lower because it doesn't provide the versatility inherent in the Artisan's many attachments and doesn't have the track record of KitchenAid. But we'd be more than happy with one of these babies in our kitchen.
[youtube id="6htGtZhFJco" width="750″ height="340″ position="left"]
Some of the strong features of the Breville: 550 watts of power (probably more than you'll need, but unquestionably a workhorse), a scraper-beater which eliminates the need to keep scraping the side of the bowl during mixing, twelve speeds, a five-quart bowl, a ten-minute timer and auto-shutoff, and "load sensing technology" which shuts the motor off if it starts to overheat.
If you simply want your stand mixer to do its job without the ability to make pasta or perform the functions of other appliances, the BEM800XL is top-notch.
Details of the Breville BEM800XL Stand Mixer:
Capacity: 5 quarts
Bowl: Stainless steel
Power: 550 watts
Included accessories: Flat beater, dough hook, whisk, scraper-beater, pouring shield
Warranty: 1 year, limited
In the same price range as the Artisan and the Breville, Cuisinart's SM-55BC is a good machine but not quite up to the standards set by those other two manufacturers. This mixer is lighter because the case and base are made primarily of plastic and chrome, it's a little noisier, the 12-speed control is quite touchy, and even though the bowl has a 5.5-quart capacity the beaters aren't long enough to mix all of the ingredients if the bowl is close to full.
We still rank the Cuisinart #3 on our list, however, because its 800-watt motor does a good job mixing every type of batter and dough, it has a very useful "fold" setting not often seen on stand mixers, it includes a 15-minute countdown timer and auto-shutoff, and the warranty is terrific.
The Groom+Style review team would go with either of the previous two options at this price level, but there are many Cuisinart devotees out there and this unit may suit their needs quite well.
A closer look at the Cuisinart SM-55BC Stand Mixer:
Capacity: 5.5 quarts
Bowl: Stainless steel
Power: 800 watts
Included accessories: Flat paddle, dough hook, whisk, splash guard
Warranty: 5 years on motor, 3 years on appliance
Not everyone needs a beautiful, heavyweight mega-mixer. Sometimes a less-expensive but solid appliance will do just fine – and this Hamilton Beach mixer will do much more than "fine." It isn't as durable (or as heavy) as a KitchenAid, it doesn't have that mixer's versatility and it's certainly less attractive. But at for the price, and with the same type of complete-bowl "planetary" mixing action that KitchenAid provides, the 63325 stand mixer is a bargain.
The Hamilton Beach's 300-watt motor gives this mixer plenty of oomph to work through most tough cookie or bread dough; there are only six-speed settings but it does have a fold setting as well. One drawback is the 3.5-quart bowl, but it's just about the only negative we've found, other than the lightweight plastic construction of the machine itself.
You probably won't own this mixer for the 20 years a KitchenAid might last – but then again, you can buy three or four of the Hamilton Beach mixers for the same price as one Artisan. That's not a bad tradeoff.
Facts and figures for the Hamilton Beach 63325 6-Speed Stand Mixer:
Capacity: 3.5 quarts
Bowl: Stainless steel
Power: 300 watts
Included accessories: Flat beater, dough hook, whisk
Warranty: 1 year, limited
Home cooks who spend a lot of time using a mixer know that the newer designs with a single whisk or paddle usually do a better job than units with old-fashioned double beaters. They're also considerably more expensive. With our list of top 5 best stand mixers dominated by the pricey models, we've checked out inexpensive alternatives which use double beaters. The Sunbeam FPSBHS0302 is the clear winner.
This plastic mixer has a very impressive motor for the price, 250 watts with five speeds – not enough to mix everything, but enough for most batters. It is also unusual in that the beaters rotate independently and not in tandem, and the bowl is allowed to spin freely; this combination provides better mixing action than is normally seen in double beater models. Finally, the beater assembly easily comes off of the stand to be used as a hand mixer.
Don't expect the Sunbeam to last a lifetime or compete with the results you'll see from the KitchenAid or even the Hamilton Beach. Do expect it to be a very good lightweight stand mixer for about 35 bucks.
An in-depth look at the Sunbeam FPSBHS0302 Stand Mixer:
Capacity: 3 quarts
Bowl: Stainless steel
Power: 250 watts
Included accessories: Chrome beaters, dough hooks
Warranty: 1 year, limited
Do these not quite meet your requirements maybe you need a Foor Processor or Blender?