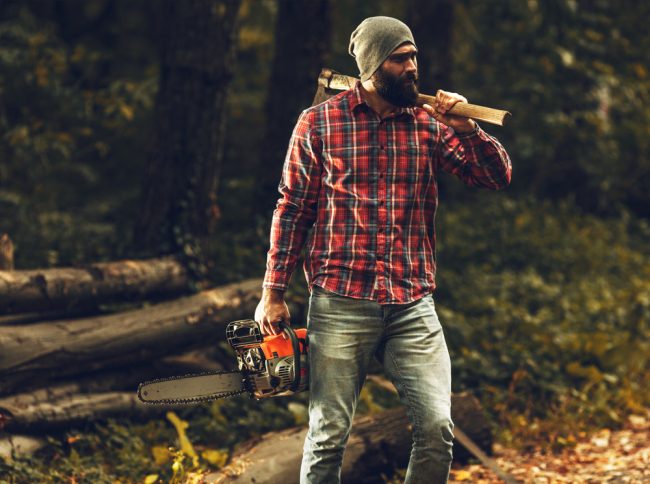 It's not only Leatherface (from the iconic horror movie The Texas Chainsaw Massacre) or modern-day Paul Bunyons who need chainsaws. These powerful tools are must-haves for homeowners whose trees need frequent maintenance, those with fire pits or fireplaces which require a constant supply of firewood, or easily-angered people with annoying neighbors (just kidding about that last one, of course).
Whether it's because of horror movies or statistics, many would-be "lumberjacks" are scared to even go near a chainsaw.
The former isn't really justifiable, naturally; after all, all you have to do repeat to yourself: "It's only a movie. It's only a movie." The latter fear, though, is somewhat reasonable. The Consumer Products Safety Commission reports that nearly 30,000 people are injured in chainsaw accidents every year.
But cars are dangerous, too. The keys to driving a car or using a chainsaw are knowing what you're doing and doing it responsibly. Once you've learned the right proper approach and techniques, and the important safety measures to take, there's nothing to fear from a chainsaw except the understandable urge to keep chopping things down.
Different Types of Chainsaws
Chainsaws are categorized in two different and related ways: power source and size.
Gas-Powered Chainsaws
Gas-powered models are best used for big jobs because most are designed for heavy-duty work. They are typically are larger and heavier, with chain bars that are between 16 and 18 inches long for "home" tasks and 20 inches or longer for professionals.
Gas units require less effort from the user because of their greater power, which allows faster and more efficient cutting. However, they're very noisy and create exhaust fumes, and they require regular fueling (most with a gas/oil mixture, not regular gas) as well as the maintenance necessary for any gas-powered engine.
Manufacturers do make smaller and less-powerful gas chainsaws, but most people who have smaller jobs to do will opt for a battery or electric model.
Corded Electric Chainsaws
Second on the "powerful" list are corded electric chainsaws. They generally don't have the beef of their gas-powered brethren but the best can still take down smaller trees and thick branches with relative ease, with chain bars that are typically 14 inches long.
Their obvious drawback is being tethered to a power outlet or generator; they also require a heavy-duty (12-14 gauge) extension cord to perform up to their capabilities. On the positive side: they don't make anywhere near as much noise as a gas chainsaw, they don't choke you with exhaust fumes, and they're easier to handle.
Cordless Chainsaws
Finally, lighter-weight cordless chainsaws have the least power and have to be recharged frequently, but are easy to carry around the yard or garden. They're perfect for many small trimming and pruning jobs and taking down small trees or branches with their 10-12 inch chain bars. The best way to use a battery-powered unit is to have several batteries already charged, so you can swap them out while doing your work.
You might be surprised to learn that the price of a good cordless model is pretty close to that of a gas-powered chainsaw; corded units are typically the least expensive of the three choices. Cost is obviously the key variable for some buyers but for most, determining where and how they plan to use their power saw is what will determine the type of chainsaw they need.
Important Chainsaw Features
The raw power of a gas-powered chainsaw can usually be measured by the power and torque of the motor, but you also will want to consider some key specifications and features.
Low kickback (the pushback that occurs when the chain hits something or is pinched by the wood while cutting) is extremely important when using a gas unit; the best chainsaws minimize the issue with smaller "kickback zones."
Other features to look for on these powerful models are anti-vibration handles, an automatic chain oiler, chain brakes, tool-free chain tension adjustment, an automatic kill switch and if you live near anyone else, a muffler.
Kickback and vibration are much less of an issue for electric chainsaws, but still, something to consider. More important are a slip clutch and a current limiter, which limit or cut off power to the chain if it gets snagged, as well as the automatic chain oiler and tool-free chain adjustment already mentioned. The maximum current on a corded model and the battery runtime (plus recharge) time are also specs to look at on electric units. For any chainsaw, of course, weight and price are also factors.
Let's cut through all this verbiage, and get to the Groom+Style best chain saw reviews top 5 list. We'll be focusing on models suitable for homeowner use, rather than super-expensive 20-inch professional models.
You're not surprised that a Husky tops our list? Good, we didn't think you would be. Husqvarna's legendary quality shines through in this gas-powered model, with an 18-inch chain bar that's just the right size to blast through most trees and firewood while still versatile enough for lighter trimming around your property.
The review team was impressed by this relatively-lightweight Husky's 50.2cc two-cycle X-Torq engine, which delivers 3.2 horsepower and is designed to cut exhaust and improve fuel efficiency. It's still noisy but quieter than many gas competitors and needs gas/oil refills less frequently. There's also a centrifugal air cleaning system that preserves engine life by keeping it clean while running, and a SmartStart system that makes this Husky likely to get going with just one pull.
Almost all of the other features you'd want to see in a gas-powered chainsaw are here: tool-free chain tensioning, low-vibration dampeners, an effective chain brake for low kickback, and comfortable handle and controls – although you only get automatic chain oiling if you upgrade to the 20" 55.5cc Rancher model. There are even felling marks to help you judge exactly where you're cutting.
The Husqvarna 450 is a real workhorse for homeowners who are put their chainsaw to the test, able to master regular lawn chores and heavier cutting without being too heavy to maneuver. It's the most expensive unit the Groom+Style reviewers have checked out, but it's also the best.
Facts and figures on the Husqvarna 450 18-Inch Gas Powered Chain Saw:
Type: Gas-powered
Engine: Two-stroke, 50.2 cc X-Torq, 3.2hp
Bar length: 18 inches
Chain pitch: 0.325 inches
Max noise level: 104dB
CARB compliant: Yes
Weight: 11.3 pounds
Warranty: Two years, extendable to four years with fuel mix purchase/online registration
Check Husqvarna 450 18-Inch Gas Powered Chain Saw Price on Amazon
You've all heard of Husqvarna but Tanaka may be an unfamiliar brand to you, even though the company has been making outstanding lawn equipment for decades. The TCS40EA is a good example of the terrific tools Tanaka produces, not as powerful as the Husky we've looked at but definitely not as expensive, either.
This chainsaw has a 40cc two-stroke commercial grade engine pushing 2.4hp, along with an 18-inch chain bar that may not be able to fell that huge oak tree you've been wanting to take down, but can handle almost anything else. There's also emission control engine technology that cuts way down on the fumes and makes the Tanaka CARB-compliant.
Coming in under ten pounds, the Groom+Style review team was impressed with the ease-of-handling of the TCS40EA18, as well as the five-point anti-vibration system, inertia-activated chain brake and easy-start system that uses a primer bulb to prevent an endless struggle with the pull cord. The chain-tensioner is tool-free and it's easy to make adjustments from the side of the unit.
Not quite as powerful or as pricey as the Husqvarna, the Tanaka TCS40EA is a terrific second choice for homeowners who want to have a great consumer-level chainsaw at the ready. It can handle almost all of your everyday work from trimming to firewood cutting and is a pleasure to operate.
More detail on the Tanaka TCS40EA18 18-Inch Gas Powered Chain Saw:
Type: Gas-powered
Engine: Two-stroke, 40cc, 2.4hp
Bar length: 18 inches
Chain pitch: 0.325 inches
Max noise level: 96dB
CARB compliant: Yes
Weight: 9.7 pounds
Warranty: Seven years for consumer use only
Check Tanaka TCS40EA18 18-Inch Gas Powered Chain Saw Price on Amazon
You're not going to be able to pick up a very good, brand-new gas-powered chainsaw for a song. But here's a reasonably-priced model for those who don't need the power and size of the first two entries in this best chainsaw review top 5 list. You can find competitors for lower prices, but not with the same reliability and easy-start dependability.
The lightweight Echo CS-310 has a 14-inch chain bar and a 30.5cc two-stroke engine, and is fully capable of handling medium-sized jobs around your property; in fact, the Echo's weight almost fully compensates for the lesser power and torque of the engine, since it's extremely easy to maneuver while cutting larger tree limbs and even trunks.
There's an automatic chain oiler on the CS-310 as well as a decent vibration-reduction system, an inertia-activated chain brake and tolerable kickback due to its smaller size. The only real downside is that you need pliers and a screwdriver to adjust the chain.
Those who don't need a large and powerful gas chainsaw will be more than happy with the Echo CS-310, which does a very nice job for its size and is typically about half the price of the Husqvarna.
Looking deeper at the Echo CS-310 14-Inch Chain Saw:
Type: Gas-powered
Engine: Two-stroke, 30.5cc, 1.8hp
Bar length: 14 inches
Chain pitch: 0.325 inches
Max noise level: 94dB
CARB compliant: No
Weight: 8.8 pounds
Warranty: Five years
It's unusual to find an electric chainsaw that can compete with some of the top-level gas-powered models on the market. The UC4051A is the exception to the rule; it's from a high-end manufacturer, it's durable, and it's powerful and aggressive without strong kickback issues. You can do almost anything with the 16-inch chain bar of this Mikita that you can do with its gas-powered cousin reviewed earlier, without the noxious exhaust or the need to fiddle with gas/oil mixtures. In short, it's the perfect chainsaw for those who don't like gas units.
Of course, you'll have to deal with the cord issue if you go electric, but you may find that the negative of being tethered to an outlet is outweighed by the benefits of this chainsaw, which include an automatic chain oiler, tool-less chain adjustment, built-in current limiter and impressive chain speed.
It's normal to "think gas" if you need a chainsaw with lots of power and features, but the Makita UC4051A is an outstanding corded model that can hold its own with many excellent gas units. It's on the expensive side for an electric chainsaw, but worth it.
Specs for the Makita UC4051A Electric Chain Saw, 16":
Type: Electric, corded
Motor: 14.5 amps
Bar length: 16 inches
Chain pitch: 0.325 inches
Max noise level: 90dB
CARB compliant: N/A
Weight: 15.3 pounds
Warranty: One year
Finally, here is the Groom+Style review team's choice for the best battery-powered chainsaw. Like the Makita electric model, the Ego Power+ performs much more impressively than you'd expect from a non-gas-powered unit. It's light enough to maneuver easily, it's quiet enough that you probably won't need ear protection, and it's powerful enough for everything you'd want to attempt cutting with a 14-inch chain bar.
The secret is Ego's 56-volt two-volt lithium-ion battery, a powerhouse that the company uses on some of its other consumer machinery because it's far superior to the smaller batteries usually seen on power tools. You'll still have to recharge after 15-30 minutes of actual cutting time, but that's the sacrifice you make in return for the portability of a cordless chainsaw.
[youtube id="zlSGKfUk-Vw" width="750″ height="340″ position="left"]
You won't sacrifice features like a low-kickback design, a chain kickback brake, tool-less chain adjustment or an automatic chain oiler because they're all included; the Power+ is even water-resistant. If you want better performance and longer running time you can upgrade to a 2.5 amp battery, but the better deal is upgrading to the Ego CS1604 which has a higher-powered battery (5 amps), a 16-inch chain bar – and of course, more weight and a higher price tag.
The price of the Ego Power+ is typically comparable to that of the Tanaka gas-powered model we've reviewed earlier, but that's a very good deal for a cordless unit that doesn't feel or perform like a toy and performs better than many lighter-duty gas chainsaws.
Digging deeper on the Ego Power+ CS1401 14-Inch Cordless Chain Saw:
Type: Electric, cordless
Battery: 56-volt lithium-ion, 2 amps; 15-30 minutes runtime, 40 minute recharge
Bar length: 14 inches
Chain pitch: 0.325 inches
CARB compliant: N/A
Weight: 11.4 pounds
Warranty: Five years chainsaw, three years battery
Check Ego Power+ CS1401 14-Inch Cordless Chain Saw Price on Amazon
The Groom+Style review team hopes you found this review entertaining and informative.  If you are still hungry for some more power tools then you might just be able to convince yourself that you need a top of the range leaf blower to clear away the wood chips left over from tearing through all that wood!