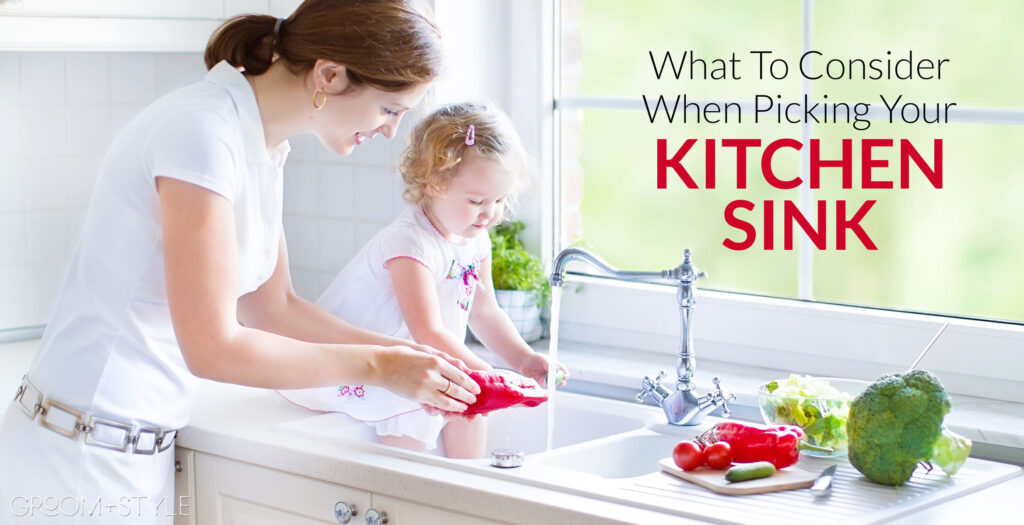 The kitchen sink tends to be the most often used appliance in the kitchen. And, unlike many kitchen appliances, which the cook in the house primarily uses, everybody in the house will use the sink daily for something – to wash their hands, clean their plates, get a drink, or water the family pet. Kitchen remodels are the best time to consider purchasing and installing a new sink, particularly if you plan to   as well. There are many options available for finding the sink that best fits with your lifestyle and uses.
When it comes to picking a sink, start by brainstorming a few questions:
What's your budget?
How many people will be using the sink? This will impact the size of your sink.
Do you often use a soaker sink? Using one side to soak and/or wash your dishes.
Do you frequently rinse vegetables?
What kind of countertops do you have or will you have? This may impact whether you choose a dropped-in or under-mounted sink.
Is noise a problem?
How tall is your faucet? This will impact the depth of your sink.
What to Look for in a Sink
How Big and Deep Should It Be?
As you look for sinks, you'll probably find that larger kitchens will have big multi-basin sinks. However, for a small kitchen, a sink that is too large, including double-bowl sinks, can monopolize kitchen space, making the area feel smaller than it should.
If you're having a difficult time picking out the best size for your kitchen, use this rule of thumb:
For kitchens that are less than 150 square feet, use a 22×24 inch single-bowl sink.
For kitchens that are larger than 150 square feet, add a multi-basin or large farmhouse sink.
Most sinks range from 6-12 inches deep. A deeper sink will reduce splash, but some people find them uncomfortable, depending on the height of the counters and an individual's own height.
Ceramic or Stainless Steel?
One of the first decisions you will need to make when choosing a kitchen sink is the type of material. Both of these materials are time-tested, so the important factors to consider are the look that you want and which material fits your lifestyle. There may be a specific brand name that you recognize, but a name brand or high-end manufacturer might have little to do with the sink's performance. For this reason, we recommend you pick your sink based on the material.
Stainless Steel
Stainless steel sinks offer a modern appearance that can fit with many different colors and themes and can clean up to a reflective shine. Stainless steel materials are normally measured by gauge. Lower gauges refer to thicker steel which will provide more strength and durability. However, the gauge has little to do with a sink's performance. Stainless steel sinks are a good choice when it comes to being able to handle extreme heat, hold up when heavy pots are dropped into them, and for the most part are not affected by household chemicals.
One drawback of stainless steel is how loud they are. If you prefer a quieter or muffled sink, try installing sound-absorbing pads on the bottom and sides of the sink's exterior. The steel can scratch over time, so it's common to use a bottom grid to prevent scratching.
Enamel and Ceramic Sinks
Enamel sinks offer a wide range of color options to brighten up a kitchen space and add to a more playful decor. The enamel is a coating that is applied over either cast iron or steel. These sinks aren't damaged by heat. They are, however, liable to scratch, chip, or crack if something heavy is dropped onto them. Enamel is considered a more low-end option.
Porcelain sinks, in particular, offer a traditional look, adding a vintage charm to the kitchen. The recently popular farmhouse sinks are often made of porcelain. While porcelain is very durable, it can chip or develop stubborn marks and scuffs over time. Certain chemicals used on porcelain can also cause that beautiful sheen to become dull and fade over time. This option required a bit more maintenance and repair than a stainless steel option.
Undermounted or Top-Mounted?
Top-mount sinks may also be called drop-in sinks. This is because the sink is dropped into the counter from above, and the lip rests on top of the existing countertop. These tend to be the easiest to install for someone who's going to do it themselves. Top-mount sinks may detract from the look and design of a gorgeous countertop. Without periodic cleaning and maintenance, dust, dirt, and grime can build up around the lip, making an otherwise nice kitchen look rough around the edges.
Undermount sinks are installed from below the countertop. They have a chic, clean, and often minimalist look that cuts down on the clutter that a sink lip adds to the countertop. These sinks are extremely convenient for those who like to cook, and particularly for those who often work right on the countertops, as any mess, spills or crumbs can be swept right into the sink without catching on a lip.
Undermount sinks often require professional installation and tend to be more expensive. When thinking about depth, take into account that an undermount sink can be around 1 inch lower than top-mounting sinks.
Common Types of Sinks
Double Bowl Sink
Double bowl sinks refer to sinks that have two basins; offering one for soaking and the other for rinsing. If you decide to install a double bowl sink, make sure that at least one of the sides is large enough for you to wash your larger pots and bowls.
When it comes to double bowl, rectangular sinks are the standard. However, D-bowl models are curved at the back to offer an even wider front-to-back space.
Farmhouse Sink
Sometimes referred to as "apron-front sinks," farmhouse sinks are deep and most often single bowl. Their faucet is often attached to the countertop or wall. They tend to be stylish, offering a country-kitchen look, and their wide open space cuts down on the appearance of clutter. They also have a shorter opening in the front, making them more accessible to shorter individuals and families with children. Farmhouse sinks often require special cabinetry below them, and the apron can cause dripping that is liable to damage cabinetry if spills aren't properly taken care of.
Tips for Shopping Around
Make sure your chosen sink has all the appropriate holes and spacing to fit the hardware for your faucet. While it's best not to drill extra holes into the sink, you can use a baseplate to disguise an extra hole when there are too many.
Households that use their kitchen for frequent cooking might consider purchasing a sink that's compatible with accessories, such as draining racks and sprayers.
Solid surface sinks will often match your countertops to give you a seamless, polished look. If you're interested in installing solid surface countertops, consider integrating them with a matching solid surface sink as well.
If you're looking for something a little different to add a burst of interest to your kitchen, consider other materials, such as copper, granite, or natural stone.
Remember, sinks are one of the most low-price aspects of a kitchen remodel. Yet they can do a lot for a small-scale remodel, to tie together a look or theme, or even clean up the appearance of a kitchen space and counter, whether granite, quartz, tile, or something else.