Cristiano Ronaldo is known not only for his impressive soccer skills but also for his signature hairstyles. Over the years, Cristiano Ronaldo has tried out a variety of different haircuts and styles, always keeping up with the latest trends and experimenting with new looks.
Some of the most iconic hairstyles from Cristiano Ronaldo are the buzz cut, slicked back, side part, and even messy, textured look. These styles add a touch of sophistication and style to his overall appearance.
Overall, Cristiano Ronaldo hairstyles are always on point and help to add to his already impressive personal style. Whether he's sporting a buzz cut or a slicked-back look using hair gel, Cristiano Ronaldo always looks fresh and stylish. Therefore, many people want to steal his looks.
Do you want to look as stunning as this soccer star? Check out the list of Cristiano Ronaldo hairstyles throughout the years!
7 Top Cristiano Ronaldo Hairstyles
Buzz cut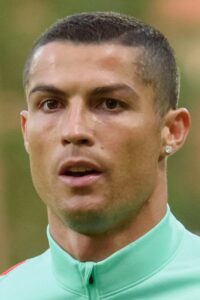 One of the best Cristiano Ronaldo haircut ideas is the buzz cut. This classic haircut is clean, sleek, and low maintenance, making it perfect for the busy soccer player. To get the look, Ronaldo has his hair trimmed very short all over, with the sides and back buzzed down to the skin. This style is great for those with thin or fine hair, as it can help to add volume and texture to the hair.
Slick back
Another popular Cristiano Ronaldo's hairstyle he has sported is the slicked-back look. To achieve this style, Cristiano Ronaldo combs his hair back and applies a strong hold hair gel to keep it in place. This look is perfect for those with thick or wavy hair, as it helps to tame frizz and flyaways.
Crew cut fade
In comparison to past Cristiano Ronaldo hairstyles, he also tried cutting his hair short. The Portuguese striker is wearing a crew cut fade haircut that looks chic and current. Additionally, it is easy to maintain and useful, which is what you often look for in the ideal sports haircut.
Classic comb over
Classical fashion is always a hit, and Cristiano Ronaldo knows it. You may wear it throughout the tensest football matches without worrying about your appearance if it is polished and well-kept. Cristiano Ronaldo makes sure this short haircut sits well to wear because of the generous application of stronghold hair gel.
The Mohawk
Cristiano Ronaldo frequently experiments with a Mohawk style. However, he never goes after a standard one, flaunting its many versions instead. He's styled a high top into a point with a dime-sized quantity of a styling product. The sides are styled with a high-tapered men's haircut, which draws emphasis to the hawk.
Short side swept haircut
It's difficult to tell whether you're looking at a sports superstar or a Harvard student with an Ivy League haircut. This Cristiano Ronaldo short haircut combine trimmed sides with a longer top combed over to either side. A side part is as essential to this cut as a football is to the game.
Short pompadour + undercut
Cristiano Ronaldo's attempt to cut his hair short consists of a short pomp combed to one side and separated from the sides by a hard part. Ronaldo chooses a hair gel, and he doesn't skimp on the quality. This hairstyle is no exception.
Most Frequently Asked Questions
Who cuts Cristiano Ronaldo's hair?
Cristiano Ronaldo trusted his hairdo to Manuel Cortés, who became renowned for his tagline "Manuel Cortés, 3000 a month," which is the lyric of a song that went viral in 2015 and had about 2.5 million views on YouTube. Currently, the La Vileta barber is ecstatic.
Conclusion
Cristiano Ronaldo has undoubtedly been rocking various hairstyles throughout his career. If you want to look like Cristiano Ronaldo, feel free to copy his hairstyles. Just make sure that you are confident enough to wear it. Also, apply enough amount of hair gel to keep your Ronaldo's hairstyles in their place.
After all, looking good is not just about the clothes and hairstyle that you choose but also about how you wear them. So, which one of these Cristiano Ronaldo hairstyles that you're going to wear next?