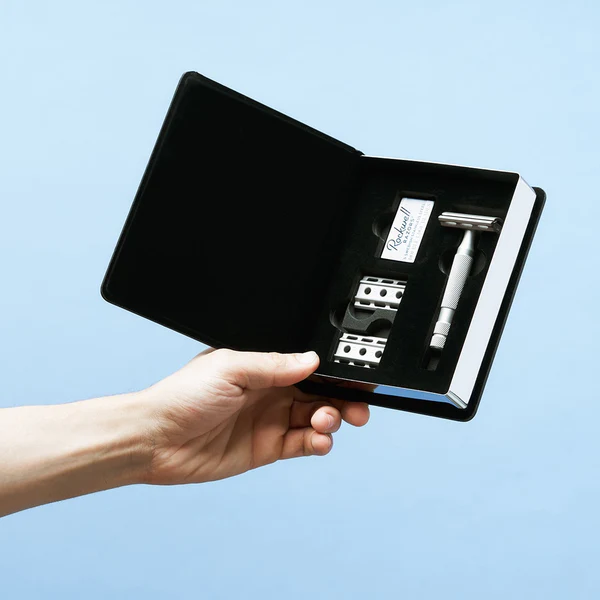 The industry of shaving & grooming is packed with quality options for safety razors. Amidst the competitive selections, it is safe to say that Rockwell 6s is leading the industry, especially with its unique, promising features.
If you're looking for excellent adjustable safety razors with no hefty price tag, this product is the perfect fit, especially if you have sensitive skin. Find out why in our review below!
Features of Rockwell 6s
Rockwell razor has been committed to delivering comfy, full-of-great-features products with no marketing gimmicks — hence their "gimmick-free" slogan.
Let's do a detailed breakdown of the features of the Rockwell 6s safety razor!
Material
Crafted from pure, durable 316L Swedish stainless steel with a matte finish, the Rockwell 6s has an elegant design with four color selections: matte, matte black, matte blue, and matte red. 
Durability
Due to its stainless-steel materials, this Rockwell razor can last quite a long time. Therefore, there's no need for an often replacement during use, even if you use it for daily shave routines.
Size
This one is quite a short, bulky razor compared to other Rockwell razors. The overall razor length is 95mm with 118 grams of weight. Meanwhile, the handle length is 85mm with a 13mm diameter.
Blades
Sharp blades that will give you a close shave during use while preventing razor bumps, skin irritation, nicks, and cuts.
The exciting part is the adjustability of the blades. There are six blade settings that offer different aggressiveness of blade gaps to cater to your personal preference during shaving. The settings are:
R1: 0.008″ (0.20 mm)
R2: 0.014″ (0.35 mm)
R3: 0.019″ (0.48 mm)
R4: 0.024″ (0.61 mm)
R5: 0.027″ (0.69 mm)
R6: 0.031″ (0.79 mm)
Higher blade gaps are more suitable for people whose skin is less sensitive. Therefore, if your skin happens to be very sensitive, use the R1 blade gap instead.
Blade Replacement
This product's blades can be replaced by any brand of double-edge razor blades. Therefore, it will be easier for the user to change the blade anytime, anywhere.
Grip
The great thing about Rockwell razors is that they come with a knurled handle, hence the strong, tight grip during use. Even if your hands are wet or soapy, there is a low chance of slippage.
Pricing
With its preeminent features and durability, this product surprisingly comes at a rather affordable price. The four color selections have different price ranges, though.
The matte one comes at $96, while the matte black, blue, and red ones are $112.
Pros and Cons of Rockwell 6s
This great razor comes with a package of pros as well as downsides. Let's take a closer look at each one of them:
Pros
Elegant design with a wide range of color selections
Anti-rust stainless steel components
Good longevity due to the materials
Short length with heavy weight (perfect for most hands)
Sharp blades that offer close, smooth shave result
Six settings of blades gaps to fit with each skin condition
Flexible adjustability for a comfortable shave
Tight grip due to its knurled handle
Easy blade replacement due to its universality
Great value for money with promising performance
Cons
Not fully knurled handle
Takes some time to understand the blades gaps settings fully
How to Use Rockwell 6s
This product comes in handy and hence is easy to use. Here's the step-by-step on how to use this safety razor:
Step 1 — Apply shaving cream
Before starting to use the razor, rinse your face with warm water and apply shaving cream afterward to the parts that you wish to shave.
Step 2 — Adjust the blade setting
Load the blade and adjust the blade gaps afterward. From R1 to R6, choose the one that suits your needs the most. You can also change the settings during use.
Step 3 — Shave, shave, shave!
Start shaving slowly to know if the blade setting fits you well. You can start by using the R1-R3 to familiarize your skin with the blades.
Step 4 — Apply aftershave
Now that all the bristles are finally gone rinse your face again pat them dry, and apply aftershave to calm the skin.
How to Maintain Rockwell 6s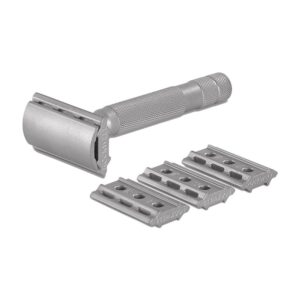 Due to its stainless steel material, this safety razor is quite a low-maintenance product — it won't get rusty easily!
However, you must clean the razor after every use to maintain it. You can start the cleaning session by taking out the blades and rinsing them with clean water. After it is clean from leftover hairs, pat them dry and store it in its box or put it in any container that you have.
Most Frequently Asked Questions
What is the difference between Rockwell 6S and 6C?
Besides the 6S, Rockwell also has another type whose features and appearance are quite similar. However, there are some differences between Rockwell 6S and 6C.
First, the two have different materials. While the 6S uses 316L stainless steel, the 6C uses chromed zinc alloy. The different material makes the 6S heavier in weight (118 grams) compared to the 6C (100 grams).
Then, the 6C has an interesting finish: White Chrome, Gunmetal Chrome, and Rose Gold.
Conclusion
The Rockwell 6S is one of the best adjustable stainless steel safety razors on the market today. It's well-made, durable, and provides a close, comfortable shave. If you're looking for an adjustable razor that will give you a great shave every time, the Rockwell 6S is definitely worth considering.