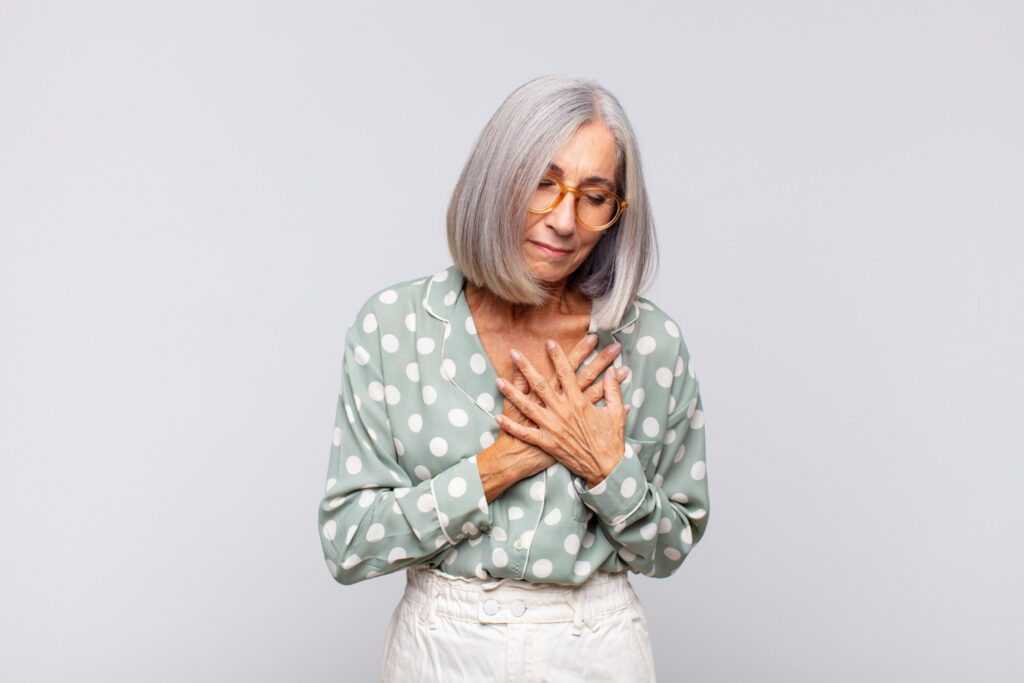 Chest Wrinkles: Causes, Prevention, and Treatment
There's nothing quite like chest wrinkles to make you feel old and vulnerable. Whether these wrinkles are caused by age, sun exposure, or something else, they can be challenging.
But with the proper knowledge and care, chest wrinkles don't have to define your life. In this article, we'll discuss the different causes of chest wrinkles and how you can prevent them from forming in the first place.
We'll also explore some of the best treatments for battling existing chest wrinkles so that you can look and feel your best again. Keep reading to learn more!
All About Chest Wrinkles
You may be familiar with facial wrinkles, but what about the wrinkles on your chest skin? Unfortunately, this condition is inevitable, but you can minimize the effect by understanding it well. Check out our explanation below!
What are chest wrinkles?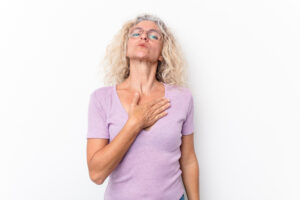 Chest wrinkles are often referred to as décolletage wrinkles or chest lines. They usually form in the area around the collarbone and neck and can gradually spread further down the chest.
These wrinkles are typically more pronounced on those with fair skin and can be caused by several factors, including aging, sun damage, lifestyle choices, and genetics.
What Causes Chest Wrinkles?
Genetics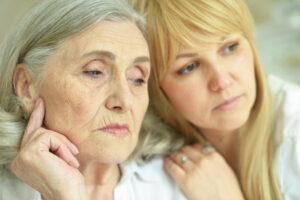 Genes play a significant role when it comes to chest wrinkles. If your family has a history of chest wrinkles, you may also find yourself at an increased risk of developing them.
The production of two essential proteins that keep the skin elastic and smooth — collagen and elastin — is determined by genetics. On top of this, some genes also cause these proteins to break down much faster than usual, resulting in more pronounced lines and wrinkles on the chest area.
Natural aging process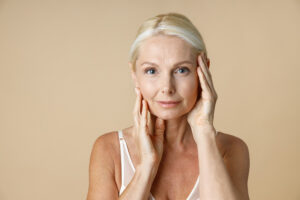 As mentioned before, chest wrinkles are inevitable. No matter your genes, collagen and elastin production in the skin will inevitably slow down as you age. This condition leads to a decrease in the skin's elasticity.
This has a particularly noticeable effect on the middle layer of the skin, which naturally thins out and becomes less able to retain moisture. This can cause wrinkles to form more easily.
Tobacco smoking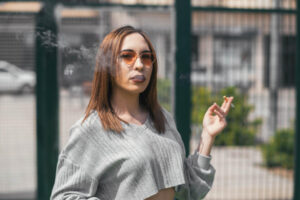 Tobacco smoking has been linked to the accelerated skin aging process due to the free radicals emitted that damage the skin's structural proteins.
Furthermore, a reduced oxygen flow reduces the nutrients available for skin health, leading to lower levels of collagen and elastic fibers in smokers than non-smokers.
This worsens the deterioration of repair mechanisms that control wound healing, as well as collagen and elastin synthesis in the skin — all resulting in wrinkling of the décolleté area.
Sun exposure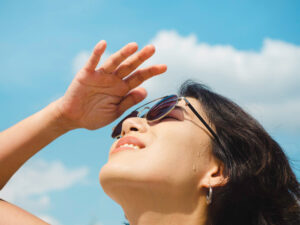 Over-exposure to UV light can harm the skin, accelerating the breakdown of collagen and elastin. Even worse, it can create free radicals, which further damage these vital proteins and mutate our genetic codes so that it could potentially cause cancer.
By being vigilant about sun protection and limiting our use of UV lamps, you can protect yourselves from these risks.
Weight/volume aging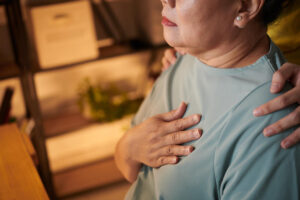 A decrease in the size and shape of the chest can create wrinkles due to excess skin left in the area. Weight gain, pregnancy, or breastfeeding can cause our chests to grow, straining the skin.
When you finally lose that weight and volume, that redundant skin remains and may result in wrinkling.
Can Chest Wrinkles be Prevented?
While chest wrinkles may sound intimidating, there are several preventions you can do to minimize the acceleration of the process.
Stay In The Shade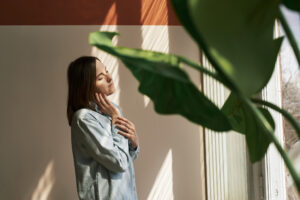 Staying in the shade can be an effective way to prevent chest wrinkles. Prolonged sun exposure increases UV radiation, which breaks down elastin and collagen in the skin, leading to wrinkles.
Additionally, UV radiation is a major source of free radicals, which can damage collagen further and mutate cells, potentially leading to cancer.
By staying in the shade, you can protect your skin from these risks and reduce signs of aging on your chest. Additionally, apply sunscreen of at least SPF 30 as a skin care routine to protect your skin.
Let 'Em Free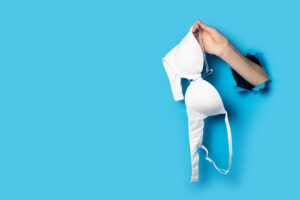 For the best prevention against chest wrinkles, it is vital to ensure your breasts are supported comfortably. This means finding a bra that fits properly, avoiding those push-up bras in your everyday wardrobe, and taking off the overly constricting sports bra after an intense workout.
By doing so, you are not overly subjecting your breasts to the pull of gravity and preventing them from being smashed together to create creases and crinkles.
Commit To Good Sleep Habits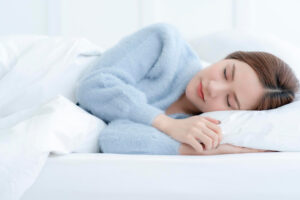 Getting quality sleep is vital for radiant, youthful skin, and to further enhance this effect, experts recommend sleeping on your back to reduce the appearance of wrinkles around your chest.
For those with larger breasts, it is especially important to avoid sleeping on one's side or stomach as the weight of their chest can cause compression in the area.
If you're dead set on your favorite sleep position, try using an adhesive pad or a cleavage pillow to separate them so you can look and feel your best in the morning.
Chest Wrinkle Treatment Options
Silicone Décolleté Pads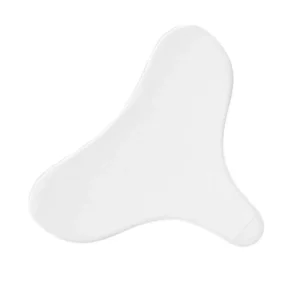 Silicone Décolleté Pads are a popular treatment for chest wrinkles, often known as 'décolletage lines' or 'tech neck'. These pads are made from medical-grade silicone and offer an adjustable and reusable solution to reduce the appearance of chest wrinkles.
The silicone molds to the contours of your chest, providing gentle pressure on delicate skin that can help to plump up wrinkles and improve skin health.
Regularly used pads can soften and smooth out chest wrinkles, leading to a more youthful look.
Aloe Vera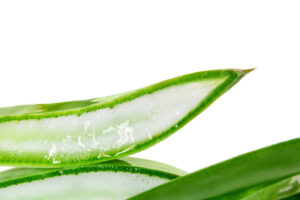 Aloe vera is a popular natural remedy to reduce the appearance of chest wrinkles. It's rich in antioxidants like vitamins A, C, and E, which help protect skin cells from the damaging effects of free radicals.
It also contains polysaccharides that can help to moisturize and plump up the skin, making wrinkles less noticeable. Also, it helps promote collagen production and cell renewal, which contribute to increased skin firmness.
To use it as a chest wrinkle treatment, apply some pure aloe vera gel directly onto your skin for 15 minutes daily before rinsing off with cool water.
Fractionated Laser Therapy

Fractionated laser therapy is a type of laser skin resurfacing that can be used as an effective chest wrinkle treatment. During the procedure, a laser beam breaks up scar tissue and stimulates collagen production for smoother, firmer skin.
The laser is fractionated, meaning it uses small columns of light energy that target deep layers of the skin without damaging the surrounding areas.
As a result, it helps reduce wrinkles and improves tone and texture in the chest area.
The Tight And Taut Workout Plan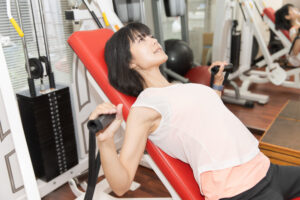 This workout plan combines targeted strength training exercises with intense cardio to help reduce the appearance of wrinkles in the chest area.
Strength exercises help build and tone underlying muscles that support the skin and reduce wrinkles. In contrast, cardio helps burn fat, promoting better overall muscle definition that can further reduce wrinkle visibility.
This workout plan also focuses on proper form and posture to ensure maximal efficacy of its workouts. Following this plan regularly can lead to a more toned and youthful-looking chest in as little as one month.
Hormonal Therapy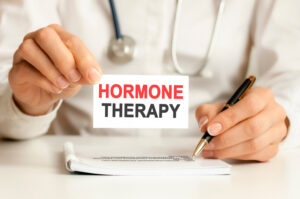 This therapy is a type of treatment that uses hormones to address skin wrinkles in the chest area. It is often used for post-menopausal women who experience sagging and wrinkling of the skin due to hormonal changes.
This therapy helps replace lost hormones and can reduce wrinkles and improve the complexion, elasticity, and evenness of skin tone in this area.
It also helps combat free radical damage, leading to wrinkled, aged skin.
Frequently Asked Questions
Are chest wrinkles a normal part of aging, or can they be prevented?
Like your facial wrinkles, chest wrinkles are a normal part of aging. However, you can take several preventions to reduce its premature appearance by using sunscreen, wearing a fit bra, and committing to good sleep habits.
What lifestyle factors contribute to the development of chest wrinkles?
One of the major lifestyle factors that contribute to chest wrinkles is smoking.
Conclusion
All in all, chest wrinkles can be tricky, and it may take some time to find the right combination to treat chest wrinkles. Keeping up with a preventative routine is the best way to minimize the appearance of chest wrinkles.
However, if you're already dealing with them, treatments are available to get rid of chest wrinkles or at least minimize their appearance. Consider visiting a dermatologist; they can recommend more targeted treatments based on your skin type and goals.
Remember that even with care and attention, no one has perfect skin — so don't pressure yourself into worrying about every little line or wrinkle!