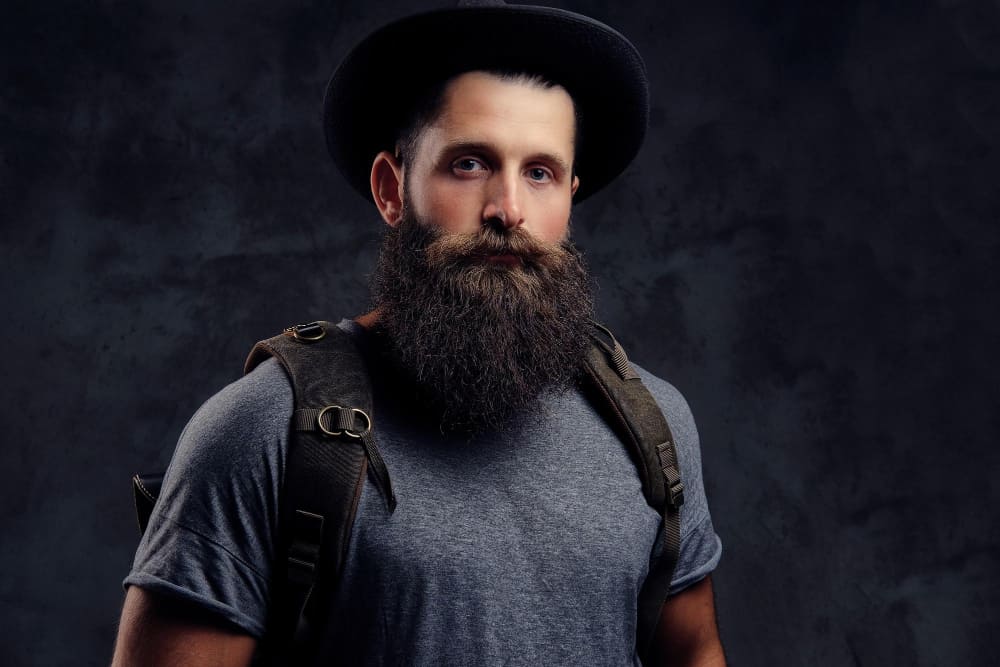 Garibaldi Facial Hair: A Fashion Trend Resurfaces
Are you ready to unleash your inner rebellious self? Looking for a style that screams confidence and rugged charm? Look no further because the Garibaldi facial hair trend is back, and it's making waves in the world of men's fashion!
This facial hair style is all about embracing your wild side while maintaining an air of sophistication; it's the perfect blend of ruggedness and refinement.
Interested to find out more? Read on!
What is a Garibaldi Beard?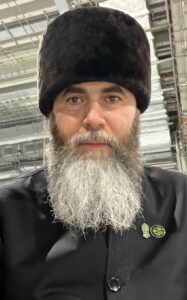 A Garibaldi beard is a facial hair style characterized by its fullness, length, and natural appearance.
It is named after the legendary Italian general Giuseppe Garibaldi, who was known for his thick, untamed beard. This iconic look is characterized by its fullness, length, and natural appearance, giving any man an air of suave masculinity.
This beard typically features a medium to long length—roughly around 20 cm—with the hair growing freely and naturally without excessive grooming or precise shaping. It is often accompanied by a mustache, which complements the overall look.
Most Popular Garibaldi Beard Styles
Like any other beard style, there are many variations to the Garibaldi beard. Here are some of the popular ones.
Faded Sideburns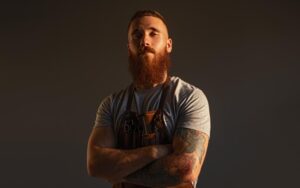 Not committed enough to go full-rugged look? The faded sideburn style is a perfect choice.
Create a seamless transition from shorter hair near the temples to longer hair near the beard. Then, freely shape the bottom part of your beard in an edge round—no need to be too precise!
This style results in a balanced look while highlighting the Garibaldi beard even more—suitable for men who want to emphasize ruggedness while keeping it toned down.
Beard With a Bald Head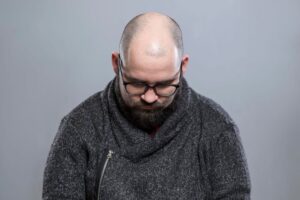 While the faded sideburn style keeps the top hair in place, this style completely omits the top hair. A Garibaldi facial hair with a bald head is a striking combination that exudes confidence and style.
This look involves shaving the head completely bald while maintaining thick Garibaldi facial hair. It creates a bold and masculine appearance, highlighting the strong facial features and adding a touch of ruggedness.
Beard With a Bun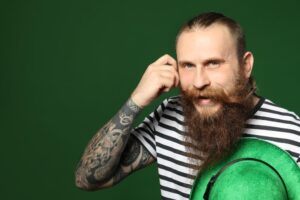 If you want the rugged touch of Garibaldi facial hair without sacrificing your long, top hair, you're always free to shoot it out. In fact, a man bun will look stunning when coupled with a Garibaldi beard.
To avoid looking too rugged, you can combine the bun with low-faded sideburns. The result? A balanced hair look on top and bottom!
Garibaldi With Monkey Cap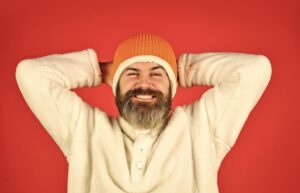 Don't fancy the hassle of picking a certain hairstyle to accompany your Garibaldi facial hair? Want to keep your beard fresh during winter? Try putting on a monkey cap.
A monkey cap is a type of winter hat that covers the entire head, including the ears and neck. The cap is designed with a long flap that can be pulled down to cover the face and chin, resembling a monkey's face.
You can choose whether to tuck your full beard in for a safer alternative or let it out for a bolder look—both look amazing!
Long Mustache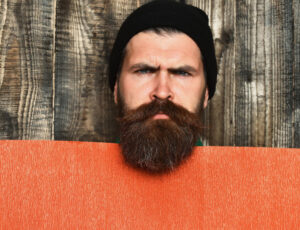 While the Garibaldi facial hair is often accompanied by a moderate-length mustache, opting for a long mustache can exude a bold and distinguished look.
The mustache is grown long and extends past the corners of the mouth down to the chin, often shaped and groomed to curve downward in an inverted V-shape.
The beard complements the mustache by shaping it into a rounded shape. This style is characterized by its fullness.
Long Beard With Long Hair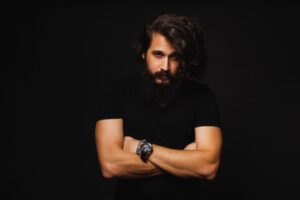 If the man bun does not suit your preference, you can always let your long hair loose while rocking the Garibaldi facial hair. Slick it back with hair gel or tousle it and let the breeze blow it over—both are acceptable!
With this style, you emphasize both your beard and your hair, making the overall look fuller and more masculine. Who knows, you might be able to lead a rock band afterward!
Well-Groomed Garibaldi Beard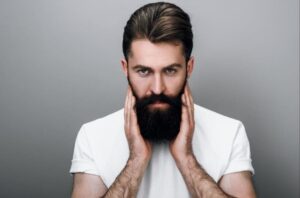 Looking neat while rocking the thick Garibaldi beard? Of course, you can! Though this beard is traditionally known for its rugged, unkempt look, you can opt for a well-groomed style.
To get this look, you must trim the cheek line and neckline to become precisely round-shaped. Trim your mustache, too, so that it blends well with the beard without overlapping.
To add flair, finish the look by applying some hair styling products to your hair. You'll exude a gentleman's energy in no time!
How To Grow and Trim a Garibaldi Beard
Have you decided which beard style to choose? Now it's time to learn how to grow and trim this beard style. Read on!
Shape the Bottom Part of Your Beard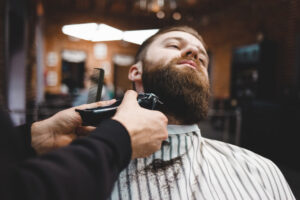 Start by letting your beard hair grow for at least eight weeks without trimming. This will give you enough length to work with when shaping the bottom part. If you already have an adequate length, you can skip the growing part.
Create the rounded shape of the Garibaldi beard by trimming the corners and edges of your beard using a beard trimmer to make them slightly rounded. This will help give your beard a fuller and more symmetrical appearance.
Define Your Neckline and Start to Clean Up the Cheeks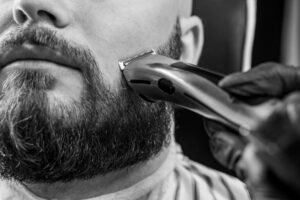 Use a razor or trimmer to create a clean neckline. The general rule of thumb is to locate the point where your neck meets your jawline and create a natural curve or straight line across.
Next, clean up the cheeks by removing any stray hairs or maintaining a desired cheek line. This creates a symmetrical and defined shape.
Trimming the Sides and Snipping Rogue Hairs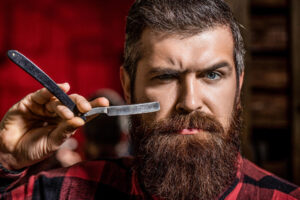 Trimming the sides involves using a clipper or trimmer to trim the hair along the sides of your face carefully. The goal is to maintain a consistent length and shape, ensuring that the sides of your beard blend seamlessly with the rest of your facial hair.
In addition, snipping rogue hairs is also important. Rogue hairs are those unruly strands that may stick out or grow in different directions. However, don't cut it too neat to still achieve the slightly unkempt style.
Trimming the Mustache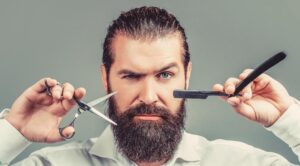 The mustache is an important part of the Garibaldi beard. Thus, trimming the mustache helps maintain a well-groomed and balanced look.
To begin, comb your mustache downward so that all hairs are aligned and lying flat against your upper lip. Avoid cutting too much off at once, as this can result in an uneven or patchy appearance.
Remember that the Garibaldi beard is known for its natural and rugged appearance, so don't be afraid to embrace some length in your mustache.
Frequently Asked Questions
Why is it called a Garibaldi beard?
The "Garibaldi beard" is named after Giuseppe Garibaldi, an Italian military leader known for his full, bushy, and rounded facial hair style during the 19th century.
How long does it take to grow a Garibaldi beard?
The time it takes to grow a Garibaldi beard can vary depending on individual genetics and hair growth rate. Generally, it may take 3-4 months to achieve the desired fullness and length required for a classic Garibaldi beard style.
How do you grow a beard if you can't genetically?
If you can't grow a beard genetically, options are limited. You may try minoxidil to promote facial hair growth or micro-needling to stimulate blood flow. Consult with professionals before attempting any treatments.
Conclusion
In conclusion, the Garibaldi beard offers a unique blend of ruggedness and refinement, allowing individuals to showcase their personal style while maintaining a well-groomed appearance.
Its full and rounded shape creates a sense of boldness and authority, making it an ideal choice for those who want to command attention and leave a lasting impression.
In the end, the Garibaldi beard is more than just facial hair; it's a fashion statement that allows men to embrace their unique style and personality. So, go ahead and experiment with your look!