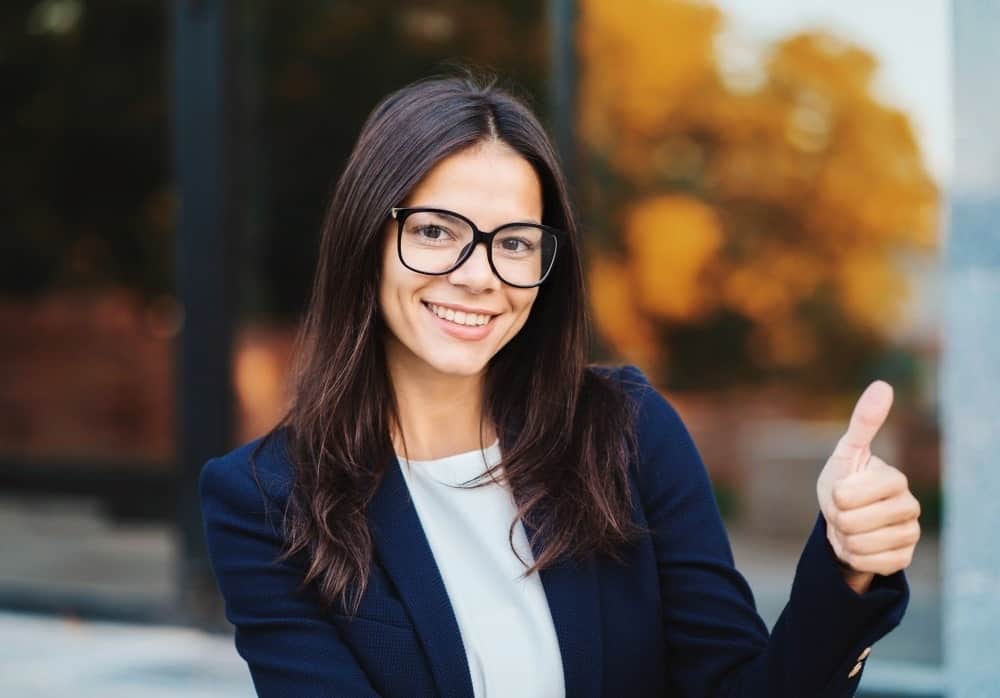 Business casual hairstyles are an essential part of any professional's appearance. They can help to create a formal, polished look that is suitable for the office but also fresh enough back for casual settings.
Whether you have long, short, curly, or straight hair, there are plenty of options to choose from when it comes to styling your hair for a business casual look.
Ahead, we will take a look at some of the best business casual hairstyles for a professional look.
From french braids to sleek ponytails, there are plenty of options for business casual hairstyles to suit all hair types and personal styles to appear with professional hairstyles. Want to get inspired? Read on!
7 Business Casual Hairstyles
Here are our favorite business casual hairstyles that are suitable for business casual looks. Check them out!
French braid
If you have long hair, braided styles, including French braids, never go wrong. This is a versatile hairstyle that anyone can wear in a business casual setting without being too over the top.
You can wear this hairstyle as it is or by sweeping it to the side for a more elegant look. You can also use a simple ribbon to tie your braid for added flair.
If you're a first-timer in wearing this style, you might find it challenging to do it perfectly on the first attempt. However, it'll indeed become a lot easier after some practice.
Pigtails
Pigtails are a fun and youthful hairstyle that you can also dress up for a business casual look.
To achieve a more polished pigtail style, brush your hair to remove tangles. Then, form a clean part down the center of your head or to the side, depending on your preference. Next, gather your hair into two equal sections and secure each section with an elastic band.
You can leave the pigtails as is for a more laid-back look, or you can dress them up by adding some texture or volume with a little hairspray or mousse.
Pigtails can be a great choice for a business casual look when paired with a crisp button-up shirt, tailored pants, or a skirt. Just be sure to keep the overall look polished and professional.
Sleek ponytail
While a sloppy pony might perfectly work for your business casual beauty look, there are occasions when you want to keep things sleek. A sleek ponytail hairdo comes in handy here. In fact, this is one of the easiest hairstyles to achieve.
A sleek ponytail can be worn high, low, or somewhere in between. Choose your ponytail style, then gather your hair in one hand and brush it back, including the sides and hair at the nape of your neck. Any rough portions should be smoothed over.
Finally, secure your 'do with an elastic, silk, or satin hair tie, then finish it with hairspray.
French Twist
The French twist is a classic haircut that elegantly draws your natural hair back into an appealing look. It has become a favorite among professionals over the years. It's classy and volumized, creating a perfect business casual look.
Usually, people leave a bit of hair untied on the sides to add more statement.
The highlight of it all is the simple process. However, you might need some practice to create a properly shaped and secured French twist. But trust us, you'll get there eventually!
Sock Bun
The best approach to cover up less-than-ideal natural hair is with an updo. Of course, you shouldn't have to spend much time styling your natural hair for business casual, which is why the sock bun is our top recommendation.
You'll need to start by putting your hair into a ponytail to get this look. Then, create your bun and secure any loose strands. After that, just spray some hairspray on your and begin to work. You can have your hair up in a professional hairstyle within minutes.
Messy Ponytail
You don't need to have flawlessly coiffed hair in a business casual setting, which is one of its best features. In fact, if your workplace isn't overly formal, a loose, messy ponytail is one of the easiest hairstyles, which is ideal to choose from.
You'll have to add texture to your hair first to get this look. Then, pull your pony just below your crown. Frame your face with a few strands out, and then wrap your hair with a hair tie. To keep everything in place, finish it with hairspray.
Just make sure to balance your style by wearing it with a pretty top and cosmetics. The ideal hairdo is one that looks put together but not overdone.
Braided Bangs
Braided bangs are highly versatile and may be combined with any other hairdo.
They're a great hairstyle for work since they neatly tuck your hair out of your face and can liven up your hair with minimal effort.
This style is quite simple; simply braid a little length of hair around your face and pin it to the side. This way, you'll add more statement to your hair while still keeping it elegant.
Most Frequently Asked Questions
How should I style my hair for a business casual setting?
Textured buns, ponytails, braids, and twists are ideal hairstyles for business casual. They help you seem professional by pulling your hair back, but they are more casual and less polished.
Does hair matter for business casual?
Yes, hair definitely matters for business casual, but not highly. When it comes to business casual, you have a bit more flexibility with haircuts. In other words, you can do anything as long as your hair is tidy, presentable, and not too messy.
What is an unprofessional hairstyle?
An unprofessional hairstyle refers to a messy, unpresentable hairstyle in workplace settings.
Even though you have a business casual workplace, it is still important to look tidy and presentable with your look, including your hair.
Some common unprofessional hairstyles are bold undercuts, crimped hair, high-side ponytail, and anything with overly vibrant and contrasting hair dye colors.
Conclusion
If you're looking for a business casual hairstyle that projects confidence and professionalism, any of the fancy hairstyles mentioned above would be a great choice. Remember to keep your hair well-groomed and styled to look put-together and polished.
And if you're still unsure which one to choose to achieve a professional appearance, consult with a hairstylist—they'll help you find a look that works best with your hair type and profession. So, which are your favorite hairstyles?