10 Best Odor Eliminators Review for
September, 2023 

to Make a House Smell Like Home

 – with Buying Guide

It's a great feeling to finally get home after a vacation or a long trip.

You unlock the door, walk inside, feel the warm comfort of being surrounded by your precious belongings and even more precious loved ones, take a deep breath — and —

WHAT'S THAT SMELL?
The sense of smell is a funny thing. Humans quickly become accustomed to the everyday odors which surround them, without noticing that those odors can actually be downright offensive. Friends and relatives may notice them, but most are too polite to say anything.
The everyday smells generated by pets, nurseries, deep frying, unemptied trash cans, smoke, mold and mildew have a way of becoming "normal," unless you take a break from them. It may require a prolonged absence, followed by a reintroduction to the not-so-normal scent of your home, before you even notice that something just doesn't smell right.
And then there are the obvious odors which will never seem normal: the smell left after pet accidents, the residual odor of a fire or sewage backup, the nose-turning signs of food inadvertently left on a counter to go bad.
Air fresheners can cover up those smells temporarily, even if they leave their own somewhat-offensive scent behind. But the real solution to the problem of household odors – an issue in virtually every home – is an odor eliminator.
There are many alternatives, like air purifiers, sprays and gels, and odor-absorbing packets. Each is best suited to a specific type of smell, or a specifically-sized area where odors accumulate.
So how do you decide on the right approach to make your house smell like the home you want it to be?
You spend a little time with the Groom+Style review team, which has evaluated all of the choices and ranked them according to effectiveness and best usage.
Let's get started.
Image
Product
Features

Best Electronic Air Purifier

Levoit Vista 200 Air Purifier

Three-Stage Filtration

Quiet and Effective

No Ozone Created

Check Price on Amazon →

Best Odor Eliminator Gel

Fresh Wave Odor Removing Gel

Absorbs Almost All Odors

Non-Toxic

Long-Lasting

Check Price →

Best Packet or Bag-Style Odor Eliminator

Moso Natural Air Purifying Bag

Long-Lasting

Simple to Use

All-Natural

Check Price →

Best Budget Electronic Air Purifier

Hamilton Beach TrueAir 04532GM Room Odor Eliminator

Covers an Entire Room

Low Price

Optional Filters and Scent Cartridge

Check Price →

Best Pet Odor Eliminator

Nature's Miracle Enzymatic Formula Stain and Odor Remover

Odor Remover

Removes Stains

Prevents Pets' Return to the Affected Area

Check Price →

Best Spray Odor Eliminator

OdoBan Odor Eliminator And Disinfectant Spray

Nearly 100% Effective Against Odors

Disinfects

Good Value

Check Price →

Best Bag-Style Odor Eliminator Kit

Sensible Needs Bamboo Charcoal Air Purifying Bag Kit

Five Bags for Five Uses

Lasts for Two Years

Green and Biodegradable

Check Price →

Best Automobile Odor Eliminator

Purggo Car Air Freshener

Effective

Designed to Hang Unobtrusively in a Car

Lasts for a Year

Check Price →

Best Pet Odor Spray

Rocco and Roxie Professional Strength Stain and Odor Eliminator

Very Effective

Removes Stains as Well as Odors

Convenient Spray Bottle

Check Price →

Best Budget Odor Eliminator

Smells Begone Odor Eliminator Gel Beads

Low Price

Easy to Use

Cotton Scent

Check Price →
Best Odor Eliminators
This isn't the biggest electronic air purifier you can find. But many experts will tell you that you're better off cleaning the air in each room of your house individually, rather than buying a massive unit in the hopes that it will serve as an effective whole-home odor eliminator. And the Vista 200 does a great job of purifying the air in rooms as large as 161 square feet (you can probably push that up to 200 square feet if you go a bit above the manufacturer's recommendations).
If you're picturing an old-fashioned humidifier – you're not envisioning the modern, sleek look of this Levoit purifier, which looks more like an Alexa device than a large brown box. It's small enough to sit on a side table or bookshelf, yet its three-stage filtration system is powerful enough to efficiently remove allergens, contaminants and odors from a living room, family room or bedroom.
The review team particularly liked the fact that the second-stage filter is a true HEPA filter (the first-stage is a pre-filter to catch lint and pet hair, the third-stage is an activated carbon filter to fight odors). We were also impressed that the Vista 200 doesn't use ultraviolet or negative ion technology, since models using those approaches are known for creating ozone. There are three fan settings, a sleep mode, a 2/4/8 hour timer and a nightlight, and at its lowest setting this purifier sounds like a white noise machine and can barely be heard. It's energy-efficient, too, and its brushless motor will hold up for the long-term.
You might need several Vista 200 units to eliminate the odors and purify the air in all of your home's rooms. But at well under $100 each, that's still much cheaper than buying a monster air purifying unit that won't perform as well.
Facts and figures for the Levoit Vista 200 Air Purifier:
Style: Air purifier
Filtration: Three stages including HEPA filter, six month filter life
Coverage area: 161 square feet
Size: 7.3 x 7.3 x 12.9 inches
Weight: 5 pounds
Warranty: Two years, limited
2. Fresh Wave Odor Removing Gel
No, that's not a jar of freeze-dried coffee. It's a jar of Fresh Wave gel beads, which can be emptied into any attractive (or ugly, if you wish) container of your choice to continuously remove odors from a room for several months at a time. (You can also purchase the gel beads in a small container with a slotted lid, but buying the refill jar and using your own container is much cheaper.) As the liquid in the gel slowly evaporates, the gel breaks apart the chemical bonds which hold odor molecules together, leaving them inert and no longer smelly. When the beads shrivel and become hard, it's time to replace them.
It sounds deceptively simple. But G+S was impressed by how well this product works, and by the fact that the only ingredients in the gel are water and natural extracts from clove, pine, cedar, clove and lime. That makes the Fresh Wave Gel both non-toxic and biodegradable, and safe to use in the home as long as curious pets or kids can't get their hands on the beads to check them out.
There definitely is a woodsy/citrusy aroma to the gel because of its ingredients, but it's pleasant enough – unless you happen to be sensitive to that type of smell. If you don't mind (or like) the aroma of the Fresh Wave beads, they're an excellent investment in the fight against odors.
Fresh Wave also makes odor eliminator packs designed to go into a garbage or diaper pail, but those will only last a few weeks at most. The Fresh Wave gel is a better buy, and it works wonderfully well.
More details on Fresh Wave Odor Removing Gel:
Style: Gel beads
Effective life: 2-3 months
Coverage area: Smaller room
Contents: 63-ounce jar
Moso bags are very simple products. They're small bags made of porous fabric which contain activated bamboo charcoal, and they're designed to absorb whatever nasty odors surround them. Activated charcoal is considered one of the best natural odor fighters you can find, and these bags are a convenient way to take advantage of the substance's powerful properties in smaller areas like closets, bathrooms and cars (although the manufacturer claims a Moso bag can work in an area as large as 90 square feet).
Since there's nothing else in the bag, there's nothing to be worried about – no toxins, chemicals or fragrances – and there's no residual odor; the Moso removes odors from the air and doesn't replace them or cover them up with another scent which might be problematic. The charcoal also fights the development of mold and mildew, another great reason to use this odor-fighter in your closets. It's also easy to move from room to room as desired, since it weighs well under a pound.
The bag can last for two years, as long as you expose it to the sun for one hour each month. That rejuvenates the odor-fighting power of the activated charcoal (and it's a nice way to show your bag that you appreciate it). When its lifespan is finally over, the bag is recyclable and biodegradable.
No odor eliminator could be simpler to use than a Moso bag, and very few odor eliminators are as effective.
The lowdown on the Moso Natural Air Purifying Bag:
Style: Activated charcoal packet
Effective life: Two years
Coverage area: 90 square feet
Size: 6 x 1.5 x 6.5 inches
Weight: 11 ounces
The Levoit Vista 200 may seem a bit pricey for a single-room electronic air purifier, so here's an alternative which costs less than half the price.
This Hamilton Beach unit pulls in contaminated air and releases cleaned air just like the Levoit, but it doesn't provide all of the same filtration benefits, since the Hamilton Beach's three filters are all the same. They're made of activated carbon designed to neutralize odors, and there are no pre-filter or HEPA-filter stages inside. Even so, it does a pretty nice job of eliminating most nasty smells in rooms up to 100 square feet in size, and optional filters are available to deal with cigarette smoke or pet odors. If you want the TrueAir to pump out a forest-fresh scent, a separate cartridge is available for that, too.
Filters for this model will last about three months, there are two selectable speeds for the fan, and it's an energy-efficient unit. The TrueAir is a little bigger than the Levoit and not as pretty, but it still won't take up much space or be an eyesore.
An electronic odor eliminator that's on the inexpensive side, this Hamilton Beach delivers good performance for the money as long as you don't ask too much of it.
More info on the Hamilton Beach TrueAir 04532GM Room Odor Eliminator:
Style: Air purifier
Filtration: Three carbon filters, three month filter life
Coverage area: 100 square feet
Size: 8.5 x 8.5 x 10 inches
Weight: 4 pounds
Warranty: One year, limited
Since dog and pet odors are such a universal issue and can be nearly impossible to deal with, the G+S review team has selected several "specialty" products designed to eliminate the odors left by our best friends. That's not to say that this Nature's Miracle liquid won't work to fight other nasty aromas, but removing pet odors and stains is where this product really shines.
The full-strength liquid (don't dilute it) works on just about anything you apply it to: carpet and hardwood floors, clothing and furniture – not just cancelling out odors, but removing stains permanently as well. It works by breaking down urine and other substances that have created the mess with enzymatic action. Just as impressive, it neutralizes the pheromones left when pets soil an area, so they're not tempted to return to the same place to try again. Nature's Miracle has been making this stuff for decades, and generations of pet owners still swear by it.
One caution: there are several versions of the liquid, each with a different scent, and some are easier to take than others. Unscented Nature's Miracle is the most expensive choice, but the least likely to offend your sense of smell – or your pet's.
Nature's Miracle is a rather presumptuous name, but if you try it after having been stymied trying to deal with Fido's messes around the house, you'll understand why the name really is an apt one.
Specs for Nature's Miracle Enzymatic Formula Stain and Odor Remover:
Style: Liquid
Use: Direct Application
Contents: 1.5 gallons
6. OdoBan Odor Eliminator And Disinfectant Spray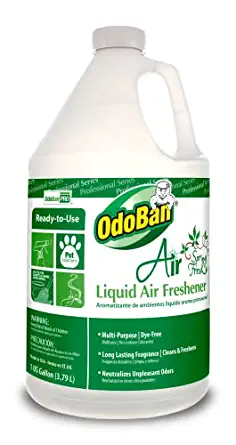 Some people just have to clean. They're the ones who mop, vacuum, dust and wipe down surfaces on a daily basis. Some even do it as their default activity when they're bored. We're not saying that you have to be one of those people to prefer to take a more active role in getting the odors out of your house — but if you are, OdoBan Odor Eliminator is your type of product, a spray that kills nearly 100% of the germs that cause odors in the home.
This spray is industrial-strength, but it's meant for use on any non-porous, washable surface in a house as well. It can also be applied to bedding, upholstery, carpets and walls, disinfecting as it goes on and dispersing odors for good. Unlike Febreze, OdoBan is biodegradable and doesn't contain any "iffy" ingredients; the only thing that might be a bit off-putting (the review team was split on this question) is the product's strong Eucalyptus scent.
The package comes with a gallon of OdoBan concentrate, a spray bottle with a trigger, and directions for making the odor eliminator solution. That means you'll have a single gallon bottle for quite a while, unless you really go overboard with the cleaning thing.
If you're more inclined to do your own odor removal instead of letting a machine or canister of gel do it for you, OdoBan is just the product you're looking for.

 

Looking closer at OdoBan Odor Eliminator And Disinfectant Spray:
Style: Liquid concentrate for spray application
Use: Mix with water and spray
Contents: 1 gallon of concentrate, makes 32 gallons of spray
7. Sensible Needs Bamboo Charcoal Air Purifying Bag Kit
The Sensible Needs air purifying kit is very similar to the Moso Bag we've already reviewed, but it's not just a single odor eliminator packet. It's a set of five separate linen bags filled with activated bamboo charcoal, for use throughout a house (along with an air freshener to be used in your car). We've ranked it lower because it's priced higher, and may be "more product" than you're looking for. It still performs on a par with the Moso, however.
There are two larger bags meant to be used in open spaces like bathrooms or kitchens, one bag which the company calls "medium" that's the right size for a closet or refrigerator, and two small bags to go into your shoes. No one on the Groom+Style team would admit they thought that was necessary, but there were a few knowing nods in the room.
Chemical-free, totally "green" and biodegradable, the linen bags contain nothing but the powerful anti-odor filtering agent, activated charcoal; as with the Moso product, renewing the bags in the sun once per month will let them last for two years.
The "medium" sized bags are really pretty small and the shoe bags may be superfluous, but there's no arguing with the effectiveness of this Sensible Needs kit.
More info on the Sensible Needs Bamboo Charcoal Air Purifying Bag Kit:
Style: Five activated charcoal packets
Effective life: Two years
Coverage area: Two small rooms, one closet, two shoes
Bag weights: 2 x 200g, 2 x 50g, 2 x 75g
8. Purggo Car Air Freshener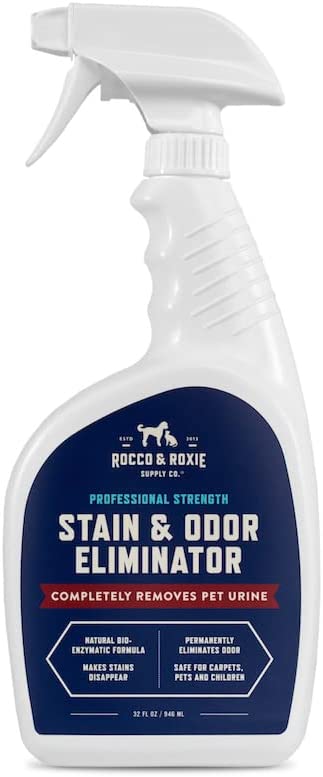 This is another specialty odor eliminator, and it's almost identical to the Moso and Sensible Needs products: a hemp bag that contains activated bamboo charcoal. What sets the Purggo bag apart, though, is that it's designed for use in a car. The bag hangs over the back of a seat's headrest and works quietly to trap and absorb the air particles that are responsible for the odors you can seemingly never quite get out of your automobile. It will do its work quietly and scent-free for a year, as long as it's renewed once a month.
Many members of the review team, undoubtedly like most readers, have spent years trying not to object when they've had to ride in a car with an overpoweringly scented "air freshener." For them, riding in a car that uses this Purggo to keep the interior clean is – pardon the expression – like a breath of fresh air.
You'll pay quite a bit more for a Purggo car air freshener than you will for one of those dangling gas station pine trees that hangs from the rear view mirror. It's money very well spent.
Looking deeper at the Purggo Car Air Freshener:
Style: Activated charcoal packet
Effective life: One year
Coverage area: Car interior
Size: 13.6 x 1.6 x 5.3 inches
Weight: 13 ounces
9. Rocco and Roxie Professional Strength Stain and Odor Eliminator
Rocco and Roxie is a well-regarded company in the pet care world, and their stain and odor eliminator is our second ranked product designed to take care of stubborn pet smells. Unlike Nature's Miracle, it comes as a spray instead of a liquid. But like Nature's Miracle it can do miraculous things, when you're ready to give up on particularly stubborn dog stains and odors.
Rocco and Roxie's spray works in the same way, too. It releases enzymatic bacteria which are activated when they come in contact with pet feces, vomit and urine (and the ammonia in it) to completely absorb and neutralize the offensive smell, while erasing the stain. It can be used on floors and carpets, kennels and litter boxes, clothing, furniture and pet beds without causing damage, and it will stop pets from returning to the scene of the crime as they're wont to do. It just plain works.
You'll pay about the same price for this Rocco and Roxie spray as you will for the Nature's Miracle liquid, but the choice between the two really comes down to whether you'd prefer the concentrated liquid or the convenience of a spray bottle.
A closer look at Rocco and Roxie Professional Strength Stain and Odor Eliminator:
Style: Spray
Use: Direct Application
Contents: 32 ounces
10. Smells Begone Odor Eliminator Gel Beads
We close our top ten rankings with our budget odor eliminator choice from the aptly-named Smells Begone. This is a 12-ounce jar of gel beads, which sits quietly on a shelf or table as the gel's essential oils neutralize the odors in the room by breaking the chemical bonds of odor molecules. The beads will work for several months, until the gel has completely evaporated.
The one criticism we have of this product isn't with its effectiveness, but with its marketing claims. The company says the small jar of gel beads will eliminate odors in a 450 square foot area, which is either a huge misprint or a silly claim. The effective range is actually more like the size of a small bedroom or large bedroom. We also have the same warning that we've mentioned for all gel bead offerings: the product itself is non-toxic, but you might want to make a different choice if you have pets or small children in the home.
The price is definitely right for the Smells Begone product, but you may find that its light "fresh cotton" scent isn't your cup of tea. If you like the aroma, this is a nice bargain pick.
More information on Smells Begone Odor Eliminator Gel Beads:
Style: Gel beads
Effective life: 2-3 months
Coverage area: Smaller room
Contents: 12-ounce jar
Odor Eliminator Buying Guide
The definition of "bad odor" can be subjective.
The strong smell of corned beef-and-cabbage might be a nostalgic reminder of childhood holiday dinners to one person – but it can be a clear signal to someone else to vacate the house for a day or two. For some, a pleasant floral scent may be the perfect finishing touch for a bedroom or powder room – but it could be a powerful allergy trigger for others.
Some odors are activated or worsened by environmental conditions like temperature or moisture. That explains the "I thought I smelled something bad, but it seems to have gone away" rationale for ignoring a foul odor. Add in our normal tendency to become accustomed to the smells that surround us on a daily basis, and it's easy to understand why odor elimination isn't always at the top of everyone's Sunday chore list.
However, there are certainly some smells which are clear signs to most people that something has to be done. A few, like natural gas or sewage, leave little doubt as to their cause and the necessary response. Others odors simply fall into the category of "What smells so bad?" And unless you've experienced them in the past their origin could be a mystery, and you could be baffled about what to do next.
A natural first impulse is to grab a can of something-or-other and spray it into the air, trying to get rid of the smell. Even if that works, it will only take care of the issue for a short time and doesn't address the more important root cause. It's odor cover-up, not odor elimination.
The proper first step is to identify the source of the odor, and then deal with the root cause rather than simply treat the symptom.
Common Household Odors
The smell of rotten food coming from a kitchen disposal isn't difficult to diagnose. Other odors are trickier. Here's a quick look at some of the most common.
Rotten eggs: Sure, some rotten eggs could be hiding on a counter or in the fridge. It's more likely, though, that you either have a plumbing problem or a gas leak.
Wet socks, rotten wood, rotten apples: These are the telltale signs of mold or must in your home.
Bad fish or urine: Unless you've just served fish for dinner or have a pet with physical problems, you probably have electrical issues; burnt insulation or components often emit this annoying smell.
Dead animals: One of the two things to know about dead animals is that they smell just like you think they would, disgusting and sickly. The other is that they can be almost anywhere in the home. There's one other possible cause of a dead animal smell: a large insect nest hiding somewhere in your house.
None of these awful odors will go away until the root cause is treated and corrected, and most are structural or safety issues which need to be addressed sooner or later. Other bad smells which might require more than just an external odor eliminator include residual smoke and pet-related damage which has gone untreated for some time. Each may remain until the walls are painted and the carpet is replaced (or thoroughly steam cleaned).
Once you've dealt with any serious causes of odors in your home it's time to be proactive, by choosing one or more methods for long-term odor elimination and prevention.
Types of Odor Eliminators
There are four major types of odor elimination products to consider.
Sprays: We're not talking about "fresh air scents," which only cover up a bad smell with a stronger smell (which may or may not be offensive as well). Odor eliminator sprays (the best known of which is Febreze, but there are better choices) work chemically to trap odor molecules and then neutralize them. Some do also include perfumes or scents, but those aren't the key to their performance.
Packets or bags: Packets of odor-fighting ingredients work much the same way as sprays, but they're easier to use if your problems are concentrated in a few rooms of the house. A packet of odor-eliminating ingredients placed near the source of the smell eliminates the offending molecules, and works for as long as two years before it needs replacement.
Gels: These are similar to packets, but the gel beads usually come in an attractive container which can blend in with a room's décor.
Air purifiers: These come in two forms. One is the "plug-in" type which you insert into a wall outlet; it typically contains a small carbon filter which traps and neutralizes localized odors, and is best used in small spaces like bathrooms. The other is a larger appliance suitable for whole-room deodorization (for areas as large as 100-200 square feet); they pull in the room's air to perform multi-stage filtration and purification, and then recirculate clean air back into the space. Filters usually must be changed every few months.
All of these options can work well, as long as you choose an effective product (and Groom+Style, naturally, is here to help). Choosing between the alternatives is primarily a matter of considering how strong and pervasive your odor problem is, and how much money and effort you want to throw at the issue.
Odor Eliminators and Safety
It always makes sense to ask about the safety of any product used in your home, particularly if you have children or pets. Those questions are particularly important for air freshening sprays, since the majority – even those labeled "natural" or "organic" – contain odor-masking chemical ingredients that can form possibly-hazardous organic chemicals when they combine with ozone in the air. Some also include potentially-toxic disinfecting agents to kill bacteria, while others use compressed gases like propane or butane to propel spray into the air.
The concern is nowhere near as great with odor elimination products, though. Most use natural ingredients, without the chemical masking agent which can unintentionally cause secondary toxicity.
You'll often find activated charcoal in these products, a commonly-accepted and safe active ingredient which is so porous that it absorbs odors easily. Many contain enzymes such as amylase and protease, which create a chemical reaction that breaks down proteins in odor molecules to neutralize them. And most which add a scent to help cover odors or freshen the air use natural extracts from woods or spices.
The review team has factored the safety of active ingredients into our rankings of the top ten odor eliminators on our list, so you won't have to search through lines and lines of tiny print on the labels. (Many major commercial products, like Febreze, don't even list all of their ingredients, making that task even more difficult). One note: gel beads can be swallowing hazards in homes with pets and young children.
Choosing an Odor Eliminator
You should consider two major factors when choosing a type and brand of odor eliminator for your home. The first is the type of odor(s) you want to eliminate, and the second is balancing price with the size of the area you need to cover.
Some products are designed specifically for specific kinds of smells. For example, a packet created with ingredients that counteract the musty smells common to closets probably will not be as effective against pet odors. Conversely, odor eliminators targeting the pet smells which linger in carpets will often primarily contain baking soda, which isn't going to be able to fully counteract strong odors which call for treatment with enzymes and/or activated charcoal.
Odor elimination products like gels and packets are only meant to be effective in a small area. They may have some residual impact elsewhere in a room, but shouldn't be counted on to keep a large space odor-free. Electronic air purifiers, on the other hand, are designed to eliminate odors in an entire room and can be a "set it and forget it (until it's time to change the filter)" solution.
But as always, you get what you pay for. An electronic purifier can cost ten times the amount you'll pay for a small packet, spray can or gel container. Which is more cost-effective and a better choice for your home? That's a decision for you, not us.
One final consideration: be sure you're not creating one problem by solving another. Even though manufacturers may feel that the natural scents they include in their odor eliminators contribute to a more pleasant environment – not everyone will feel that way. Fragrance sensitivities and allergies affect millions of people, and for whatever reason, that number is increasing every year. If anyone in your home or family is sensitive to certain scents, you may be doing them a big favor by choosing an unscented odor eliminator product.
Frequently Asked Questions About Odor Eliminators
Q: What types of odors can an odor eliminator eliminate? (We ask that question with apologies to Peter Piper and his picked peppers.)
A: Almost any of them, if you've made the right choice for the odor and the space. A good eliminator will take care of everything from trashcan aroma to stale cooking odors, smells from diaper pails to pet messes, must and mold to cigarette smoke. The only time you should find a need to call in reinforcements (which may come in the form of professional remediators) are when you've suffered through a fire, flood, sewage overflow or other natural disaster.
Q: Are odor eliminators safe to use around kids and pets?
A: Electronic ones are. When it comes to sprays, packets and gels, it depends on their ingredients, but most truly all-natural choices are safe for household use. Look for a "non-toxic" label, but also check the ingredients individually, if you want to err on the side of caution. The one exception, as mentioned earlier, are the beads used in many odor eliminator gels, which are small enough to be swallowed by curious children.
Q: How long will an odor eliminator work for?
A: Air purifiers are like most other electronic appliances; good ones will work for years, as long as the filters are changed according to schedule (usually every three months). Gels will usually work for about 2-6 months depending on their size; some packets will be effective for as long as two years. Sprays, needless to say, will work until you use up the contents of the can.
Q: Will an odor eliminator product work better than household solutions like baking soda, bleach, vinegar and/or ammonia?
A: Usually.
Baking soda is a versatile odor-fighter and is an ingredient in many commercial products. Strong smells are sometimes too much for baking soda to fight by itself, though, and it can actually damage materials like glass, aluminum, marble wood, silver and ceramic.
Vinegar, bleach and ammonia used as cleansers are great ways to counteract some smells, but they have their own pungent smell of their own (which many people hate), and bleach and ammonia can be irritating or even toxic.
Conclusion
Selecting the best odor eliminator to refresh your home's scent can be a daunting task, but the right choice can make it effortless. Our review of the top 10 odor eliminators reveals that each product has unique features and limitations, so it's crucial to select one that aligns with your individual requirements and preferences.
Be it trying to fight pet, smoke, or cooking odors, the ideal odor eliminator will help you breathe easier and enjoy your home to the fullest.