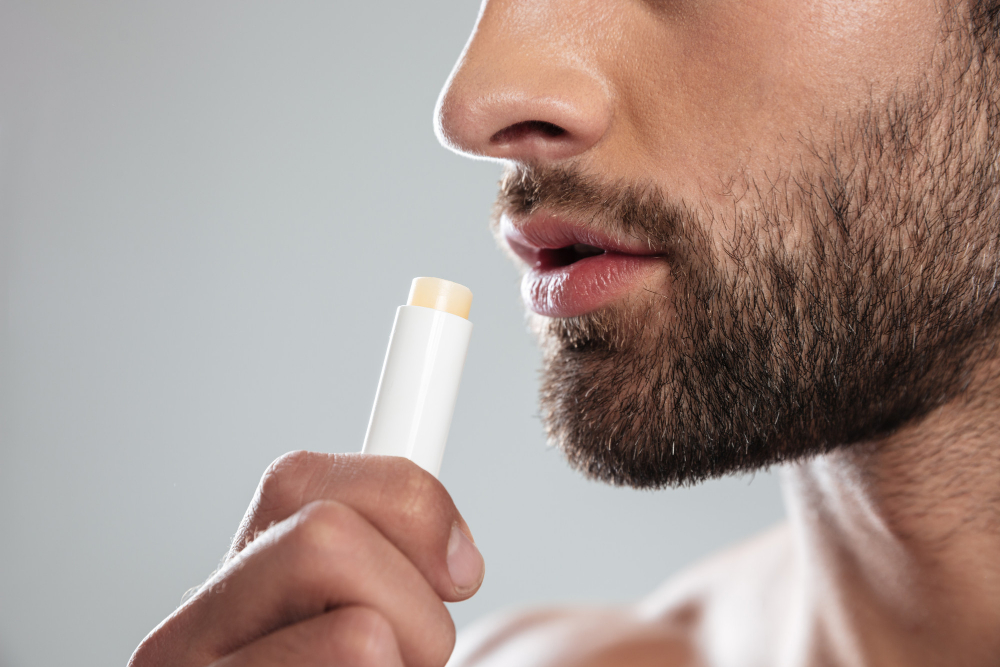 Chapped lips don't play favorites. Whether you're a grownup man or a youngster, everyone needs to take care of their lips, especially during winter.
In fact, looking after your lips is just as important as looking after your face — maybe even more since they are extra sensitive to dryness and can easily pick up infections. Putting on chapstick in public may be slightly uncomfortable, but it's best to brave those 15 seconds of awkwardness than suffer with sore, cracked lips.
However, trying to figure out what the best chapstick for men is can be a challenge, given all the products on the market with varying ingredients and prices. To make sure you're keeping your lips hydrated and healthy, we did the legwork and put together a list of the best chapstick for men on today's market. Ready to get rid of those tough lips and soft touch? Read on!
Lip Balm vs. Chapstick: What's the Difference?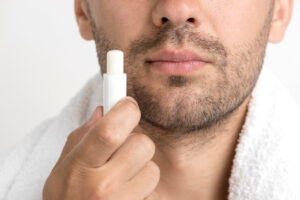 Lip balm and chapstick are both products that help to keep your lips hydrated and protected from chapping or dryness.
The main difference between the two is their primary ingredients: lip balm tends to contain more oils, while chapstick is wax-based. Both provide a barrier over the skin to retain moisture and guard against environmental damage.
Also, another fun fact is that the term "ChapStick" actually refers to a specific lip balm brand. However, most people nowadays use the term interchangeably with lip balms.
Why You Should Use Lip Balm Daily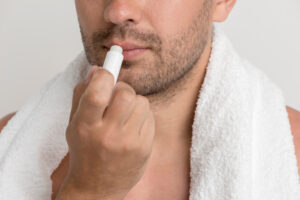 Using lip balm daily can help to keep your lips hydrated and protected from harsh environmental conditions. Lip balm can provide a layer of moisture retention, which helps to prevent dryness, chapping, and cracking.
Moreover, using the best chapstick for men is one of the chapped lips remedies that can help heal existing damage and soothe irritated skin. Therefore, applying lip balm throughout the day ensures that your lips stay moisturized and healthy all day long!
7 Best Chapstick for Men
Say goodbye to dry, chapped lips with these best chapstick products for men!
1. Burt's Bees Beeswax Lip Balm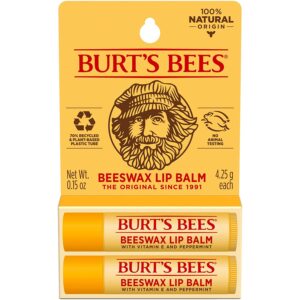 Oh, you must have seen this yellow tube everywhere at least once in your life — people are crazy about it! And certainly, it's for good reasons.
This best lip balm product contains beeswax and enriching ingredients like vitamin E and coconut oil that are responsibly sourced. When you put it on, you can feel its refreshing tingle thanks to the peppermint oil. Plus, it's made of only natural ingredients with no harmful properties like phthalates, parabens, petrolatum, SLS, and other chemicals, so you can rest assured!
Key Benefits
Made with responsibly sourced Beeswax, Vitamin E, and peppermint oil
Moisturizes and nourishes dry lips
Cooling effect
Matte finish
100% natural ingredients
Free of phthalates, parabens, petrolatum, SLS, and other chemicals
2. Jack Black Intense Therapy Lip Balm SPF 25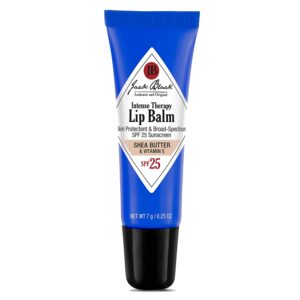 Just like its name, Jack Black lip balm offers intense therapy for your chapped lips — it is also one of the best chapstick for men products if you're looking for superior windburn protection! It contains 25 SPF and is made with natural ingredients like shea butter and avocado oil to soften lips.
Also, vitamin E and green tea extract provide antioxidants to protect from harmful UV rays. Plus, this intense therapy lip balm comes in delicious flavors like grapefruit, mango, and pineapple that taste nice on the lips. Simply swipe this easy-to-apply tube across your lips and bring it on the go!
Key Benefits
Offers SPF 25
Contains moisturizing shea butter and avocado oil
Contains vitamin E and green tea extract to protect from UV rays
Guards against windburn and temperature extremes
Easy to bring on the go
3. Carmex Lip Balm Jar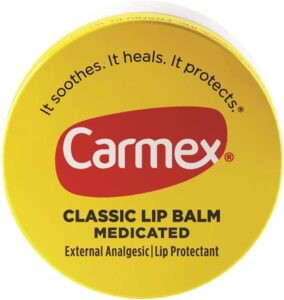 If you're okay with using your fingers to apply lip balm, Carmex Lip Balm Jar is among the best lip balm choice. You'll notice that this product leaves the lips feeling soft, hydrated, and smooth in one swipe.
What makes people love this product is that the camphor-infused formula is thick yet light enough that it doesn't feel greasy or heavy. The jar is also unique in size for portability and easy application.
Plus, the cooling sensation of menthol after application makes this best chapstick for men a great pick for those winter months.
Key Benefits
Soothes, heals, and protects lips
Non-greasy formula
Portable jar packaging
Exudes a cooling sensation from the menthol
4. Malin+Goetz Mojito Lip Balm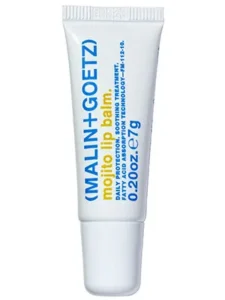 Who can resist a mojito-flavored lip balm? Malin+Goetz Mojito Lip Balm is the perfect way to get your mojito fix while waiting for fun moments. It's moisturizing and nourishing, so you don't have to worry about it drying out your lips. Also, its gel moisture-rich formula makes it non-heavy for the lips.
Plus, you only need a little dab each application since a little goes a long way. With this best chapstick for men, You'll be left with a subtle shine afterward!
Key Benefits
Tasty mojito flavor
Moisture-rich gel formula
Non-heavy to the lips
Moisturizing and repairing dry lips
Subtle shine finish
Color-free, cruelty-free, and vegan
5. Baxter Of California Hydro Salve Lip Balm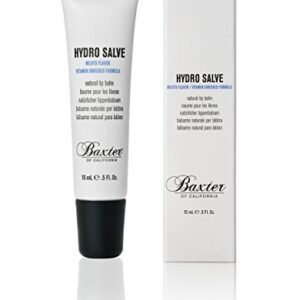 When it comes to simplicity and moisturizing formula, Baxter Of California's Hydro Salve Lip Balm doesn't disappoint. This product is formulated with natural ingredients such as coconut and jojoba oils to nourish and hydrate your lips.
This best chapstick for men is natural and has a pleasant citrusy scent from lemon-lime and peppermint oil that lingers for quite a while, leaving a mojito vibe. Plus, it exudes a bit cooling sensation due to the Gotu kola ingredient. With this product, feel as if you're savoring your favorite booze!
Key Benefits
Contains moisturizing coconut oils, jojoba oils, and vitamins
Contains natural ingredients
Keep lips soft and hydrated
Exudes cooling sensation
Pleasant citrusy scent
Practical tube packaging
6. Kiehl's Facial Fuel No-Shine Moisturizing Lip Balm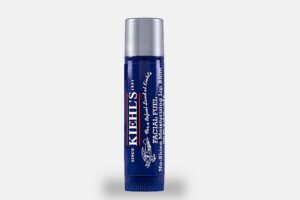 Need the moisture and nourishment from a lip balm but don't fancy the shiny effect afterward? Kiehl's Facial Fuel No-Shie Moisturizing lip balm is the best lip balm to choose from. Living up to its name, this product moisturizes your lips with its shea butter ingredient and leaves them supple with no shine.
Moreover, it exudes a faint mint scent, so it will make the application comfier with no overpowering cool sensation. Plus, its packaging is perfect to use on the go!
Key Benefits
Moisturizes lips with shea butter ingredients
Protects lips from dehydration
Shine-free matte finish
Portable for use on the go
Exudes a faint mint scent
7. Eos Strawberry Sorbet Lip Balm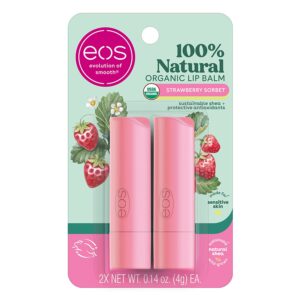 This yummy-flavored, soothing product was specially made for men with sensitive skin so that it can provide all-day moisture. What people love about this product is the simple, chic packaging with a strawberry sorbet aroma that wafts through the air once you open it.
Its thin formula is easy to work with and won't leave a mess behind — a simple swipe, and you're ready to rock the day! However, if you don't like fragrances in your skincare products, then this one of the best chapstick for men products might not be for you.
Key Benefits
Yummy flavor
Ideal for sensitive skin
Hypoallergenic
Dermatologist-tested
Cruelty-free and gluten-free
Frequently Asked Questions
What ingredients should men look for in chapstick?
If you have sensitive skin, look for chapsticks with ingredients that can help to keep moisture in without causing irritation. Great options include glycerin, mineral oil, aloe, lactic acid, and sorbitol. Beeswax and vitamin E are top choices if you want to seal moisture in, but they may cause a reaction for very sensitive skin.
Can chapstick be used to treat cold sores?
Though it can be used to treat cold sores, professionals do not recommend chapstick. This is because this product may not be strong enough to provide relief. In addition, the use of chapstick might risk the spread of infection. Thus, it is best to consult your doctor for advice on proper treatments for cold sores.
Conclusion
So there you have it, the best chapstick for men products on the market. We've put in the hard work of finding and testing, so all you have to do is pick your favorite (or favorites!) and enjoy soft, kissable lips.
If you want a classic product with great moisturization, opt for Burt's Bees Beeswax Lip Balm. Then, choose Jack Black Intense Therapy Lip Balm SPF 25 if you want extra protection from sun rays. Meanwhile, Eos Strawberry Sorbet Lip Balm is suitable if you want a yummy-flavored lip balm.
Remember to pick the best chapstick for men products that fit your needs and preferences. So, which product on the list catches your attention?