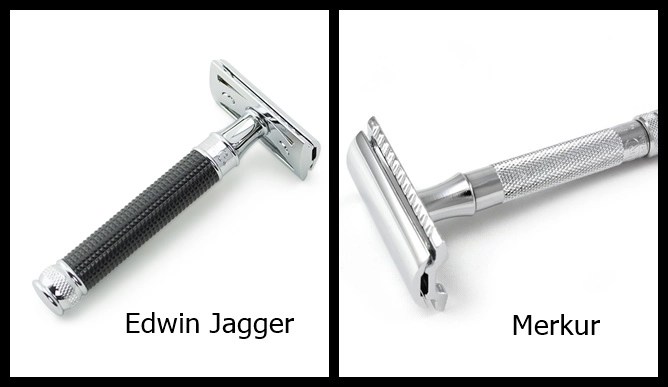 Finding a razor is not easy because there is always a brand that must be compared—from the size to the specifications. One brand that is continuously compared is Edwin Jagger vs Merkur. The reason is that the shape and specifications are almost similar.
If you are the one who compares these two safety razors, you can see the full explanation below. Who do you think is the best between Edwin Jagger vs Merkur?
Edwin Jagger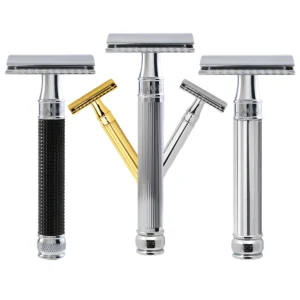 Edwin Jagger, founded in 1988, has built an incredible reputation for designing and manufacturing a wide range of contemporary and classic wet shaving tools and accessories of the highest quality. Edwin Jager can assist you whether you need the world's best cartridge razor or any other products useful for beard grooming and shaving, such as a premium shaving gel.
However, Edwin Jagger's most famous product line is its safety razor. The company provides traditional safety razors that are guaranteed to make shaving easier every time. You can even find single-use disposable razors here, guaranteed to give an elegant, beautifully designed, cost-effective shaving solution.
Type of Edwin Jagger
Edwin Jagger DE 3ONE6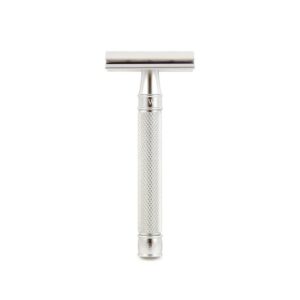 This 3ONE6 razor is made of stainless steel and has three individually machined parts in the handle. The collar, knurled grip, and end cap are all CNC-machined for precise and consistent results. The stainless steel head was created using the latest MIM (Metal Injection Molding) technology.
The handle's middle section is stainless steel with lovely knurling that provides grip in wet environments. This handle option is clean, classic steel, unlike the anodized options in this newly designed razor. This razor comes with a single Feather blade.
Edwin Jagger DE86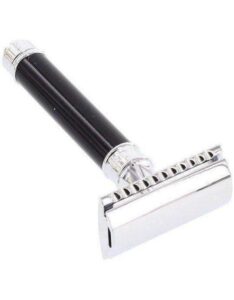 Edwin Jagger double-edge safety razors have the best head design, with perfectly balanced handles and heads. These razors look as good as they work. The Edwin Jagger DE86 is no different. Its elegant ebony handle is black polyester and chrome plated and provides excellent balance, allowing the head weight to do all the work. This is an appealing investment piece at a very reasonable price, suitable for both beginners and experts. The DE86 is a classic three-piece razor that accepts all DE razor blades and comes with one free Feather blade.
Edwin Jagger DE89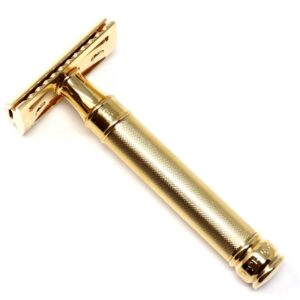 The Edwin Jagger DE89 is a well-known brand's beautiful, well-made safety razor. The chrome-plated head and body will add a classic, elegant style to any wet shaving regimen. It was designed with a perfect handle-to-head balance to provide a close, comfortable shave with every use. The DE89's low price point makes it ideal for both beginners and experts. This is a classic three-piece safety razor that accepts all DE blades.
Edwin Jagger DE89BA11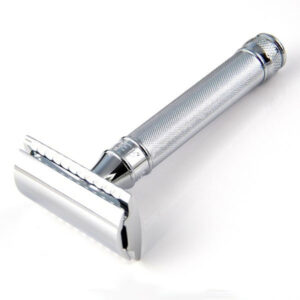 Edwin Jagger DE89BA11 is an exclusively designed and manufactured safety razor that provides wet shavers with the traditional shave they desire. The closed comb head is designed and weighted to do the work of shaving for you.
The lightweight brass handle is chrome-plated as well. The Edwin Jagger name is imprinted around the collar and is precision engraved with a Barley pattern. These details are subtle and tasteful, much like you. The razor comes with one Feather blade.
Edwin Jagger DE Safety Razor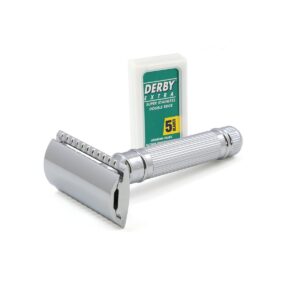 Edwin Jagger's new "extra grip" line of double-edge razors is a design breakthrough. This design's knurled handle features an elegant diamond-shaped, crisscross pattern that is attractive in its chrome-plated brass finish and designed to withstand rust. This piece looks great on display and is also very functional, providing an enhanced grip for wet and soapy hands. This isn't going to go away quickly.
The precision head, found on all Edwin Jagger DE razors, is perfectly weighted and balanced to give you the closest shave with minor irritation every time. It's no surprise that it's popular among experienced and inexperienced wet shavers. The blade head has a closed comb and a beautiful chrome plate. This item was handcrafted in the Edwin Jagger factory in England and came with one Feather blade.
Edwin Jagger Chatsworth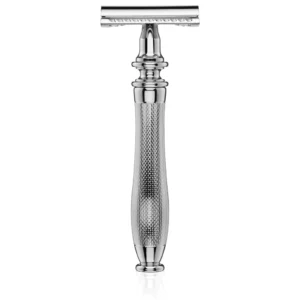 Edwin Jagger, a name known worldwide for handcrafting the finest shaving equipment, has found a perfect match with its hard chrome plated head paired with a classic Chatsworth faux ivory handle made of high-quality polyester materials. This traditional three-piece safety razor is not only a lovely display piece, but it is also well-made, making it a favorite of savvy wet shavers. The new head design provides a close, smooth shave every time, and the longer body style fits comfortably in your hand. All DE blades are compatible. This razor comes in a sturdy presentation box with a magnetic closure, making it ideal for travel.
Pros and cons of Edwin Jagger
Pros
Razors that have been expertly designed are made of high-quality, carefully selected materials.
Cost-effective while remaining elegant and beautiful in design.
The chrome-plated design is stunning.
It has a top-heavy razor that gives you just enough pressure every time you use it.
It provides several handle options, allowing you to find the perfect fit.
Promotes mid-level aggressiveness, which beginners or first-timers can handle.
CONS
The chrome-plated version of the brand's safety razors tarnishes over time.
How to use Edwin Jagger
Get your face ready for shaving
What you should do is gently wash your face with hot water. Alternatively, a flannel or towel soaked in hot water can be used to steam. This preparation is required to soften your beard and relax your facial muscles.
Soak a shaving brush in hot water
After that, fill the brush with shaving cream, preferably from the same brand, Edwin Jagger. Create a creamy and rich lather in a shaving bowl or your palm.
Lather the area with the brush
Use circular motions to do so. This step is designed to cleanse your face while keeping your skin lubricated, allowing the razor to glide smoothly across your skin.
Make use of the safety razor.
Ensure that it is clean, and shave in the direction the beard grows. Allow the razor to glide over your skin smoothly without applying too much pressure. Begin with your sideburns and work your way down to your chin. Shave other parts of your face where your beard grows.
Rinse thoroughly with cool water
Following that, apply an alcohol-free shaving lotion.
How to maintain Edwin Jagger
Create a consistent washing routine
This is always the key to keeping your Edwin Jagger safety razor in top condition. You can wash it with warm water and soap (preferably castile soap). Scrub all surfaces of the razor with an old toothbrush as well.
Apply a performance-enhancing oil
You should also apply a specialized oil to this razor to help prevent corrosive oxidation. You may also want to use rubbing alcohol on your safety razor from time to time to sterilize it and to avoid rust from forming.
Should store it appropriately
Aside from regular cleaning and maintenance, proper storage of your safety razor is also required. Purchase a stand explicitly made for it. It neatly stores your Edwin Jagger safety razor and prevents moisture or other products from accumulating or splashing into the body or the blade.
Merkur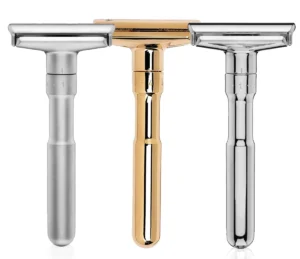 Merkur is another excellent manufacturer of shaving tools and products, including safety razors. Merkur has continued to serve its customers with distinctiveness and quality since its inception in 1896. With this brand's popularity, it's no surprise that many of the best-selling safety razors today bear the Merkur name. One reason is that, according to most of its customers, this brand is already synonymous with high-quality tools.
Type of Merkur
Merkur – DE Safety Razor 34C HD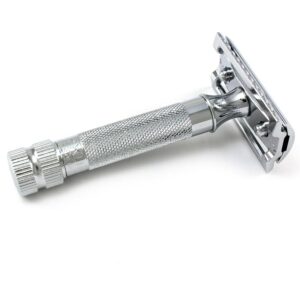 The MERKUR razor 34C is known among fans as the "HD," which stands for Heavy Duty. Because of its massive weight, the safety razor has earned this compliment over the last 80 years. However, the 34C has a soulful side: with a few razors, you can remove your hair more gently than this classic.
The plane's head is made using the zinc die-casting process, which allows for precise manufacturing tolerances and complex shapes. We only use brass for the handle to ensure proper weight distribution. The chrome finish protects the razor from corrosion while emphasizing its high-quality design.
A safety razor with a closed comb is an all-purpose tool for traditional wet shaving. You will intuitively feel the correct plane setting angle and immediately notice the best shaving results. The generous blade gap allows for a high flow of soap, preventing the razor head from being clogged with cut hair or foam residues.
Merkur – DE Safety Razor 34G HD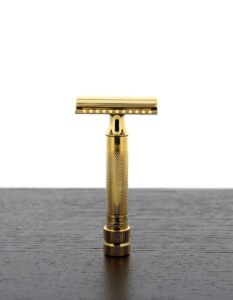 The zinc die-casting process creates instruments with maximum precision, even for complex shapes, such as the safety razor head. We only use brass for the handle to ensure proper weight distribution. The galvanic coating is finished with beautiful 24-karat gold plating.
Merkur – DE Safety Razor 15C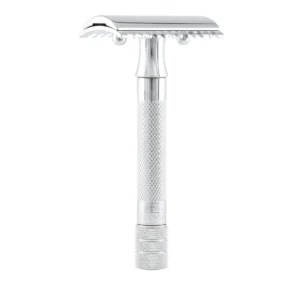 The MERKUR 15C safety razor comprises a top plate, a comb, and a handle. The comb's teeth guide the hair to the razor blade, resulting in a very close wet shave. The tooth comb also can be challenging to clog with cut hair. This model is for you if you want to remove thicker and longer facial and body hair.
The zinc die-casting process creates instruments with maximum precision, even for complex shapes, such as the safety razor head. We only use brass for the handle to ensure proper weight distribution. The chrome finish protects the razor from corrosion while emphasizing its high-quality design.
The razor blade rests directly on the open comb in this design. The open comb's tooth directs hair and soap to the razor blade during shaving. This design is especially beneficial for long hair and strong beard growth because the blade head is not obstructed by cut hair or lather.
Merkur – DE Safety Razor 37C HD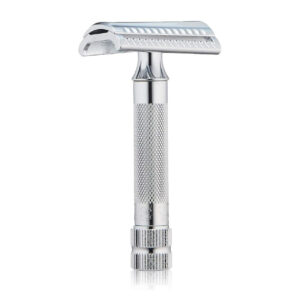 Merkur 2-piece double-edge safety razor in an elegant chrome finish, with a slant-bar head and a heavy weighted (3″) knurled handle for precise control. It is compatible with all double-edge blades and is also known as the 37C. It's a heavy-duty razor designed to cut through your beard.
Merkur – DE Safety Razor 30B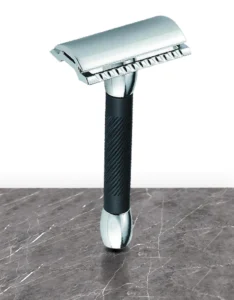 Are you fed up with your cartridge razor becoming clogged with longer hair? The MERKUR 25C razor should then be used. The tooth comb ensures that even the longest strands are trimmed painlessly without clogging the razor. This makes it your best friend when shaving your beard and body hair.
 Merkur – DE Safety Razor 33C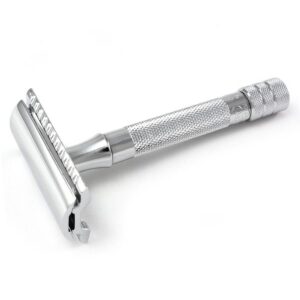 You select a classic when you purchase the MERKUR 33C razor. Because of the short handle, you can safely shave even in the most sensitive areas. The comb has a fixed blade gap and a straight foam edge. The cutting edge's setting angle can be found intuitively. Nothing can get in the way of a perfectly smooth shave after that.
 Merkur – DE Safety Razor 42C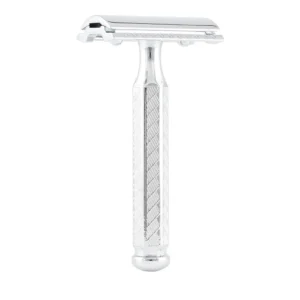 The MERKUR 42C razor is an easy way to get started in the exciting world of traditional wet shaving. Because of the closed comb, you will intuitively find the right advanced setting angle to begin your shave. The blade gap was carefully selected, so the safety razor is ideal for shaving facial and body hair.
Pros and cons Merkur
PROS
Provides a variety of safety razor options.
Ensured to be made from high-quality materials.
Compared to other razors, it promotes a more aggressive function, but you can rest assured that it will not result in a poor and lousy shave.
The chrome plating is attractive and functional.
Provides a safety razor for most budgets.
CONS
Some of this brand's safety razors have non-curled handles, making them a little slippery when you shave while your hands are wet.
How to use Merkur
Perform your pre-shave routine.
This is required because the entire preparation is involved. Wash your face in this step to remove oils and dirt that may impair the blade's effectiveness and cause irritation.
Lather the soap with a shaving brush.
Working against the grain, rub the lathered soap into your face. It can help lift your facial hair, making shaving easier.
Apply the safety razor at the proper angle.
It should be at about a 30-degree angle to your face. You can do this by placing the razor's head on your face and lowering the handle until the blade touches your skin.
Make three separate passes.
The passes should be made with, across, and against the grain. Reapply soap after each pass. This is the key to getting the smoothest shave possible.
Carry out your post-shaving routines
This entails rinsing your face with cold water, patting it dry with a clean towel, and applying an aftershave.
How to maintain Merkur
Thoroughly rinse the razor.
To begin, loosen the head, so it does not press down on the blade. Warm water should be used to rinse it.
Rinse your hair with rubbing alcohol.
It can help to keep the razor's blade from rusting prematurely.
Allow it to dry completely before storing.
Allow several hours before placing it in its stand or storage area. The goal is to dry the razor entirely, so it does not rust.
Most Frequently Ask Questions
Are Muhle and Edwin Jagger the same?
Not at all. On the other hand, the heads of the Muhle R-89 and the Edwin Jagger DE89 are identical. Muhle and Edwin Jagger collaborated to create the razor. The handle is the only difference between the two razors.
Are safety razor heads interchangeable?
Yes. All safety razor blades are interchangeable. DE blades are compatible with any butterfly razor or double-edged razor.
Conclusion
The Merkur 34C and Edwin Jagger DE89 are both excellent choices. Personal preference will determine which one is preferred. The Merkur 34C is a great option if you want something more aggressive to shave your tough beard. Combined with a sharp blade, such as a Feather, it produces a baby butt smooth shave.
However, for men with thinner skin or who are just starting on their wet shaving journey, the Edwin Jagger DE89 is a good option because it is gentler. The DE89 is also a work of art. The chrome finish is nearly flawless. On the other hand, the smooth handle does not have a good grip. The Merkur 34C has a shorter, heavily knurled handle. The 34C with the barber pole handle is ideal for men who require a longer handle.
That's enough explanation about Edwin Jagger vs Merkur. Even though we have given recommendations, you need to match the condition of your skin and body hair.