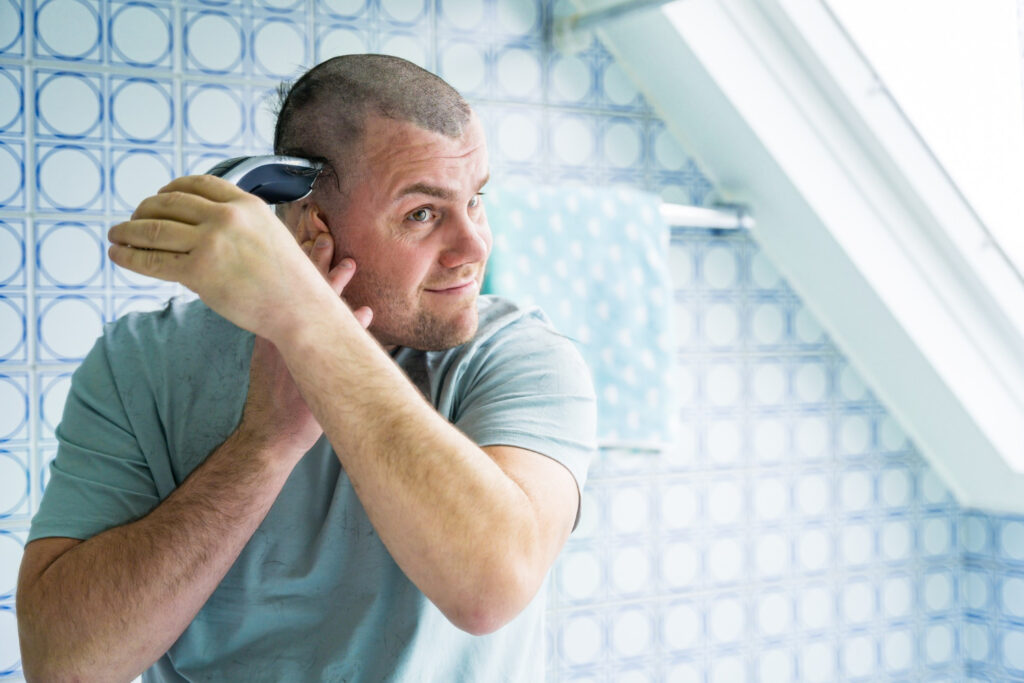 Are you looking for professional results when it comes to your hair edging? Whether you're a pro or a first-timer at hair edging, finding the best hair edger is essential if you want flawless results.
Your regular hair trimmer may deliver fantastic performance when trimming your hair. However, when talking about great details, hair edgers serve it best.
With so many options available, it might get tricky to know what is best, especially if you're new to the market. Fear not — we have rounded up the top hair edgers on the market so you can get salon-quality results at home. Read on to find out which edger will work best for you!
7 Best Hair Edgers and Liner Clippers
From corded to cordless and pivot to the rotary motor, here is the list of the best hair edger and line clipper options on the market. Check them out!
Andis Professional T-Outliner Trimmer

The fact that this is one of the most popular hair edgers among professional barbers speaks about its quality. It features very sharp blades with a 7,200 spm high-speed magnetic motor.
It can handle any hair, giving outstanding results whether you're outlining, dry shaving, or fading. Also, it runs quietly and coolly.
With its versatility for cutting an edge up or line up, trimming a beard, fixing a hairline, or cleaning a neck, the T-Outliner is ideal for achieving high-quality professional results at home. Plus, it includes a tube of blade oil, too!
Key Features
7,200 spm magnetic motor
Very sharp blade
Comes with blade oil
Quiet motor
Suitable for outlining, dry shaving, or fading
Oster Fast Feed Adjustable Pivot Motor Clipper 76023-510

This pivot-motored Oster Clipper serves powerful performance at a less high price compared to its class range. The price comes with an amazing build; high-quality, carbonized stainless steel.
Also, the pivot motor works smoothly by making unnecessary loud noises and won't overheat quickly. If you aim for a more complex haircut, you can rest assured since this clipper provides adjustable blades to switch easily between.
Moreover, this corded clipper comes with accessories, including blade oil, eight guide combs, a blade guard, and a cleaning brush.
Key Features
Powerful yet quiet pivot motor
Heat-free and performs quickly
Adjustable steel blades (sizes 000 and 1)
Wet or dry cut
Ergonomic design
Textured housing provides an easy grip
Includes blade guard, lubricating oil & cleaning brush, four guide combs, 8 ft power cord
11 color choices
Wahl Professional 5-Star Detailer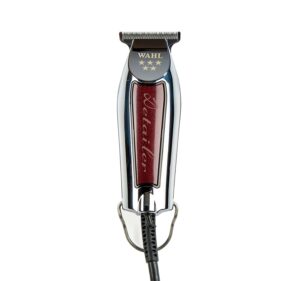 Living up to its name, this retro-style corded detailer is specially designed for professionals who aim for highly close trimming, clean and crisp lines, and hair detailing.
This tool comes with a 5,000 spm rotary motor and a stainless steel T-blade that's a quarter inch larger than other models, enabling you to work quickly on large areas.
Despite its powerful performance, it still produces minimal heat and provides lightweight construction for an easy fit into your hand while providing excellent flexibility and control.
Key Features
Aesthetic retro design
Powerful 5,000 spm rotary motor
Sharp stainless steel T-blade
Minimal heat
Lightweight body
Includes accessories, such as three extra wide T-shaped trimming guides, cleaning brush, clipper blade oil, and red blade guard
Andis Slimline Pro T-Blade Trimmer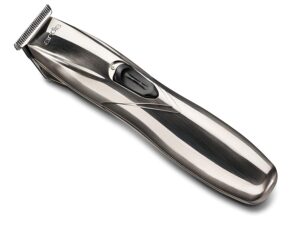 Seeking maximum control and precision during trimming? The Andis Slimline Pro T-Blade Trimmer is the perfect answer. Its lightweight design fits snugly in your hand, while the self-sharpening stainless steel T-blade is super sharp — even for zero-gapped designs.
This cordless trimmer packs a punch with its powerful 6,000 spm rotary motor, able to cut through all hair types. Also, the trimmer is crafted with a durable ABS polymer finish that absorbs vibrations with minimal heat.
Plus, it offers four attachment combs between 1/16" and 3/8" so you can effectively trim with the desired closeness. The lithium-ion battery charges in two hours and lasts up to 2 hours, giving you plenty of time to work on those crisp lineups.
Key Features
Cordless
Lightweight body
Self-sharpening stainless steel T-blades
Durable ABS polymer finish
Minimal heat
Offers four attachment combs (1/16″ – 3/8″)
2 hours of full charging with 2 hours of run time
Oster Classic 76 Universal Motor Clipper 76076010

Features a single-speed universal motor, the Oster Classic 76 Universal Motor Clipper is among the most powerful corded clipper on the market. Its universal motor works noiselessly with minimal overheating, allowing it to cut black hair quickly.
The build quality of this product is also no joke. It's sleek, ergonomic, and firm, ensuring comfortable hold with no slippage during use.
Moreover, it comes with accessories, such as clipper grease, lubricating oil, and a blade guard.
Key Features
Wet or dry clipping
Noiseless, powerful single-speed universal motor
Minimal overheating
Sleek, ergonomic, and firm body and grip
Comes with accessories, like clipper grease, lubricating oil, and a blade guard
Includes longer power cord (9-foot)
Andis Professional Outliner II Square Blade Trimmer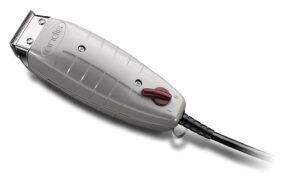 The Andis Professional Outliner II Square blade trimmer offers the same high-speed motor as its T-blade counterpart. It provides 7,200 spm, perfect for effortlessly cutting through even thick and curly hair.
Assembled with self-sharpening, precise carbon steel blades, the clipper can provide a close cut to achieve clean tapers, lines, parts, and designs — all without pulling or irritating the skin.
If you're looking for easy handling and trimming around the hairline, temples, ears, back of the neck, and beard, this corded tool can provide it efficiently.
Key Features
Corded
High-speed motor with 7,200 spm
Self-sharpening blades with precise carbon steel material
Helps achieve clean tapers, lines, parts, and designs
Compact, portable, and comfortable to hold
Hair Clippers Cordless by Luismia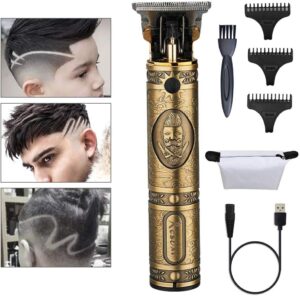 The Luismia Hair Clippers Cordless is a special tool tailored to give professionals and home users the perfect fade, edge, or shave with a powerful motor and carbon-steel blades. What stands out the most from this product is the gold-coated body with eye-catching carvings.
This trimmer comes with three guide combs, a charging cable, a cleaning brush, and an organizer bag — making this a more comprehensive hair styling kit than just a razor.
You can easily use this tool for up to 2 hours with 2 hours for recharging. Plus, it's cordless — perfect to use on the go.
Key Features
Cordless
Eye-catchy design
Powerful yet quiet motor
Carbon-steel blades
Two hours of run time
Two hours of recharge
Comes with three guide combs, a charging cable, a cleaning brush, and an organizer bag
Frequently Asked Questions
What is a hair edger, and how does it work?
A hair edger is a tool for cutting and styling hair in detail.
It has two blades, one of which is curved and pointed, and the other is straight. The curved blade is used to create layers in the hair, while the straight blade can trim split ends or reshape a hairstyle's sides.
What are the benefits of using a hair edger?
Using a hair edger has several benefits:
It helps you achieve the perfect hairstyle quickly and easily. With the right technique, you can create precise layers, trim split ends, and reshape your style in no time
It is easier to use than scissors, as it has two blades that can be easily manipulated. This makes it an ideal tool for those who lack experience in hair styling
It's a great tool for creating textured haircuts such as choppy layers or feathered ends. The curved blade allows for greater control and precision when cutting these styles
It is safer than shears or razor blades when styling your own hair at home
What type of hair is a hair edger suitable for?
A hair edger is suitable for all hair types, from fine and thin to thick and curly. The curved blade makes it an ideal tool for creating layers and feathered ends in straight or wavy hair, while the straight blade works best for precise cuts on coarse hair.
How should I maintain my hair edger to keep it in good condition?
To keep your hair edger in good condition, you should:
Clean the blades after each use with a brush and soapy water to remove any hair or styling product residue
Air-dry the blades before putting away the edger
Oil the blades once every few weeks with a blade oil specifically made for hair edgers to help keep them sharp and prevent rusting
Store the edger in its original box or another hard container that is protected from dust and moisture
How often should I replace the blade of my hair edger?
You should replace hair edger blades of a hair edger once every 3-4 months to ensure a clean, safe cut. Over time, the blades can become dull due to frequent use, and nicks can appear, leading to jagged edges on finished styles. Therefore, make sure you replace it diligently.
Conclusion
All in all, if you're looking for a fast and easy way to get professional results at home, then investing in a hair edger is definitely the way to go. These versatile tools can be used on all types of facial hair and scalp hair, resulting in a clean and sharp look that will last all day long.
With myriad different options on the market, it can be tricky to know which product is right for you. But with our guide, you'll be able to find the best hair edger for your needs in no time. From corded to cordless options and pivot to rotary motors, the choices are limitless.
So what are you waiting for? Get out there and start shopping!