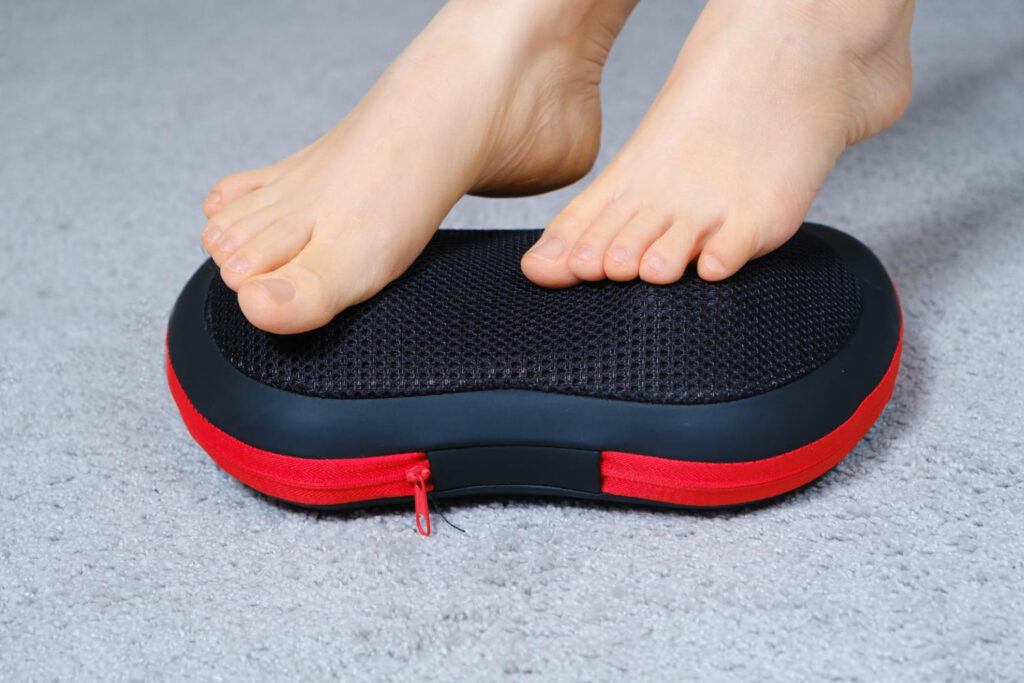 Sole Soothers: The Best Foot Massagers for Ultimate Relaxation
Are you seeking a way to relax and unwind after a long day? Whether you want to soothe tired feet or relieve pain, having the right foot massager can make all the difference. These devices offer incredible relief from aches, pains, and tension, allowing you to relax deeply in mere minutes.
Our top picks are carefully chosen for their quality, reliability, and effectiveness, so you can trust that your purchase will bring relief and rejuvenation to your sore feet. Read on to find out which foot massager is right for you!
The 7 Best Foot Massagers
Get ready to relax and unwind with these best foot massagers!
Renpho Foot Massager Machine with Heat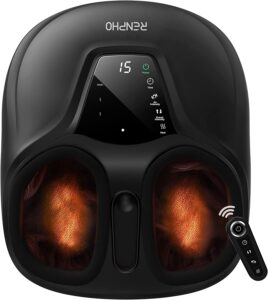 Need a foot massager that works like wonder? Comes with heat therapy, a rotating ball, and a rolling stick; the Renpho foot massager will help you relax quicker than ever. Just set off the timer, and you're ready to go.
Moreover, with the remote control, you can set the kneading level to the highest intensity—three levels— making it suitable for people who want deep relaxation. Combine the kneading with the heat, and you'll get the most out of the experience. Plus, the machine can fit up to U.S. men's 12 shoe sizes—suitable for large feet!
Key Features
Suitable for large feet (up to U.S 12)
Compact and lightweight
Comes with heat therapy, a rotating ball, and a rolling stick
Features magnetic remote control & touch button
Deep kneading
Washable liners
Auto-off timers
Nekteck Foot Massager with Heat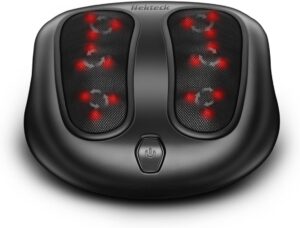 Unlike the Renpho one, the Neckteck foot massager doesn't require putting your feet inside the foot slots. It comes with a surface design, making it simpler to use — hold the handle and carry it to your desired place to relax, turn it on with your toe, step on it, and you're good to go.
It has a gentle heating function, six massage heads, and 18 rotating massager nodes to help soothe fatigued muscles and improve foot wellness. Plus, you can also use it as a calf, thigh, and even back massager — talking about versatility!
Key Features
Compact and versatile
Comes with a handle
Features a gentle heating function
Comes with six massage heads and 18 rotating massage nodes
Affordable
Costway Foot Spa Bath Massager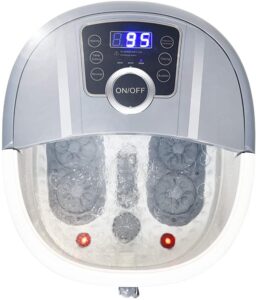 Nothing beats the luxury of a bubble spa bath — and getting them for your feet is a dream comes true! Costway offers the ultimate relaxation experience with its auto-rotating massage rollers and soft bubble mode. To enhance the experience, you can add herbs, salt, or any foot soaks to the medicine box.
You can set the temperature and drain the water tank a touch away via the LED screen. Use it everywhere around the house, and don't worry about the power — it's 30% more energy efficient.
Key Features
Bubble foot massager
30% energy saving
Fast heating
Temperature control
Automatic massage rollers
Features side scrapping
Infrared disinfector
Convenient LED screen
Comes with a medicine box
Features a drain pipe
Miko Shiatsu Foot Massager Machine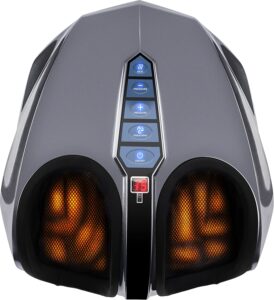 Sometimes, the soles are not the only part needing a massage — the whole feet do, too! With the Miko Shiatsu Foot Massager, you can get a comfy, warm hug in its large foot slots for your entire feet for the ultimate deep relaxation.
Three treatment options are controllable with the wireless remote control: kneading, heating, and pressuring. Use it while sitting, slouching, or even lying down — its Petrissage technique works either way amazingly. Plus, don't worry about the size; it fits up to men's size 13!
Key Features
Wide foot slots
Features Petrissage technique
Up to 115°F heat dissipation
Five pressure settings
Built-in timer
Two wireless remote
Kneading stimulation
Washable foot liners
Fits up to men size 13
Ivation Foot Spa Massager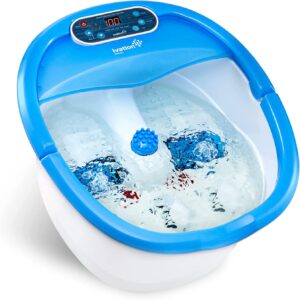 Another option for a soft foot bath, Ivation Foot Spa Massager, offers thousands of heated bubbles for a soothing spa day. What makes it unique is the massage rollers on both foot chambers for targeted acupressure — exceptionally good for athletes or people who work on their feet daily.
Whether you want an invigorating vibration or a rolling massage, you can control it conveniently via the advanced LED display. Plus, adjust the temperature freely to fit your preference. To top it off, drop essential oils for aromatherapy during your foot spa sessions — you won't regret it!
Key Features
Features massage rollers
Oxygenating bubble action
Intense vibrating massage
Adjustable temperature up to 122°F
Simple controls via LED display
Three pedicure attachments
Easy-to-carry handle
Snailax 2-in-1 Shiatsu Foot and Back Massager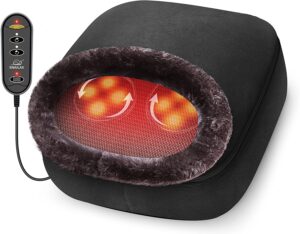 This affordable, revolutionary product from Snailax will blow your mind — it's versatile enough for both foot and back massagers. Moreover, the top cover is detachable and fits just right for a pillow! This way, you can conveniently use it while massaging your feet or back.
Featuring silicone-covered shiatsu foot massager nodes and a heating pad, this device's kneading motion helps relieve tension in no time. Control it easily using the remote control and wait 15 minutes for an automatic shut-off.
Key Features
2-in-1 foot and back massager
Detachable top cover
Silicone-covered shiatsu massage nodes
Soothing heat
Non-slip rubber bottom
100% ultra-plush polyester
Comes with a remote control
Compact and easy to carry
Affordable
Sharper Image Warming Foot Massage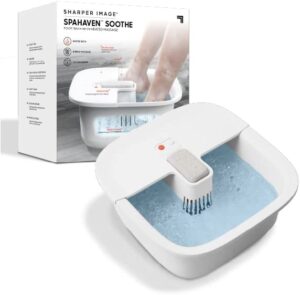 Another bubble foot bath with a heated massage option comes from Sharper Image with its Spahaven Sauna Foot Bath with Heated Massage. It comes with a splash guard, so you can rest assured that the floors are dry and splash-free.
Its built-in pumice stone makes it special, allowing you to smooth rough skin and calluses during your spa session. Moreover, you can adjust the temperature up to 100°F easily using its toe-touch control. Add some drops of essential oils or bath salts for an enhanced experience!
Key Features
Built-in pumice stone
Features a splash guard
Adjustable temperature up to 100°F
Toe-touch controls
Bubble massage
Frequently Asked Questions
What are the benefits of a foot massage machine?
A foot massage machine offers a wide range of benefits, including:
Reduced muscle tension and fatigue
Improved circulation
Increased relaxation
Alleviation of pain and discomfort caused by plantar fasciitis, heel spurs, and other foot ailments
Pain relief from the headaches, neck pain, shoulder aches, and stress often associated with working long hours on your feet.
Do podiatrists recommend foot massagers?
Yes! Many podiatrists recommend electric foot massagers to relieve foot pain, increase circulation, and reduce swelling in your feet. However, pregnant women and people with neuropathy are recommended to consult their podiatrists beforehand to avoid harm.
Do foot massagers actually work?
The short answer is yes! Foot massagers are designed to improve circulation, alleviate pain and reduce swelling. Studies have shown that foot massages can be effective in helping with conditions such as plantar fasciitis and other foot issues. However, it's essential to remember that everyone's feet are different, and results may vary depending on the individual.
Can I use a foot massager every day?
Yes, you can use a foot massager every day. The key is to ensure that the session doesn't last too long (no more than 20 minutes) to prevent any issues with your feet.
How to find the best foot massager?
Finding the best foot massager for you comes down to your personal needs. Consider factors like budget, ease of use, portability, durability, and, most importantly, features. Remember to read customer reviews before purchasing to get an idea of other people's experiences with the product!
Conclusion
All in all, if you've never experienced the luxury of a foot massager, now is the time to treat yourself. There truly is nothing like relieving your stress, soothing your aching muscles, and alleviating discomfort from long days on your feet as you lay back and relax with foot massagers.
Whether you want a soothing bubble foot bath with Costway Foot Spa Bath Massager or an intense massage with Renpho Foot Massager Machine with Heat, your choices are limitless.
So why wait? Get ready for serious zen and shop for the best foot massager today. And don't forget to invite a friend or two — this is too good of an experience to pass up!