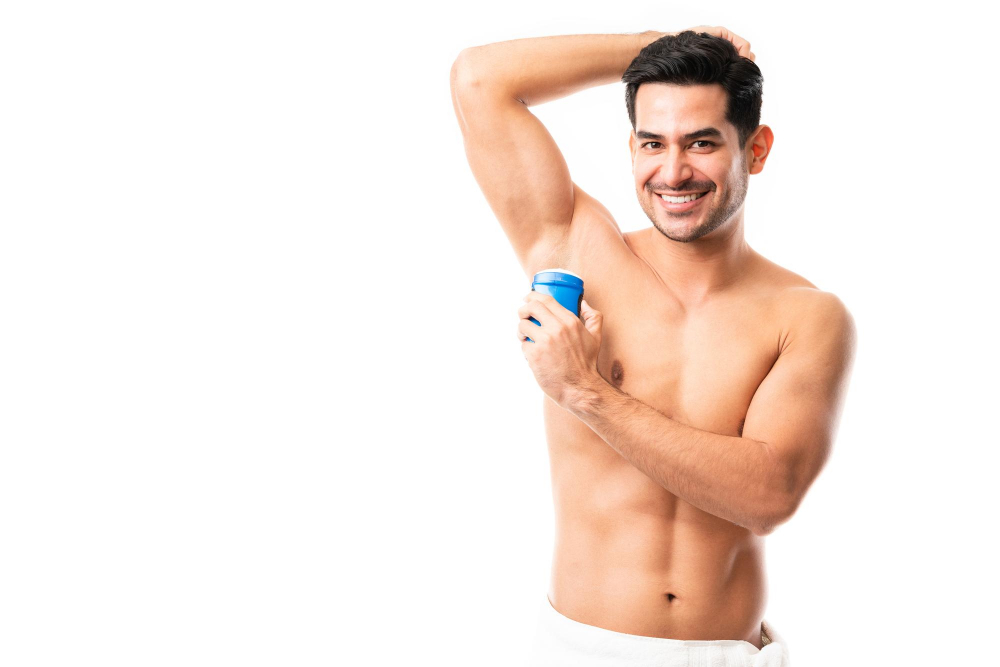 Sweat has become part of life; it's humane and happens to everyone. But sweat and the associated unpleasant odor can't become part of our daily lives, or it will become a big turnoff for people around us.
In fact, sweat odors are almost unscented at their essence. However, the unpleasant B.O. smell appears when the odor-causing bacteria mixes with your body's sweat.
Whether your sweat comes from working hard or merely from everyday situations, you need to control it so that it won't become a problem — you won't want to be popular as someone with bad body odor, right? Thankfully, antiperspirants and deodorants have a solution to this problem.
Ahead, we have curated the best antiperspirant for men on the market nowadays for your inspiration. With these products, you no longer have to worry about having stinky sweats. Read on!
What are Antiperspirants?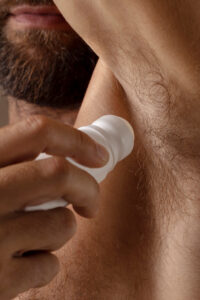 Antiperspirants are substances that can be applied directly to the skin to reduce sweat production. These can include chemical and natural ingredients, with true antiperspirants being of chemical form and working by entering and blocking sweat glands.
As these products alter the body's function in some way, they are classified as drugs in the United States and must have all active ingredients clearly stated on the label and expiration date.
The primary chemical used in antiperspirant formulations is aluminum, although the FDA approved glycopyrronium tosylate in 2018.
It is also possible to find aluminum salts, compounds, chlorohydrate, or aluminum zirconium tetrachlorohydrex GLY listed on products as antiperspirant ingredients.
7 Best Antiperspirants for Men
Purchasing the best antiperspirant for men that caters to your personal needs is very important. This way, you'll get an instant erasure of stinky body odor. Check out our best antiperspirant for men recommendations below!
Carpe Underarm Antiperspirant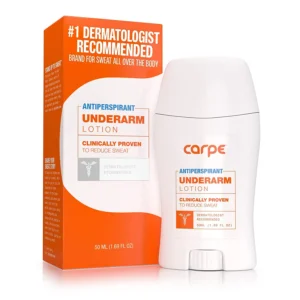 Want a product that won't irritate your skin? Carpe Underarm Antiperspirant is among the most accurate answer. It has been endorsed by dermatologists for its efficacy and sweat-stopping ability.
To support this claim, an independent testing lab ran tests to indicate its effectiveness. What sets this product apart is its 15% aluminum sesquichlorohydrate active ingredient, combined with additional ingredients such as eucalyptus oil and sweat-absorbing powders.
Plus, you can choose between the original fragrance-free option or the other nine scents that contains essential oils of this antiperspirant deodorant!
Key Benefits
Able to stop sweat and protect against body odor
Dermatologist recommeded
Quick-drying and effective
Nonirritating, non-greasy, and residue-free formula
Contains aluminum sesquichlorohydrate, eucalyptus oil, and sweat-absorbing powders
Various scent alternatives that contain essential oils
Includes unscented natural deodorant option
Vanicream Anti-perspirant Deodorant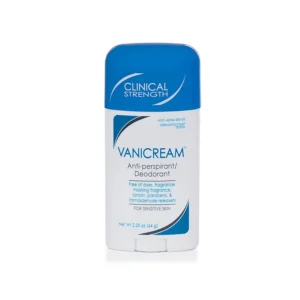 Most clinical-strength or powerful antiperspirant deodorant products contain harsh chemicals, making them unsuitable for sensitive skin. However, the Vanicream Antiperspirant Deodorant formula is the exception. It is dermatologically tested and can stay 24 hours with no common chemical irritants.
For those with dry skin or sensitive skin, it is the ideal antiperspirant deodorant product as its unscented and should always be applied when your underarms are completely dry to minimize body odor before it has a chance to form.
Moreover, this mild-formula antiperspirant deodorant for sensitive skin is easy to use and can be taken along with you on your travels.
Key Benefits
Gentle formula with no parabens, dyes, ethanol, artificial fragrances, botanical extracts, or preservatives
Ideal for sensitive skin
Dermatologist tested
24 hours clinical strength
Suitable for men and women
Easy to use and travel friendly
Certain Dri Prescription Strength Clinical Antiperspirant Deodorant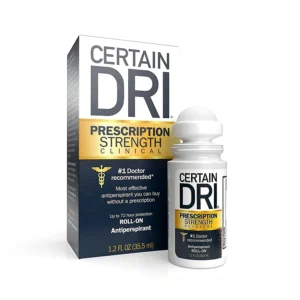 This good deodorant product can save your life if you have problems with sweat glands and excess sweat. Certain Dri's formula is specifically developed to combat hyperhidrosis (also referred to as excessive sweating). Also, this antiperspirant deodorant is recommended by dermatologists.
Although the antiperspirant uses lower amounts of aluminum compared to some competitor products, it is made up of a special aluminum chloride with a small aluminum molecule that works effectively.
The result? A product that offers up to 72 hours of protection against body odor and sweat. However, people with sensitive skin are not advised to use this product since it may lead to skin irritation.
Key Benefits
Ideal for combating excessive sweating
Recommended by dermatologists
Contains effectively-working aluminum chloride
Offers up to 72 hours of protection
Cruelty-free and fragrance-free
Not advised for sensitive skin
Arm & Hammer Ultramax Antiperspirant Deodorant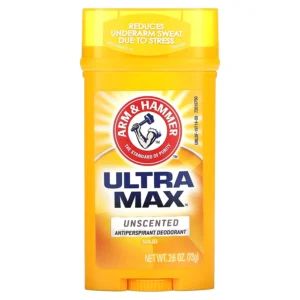 Arm & Hammer's Ultra Max Antiperspirant Deodorant is among the best solution for men's deodorant for sweat and odor protection.
This best antiperspirant deodorant works by combining sweat-controlling ingredients like 19% Aluminum Chlorohydrate, cornstarch, and baking soda. As a result, they provide powerful protection against sweat and kill odor-causing bacteria.
The best part of this men's deodorant? It's affordable and can be found easily in your nearest drugstore!
Key Benefits
An affordable drugstore product
Fragrance-free formula
Combines Aluminum Chlorohydrate, cornstarch, and baking soda
Protects against both sweat and bacteria
Easy-to-apply solid deodorant
Gillette Clinical Soft Solid Antiperspirant Deodorant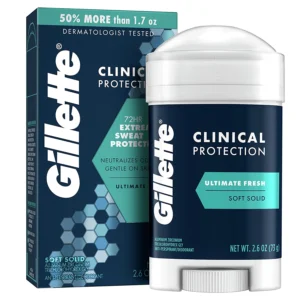 Not only popular for its sharp blades, but Gilette also launched a product that works like a wonder for your armpits: Gillette Clinical Soft Solid Antiperspirant Deodorant.
Containing 10,000 odor-fighting molecules, this product provides prescription-strength odor protection and sweat protection equivalent to a 6.25% aluminum chloride Rx product.
This product has a soft, solid formula with a long-lasting Ultimate Fresh scent. This way, it helps you stay dry and fresh for up to 72 hours!
Key Benefits
Contains 10,000 odor-fighting molecules
Soft and solid formula
Helps stay dry and fresh for up to 72 hours
Easy-to-find drugstore product
Mitchum Antiperspirant Deodorant Stick for Men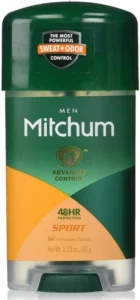 Mitchum's Triple Odor Defense technology offers long-lasting, clinically-proven sweat protection at an affordable price. What makes the formula special is that it contains aloe vera juice and vitamin E to help maintain your skin's natural moisture while also providing dryness from sweat.
This is among the best antiperspirant for men in a stick form for anyone looking to feel fresh and dry even through intense days. It's proven reliable on even the sweatiest occasions for up to 48 hours!
Key Benefits
Affordable
Invisible with less residue formula
Contains natural ingredients such as aloe vera and vitamin E
Stays for up to 48 hours
Provides dryness and moisture simultaneously
Dove Men+ Care Antiperspirant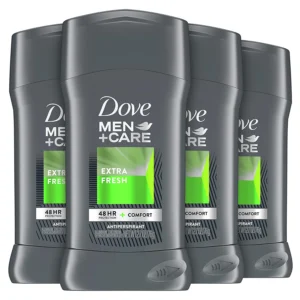 Dove's antiperspirant for men is a great roll-on deodorant for anyone looking for an affordable yet effective alternative for sweat and odor protection products.
Its natural ingredients, such as vitamin E, and Triple Action Moisturizer properties, nourish and moisturize the skin. Also, its hard-working formula keeps sweat and bad odors away for up to 48 hours. Plus, you'll get an energizing citrus scent, leaving you smelling fresh all day.
Key Benefits
Affordable
Contains blends of natural ingredients and Triple Action Moisturizer properties
Provides sweat and odor protection for up to 48 hours
Exudes energizing citrus scent
Moisturizes and nourishes the skin
Most Frequently Asked Questions
What is the difference between an antiperspirant and a deodorant?
People may assume both products are the same, but antiperspirant and deodorant refer to two distinct products with different purposes. Antiperspirant reduces sweating, while deodorant masks odor.
The fact that these two are often found in the same product can make things confusing, so it's important to look for labels that clearly state whether a product contains antiperspirant.
How do chemical antiperspirants stop you from sweating?
Chemical antiperspirants, such as aluminum salts and similar compounds, prevent sweating by clogging up your pores. When applied to the skin, they dissolve and enter the pores, which stops sweat from escaping.
Consequently, many people experience bumps and rashes due to using antiperspirants. The pores are blocked, but sweat is still being produced underneath, so it tries to come out through the plugged opening.
The most common chemical antiperspirant ingredients used in the market are aluminum compounds, including aluminum chloride, aluminum chlorohydrate, and aluminum zirconium tetrachlorohydrex GLY.
Why do some men avoid aluminum antiperspirant if it is so effective?
Some men avoid aluminum antiperspirants and shift to the best antiperspirant for men with aluminum-free formula since it may lead to an increased risk of developing Alzheimer's disease. In addition, it is not recommended for those with kidney disease or bone problems to use strong aluminum salt formulas.
Although this issue is still debatable, the chances of health risks alone can be enough to steer people away from antiperspirants with aluminum.
Conclusion
So, there you have it—our thoughts on the best antiperspirant for men to keep sweat and odor at bay.
From the gentle formula Vanicream Anti-perspirant Deodorant to the excessive-sweating warrior Certain Dri Prescription Strength Antiperspirant, there are many options for the best antiperspirant deodorant products in the market for everyone.
No one wants to be that guy who's always sweaty and stinky. Hopefully, this guide for the best antiperspirant for men is helpful in your search for a better product. So, which one is your next go-to product?