The majority of women believe that a curling iron is an essential item in their collection of grooming tools. This is because it's perfect for quick styling touch-ups, making accent curls or flips, and achieving varying degrees of curl for different hair layers. However, some women prefer to use the best hot rollers instead.
However, perfecting a full head of beautiful curls with a curling iron can require a long period of painstaking work, can damage hair, and the curls are likely to fall out fairly quickly. That's where the venerable set of hot rollers comes in.
Contrary to popular belief, today's hair rollers are vastly different from the ones used in the past. Gone are the days of having to sleep in them or sit under a large hair dryer at the salon. The hot rollers of today are easy to use and highly effective in creating beautiful, bouncy curls while also protecting your hair from damage and dryness.
Quick Overview: Our Top Picks for Hot Rollers
IMAGE
PRODUCT

Style:

Hot rollers, ionic

Roller Type:

Nano titanium, flocked

Number/Size:

12, 1½ inches

Size:

13 x 6.5 x 6.8 inches

Weight:

2.8 pounds

Warranty:

Two years

VIEW LATEST PRICE →

Style:

Steam rollers

Roller Type:

Plastic and sponge, flocked

Number/Size:

30, five sizes

Size:

12 x 6 x 6 inches

Weight:

2.4 pounds

Warranty:

One year, limited

VIEW LATEST PRICE →

Style:

Hot rollers, ionic

Roller Type:

Ceramic, flocked

Number/Size:

20, 1¼ to ¾ inches

Size:

13.2 x 7 x 7 inches

Weight:

4.6 pounds

Warranty:

Three years, limited

VIEW LATEST PRICE →

Style:

Hot rollers, ionic

Roller Type:

Tourmaline, flocked

Number/Size:

Four 1.75 inches, four 1.5 inches

Size:

8.4 x 4.1 x 3.5 inches

Weight:

One pound

Warranty:

Two years

VIEW LATEST PRICE →

Style:

Hot rollers, ionic

Roller Type:

Ceramic/tourmaline, ribbed

Number/Size:

10, one inch and ¾ inches

Size:

7.2 x 3.2 x 5.1 inches

Weight:

1.2 pounds

Warranty:

One year

VIEW LATEST PRICE →

Style:

Hot rollers, ionic

Roller Type:

Ceramic, flocked

Number/Size:

6, one inch

Size:

6 inches in diameter

Weight:

3 pounds

Warranty:

One year, limited

VIEW LATEST PRICE →

Style:

Hot rollers, ionic

Roller Type:

Ceramic, flocked

Number/Size:

6, one inch

Size:

11.8 x 5.8 x 4.8 inches

Weight:

0.2 pounds

Warranty:

One year, limited

VIEW LATEST PRICE →
The review team for art of hair really likes BaByliss products, and if the company's set for small and medium-sized curls was still available, we would have listed it as well. The Professional Jumbo roller set won't work for people with short hair looking to create delicate curls, but if you have longer hair and want big, impressive waves and bouncy curls, this is your go-to choice.
This BaBylissPRO set has 12 flocked rollers with nano titanium ceramic cores, which heat up within ten minutes and do a great job of maintaining even, far-infrared heat that curls and seals hair from within once they're in place. The velvety material on the lightweight, 1½ inch rollers creates a great grip on the hair and you have your choice of butterfly clips or color-coded metal clips to attach them firmly.
In half an hour or so (the longer you leave them in, the more effective they are), even extra-long and luxurious hair will have terrific and long-lasting curls or waves without frizz or damaged ends.
There are no variable heat settings on the BaBylissPRO, so when you combine that fact with the large size of the rollers you can see why this is not for short or thin hair. But for those with thick, long hair – it's a terrific styling tool.
Facts and figures on the BaBylissPRO Nano Titanium Professional Jumbo Roller Hairsetter:
Style: Ionic

Roller type: Nano titanium, flocked

Number/size: 12, 1½ inches

Size: 13 x 6.5 x 6.8 inches

Weight: 2.8 pounds

Warranty: Two years
2. Caruso C97953 30 Molecular Steam Hairsetter
It wouldn't be fair unless we followed up our review of the BaBylissPRO with an item ideal for readers with thinner or shorter hair. We immediately looked at the company best known for steam rollers, Caruso, and the C97953 Professional was the review team's clear choice, partly because of the company's new molecular technology that pushes the steam into hair follicles effectively.
Before going any further, though, there are two things you need to know. You'll get the best results by using distilled instead of tap water. It's also worth noting that this is a small unit that only steam-heats one roller at a time. The latter isn't really an issue, though, because once you've heated the unit up for 2-3 minutes, each lightweight flocked roller only has to sit in the heating slot for 5-10 seconds (not long enough that it gets saturated and wet) before it's ready to be clipped into your hair.
It takes only 5-10 minutes for the steam to do its job, and you can get an even faster set if you use a hairdryer for about 30 seconds before removing the rollers. A blast of setting spray helps, too.
The C97953 comes with 30 rollers in different sizes to accommodate all kinds of hairstyles: six each of jumbo, large, medium, small and petite. They let you vary the size of the curls and waves you create, and the smaller ones are ideal for thinner or shorter hair. You'll get particularly good results with naturally curly hair.
This Caruso model is versatile enough for almost any length or type of hair, won't do any damage, and is very reasonably priced.
More info on the Caruso C97953 30 Molecular Stream Hairsetter:
Style: Steam rollers

Roller type: plastic and sponge, flocked

Number/size: 30, five sizes

Size: 12 x 6 x 6 inches

Weight: 2.4 pounds

Warranty: One year, limited
3. InfinitiPro by Conair Instant Heat Ceramic
It was really neck-and-neck between the BaBylissPro and the Infiniti Pro for the best ceramic technology in a roller set. The Conair has ceramic instead of ceramic/titanium rollers (argan oil is included to lessen frizz, though) and it can't create waves and curls as large as the BaByliss model, so it landed at #3 in our rankings. That said, this is a more versatile product.
There are 20 flocked rollers, none of which are as large as the 1½ inch BaByliss rollers. However, there's a nice selection of eight 1¼ inch rollers as well as six medium and six smaller ones.
There's one more plus to this model; it has twelve different temperature settings so rollers heated at lower temperatures can safely and easily be used on thin or damaged hair. The rollers heat up in just two minutes and even though they're flocked, they can be clipped into place to do their work.
There can virtually be no heat damage to hair as it's heated from the inside out, and while there aren't as many negative ions released as with titanium rollers, they're still there to help generate smooth and silky curls.
The Infiniti Pro isn't what you'll want for voluminous curls, but it's a great roller system for large to smaller curls with lots of styling options and temperatures available. If you want a Conair product for big curls, though, you can check out Xtreme.
This Conair model is a winner due to its ceramic technology, and it won't damage your hair.
Going in-depth on the Conair Infiniti Pro Instant Heat:
Style: Ionic

Roller type: ceramic flocked rollers

Number/size: 20, 1¼ to ¾ inches

Size: 13.2 x 7 x 7 inches

Weight: 4.6 pounds

Warranty: Three years, limited
Here's a high ticket item that isn't for everyone – but if you're after amazing-looking, huge body waves and beach curls, the T3 may be worth the money to you.
The huge, spring-loaded rollers in this set aren't the ones you'll find in most hot roller sets, and not just because of their size (four large 1.5-inch rollers and four 1.75-inch jumbo rollers). Each of these ionic tourmaline rollers self-regulates its wattage with the use of ceramic PTC heaters and aluminum heat sink cores in order to maintain an equal heat distribution and consistent surface temperatures for even styling.
There is also velvet flocking on the surface of each roller in order to grip the hair firmly. The rollers reach 250° in just three minutes and leave styled hair healthy and shiny.
The rollers come with a charging base, detachable cord, and tote bag, and work on dual voltages if you're planning to visit beaches (or nightclubs) around the world.
It's not unusual to find yourself wrestling with lesser models in the quest for voluminous, textured waves. Professional stylists use T3 products to accomplish that task, and if you want to lay out the extra bucks for this set, you can too.
Details on the T3 Volumizing:
Style: ionic

Roller type: Tourmaline, flocked

Number/size: Four 1.75 inches, four 1.5 inches

Size: 8.4 x 4.1 x 3.5 inches

Weight: One pound

Warranty: Two years
For many women, it's a luxury to be able to curl their hair to perfection while they're in the comfort of their bedroom or bath. They're the ones who are constantly on the go and need to be able to do touch-ups (or more) while traveling. The Groom+Style review team feels that the Revlon Curls-to-Go Hot Rollers set is just right for those women.
The five medium (¾ inch) and five larger (one inch) ceramic tourmaline ribbed rollers fit into a self-contained heating and storage pouch, heat up quickly, and use infrared and ionic technology to create beautiful waves and curls without frizz at a moment's notice. The price of this set is extremely attractive, the results are excellent, and it's easy to take anywhere at only about one pound.
There are even indicators on each roller telling you when it's hot enough to be put into your hair, .and it features cool-touch ends that eases handling.
There are larger and more full-featured rollers on the market, but this Revlon set is great for travel or prepping at work for a night out.
Digging deeper on the Revlon Curls-To-Go:
Style: Ionic

Roller type: ceramic/tourmaline, ribbed

Number/size: 10, one inch and ¾ inches

Size: 7.2 x 3.2 x 5.1 inches

Weight: 1.2 pounds

Warranty: One year
6. Conair Xtreme Instant Heat Ceramic Hot Rollers with Heated Clips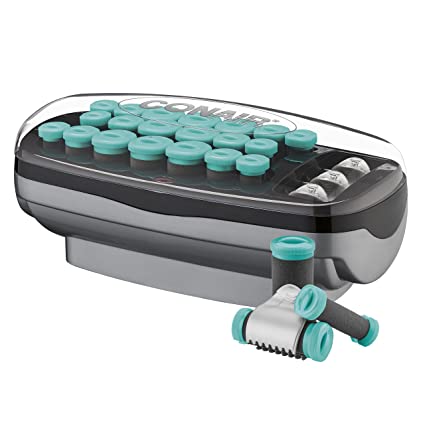 The Conair Xtreme Instant Heat Ceramic Hot Rollers with Heated Clips are a popular styling tool that can help you achieve beautiful, long-lasting curls. These hot rollers come in a set of 20 multi-size rollers that range from small to large, allowing you to create a variety of different curl styles.
The rollers are ceramic-infused and heat up quickly, thanks to the instant heat technology, so you can start styling in no time. The set also comes with 20 heated clips that provide a secure hold on the rollers, ensuring that they stay in place as you style your hair.
The clips themselves are also heated, which helps to set the curl and provide extra hold.
The Conair Xtreme Instant Heat Ceramic Hot Rollers are lightweight and compact, making them perfect for travel or on-the-go styling.
Details on the Conair Xtreme Instant Heat Ceramic Hot Rollers with Heated Clips:
Style: Ionic
Roller type: ceramic flocked rollers
Number/size: 8 (1.25 inches), 6 (1 inch), 6 (0,75 inches)
Size: 11.8 x 5.8 x 4.8 inches
Weight: 0,2 pounds
Warranty: one-year warranty
Hot Rollers Buying Guide
You might want to do more in terms of hair care but might not know where to start. More specifically, you might have dry hair and want loose curls, or you might have straight hair and want bouncy waves and tight curls; some of you might not be sure which roller set you should purchase. 
The latter, I hope we've answered, but if you'd like to learn more about the nitty-gritty of hot rollers, then let's get into the details.
Types of Hot Rollers
Let's start by looking at the two major ways to differentiate between hot rollers. The first is a choice between sets that use dry or steam heat, and the second involves picking rollers with either flocked or ribbed textures.
Dry Heat vs Wet Hot Rollers (Steam)
Dry heat rollers rest inside the set's metal container; when electricity is turned on and the container heats up, it also heats the metal linings inside the rollers (most often made of ceramic or ceramic-infused material). That makes them warm (but not hot) to the touch, and they style the hair via heat that emanates from the inside of the rollers.
Wet hot rollers use steam generated in the container as a heat source, and the moisture from the rollers (which are most often made of foam) evaporates and moisturizes hair as it's curled with even less potential hair damage than dry rollers might cause.
The curls from steam rollers often last longer than those created with dry rollers, and steam models are the best choice for difficult-to-curl hair. Dry rollers are more versatile (often with multiple heat settings), faster to use, and are capable of delivering negative ions that theoretically make hair smooth and silky.
Flocked or Ribbed Textures
The primary types of roller types you can choose are ribbed or "flocked." Ribbed rollers are the ones you see most often, with the ribs holding hair in place. Newer-style flocked rollers are covered with a layer of smooth material that "grabs" the hair and are more suitable for larger curls. Most feel that ribbed rollers are easier to remove when the curling is complete, but find that flocked rollers stay in place better.
Hot Rollers: Materials, Sizes, and Heat
Types of Materials used in Hot Rollers
Ceramic and Ceramic-Infused Rollers
Just as with other types of hair styling products like curling irons and flat irons, dry heat rollers are most commonly made of ceramic, sometimes infused or coated with precious materials like tourmaline or (less often) titanium. They all heat up quickly and uniformly (without hot spots) and generate what's known as infrared heat, which penetrates hair from the inside and does a great job of keeping hair healthy and undamaged while also keeping it shiny and minimizing frizz.
Ceramic and ceramic-infused rollers are also said to release negative ions, which when heated supposedly close the cuticle layer of the hair and lock in moisture, keeping hair shiny and soft. Substances like tourmaline are said to release six times more negative ions than pure ceramic.
Foam Rollers
Foam rollers, usually the rollers of choice for steam models, are made exactly what you'd think they're made of – foam. They come in several different shapes including cylinders and round units that look sort of like hamburgers. Among their advantages are that they do no noticeable damage to hair since they don't generate heat and that they can be used on damp hair. You can sleep in them as well.
Your Hair Type and Hot Rollers
Your type of hair and the type of curls you want should determine which approach (hot/ceramic or steam/foam) will work better for you. Traditional hot rollers are best for creating big waves and lots of volume and work better with thick or naturally curly hair because foam rollers may cause frizz. 
Steam and foam rollers are better for hair that's silky or so thick that it doesn't hold its form easily and you can use them to achieve a greater variety of curls. Rollers with wax cores are also available, and since they retain heat for longer periods of time, they're great for hair that really doesn't want to curl. 
Speaking of, applying a little texturizing hairspray onto the section of hair you are about to roll up might help against stubborn hair and result in even more volumized curls. To ease into the process, you may as well try using styling mousses after drying your hair and before getting to rollers.
Which Size or Set Type?
Hot rollers come in two types of sets; they're either all the same size or they're in varying sizes. You may have already guessed that a uniform set of curlers will give you a consistent set of curls, while a variety of sizes will give you much more flexibility and options. Longer hair? Be sure you have large rollers.
Hot Rollers Heat Settings
Finally, a set of hot rollers that only has one heat setting will usually be quite hot, perfect for those with coarse or thick hair. However, if you have thin, damaged, or fine hair, you'll want the alternative of heating your rollers to lower temperatures, so look for a set with variable temperature settings. Moreover, spraying heat protectants on your strands beforehand will help prevent potential damage.
Most Frequently Asked Questions
Are hot rollers better than a curling iron?
Whether hot rollers or curling iron is better depends on personal preference and what kind of curls you want to achieve.
Hot rollers are great for creating large, loose curls or volume and body. They are also less damaging to the hair than curling irons because the heat is spread out over a larger area. They are also less likely to burn their hair.
Curling irons, on the other hand, are great for creating tight, defined curls. They are also more versatile than hot rollers, as they come in different barrel sizes, which allows you to create different types and sizes of curls. They also heat up quickly and can be used for straightening or flipping hair.
Both hot rollers and curling irons have their own advantages and disadvantages. It depends on your hair type, what kind of curls you want to achieve and how much time you are willing to spend styling your hair.
Are hot rollers good for your hair?
Hot rollers can be good for your hair if used properly. They can add volume and body to your hair and can create beautiful, bouncy curls without causing as much damage as other styling tools, such as curling irons or flat irons. The heat from hot rollers is spread out over a larger area, which reduces the risk of burning or damaging the hair.
However, it's important to use the appropriate heat setting for your hair type and to use heat-protectant products before using hot rollers. Also, it's important to use them in moderation and not overuse them, as over-styling can damage the hair.
It's also a good idea to allow your hair to cool down completely before brushing or combing it, as the hair is more fragile when it's hot. Using hot rollers in conjunction with other healthy hair practices such as regular trims, using good quality hair products, and protecting hair from environmental damage can help to keep hair healthy and strong.
Conclusion
When it comes to achieving beautiful curls and volume without causing excessive damage to your hair, the best hot rollers can be an excellent styling tool. They are versatile and suitable for all hair types, making them an ideal choice for a wide range of hair styling needs.
To ensure you get the best hot rollers for your hair, consider factors such as the size and material of the rollers, the available heat settings, and many more. It's also crucial to read reviews and ratings from other customers to gauge the quality and performance of the rollers.
Overall, with the right hot rollers and proper use, you can achieve beautiful curls and volume while protecting your hair from damage.